Revealed: The key to becoming fast friends
Is it possible to be BFFs in a matter of minutes? Researchers say yes—here's how.
When you've known someone for ages and shared years' worth of experiences with them, it's only natural to become close friends. But every now and then, you meet someone who has immediate best friend potential — in only a few short moments, that person becomes comparable to a pal you've known for years.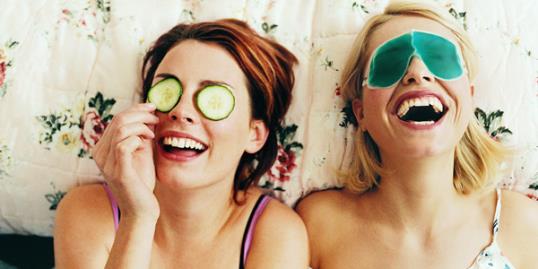 Researchers from Stony Brook University have developed a protocol for becoming fast friends. They studied the dynamics of friendship to see if they could create a procedure for developing "interpersonal closeness" among strangers in a short amount of time.
More on MSN Living: The ultimate wedding etiquette guide

In short, they wanted to see if they could make two complete strangers besties in 45 minutes. 
The researchers gave subjects in pairs three sets of 12 questions. The questions were to be addressed in order, with partners taking turns answering. The first set of questions included only slightly personal inquires. "When did you last sing to yourself?" for example. Nothing too intimate.
More on MSN Living: The science behind a great marriage

With the second set of questions, researchers forced subjects pry a little: "What's your most terrible memory?" "Is there something you've dreamed of doing for a long time?"

And finally, in the last set of questions, the subjects really got to know each other. That batch included personal inquiries like, "Of all the people in your family, whose death would you find the most disturbing?" and, "When did you last cry in front of another person?"
With each set of questions, subjects were also instructed to tell the other person what they liked about them.  The protocol worked — researchers were able to forge friendships among strangers in a matter of minutes. Their method has been aptly dubbed the "Fast Friends Technique."
Arthur Aron is the professor of psychology at the University who developed the protocol. He told the Wall Street Journal:
"You want to be slow and reciprocal. If you disclose too much too fast, you put some off."
Basically, don't overshare, he advises. TMI tends to turn people off.
Aron suggests using his method to improve relationships with business associates, neighbors and romantic partners.
Even though the technique is called "Fast Friends," the key is pacing. Information should be disclosed gradually.
We definitely don't recommend asking a complete stranger about the last time they cried.
More from The Heart Beat:

5 most vital relationship upkeep tips
Revealed: The hardest marriage vow to keep
Is make-up sex unhealthy?
Love content like this? Friend us on Facebook, follow us on Twitter and find us on Pinterest.
Photo: Making friends / Ocean/Corbis
love: friendships, dating, sex & marriage
It's not that you don't find every little thing about your partner endearing and adorable; it's just that it would have been really, really nice if that map could have been consulted three hours ago.

The typical wedding: A white dress, tiered cake, floral centerpieces and a cute flower girl -- you know the drill. Every once in a while, though, a couple trades in tradition for a quirky, never-seen-that-before idea. Here are a few of the most out-there wedding photos that made us do a double take.

There's a lot to love about weddings this fall, like cocktails served in copper Moscow mule mugs, industrial-inspired lighting and pheasant feather details. See what's new!

Do you have to be engaged to sport a ring with bling?

124.6 million haven't gotten hitched.

Even though the national average wedding is $29,858, that's just an average. If you live in a smaller state like Idaho where the average wedding costs $16,159, you may find yourself saving a little more than half of the national spend! Check out some of the other least expensive cities to get married in below:

Summer is winding down, but the ubiquitous summer romance lives on.

For those times when nothing big and horrible happened--but nothing is feeling right either.

He's confident, distinguished and anywhere from 4 to 20 years older than you. Age is just a number, but there's something about older men that we love. Here are eight reasons why being in a relationship with an older man is tops.

While a younger man may have less life experience, that doesn't mean he's not emotionally mature. Here are the eight reasons why being in a relationship with a younger man is tops.

Have you ever wondered what the 'other woman' was thinking?

So fall is coming and you need some romantic inspiration now that long walks on the beach are out of the question. Well look no further! From apple picking to pumpkin carving, these are some great fall date ideas from girls just like you!