Revealed: The key to becoming fast friends
Is it possible to be BFFs in a matter of minutes? Researchers say yes—here's how.
When you've known someone for ages and shared years' worth of experiences with them, it's only natural to become close friends. But every now and then, you meet someone who has immediate best friend potential — in only a few short moments, that person becomes comparable to a pal you've known for years.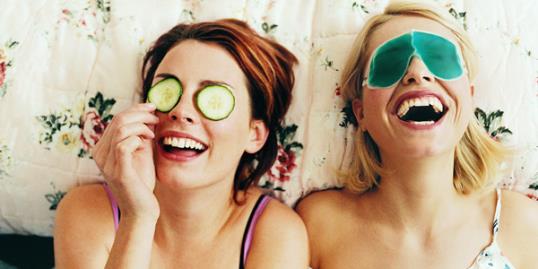 Researchers from Stony Brook University have developed a protocol for becoming fast friends. They studied the dynamics of friendship to see if they could create a procedure for developing "interpersonal closeness" among strangers in a short amount of time.
More on MSN Living: The ultimate wedding etiquette guide

In short, they wanted to see if they could make two complete strangers besties in 45 minutes. 
The researchers gave subjects in pairs three sets of 12 questions. The questions were to be addressed in order, with partners taking turns answering. The first set of questions included only slightly personal inquires. "When did you last sing to yourself?" for example. Nothing too intimate.
More on MSN Living: The science behind a great marriage

With the second set of questions, researchers forced subjects pry a little: "What's your most terrible memory?" "Is there something you've dreamed of doing for a long time?"

And finally, in the last set of questions, the subjects really got to know each other. That batch included personal inquiries like, "Of all the people in your family, whose death would you find the most disturbing?" and, "When did you last cry in front of another person?"
With each set of questions, subjects were also instructed to tell the other person what they liked about them.  The protocol worked — researchers were able to forge friendships among strangers in a matter of minutes. Their method has been aptly dubbed the "Fast Friends Technique."
Arthur Aron is the professor of psychology at the University who developed the protocol. He told the Wall Street Journal:
"You want to be slow and reciprocal. If you disclose too much too fast, you put some off."
Basically, don't overshare, he advises. TMI tends to turn people off.
Aron suggests using his method to improve relationships with business associates, neighbors and romantic partners.
Even though the technique is called "Fast Friends," the key is pacing. Information should be disclosed gradually.
We definitely don't recommend asking a complete stranger about the last time they cried.
More from The Heart Beat:

5 most vital relationship upkeep tips
Revealed: The hardest marriage vow to keep
Is make-up sex unhealthy?
Love content like this? Friend us on Facebook, follow us on Twitter and find us on Pinterest.
Photo: Making friends / Ocean/Corbis
love: friendships, dating, sex & marriage
Experts say a meaningful gift is an extension of a healthy relationship (no pressure, though!).

Researchers in a recent study conclude that men are better at focusing on one task, while women are more attuned to multi-task.

It's normal to want to be accepted by your in-laws. But feeling that you need to be accepted can bring complications, causing you to be uncomfortable and unnatural around them.

One New York couple breaks down the highs and lows of their year together and even asks friends and family to weigh in.

Okay, prepare the tissues. We've rounded up the top ten viral love stories of the year. These stories are the ones that tugged at our heartstrings and went wild on the internet. And for good reason! These stories set the internet on fire and nearly crashed our computers, all because they revolve around the most important emotion in the world: love.

Man's best friend might have just become his mortal enemy due to stealing his woman.

Can a long-term union be happy without sex? One 34-year-old mom says yes. She anonymously shares all the not-so-dirty details of why not getting busy led to her wedded bliss.

Gluten-free? Mac lover? Pixie? There's a dating site for you.

Dating can lead to all kinds of tricky situations. To help you navigate even the most awkward moments, we've compiled our 50 best dating tips—some new, some old—given to us by experts, moms, women like you, and even Justin Timberlake.

This time of year, we dust off our holiday traditions of special songs, stories, events and food to make our season bright. Here's a look into the traditional, unique and quirky holiday traditions of some famous couples.

Two steps forward, one giant fight afterward?

If you've been hiding any of this stuff, it's time to fess up.