Revealed: The key to becoming fast friends
Is it possible to be BFFs in a matter of minutes? Researchers say yes—here's how.
When you've known someone for ages and shared years' worth of experiences with them, it's only natural to become close friends. But every now and then, you meet someone who has immediate best friend potential — in only a few short moments, that person becomes comparable to a pal you've known for years.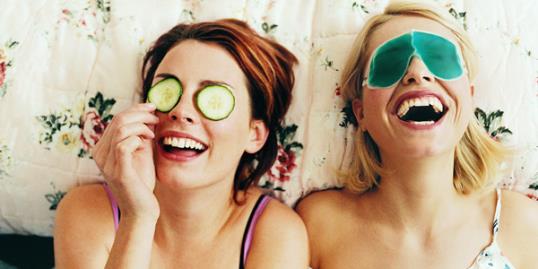 Researchers from Stony Brook University have developed a protocol for becoming fast friends. They studied the dynamics of friendship to see if they could create a procedure for developing "interpersonal closeness" among strangers in a short amount of time.
More on MSN Living: The ultimate wedding etiquette guide

In short, they wanted to see if they could make two complete strangers besties in 45 minutes. 
The researchers gave subjects in pairs three sets of 12 questions. The questions were to be addressed in order, with partners taking turns answering. The first set of questions included only slightly personal inquires. "When did you last sing to yourself?" for example. Nothing too intimate.
More on MSN Living: The science behind a great marriage

With the second set of questions, researchers forced subjects pry a little: "What's your most terrible memory?" "Is there something you've dreamed of doing for a long time?"

And finally, in the last set of questions, the subjects really got to know each other. That batch included personal inquiries like, "Of all the people in your family, whose death would you find the most disturbing?" and, "When did you last cry in front of another person?"
With each set of questions, subjects were also instructed to tell the other person what they liked about them.  The protocol worked — researchers were able to forge friendships among strangers in a matter of minutes. Their method has been aptly dubbed the "Fast Friends Technique."
Arthur Aron is the professor of psychology at the University who developed the protocol. He told the Wall Street Journal:
"You want to be slow and reciprocal. If you disclose too much too fast, you put some off."
Basically, don't overshare, he advises. TMI tends to turn people off.
Aron suggests using his method to improve relationships with business associates, neighbors and romantic partners.
Even though the technique is called "Fast Friends," the key is pacing. Information should be disclosed gradually.
We definitely don't recommend asking a complete stranger about the last time they cried.
More from The Heart Beat:

5 most vital relationship upkeep tips
Revealed: The hardest marriage vow to keep
Is make-up sex unhealthy?
Love content like this? Friend us on Facebook, follow us on Twitter and find us on Pinterest.
Photo: Making friends / Ocean/Corbis
love: friendships, dating, sex & marriage
How to flag her little fibs. By Laura Tedesco

A new study on attraction may help explain why fashions change.

As a general rule, any island that offers great weather year-round is going to attract the most visitors in the winter (high season) when we're all trying to escape the snow. Once summer rolls around, many islands see a sharp drop-off in tourism since many people have beach weather right in their own backyards.

And how you can attack the issues together.

A wedding is an exceptionally special day. Sometimes, an opportune photo flub makes the occasion even more memorable. Here are 25 awesome wedding photo bombs.

Somewhere between the first few butterfly-inducing dates and the committed-for-life stage, there's the period of wondering if you're both on the same page about how serious you feel about a future together. If you're not quite at the point of "that talk" but you're looking for a few clues you're heading in that direction, here are some signs he's in it for the long haul as your relationship progresses.

What's that sound? It's white noise blocking out the well-meaning person proclaiming groundbreaking news about where you can meet someone, asking why you're still single, or bugging you about when you're getting married already. Don't be that person. Here are 15 annoying things all single people don't want to hear.

With just a few days left before the big day, you already have a mile-long checklist of to-dos—now meet the don'ts! From impromptu skin treatments to all-night movie marathons, here are 11 things to avoid at all costs.

A new study shows that watching and discussing romantic films can drastically reduce your chance of divorce. These flicks more than fit the bill.

These seemingly innocent phrases still have the power to wound… big time.

Making "I do" last forever is one of the biggest challenges you'll ever face—and it's normal to worry about how you'll do it. But, if your connection involves any of these things, rest assured that you're in it for the long run.

Ultimately, as hard as it may seem at the beginning, a marital affair can be a turning point.