Private school considers porn star sex-ed teachers
"I wouldn't rule it out," says the headmaster of a private school in England.
The headmaster of an English private school wants to teach children the difference between pornographic sexuality and intimate sexual relationships. But he's suggested a controversial method: allowing porn stars to lead the class.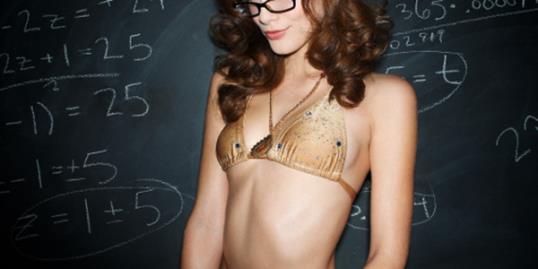 Gallery: 13 proven places to meet men
Mark Slater, the head of a $43,000-a-year private school in Cambridge, says he believes pornography can damage a young person's ability to "form fulfilling relationships."
Gallery: 10 reasons he's not the man for you
Discussing the possibility of inviting a porn star to speak to students, Slater told the Telegraph:
"I wouldn't rule it out simply because of what they have done in their life if I felt that person was going to put across good values and be a good influence."
Slater's comments follow a recent study on pornography and sexual education from the University of Middlesex. Researchers recommend sex-ed curriculum to include lessons on pornography.
Bing: Oddest college majors
More from The Heart Beat:
Study: Relationships make women angry
Sex survey says women are better than men in bed
love: friendships, dating, sex & marriage
Dating doesn't have to be a daunting task, promise. Here's how to make it fun for you and him.

One woman's honest journey to divorce will break your heart and inspire you at the same time.

Want to send your date running? Try one these moves.

Two guests arrested in New Jersey.

Celebrities certainly know how to travel in style, so if you're struggling to select a honeymoon destination, look no further than these star-approved hotspots. To make it even easier, we're providing you with hotel recommendations, packing essentials, and tips on what to do and see! So channel your inner celeb at one of these U.S. destinations for an unforgettable vacation!

Tall Twitter users named Wayne, we're on to you!

Should little girls be dreaming of a different kind of "I do"?

Need a reason to pack your bags and get the hell out of here?

After your return from your honeymoon, your marriage officially starts and with that come some changes. It's not to say that the honeymoon phase is over, but you'll have to get some things situated in order to have your marriage start off on the right foot. We tapped the expert advice of wedding planner and reality TV star David Tutera and love and career coach Charreah Jackson to dish on six things you must do to have a successful first month of marriage — from wedding-related logistics to wrap up to relationship rules to set.

Owner of Weddings in Vieques, a destination-wedding planning company off the coast of Puerto Rico, Sandy Malone has helped countless couples plan their big day since 2007. Here, the veteran planner is sharing some expert advice for free: She's sharing the top eight things you have to do right after you get engaged.

Is the idea of a big bridal bash just not your thing? Or perhaps you and your fiancé are just the super spontaneous type, so why not make your next beach vacation your nuptials as well? If you're thinking of eloping but have questions on the mind, we're here to help. We tapped elopement and wedding planner Lindsey Nickel, founder of Events, Etc., for her top dos and don'ts for getting hitched on the sly.

Easy everyday ways to keep the love alive.