Number of interracial couples grow, but many aren't marrying
More mixed-race couples live together, but marriage is another story.
The past decade has seen a significant increase in couples that come from different races. But while more interracial couples are living together, marriage is another story, according to a recent analysis of data from the U.S. Census Bureau.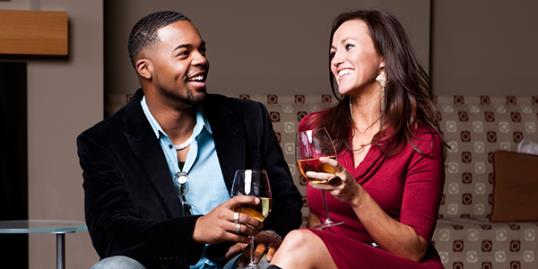 MSN Living: Does Race Matter When It Comes to Love?
The Los Angeles Times reports that interracial couples were more than twice as common in 2012 than in 2000 — married or not. But last year, only 4 percent of married couples were interracial, compared with 9 percent of interracial cohabiting couples.
MSN Living: The Controversial Rise in Manimony
Zhenchao Qian, a sociology professor at Ohio State University, told the Times:
"You don't need to get a blessing from either side of the family [to live together]. Moving to the next stage is sometimes more difficult."
Evidence of that difficulty can be found in a 2009 study from the Pew Research Center. In that study, only half of white respondents between the ages of 50 and 64 said they would be OK with a relative marrying someone of any other race or ethnicity.
Read the rest of the analysis here.
More from The Heart Beat:
More working class Americans skipping out on marriage
More couples get married without God
Woman: I'm too pretty for my fiancé
Subscribe to The Heart Beat | Friend us on Facebook, follow us on Twitter and find us on Pinterest.
love: friendships, dating, sex & marriage
If you just got engaged, congrats! This is seriously exciting news that deserves lots of congratulatory hugs, "oohing" and "ahhing" over the ring and plenty of bubbly. To make sure you get the right response from friends, family and coworkers, avoid announcing your engagement like this…

Ladies, give yourself the best gift of all this season: The NYC Taxi Driver 2014 Calendar. By Michelle Toglia

Pheromones may be the key to finding your perfect match.

The outlandish things we do for love have no limits; just ask these guys. Love makes us do some pretty crazy things. And sometimes, we feel the need to prove it to the entire world. And no, we don't mean getting a tattoo of your partner's name on your leg or proposing on the big screen at the Yankee game. We mean renewing your marriage vows 101 times or making out for 58 hours. Who would go to such extremes you ask? Meet the Guinness World Record-holders in all-things love. They gave up sleep, food and even going to the bathroom alone, all in the name of loving longer than anyone else. Who's hugged the longest? Kissed the longest? Been on the most expensive date? Take a look below as we count down the world's most loving record-breakers.

Her partner? Wine? Downtime? Find out where it all ranks.

This time of year, we dust off our holiday traditions of special songs, stories, events and food to make our season bright. Here's a look into the traditional, unique and quirky holiday traditions of some famous couples.

Look, I looooove engagement season for obvious reasons, but even I can admit I'm like, "Really, AGAIN?" when yet ANOTHER engagement ring pops up in my news feed. Seriously, there were two this weekend. (Congrats, Gemma and Danny!)

We asked real men and women (and a few first-base experts, too) to give us the cardinal rules of kissing, tell us what makes someone a good kisser and more. So whether you're leaning in for kiss No. 1 or 1,000, read on.by Devin Tomb

Not quite sure which diamond shape suits your personality? We're here to help.

Dating can lead to all kinds of tricky situations. To help you navigate even the most awkward moments, we've compiled our 50 best dating tips—some new, some old—given to us by experts, moms, women like you, and even Justin Timberlake.

Customers as Madison's new Snuggle House can snuggle with professional cuddlers for $60 an hour.

Can you believe it was only about 15 years ago that engagement ring shopping meant a time-consuming slog from jewelry boutique to jewelry boutique? Thank goodness for the internet; nowadays, it's easy to do all that legwork online.