NYC hotels offer rates for afternoon sex
Reputable establishments are partnering with a travel site that helps spouses cheat.
Pay-by-the-hour hotels are nothing new, but they're no longer the seedy, freeway-adjacent houses of ill repute they were once thought to be.
Many respectable, three star or higher hotels are offering new hourly rates for customers. And if you think guests are just napping between the hours of 10 a.m. and 3 p.m., you've got another thing coming.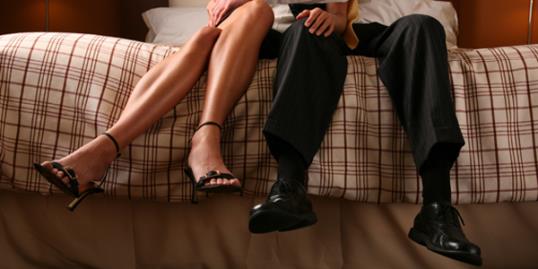 More on MSN Living: The science behind a great marriage
DayUse.com is a travel site that offers reservations for a "few hours during the day." Their homepage suggests that these hours may be used for "work, rest and rendezvous." But delve a little deeper into the site, and "rendezvous" becomes a little more specific:
"Cheating deserves some thought. Infidelity refers to the unique love. If cheaters want their infidelities remain a secret garden, they will surely be interested by the concept of day use. Now, in New York, we can rent a hotel room for one hour or more during the day." 
More on MSN Living: What his sex signals really mean
Yep, they're not exactly shy about their business model. According to the New York Post, DayUse has recently met with controversial cheating site AshleyMadison.com to discuss a possible partnership. Noel Biderman, CEO of Ashley Madison, told the Post:
"Their whole challenge is lining up these hotels under some kind of politically correct paradigm, but this is all about fulfilling afternoon delights for people."
So what's the difference between DayUse and a regular hourly rate hotel? One hotel director told the Post:
"The difference between DayUse and hourly rate is that the DayUse client who comes in is usually a higher-end client who is willing to pay a nice amount for a few hours."
And discretion is everything, according to the site. Guests book their rooms via email, and they pay cash. The site boasts:
"It only takes a few minutes to book the room and keep your rendezvous secret."
Of course, noncheaters are welcome, too. Couples looking to spice up their love lives may find the service useful. And traveling lovers with hefty libidos might also need a mid-afternoon session.
Whatever the purpose, more and more hotels are taking advantage of the hourly rates. The MAve, a cute boutique hotel on Madison Avenue, is a DayUse-friendly hotel, as is the four-star Flatiron Hotel. Even chains like Best Western are getting on board.
"There might be the atypical individual who just needs a shower and a shave, but there is no industry there," Biderman continues. He adds, "The economics sit squarely in extramarital rendezvous."
What's next, a vibrating bed at the Waldorf?
Here are 10 New York City hotels offering rates with DayUse:
Days Inn Jamaica--JFK Airport

Best Western Kennedy Airport
Hotel Vetiver in Long Island City
The MAve NYC
Econolodge Times Square
Hotel Belleclaire
Washington Jefferson Hotel
Off SoHo Suites
Tribeca Blu Hotel
Blue Moon Hotel
More from The Heart Beat:

5 most vital relationship upkeep tips
Scorned exes get digital revenge
Is make-up sex unhealthy?
Love content like this? Friend us on Facebook, follow us on Twitter and find us on Pinterest.
Photo: Hotels offer afternoon rates / ShaneKato/Getty Images
love: friendships, dating, sex & marriage
Hopeless romantics and cringe-worthy chick flicks would tell you that it doesn't matter what you do on the date, as long as you're together. But they're wrong. Dead wrong. Women use your date ideas to size you up, says matchmaker Rachel DeAlto, author of "Flirt Fearlessly." "You absolutely will be judged based on the date you plan. There are so many subconscious impressions that we take in while dating." Gulp. Here are 10 terrible ideas that can land you on the no-lay list—and simple swaps to keep her happy. By K. Aleisha Fetters

Here are 15 signs we've been on "The Bachelor" bandwagon—all 27 seasons of it—for (possibly) longer than we'd care to admit.

In the grand tradition of celebrating love, we've chosen some of the mushiest, sweetest, and most memorable scenes to hit the big or small screen. From marriage proposals to unexpected serenades, these moments will make you believe in love (and want someone to cuddle up with, stat).

How to flag her little fibs. By Laura Tedesco

Revealr is a new iPhone app that allows those looking for love to hear their possible matches before they see them.

A new poll reveals 59 percent of the country supports same-sex marriage.

Celebrity engagements are so much fun to follow because every detail is bound to be over-the-top — from the proposal (like when Kanye rented out an entire stadium to propose to Kim) to the huge, sparkly engagement ring and, of course, the wedding. Plus, as trendsetters, celebs can be a source of inspiration even if you can't afford a million dollar ring. Here are our celebrity wedding predictions for 2014.

If you've ever been to a club—like, ever, even once—you are not going to be shocked to hear that women get a lot of unwanted, aggressive attention. But when you read the findings of this study on how often and why it happens, it might make you feel downright sick to your stomach.

No matter your current relationship status or past relationship fails, get a fresh start this month, with these tips for spring cleaning your love life.

Forget the rules you've always heard—it's time to start making your own.

Are you in an affair without knowing it? Unless you're a swinger, having sex with someone else counts as cheating. But then there's the fuzzy area between friendship and infidelity—and chances are, your girlfriend sees those shades of gray as more black and white than you do. "Men aren't as attuned to identifying ambiguous behaviors as cheating as women are," says Daniel Kruger, Ph.D., a University of Michigan psychologist, who's studied gender differences in definitions of infidelity. In other words, what you consider totally innocent could be her deal breaker.

We spoke with relationship therapist Rachel A. Sussman, author of "The Breakup Bible," for her tips on how regular girls can survive a split like an A-lister.