NYC hotels offer rates for afternoon sex
Reputable establishments are partnering with a travel site that helps spouses cheat.
Pay-by-the-hour hotels are nothing new, but they're no longer the seedy, freeway-adjacent houses of ill repute they were once thought to be.
Many respectable, three star or higher hotels are offering new hourly rates for customers. And if you think guests are just napping between the hours of 10 a.m. and 3 p.m., you've got another thing coming.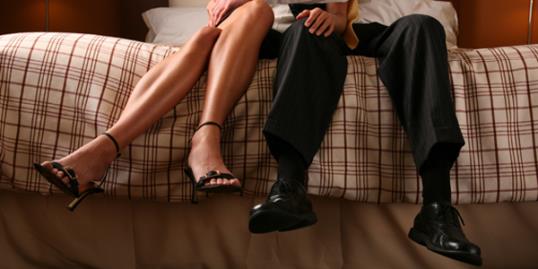 More on MSN Living: The science behind a great marriage
DayUse.com is a travel site that offers reservations for a "few hours during the day." Their homepage suggests that these hours may be used for "work, rest and rendezvous." But delve a little deeper into the site, and "rendezvous" becomes a little more specific:
"Cheating deserves some thought. Infidelity refers to the unique love. If cheaters want their infidelities remain a secret garden, they will surely be interested by the concept of day use. Now, in New York, we can rent a hotel room for one hour or more during the day." 
More on MSN Living: What his sex signals really mean
Yep, they're not exactly shy about their business model. According to the New York Post, DayUse has recently met with controversial cheating site AshleyMadison.com to discuss a possible partnership. Noel Biderman, CEO of Ashley Madison, told the Post:
"Their whole challenge is lining up these hotels under some kind of politically correct paradigm, but this is all about fulfilling afternoon delights for people."
So what's the difference between DayUse and a regular hourly rate hotel? One hotel director told the Post:
"The difference between DayUse and hourly rate is that the DayUse client who comes in is usually a higher-end client who is willing to pay a nice amount for a few hours."
And discretion is everything, according to the site. Guests book their rooms via email, and they pay cash. The site boasts:
"It only takes a few minutes to book the room and keep your rendezvous secret."
Of course, noncheaters are welcome, too. Couples looking to spice up their love lives may find the service useful. And traveling lovers with hefty libidos might also need a mid-afternoon session.
Whatever the purpose, more and more hotels are taking advantage of the hourly rates. The MAve, a cute boutique hotel on Madison Avenue, is a DayUse-friendly hotel, as is the four-star Flatiron Hotel. Even chains like Best Western are getting on board.
"There might be the atypical individual who just needs a shower and a shave, but there is no industry there," Biderman continues. He adds, "The economics sit squarely in extramarital rendezvous."
What's next, a vibrating bed at the Waldorf?
Here are 10 New York City hotels offering rates with DayUse:
Days Inn Jamaica--JFK Airport

Best Western Kennedy Airport
Hotel Vetiver in Long Island City
The MAve NYC
Econolodge Times Square
Hotel Belleclaire
Washington Jefferson Hotel
Off SoHo Suites
Tribeca Blu Hotel
Blue Moon Hotel
More from The Heart Beat:

5 most vital relationship upkeep tips
Scorned exes get digital revenge
Is make-up sex unhealthy?
Love content like this? Friend us on Facebook, follow us on Twitter and find us on Pinterest.
Photo: Hotels offer afternoon rates / ShaneKato/Getty Images
love: friendships, dating, sex & marriage
How to flag her little fibs. By Laura Tedesco

A new study on attraction may help explain why fashions change.

As a general rule, any island that offers great weather year-round is going to attract the most visitors in the winter (high season) when we're all trying to escape the snow. Once summer rolls around, many islands see a sharp drop-off in tourism since many people have beach weather right in their own backyards.

And how you can attack the issues together.

A wedding is an exceptionally special day. Sometimes, an opportune photo flub makes the occasion even more memorable. Here are 25 awesome wedding photo bombs.

Somewhere between the first few butterfly-inducing dates and the committed-for-life stage, there's the period of wondering if you're both on the same page about how serious you feel about a future together. If you're not quite at the point of "that talk" but you're looking for a few clues you're heading in that direction, here are some signs he's in it for the long haul as your relationship progresses.

What's that sound? It's white noise blocking out the well-meaning person proclaiming groundbreaking news about where you can meet someone, asking why you're still single, or bugging you about when you're getting married already. Don't be that person. Here are 15 annoying things all single people don't want to hear.

With just a few days left before the big day, you already have a mile-long checklist of to-dos—now meet the don'ts! From impromptu skin treatments to all-night movie marathons, here are 11 things to avoid at all costs.

A new study shows that watching and discussing romantic films can drastically reduce your chance of divorce. These flicks more than fit the bill.

These seemingly innocent phrases still have the power to wound… big time.

Making "I do" last forever is one of the biggest challenges you'll ever face—and it's normal to worry about how you'll do it. But, if your connection involves any of these things, rest assured that you're in it for the long run.

Ultimately, as hard as it may seem at the beginning, a marital affair can be a turning point.