NYC hotels offer rates for afternoon sex
Reputable establishments are partnering with a travel site that helps spouses cheat.
Pay-by-the-hour hotels are nothing new, but they're no longer the seedy, freeway-adjacent houses of ill repute they were once thought to be.
Many respectable, three star or higher hotels are offering new hourly rates for customers. And if you think guests are just napping between the hours of 10 a.m. and 3 p.m., you've got another thing coming.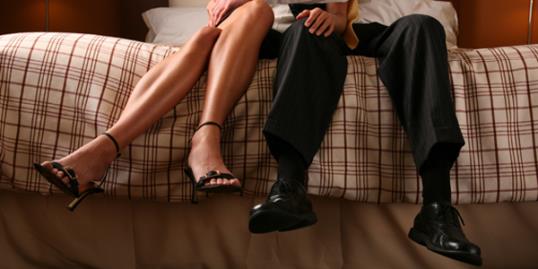 More on MSN Living: The science behind a great marriage
DayUse.com is a travel site that offers reservations for a "few hours during the day." Their homepage suggests that these hours may be used for "work, rest and rendezvous." But delve a little deeper into the site, and "rendezvous" becomes a little more specific:
"Cheating deserves some thought. Infidelity refers to the unique love. If cheaters want their infidelities remain a secret garden, they will surely be interested by the concept of day use. Now, in New York, we can rent a hotel room for one hour or more during the day." 
More on MSN Living: What his sex signals really mean
Yep, they're not exactly shy about their business model. According to the New York Post, DayUse has recently met with controversial cheating site AshleyMadison.com to discuss a possible partnership. Noel Biderman, CEO of Ashley Madison, told the Post:
"Their whole challenge is lining up these hotels under some kind of politically correct paradigm, but this is all about fulfilling afternoon delights for people."
So what's the difference between DayUse and a regular hourly rate hotel? One hotel director told the Post:
"The difference between DayUse and hourly rate is that the DayUse client who comes in is usually a higher-end client who is willing to pay a nice amount for a few hours."
And discretion is everything, according to the site. Guests book their rooms via email, and they pay cash. The site boasts:
"It only takes a few minutes to book the room and keep your rendezvous secret."
Of course, noncheaters are welcome, too. Couples looking to spice up their love lives may find the service useful. And traveling lovers with hefty libidos might also need a mid-afternoon session.
Whatever the purpose, more and more hotels are taking advantage of the hourly rates. The MAve, a cute boutique hotel on Madison Avenue, is a DayUse-friendly hotel, as is the four-star Flatiron Hotel. Even chains like Best Western are getting on board.
"There might be the atypical individual who just needs a shower and a shave, but there is no industry there," Biderman continues. He adds, "The economics sit squarely in extramarital rendezvous."
What's next, a vibrating bed at the Waldorf?
Here are 10 New York City hotels offering rates with DayUse:
Days Inn Jamaica--JFK Airport

Best Western Kennedy Airport
Hotel Vetiver in Long Island City
The MAve NYC
Econolodge Times Square
Hotel Belleclaire
Washington Jefferson Hotel
Off SoHo Suites
Tribeca Blu Hotel
Blue Moon Hotel
More from The Heart Beat:

5 most vital relationship upkeep tips
Scorned exes get digital revenge
Is make-up sex unhealthy?
Love content like this? Friend us on Facebook, follow us on Twitter and find us on Pinterest.
Photo: Hotels offer afternoon rates / ShaneKato/Getty Images
love: friendships, dating, sex & marriage
Brad Pitt and Angelina Jolie finally took the plunge, but marriage isn't always a good choice for everyone.

Learn how these surprising tactics can really improve your relationship.

Use these tips to up your chances of finding love.

Find out how paired-off ladies might feel lacking—and how you can make your relationship satisfying.

These signals are seriously subtle, but they can give you real insight into what's going through your husband's mind.

Check which changes are necessary to stay happy together.

We know some of this may sound obvious, but these simple statements can make both of you happier.

Making your relationship more secure, connected, and intimate doesn't have to feel overwhelming. Try these expert tips and reap the rewards now—and in the long run.

For those times when nothing big and horrible happened--but nothing is feeling right either.

What's more fun than animals in weddings? We've rounded up eight of the cutest.

Your puppy is all over your Instagram, Facebook and fridge, so there's no reason not to include him in your engagement pictures too. The best engagement photos give viewers a peek into your life. If you're a dog owner, take this opportunity to show off your pooch, like these 22 couples did! And we can't thank them enough.

Our married blogger gets real about checking out other guys when you're taken.