Top 10 Cities Where Women Prefer Bald Men
Good news for the folically challenged.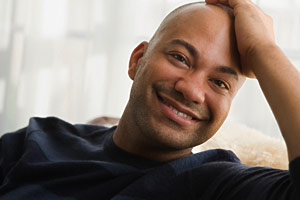 "When's the last time you saw a bald president?" Larry David recently asked in an interview with Huffington Post. "There'll be a woman and a Jewish president and maybe even a Muslim president before a bald president. That's my prediction: There'll be a Muslim president before a bald president."
They may feel discriminated against, but a recent survey brings good news to the bald community: plenty of women actually prefer a hairless head. Online dating site OurTime.com ranked the top cities where bald guys get the most attention from ladies.
Florida looks like the best state for single, bald men. Fort Lauderdale topped the list while Tampa came in at No. 10. New York came in second, and while Los Angeles didn't make the cut, San Diego ranked No. 5.
If you've ever been subjected to those hair transplant commercials where bald men are depicted as undateable, you can feel sympathy for the bald community. And unfortunately, statistics show that some ladies do discriminate.
According to a 2008 European survey, 17 percent of French women and 16 percent of Italian women said they wouldn't date a man who's losing his hair. But only 11 percent of British women said the same, and even better news—only 4 percent of Scottish women won't date a bald guy.
But these women are cutting themselves off from a large percentage of the male population. Researchers say more than half of men will experience baldness by the age of 50. In fact, 30 percent of men will be affected by baldness by age 30.

So ladies, I leave you with a final thought from Mr. David:
"Anyone can be confident with a full head of hair. But a confident bald man - there's your diamond in the rough."
A full list of the 10 cities where bald men have the most luck:
Fort Lauderdale, FL
New York, NY
Phoenix, AZ
Minneapolis, MN
San Diego, CA
Brooklyn, NY
Chicago, IL
Houston, TX
Tucson, AZ
Tampa, FL
Patrick Lane/Getty Images
More Love & Sex from MSN Living:
Secrets of Happy Couples
9 Little Gestures He Wishes You'd Do
9 Things He's Thinking About the Wedding
love: friendships, dating, sex & marriage
New research shows they get divorced at vastly lower rates.

Brad Pitt and Angelina Jolie finally took the plunge, but marriage isn't always a good choice for everyone.

Learn how these surprising tactics can really improve your relationship.

Use these tips to up your chances of finding love.

Find out how paired-off ladies might feel lacking—and how you can make your relationship satisfying.

These signals are seriously subtle, but they can give you real insight into what's going through your husband's mind.

Check which changes are necessary to stay happy together.

We know some of this may sound obvious, but these simple statements can make both of you happier.

Making your relationship more secure, connected, and intimate doesn't have to feel overwhelming. Try these expert tips and reap the rewards now—and in the long run.

For those times when nothing big and horrible happened--but nothing is feeling right either.

What's more fun than animals in weddings? We've rounded up eight of the cutest.

Your puppy is all over your Instagram, Facebook and fridge, so there's no reason not to include him in your engagement pictures too. The best engagement photos give viewers a peek into your life. If you're a dog owner, take this opportunity to show off your pooch, like these 22 couples did! And we can't thank them enough.