Top 10 Cities Where Women Prefer Bald Men
Good news for the folically challenged.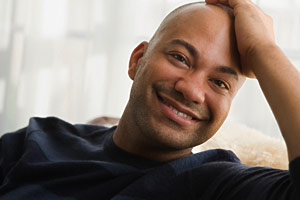 "When's the last time you saw a bald president?" Larry David recently asked in an interview with Huffington Post. "There'll be a woman and a Jewish president and maybe even a Muslim president before a bald president. That's my prediction: There'll be a Muslim president before a bald president."
They may feel discriminated against, but a recent survey brings good news to the bald community: plenty of women actually prefer a hairless head. Online dating site OurTime.com ranked the top cities where bald guys get the most attention from ladies.
Florida looks like the best state for single, bald men. Fort Lauderdale topped the list while Tampa came in at No. 10. New York came in second, and while Los Angeles didn't make the cut, San Diego ranked No. 5.
If you've ever been subjected to those hair transplant commercials where bald men are depicted as undateable, you can feel sympathy for the bald community. And unfortunately, statistics show that some ladies do discriminate.
According to a 2008 European survey, 17 percent of French women and 16 percent of Italian women said they wouldn't date a man who's losing his hair. But only 11 percent of British women said the same, and even better news—only 4 percent of Scottish women won't date a bald guy.
But these women are cutting themselves off from a large percentage of the male population. Researchers say more than half of men will experience baldness by the age of 50. In fact, 30 percent of men will be affected by baldness by age 30.

So ladies, I leave you with a final thought from Mr. David:
"Anyone can be confident with a full head of hair. But a confident bald man - there's your diamond in the rough."
A full list of the 10 cities where bald men have the most luck:
Fort Lauderdale, FL
New York, NY
Phoenix, AZ
Minneapolis, MN
San Diego, CA
Brooklyn, NY
Chicago, IL
Houston, TX
Tucson, AZ
Tampa, FL
Patrick Lane/Getty Images
More Love & Sex from MSN Living:
Secrets of Happy Couples
9 Little Gestures He Wishes You'd Do
9 Things He's Thinking About the Wedding
love: friendships, dating, sex & marriage
Sometimes you have to do things you don't want to do, like hang out with his lame friends. You're not always in the mood to nurse a beer silently while he and his boys argue about who's going to die next on "Game of Thrones" — but tomorrow he's sitting through a seven-girl brunch. So.

Why holding on to your partner's mistakes will end up hurting you.

A little extra effort, will power and research can help your marriage bloom well into old age.

These are the conversations all betrothed couples should take the time to have before they get hitched.

Brace yourself, this is uncomfortable.

There's nothing wrong with grabbing Italian food and alternating between watching action films and romantic comedies, but shaking up your going-out routine with an extreme date night can be the ultimate turn on and the best way to keep your relationship exciting.

This just in: Guys over 5'10" are twice as likely to stray.

Or how to tell if you've reached THAT point in your bond.

Dating doesn't have to be a daunting task, promise. Here's how to make it fun for you and him.

This just in: A new study shows girls are warriors in the womb.

You can make a pros and cons list...but ultimately you know what works best for you.

Maggie Reyes is a life coach, writer, and the founder of ModernMarried.com. She helps newlyweds re-think what married life can be. Here, she's revealing tricks every newlywed couple needs to know.