Top 10 Cities Where Women Prefer Bald Men
Good news for the folically challenged.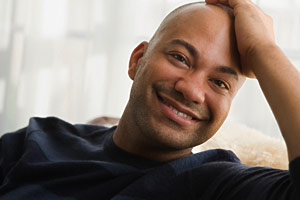 "When's the last time you saw a bald president?" Larry David recently asked in an interview with Huffington Post. "There'll be a woman and a Jewish president and maybe even a Muslim president before a bald president. That's my prediction: There'll be a Muslim president before a bald president."
They may feel discriminated against, but a recent survey brings good news to the bald community: plenty of women actually prefer a hairless head. Online dating site OurTime.com ranked the top cities where bald guys get the most attention from ladies.
Florida looks like the best state for single, bald men. Fort Lauderdale topped the list while Tampa came in at No. 10. New York came in second, and while Los Angeles didn't make the cut, San Diego ranked No. 5.
If you've ever been subjected to those hair transplant commercials where bald men are depicted as undateable, you can feel sympathy for the bald community. And unfortunately, statistics show that some ladies do discriminate.
According to a 2008 European survey, 17 percent of French women and 16 percent of Italian women said they wouldn't date a man who's losing his hair. But only 11 percent of British women said the same, and even better news—only 4 percent of Scottish women won't date a bald guy.
But these women are cutting themselves off from a large percentage of the male population. Researchers say more than half of men will experience baldness by the age of 50. In fact, 30 percent of men will be affected by baldness by age 30.

So ladies, I leave you with a final thought from Mr. David:
"Anyone can be confident with a full head of hair. But a confident bald man - there's your diamond in the rough."
A full list of the 10 cities where bald men have the most luck:
Fort Lauderdale, FL
New York, NY
Phoenix, AZ
Minneapolis, MN
San Diego, CA
Brooklyn, NY
Chicago, IL
Houston, TX
Tucson, AZ
Tampa, FL
Patrick Lane/Getty Images
More Love & Sex from MSN Living:
Secrets of Happy Couples
9 Little Gestures He Wishes You'd Do
9 Things He's Thinking About the Wedding
love: friendships, dating, sex & marriage
Do not get him a dopp kit, a money clip, a tie (seriously?), cufflinks or a bunch of candy that you will eat after he opens. Get him this stuff instead. He'll be surprised—but more importantly, he'll be happy. These gifts are good.

It might be time to let go of our general assumption that long-distance relationships are pure torture.

Researchers in a recent study conclude that men are better at focusing on one task, while women are more attuned to multi-task.

Experts say a meaningful gift is an extension of a healthy relationship (no pressure, though!).

It's normal to want to be accepted by your in-laws. But feeling that you need to be accepted can bring complications, causing you to be uncomfortable and unnatural around them.

One New York couple breaks down the highs and lows of their year together and even asks friends and family to weigh in.

Okay, prepare the tissues. We've rounded up the top ten viral love stories of the year. These stories are the ones that tugged at our heartstrings and went wild on the internet. And for good reason! These stories set the internet on fire and nearly crashed our computers, all because they revolve around the most important emotion in the world: love.

Man's best friend might have just become his mortal enemy due to stealing his woman.

Can a long-term union be happy without sex? One 34-year-old mom says yes. She anonymously shares all the not-so-dirty details of why not getting busy led to her wedded bliss.

Gluten-free? Mac lover? Pixie? There's a dating site for you.

Dating can lead to all kinds of tricky situations. To help you navigate even the most awkward moments, we've compiled our 50 best dating tips—some new, some old—given to us by experts, moms, women like you, and even Justin Timberlake.

This time of year, we dust off our holiday traditions of special songs, stories, events and food to make our season bright. Here's a look into the traditional, unique and quirky holiday traditions of some famous couples.