Guy leaves note for cheater's boyfriend
After realizing the woman he slept with was taken, a guy finds a clever way to break the news to her boyfriend.
We foresee this relationship being flushed down the toilet.
After realizing the woman he slept with had a boyfriend, Redditor GldnUnicorn shared an image of a note he left for her significant other. He taped the note to the underside of the woman's toilet seat.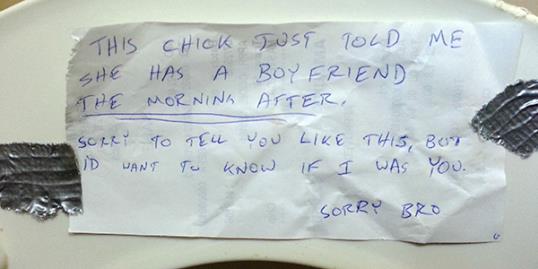 MSN Living: Scorned lover leaves revenge sign for spouse
It read:
"This chick just told me she has a boyfriend the morning after. Sorry to tell you like this, but I'd want to know if I was you. Sorry bro."
The Reddit user explained that he used a receipt and part of his "duct tape wallet" to fasten the note to the toilet. He also asked in the comments:
"You guys think I did the right thing trying to tell him? Or should I just have left him not knowing his girlfriend cheats on him?"
MSN Living: Get your flirt on this summer
What do you think -- did he do the right thing?
More from The Heart Beat: 
Poll: Working-class women who cheat want a sugar daddy
Study: Regular sex can make you look younger
Coffee shop lets customers pay with a kiss
Subscribe to The Heart Beat | Friend us on Facebook, follow us on Twitter and find us on Pinterest.
Photo: Guy leaves note for cheating girl's boyfriend / GldnUnicorn via Imgur, http://aka.ms/peemai​l
love: friendships, dating, sex & marriage
5 steps to being happy together in the long run.

We're willing to bet that if you're not already grappling with these wedding-related snags, you will be soon.

Pull out the tissues for these personalized wedding vows.

Forgotten what love is all about? Read this note, and remember.

And a few that aren't so shocking.

If you find yourself doing any of these things, consider changing your behavior or counseling.

From pineapple sculptures made out of sunflowers to bold graphic printed tablecloths, ten trendsetters in the wedding industry shared 100 days' worth of inspiring new wedding details. See The Knot editors' top picks for the coolest and most awe-worthy ideas from the wedding experts.

Those Facebook friends who seem to have perfect lives with flawless mates whom they adore at all times? Even they face tough times like these.

How to flag her little fibs. By Laura Tedesco

A new study on attraction may help explain why fashions change.

As a general rule, any island that offers great weather year-round is going to attract the most visitors in the winter (high season) when we're all trying to escape the snow. Once summer rolls around, many islands see a sharp drop-off in tourism since many people have beach weather right in their own backyards.

And how you can attack the issues together.