Guy leaves note for cheater's boyfriend
After realizing the woman he slept with was taken, a guy finds a clever way to break the news to her boyfriend.
We foresee this relationship being flushed down the toilet.
After realizing the woman he slept with had a boyfriend, Redditor GldnUnicorn shared an image of a note he left for her significant other. He taped the note to the underside of the woman's toilet seat.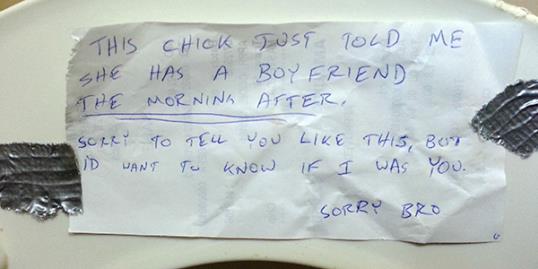 MSN Living: Scorned lover leaves revenge sign for spouse
It read:
"This chick just told me she has a boyfriend the morning after. Sorry to tell you like this, but I'd want to know if I was you. Sorry bro."
The Reddit user explained that he used a receipt and part of his "duct tape wallet" to fasten the note to the toilet. He also asked in the comments:
"You guys think I did the right thing trying to tell him? Or should I just have left him not knowing his girlfriend cheats on him?"
MSN Living: Get your flirt on this summer
What do you think -- did he do the right thing?
More from The Heart Beat: 
Poll: Working-class women who cheat want a sugar daddy
Study: Regular sex can make you look younger
Coffee shop lets customers pay with a kiss
Subscribe to The Heart Beat | Friend us on Facebook, follow us on Twitter and find us on Pinterest.
Photo: Guy leaves note for cheating girl's boyfriend / GldnUnicorn via Imgur, http://aka.ms/peemai​l
love: friendships, dating, sex & marriage
You'd think brides and grooms who celebrate their nuptials with 50 guests have an equal shot at wedded bliss as those who invite 500, but apparently not.

Because some things are just better with a buddy (whom you happen to be dating).

They're smart, funny, and adorable, but are you a good match?

Fight the urge to sign her up for OkCupid and read this instead.

We know you have good intentions, but...please...stop.

You can't say we didn't warn you. Every month is Movember when you're dating a guy with a beard. And while the scruffy look can be hot, there are some very real, err, challenges that come with the territory. Don't believe us? Well…

Follow these steps to slash your wedding budget—not your fun—in half.

It won't all be cake and flowers, but it can be the best year of your life together so far.

Expert tips on moving past those oh-so-familiar arguments.

Grow as a couple by sharing adventures.

For many married couples, falling in love and saying "I do" was the easy part. Living happily ever after is the part that takes a whole lot of work.