Couple discovers marriage isn't legal 48 years later
Almost half a century of accidental shacking up.
For those who believe that marriage is just a piece of paper, this could be a good argument.
Just two years short of their golden anniversary, Norma and Bob Clark discovered their marriage was never legally recognized.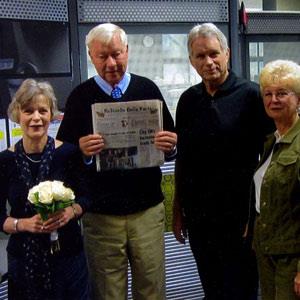 More on MSN Living
:
Strangest dating trends of 2012
Bob met Norma years ago, while they were students at Santa Fe State. Bob was studying to get his master's in sociology.
"I thought she was kind of cute," he said.
The two then married on August 29, 1964 in San Mateo County, California. But when they recently sent $20 to the Hall of Records to retrieve a copy of their marriage certificate, there was nothing to be found. Norma told the Redlands Daily Facts:
"I couldn't find it, and couldn't find it for a reason, because it wasn't there."
Apparently, the pastor who married the couple never turned in their marriage license to the county record office. Bob said he thought a trip to the county would clear things up, but his explanation wasn't enough.
"I just went in there thinking I could just do it, and she said, 'No, no, you have to have witnesses,'" Clark said. "Well, you know most people at our wedding are dead. If we had waited a couple more years, we would have been in trouble."
Since they had family in town for the holidays, the Clarks decided to give it another try. They remarried this month, and Norma's brother and sister served as witnesses in the wedding—again. The couple's son, Alexander, was also there to witness his parents exchange their vows. He said of the situation:
"My sister and I, we just kind of joked that we didn't have to throw them a 50th anniversary party anymore."
The silver lining? The Clarks made it nearly fifty years and were still excited to vow their lives together. They did, however, have a bit of advice for other married couples: make sure you actually have your marriage license.
Photo: Credit: Courtesy photo
More from The Heart Beat:
True love stories: Doctor diagnoses tumor, marries patient
Poll: the perfect man at every age
Man proposes in awesome amusement park photo
love: friendships, dating, sex & marriage
The typical wedding: A white dress, tiered cake, floral centerpieces and a cute flower girl -- you know the drill. Every once in a while, though, a couple trades in tradition for a quirky, never-seen-that-before idea. Here are a few of the most out-there wedding photos that made us do a double take.

There's a lot to love about weddings this fall, like cocktails served in copper Moscow mule mugs, industrial-inspired lighting and pheasant feather details. See what's new!

Do you have to be engaged to sport a ring with bling?

124.6 million haven't gotten hitched.

Even though the national average wedding is $29,858, that's just an average. If you live in a smaller state like Idaho where the average wedding costs $16,159, you may find yourself saving a little more than half of the national spend! Check out some of the other least expensive cities to get married in below:

Summer is winding down, but the ubiquitous summer romance lives on.

For those times when nothing big and horrible happened--but nothing is feeling right either.

He's confident, distinguished and anywhere from 4 to 20 years older than you. Age is just a number, but there's something about older men that we love. Here are eight reasons why being in a relationship with an older man is tops.

While a younger man may have less life experience, that doesn't mean he's not emotionally mature. Here are the eight reasons why being in a relationship with a younger man is tops.

Have you ever wondered what the 'other woman' was thinking?

So fall is coming and you need some romantic inspiration now that long walks on the beach are out of the question. Well look no further! From apple picking to pumpkin carving, these are some great fall date ideas from girls just like you!

Getting bored of the same dinner and movie date night? Take an adorable cue from your favorite celebs and try something new! From dancing to boxing you can't go wrong with these awesome date ideas.