Couple discovers marriage isn't legal 48 years later
Almost half a century of accidental shacking up.
For those who believe that marriage is just a piece of paper, this could be a good argument.
Just two years short of their golden anniversary, Norma and Bob Clark discovered their marriage was never legally recognized.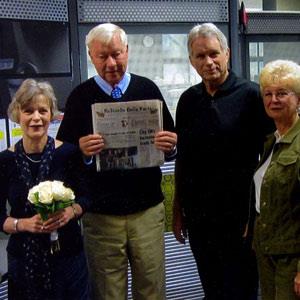 More on MSN Living
:
Strangest dating trends of 2012
Bob met Norma years ago, while they were students at Santa Fe State. Bob was studying to get his master's in sociology.
"I thought she was kind of cute," he said.
The two then married on August 29, 1964 in San Mateo County, California. But when they recently sent $20 to the Hall of Records to retrieve a copy of their marriage certificate, there was nothing to be found. Norma told the Redlands Daily Facts:
"I couldn't find it, and couldn't find it for a reason, because it wasn't there."
Apparently, the pastor who married the couple never turned in their marriage license to the county record office. Bob said he thought a trip to the county would clear things up, but his explanation wasn't enough.
"I just went in there thinking I could just do it, and she said, 'No, no, you have to have witnesses,'" Clark said. "Well, you know most people at our wedding are dead. If we had waited a couple more years, we would have been in trouble."
Since they had family in town for the holidays, the Clarks decided to give it another try. They remarried this month, and Norma's brother and sister served as witnesses in the wedding—again. The couple's son, Alexander, was also there to witness his parents exchange their vows. He said of the situation:
"My sister and I, we just kind of joked that we didn't have to throw them a 50th anniversary party anymore."
The silver lining? The Clarks made it nearly fifty years and were still excited to vow their lives together. They did, however, have a bit of advice for other married couples: make sure you actually have your marriage license.
Photo: Credit: Courtesy photo
More from The Heart Beat:
True love stories: Doctor diagnoses tumor, marries patient
Poll: the perfect man at every age
Man proposes in awesome amusement park photo
love: friendships, dating, sex & marriage
Learn how these surprising tactics can really improve your relationship.

Use these tips to up your chances of finding love.

Find out how paired-off ladies might feel lacking—and how you can make your relationship satisfying.

These signals are seriously subtle, but they can give you real insight into what's going through your husband's mind.

Check which changes are necessary to stay happy together.

We know some of this may sound obvious, but these simple statements can make both of you happier.

Making your relationship more secure, connected, and intimate doesn't have to feel overwhelming. Try these expert tips and reap the rewards now—and in the long run.

For those times when nothing big and horrible happened--but nothing is feeling right either.

What's more fun than animals in weddings? We've rounded up eight of the cutest.

Your puppy is all over your Instagram, Facebook and fridge, so there's no reason not to include him in your engagement pictures too. The best engagement photos give viewers a peek into your life. If you're a dog owner, take this opportunity to show off your pooch, like these 22 couples did! And we can't thank them enough.

Our married blogger gets real about checking out other guys when you're taken.

He's confident, distinguished and anywhere from 4 to 20 years older than you. Age is just a number, but there's something about older men that we love. Here are eight reasons why being in a relationship with an older man is tops.