Couple discovers marriage isn't legal 48 years later
Almost half a century of accidental shacking up.
For those who believe that marriage is just a piece of paper, this could be a good argument.
Just two years short of their golden anniversary, Norma and Bob Clark discovered their marriage was never legally recognized.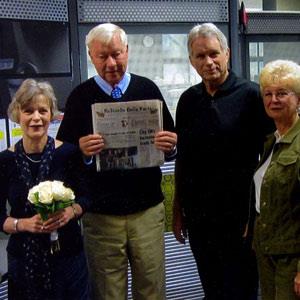 More on MSN Living
:
Strangest dating trends of 2012
Bob met Norma years ago, while they were students at Santa Fe State. Bob was studying to get his master's in sociology.
"I thought she was kind of cute," he said.
The two then married on August 29, 1964 in San Mateo County, California. But when they recently sent $20 to the Hall of Records to retrieve a copy of their marriage certificate, there was nothing to be found. Norma told the Redlands Daily Facts:
"I couldn't find it, and couldn't find it for a reason, because it wasn't there."
Apparently, the pastor who married the couple never turned in their marriage license to the county record office. Bob said he thought a trip to the county would clear things up, but his explanation wasn't enough.
"I just went in there thinking I could just do it, and she said, 'No, no, you have to have witnesses,'" Clark said. "Well, you know most people at our wedding are dead. If we had waited a couple more years, we would have been in trouble."
Since they had family in town for the holidays, the Clarks decided to give it another try. They remarried this month, and Norma's brother and sister served as witnesses in the wedding—again. The couple's son, Alexander, was also there to witness his parents exchange their vows. He said of the situation:
"My sister and I, we just kind of joked that we didn't have to throw them a 50th anniversary party anymore."
The silver lining? The Clarks made it nearly fifty years and were still excited to vow their lives together. They did, however, have a bit of advice for other married couples: make sure you actually have your marriage license.
Photo: Credit: Courtesy photo
More from The Heart Beat:
True love stories: Doctor diagnoses tumor, marries patient
Poll: the perfect man at every age
Man proposes in awesome amusement park photo
love: friendships, dating, sex & marriage
Look, I looooove engagement season for obvious reasons, but even I can admit I'm like, "Really, AGAIN?" when yet ANOTHER engagement ring pops up in my news feed. Seriously, there were two this weekend. (Congrats, Gemma and Danny!)

We asked real men and women (and a few first-base experts, too) to give us the cardinal rules of kissing, tell us what makes someone a good kisser and more. So whether you're leaning in for kiss No. 1 or 1,000, read on.by Devin Tomb

Not quite sure which diamond shape suits your personality? We're here to help.

Dating can lead to all kinds of tricky situations. To help you navigate even the most awkward moments, we've compiled our 50 best dating tips—some new, some old—given to us by experts, moms, women like you, and even Justin Timberlake.

Customers as Madison's new Snuggle House can snuggle with professional cuddlers for $60 an hour.

Can you believe it was only about 15 years ago that engagement ring shopping meant a time-consuming slog from jewelry boutique to jewelry boutique? Thank goodness for the internet; nowadays, it's easy to do all that legwork online.

The holiday season, with all its twinkly lights and fireplaces and cold nights perfect for snuggling, is most definitely for lovers—but "The Single Woman" author Mandy Hale is here to remind you that it's also for singles, too.

Studies show that being satisfied with your romantic relationship is one of the best predictors of happiness -- even more important than education, income, or having a high-status job. Resolve to make 2014 your happiest year yet with these bond-strengthening pledges.

This winter, it's all about mixing unexpected seasonal elements with elegant neutral details and a hint of sparkle and sequins. Take a look.

Here's why dudes without hair make the best boyfriends.

What do you wish you appreciated more when you were flying solo?

"If you're so busy tweeting and Instagraming, you're not paying attention," New York wedding planner Marcy Blum said. "It's almost a cosmic faux pas. People want your energy with them and focused on what they're doing."