Couple discovers marriage isn't legal 48 years later
Almost half a century of accidental shacking up.
For those who believe that marriage is just a piece of paper, this could be a good argument.
Just two years short of their golden anniversary, Norma and Bob Clark discovered their marriage was never legally recognized.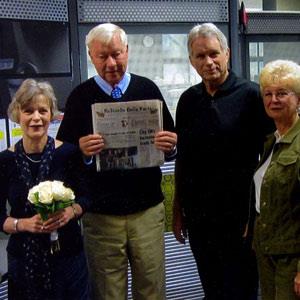 More on MSN Living
:
Strangest dating trends of 2012
Bob met Norma years ago, while they were students at Santa Fe State. Bob was studying to get his master's in sociology.
"I thought she was kind of cute," he said.
The two then married on August 29, 1964 in San Mateo County, California. But when they recently sent $20 to the Hall of Records to retrieve a copy of their marriage certificate, there was nothing to be found. Norma told the Redlands Daily Facts:
"I couldn't find it, and couldn't find it for a reason, because it wasn't there."
Apparently, the pastor who married the couple never turned in their marriage license to the county record office. Bob said he thought a trip to the county would clear things up, but his explanation wasn't enough.
"I just went in there thinking I could just do it, and she said, 'No, no, you have to have witnesses,'" Clark said. "Well, you know most people at our wedding are dead. If we had waited a couple more years, we would have been in trouble."
Since they had family in town for the holidays, the Clarks decided to give it another try. They remarried this month, and Norma's brother and sister served as witnesses in the wedding—again. The couple's son, Alexander, was also there to witness his parents exchange their vows. He said of the situation:
"My sister and I, we just kind of joked that we didn't have to throw them a 50th anniversary party anymore."
The silver lining? The Clarks made it nearly fifty years and were still excited to vow their lives together. They did, however, have a bit of advice for other married couples: make sure you actually have your marriage license.
Photo: Credit: Courtesy photo
More from The Heart Beat:
True love stories: Doctor diagnoses tumor, marries patient
Poll: the perfect man at every age
Man proposes in awesome amusement park photo
love: friendship, dating, sex & marriage
What's worse than getting snubbed while proposing? Having your heart broken in front of countless strangers.

We asked brides on TheKnot.com to tell all -- and they did. Here, five of the most likely culprits and advice for how to deal with your drama-causing guests along the way.

This short course in flirting will not only teach you how to flirt better but also how to tell when someone is flirting with you—and how to respond. Have fun.

Gatsby glamour doesn't have to just live on the big screen! Embrace the trendy (yet timeless) art deco style with sequins, pearls, feathers and geometric patterns. Check out these art deco ideas and achieve the feel of 1920s decadence. By the way, all of these are affordable, except for the $600 hairpiece which is a splurge, but a knockout. Shop the look!

Wondering if your summer love will last? Here are 15 signs if your seasonal love is fleeting or for real.

Sixteen years after "Titanic's" release—and 101 years after the historic ship's notorious sinking—our hearts still go on for star-crossed lovers Rose DeWitt Bukater (Kate Winslet) and Jack Dawson (Leonardo DiCaprio). We rounded up some of our favorite ill-fated, but oh-so-romantic affairs on film, from "Gone with the Wind" to "Moulin Rouge!".

Flirting shouldn't be retired once you've got the ring. We asked relationship expert Harlan Cohen, as well as real husbands, the best way to keep the sparks flying.

When we're annoyed by male behavior, we turn to columnist Aaron Traister. His logic may be strange, but we have to admit, it's pretty helpful. Here, he answers our many questions for guys.

Author Amanda Robb talks to clinical psychologist David Schnarch, Ph.D., author of Passionate Marriage: Keeping Love and Intimacy Alive in Committed Relationships and Intimacy and Desire: Awaken the Passion in Your Relationship, to discover the ways she can relight the fire in her own relationship. What she learned just might help you wake up your own libido.

The average wedding costs $28,000. Think that's pricey? You're in for a surprise. We've rounded up some of the most expensive weddings of all time. See if you can guess how much was dropped on these over-the-top affairs, then click through to Bing to see if you're right.

A guide to staying together forever…straight from divorce lawyers! They know what tears couples apart, and they'll tell you how to avoid it.

We've come across some odd tales of lost love. Here's our list of the weirdest reasons people have divorced.