A third of spouses admit to financial infidelity
Are you having an affair with your credit card debt?
Money can't buy you love, but once you find a partner, money is likely to become a topic of contention on more than one occasion.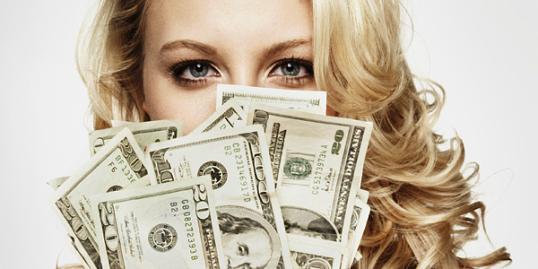 According to a recent study from the AARP, 34 percent of couples have hidden purchases from a spouse or partner, adding fuel to the fire.
Related: How to determine if he's marriage material

Research company ORC International led the survey, interviewing 1,263 adults over the age of 18. They found that older couples were more likely to be honest about their finances, while the 18 to 49 demographic had a little trouble with financial fidelity.
Dr. Taffy Wagner, CEO of Money Talk Matters, told Business Insider:
"Couples are all in love and want everything to be joint, but when they automatically put all of their money in one account and one person is managing it, a lot of the time the other person has no idea what is going on."
Related: How to get the ring you want
So even joint bank accounts might not prevent financial cheating.
Of respondents ages 18 to 49, 7 percent even admitted to keeping a secret bank account hidden from their spouse. When asked if they "know of someone" who has a secret bank account, that number jumped to 20 percent.
At 34 percent, hiding purchases was the most common money lie found in the survey. But 8 percent of those polled said they've lied about lending money to a family member. Six percent said they've hidden credit card debt. That number was significantly higher for the 18 to 49 crowd, with 10 percent admitting to hiding debt.
With those stats, it's no wonder that money continues to be a top cause of couples' arguments.
Photo: Plush Studios/Getty Images
More Sex & Love on MSN Living:
50 Dating Dos and Don'ts
Sweet, Fun and Cheap Date Ideas
The Dos and Don'ts of Dating More Than One Guy at a Time
24 Secrets of Successful Daters
The way I "hid money" was when I figured the checkbook, I would subtract $100 at the end of the checkbook register when the page was turned. It would sometimes take 3 months to get to the end of the register page, so $100 was not a lot AND it was a nice round number, easy to remember.  Whenever my spouse wrote a check, it was never noticed. I reconciled the statements each month.  This went on for years.  When we tried to save money, it always got spent.  I KNEW I would never spend this...and I didn't.   I learned early on to pay myself first. One day I decided to show what I had been doing.  He bought himself a truck.

If you feel you must hide or mislead  the person you love* you need to get out of the relationship. Both parties should have a complete understanding of what the financial priorities are and should abide by the agreement. If no agreement is agreed upon a limited number of exceptions can be made. If one person is constantly making the compromise *get out*you are being used. It all starts with money and will ultimately lead to deception and infidelity and heart break.

Yes I have with held financial information from my partner because I am the ONLY bread earner in the household, I have to make all the decisions because he doesn't want to hear the trivial information and we never agree on how to do things.  Whether it's the car or the toilet, he moto is always go the cheapest route. In my experience, that is trouble.  So I handle the finances, make the decisions, work, pay the bills and do all the purchasing that is necessary to make a home function.  In turn, he takes care of the house, yard, and pet when I am not there.  So with holding info from him is NOT being a wrong.  Oh yes, and we have been like this since he was no longer able to work - 2004. 
If you want to destroy your relationship, hid money.  I owned a small business with an old boyfriend for 13 years, nine of those we lived together.  I did part of the initial books and he finished them up.  He hid so much money from me and basically thought I was just too stupid to know what he was doing.  Once he spent $50,000.00 dollars on one of his "ideas" and I called him out on it.  He was shocked I had figured it out, but never stopped, still thinking I was too stupid to figure it out.  There were more than one reason I walked out the door, but I would say the money issue was what started the rest of the problems.  Hiding money you worked for, from the person that worked for it and treating them like they are to stupid to figure it out, is pure acid on your relationship.  You might think you are smarter than your spouse, but your spouse might be smarter than you think; so poor a little more acid on your marriage, but do not be shocked when they walk out the door. 



Are you sure you want to delete this comment?
love: friendships, dating, sex & marriage
Customers as Madison's new Snuggle House can snuggle with professional cuddlers for $60 an hour.

Can you believe it was only about 15 years ago that engagement ring shopping meant a time-consuming slog from jewelry boutique to jewelry boutique? Thank goodness for the internet; nowadays, it's easy to do all that legwork online.

The holiday season, with all its twinkly lights and fireplaces and cold nights perfect for snuggling, is most definitely for lovers—but "The Single Woman" author Mandy Hale is here to remind you that it's also for singles, too.

Studies show that being satisfied with your romantic relationship is one of the best predictors of happiness -- even more important than education, income, or having a high-status job. Resolve to make 2014 your happiest year yet with these bond-strengthening pledges.

This winter, it's all about mixing unexpected seasonal elements with elegant neutral details and a hint of sparkle and sequins. Take a look.

Here's why dudes without hair make the best boyfriends.

What do you wish you appreciated more when you were flying solo?

"If you're so busy tweeting and Instagraming, you're not paying attention," New York wedding planner Marcy Blum said. "It's almost a cosmic faux pas. People want your energy with them and focused on what they're doing."

The wedding favor, that little thank-you-for-coming gift, has risen to new heights with the bride and groom giving guests a wide range of favors that are meaningful to them.

Generations ago, planning a wedding was 100 percent the bride's job, but in today's age of gender equity, it's a mere 99 percent.

For all the self-help books and advice columns out there (um, keeping reading my advice anyway, please!), there's one tool we all already have in our arsenal for picking a partner that will keep us happy: our gut instincts.

According to a new study from the University of Texas and the University of California, Los Angeles, both men and women have regrets when it comes to sex, but the genders vary greatly when it comes to what they regret specifically.