A timeline of same-sex marriage in the United States
This year, the issue is on the ballots of four states.
In 2001, the Netherlands became the first country in the world to legalize same-sex marriage. Since then, 10 other countries have followed suit—Argentina, South Africa and Spain are just a few among that handful. While some jurisdictions in the United States have made it legal for same-sex couples to tie the knot, there's still a way to go, and today, the issue of marriage equality will be on the ballots of four states.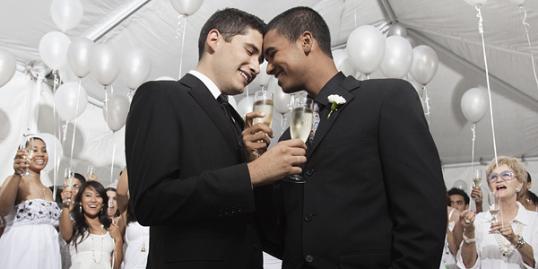 More from Living: How to determine if he's marriage material
Voters in Washington and Maryland will have to decide on whether to reject or uphold a law that legalized same-sex marriage earlier this year. Maine will vote on a citizen's initiative to establish same-sex marriage, and in Minnesota, voters will decide on whether their state constitution should be amended to define marriage as a union only between a man and a woman. The state-specific legislation may be enough to make your head spin, but here's a brief history of same-sex marriage in the United States.
More from Living: How to get the ring you want
1970: Jack Baker and Michael McConnell apply for a marriage license in Minnesota. The marriage license is denied, and an appeal ends at the U.S. Supreme Court, which declines a request to review the case. A year later, the couple obtains a marriage license in a different county in their state. A Methodist minister officiates the ceremony and executes the license.
1973: Maryland becomes the first state to ban same-sex marriage. In the next two decades, 45 other states follow suit.
1993: President Bill Clinton's "Don't Ask Don't Tell" policy is implemented. The Hawaii State Supreme Court rules that the state statute limiting marriage to opposite-sex couples is unconstitutional.
1996: President Clinton signs the Defense of Marriage Act into law. The federal government is banned from recognizing any kind of same-sex union.
1998: In Hawaii, voters approve a constitutional amendment that gives the legislature sole jurisdiction over marriage laws. In Alaska, voters approve a constitutional amendment that bans same-sex marriage.
1999: California's Gov. Gray David signs a bill into law that gives limited rights for same-sex couples in domestic partnerships.
2000: Vermont legalizes civil unions.
2001: On Valentine's Day, gay and lesbian couples ask for marriage licenses in Los Angeles, New York City and San Francisco.
2003: The Massachusetts Supreme Court asks the legislature to allow same-sex couples to marry.
2004: Some cities begin approving marriage licenses for same-sex couples, but those licenses are later nullified. On May 17, same-sex marriage becomes legal in Massachusetts. Six months later, 11 states pass constitutional amendments that ban same sex marriage: Eleven states pass constitutional amendments banning same-sex marriage: Arkansas, Georgia, Kentucky, Michigan, Mississippi, Montana, North Dakota, Oklahoma, Ohio, Oregon and Utah. Some of those states also ban domestic partnerships and civil unions.
2005: New York's Mayor Michael Bloomberg orders cities to recognize same-sex marriages from other jurisdictions. Judge Richard Kramer of the San Francisco County Superior Court rules California's same-sex marriage ban unconstitutional.
Meanwhile, Canada becomes the first nation in the Americas to legalize gay marriage.
2006: Arizona becomes the first state to reject an initiative banning same-sex marriage; New Jersey's Supreme Court rules unanimously in favor of marriage equality.
2008: Same-sex marriage becomes legal in California and Connecticut. However, a measure overturns the legalization in California, banning it again.
2009: Iowa, Vermont, New Hampshire and Maine all legalize same-sex marriage, but it's then overturned in Maine later that year.
2010: Washington, D.C., and New Hampshire legalize same sex marriage.
2011: The Obama administration drops defense of the Defense of Marriage Act. New York legalizes same-sex marriage.
2012: President Obama becomes the first U.S. president to publicly support same-sex marriage. North Carolina votes for a constitutional amendment that bans not only same-sex marriage, but civil unions as well. Washington state's Gov. Chris Gregoire signs a same-sex marriage bill into law, as does Maryland's Gov. Martin O'Malley.
Referendums are then passed in both states, which overturn the legislation but allow voters to decide whether to pass a same-sex marriage initiative.
Photo: Hill Street Studios/Getty Images
More Sex & Love on MSN Living:
50 Dating Dos and Don'ts
Sweet, Fun and Cheap Date Ideas
The Dos and Don'ts of Dating More Than One Guy at a Time
24 Secrets of Successful Daters
love: friendships, dating, sex & marriage
The typical wedding: A white dress, tiered cake, floral centerpieces and a cute flower girl -- you know the drill. Every once in a while, though, a couple trades in tradition for a quirky, never-seen-that-before idea. Here are a few of the most out-there wedding photos that made us do a double take.

There's a lot to love about weddings this fall, like cocktails served in copper Moscow mule mugs, industrial-inspired lighting and pheasant feather details. See what's new!

Do you have to be engaged to sport a ring with bling?

124.6 million haven't gotten hitched.

Even though the national average wedding is $29,858, that's just an average. If you live in a smaller state like Idaho where the average wedding costs $16,159, you may find yourself saving a little more than half of the national spend! Check out some of the other least expensive cities to get married in below:

Summer is winding down, but the ubiquitous summer romance lives on.

For those times when nothing big and horrible happened--but nothing is feeling right either.

He's confident, distinguished and anywhere from 4 to 20 years older than you. Age is just a number, but there's something about older men that we love. Here are eight reasons why being in a relationship with an older man is tops.

While a younger man may have less life experience, that doesn't mean he's not emotionally mature. Here are the eight reasons why being in a relationship with a younger man is tops.

Have you ever wondered what the 'other woman' was thinking?

So fall is coming and you need some romantic inspiration now that long walks on the beach are out of the question. Well look no further! From apple picking to pumpkin carving, these are some great fall date ideas from girls just like you!

Getting bored of the same dinner and movie date night? Take an adorable cue from your favorite celebs and try something new! From dancing to boxing you can't go wrong with these awesome date ideas.