A timeline of same-sex marriage in the United States
This year, the issue is on the ballots of four states.
In 2001, the Netherlands became the first country in the world to legalize same-sex marriage. Since then, 10 other countries have followed suit—Argentina, South Africa and Spain are just a few among that handful. While some jurisdictions in the United States have made it legal for same-sex couples to tie the knot, there's still a way to go, and today, the issue of marriage equality will be on the ballots of four states.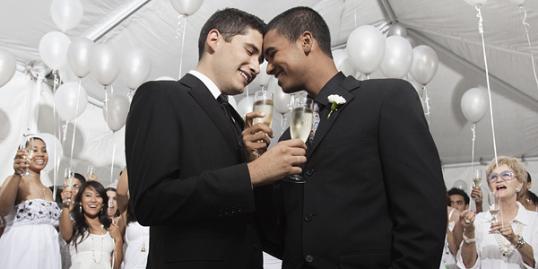 More from Living: How to determine if he's marriage material
Voters in Washington and Maryland will have to decide on whether to reject or uphold a law that legalized same-sex marriage earlier this year. Maine will vote on a citizen's initiative to establish same-sex marriage, and in Minnesota, voters will decide on whether their state constitution should be amended to define marriage as a union only between a man and a woman. The state-specific legislation may be enough to make your head spin, but here's a brief history of same-sex marriage in the United States.
More from Living: How to get the ring you want
1970: Jack Baker and Michael McConnell apply for a marriage license in Minnesota. The marriage license is denied, and an appeal ends at the U.S. Supreme Court, which declines a request to review the case. A year later, the couple obtains a marriage license in a different county in their state. A Methodist minister officiates the ceremony and executes the license.
1973: Maryland becomes the first state to ban same-sex marriage. In the next two decades, 45 other states follow suit.
1993: President Bill Clinton's "Don't Ask Don't Tell" policy is implemented. The Hawaii State Supreme Court rules that the state statute limiting marriage to opposite-sex couples is unconstitutional.
1996: President Clinton signs the Defense of Marriage Act into law. The federal government is banned from recognizing any kind of same-sex union.
1998: In Hawaii, voters approve a constitutional amendment that gives the legislature sole jurisdiction over marriage laws. In Alaska, voters approve a constitutional amendment that bans same-sex marriage.
1999: California's Gov. Gray David signs a bill into law that gives limited rights for same-sex couples in domestic partnerships.
2000: Vermont legalizes civil unions.
2001: On Valentine's Day, gay and lesbian couples ask for marriage licenses in Los Angeles, New York City and San Francisco.
2003: The Massachusetts Supreme Court asks the legislature to allow same-sex couples to marry.
2004: Some cities begin approving marriage licenses for same-sex couples, but those licenses are later nullified. On May 17, same-sex marriage becomes legal in Massachusetts. Six months later, 11 states pass constitutional amendments that ban same sex marriage: Eleven states pass constitutional amendments banning same-sex marriage: Arkansas, Georgia, Kentucky, Michigan, Mississippi, Montana, North Dakota, Oklahoma, Ohio, Oregon and Utah. Some of those states also ban domestic partnerships and civil unions.
2005: New York's Mayor Michael Bloomberg orders cities to recognize same-sex marriages from other jurisdictions. Judge Richard Kramer of the San Francisco County Superior Court rules California's same-sex marriage ban unconstitutional.
Meanwhile, Canada becomes the first nation in the Americas to legalize gay marriage.
2006: Arizona becomes the first state to reject an initiative banning same-sex marriage; New Jersey's Supreme Court rules unanimously in favor of marriage equality.
2008: Same-sex marriage becomes legal in California and Connecticut. However, a measure overturns the legalization in California, banning it again.
2009: Iowa, Vermont, New Hampshire and Maine all legalize same-sex marriage, but it's then overturned in Maine later that year.
2010: Washington, D.C., and New Hampshire legalize same sex marriage.
2011: The Obama administration drops defense of the Defense of Marriage Act. New York legalizes same-sex marriage.
2012: President Obama becomes the first U.S. president to publicly support same-sex marriage. North Carolina votes for a constitutional amendment that bans not only same-sex marriage, but civil unions as well. Washington state's Gov. Chris Gregoire signs a same-sex marriage bill into law, as does Maryland's Gov. Martin O'Malley.
Referendums are then passed in both states, which overturn the legislation but allow voters to decide whether to pass a same-sex marriage initiative.
Photo: Hill Street Studios/Getty Images
More Sex & Love on MSN Living:
50 Dating Dos and Don'ts
Sweet, Fun and Cheap Date Ideas
The Dos and Don'ts of Dating More Than One Guy at a Time
24 Secrets of Successful Daters
love: friendships, dating, sex & marriage
Hopeless romantics and cringe-worthy chick flicks would tell you that it doesn't matter what you do on the date, as long as you're together. But they're wrong. Dead wrong. Women use your date ideas to size you up, says matchmaker Rachel DeAlto, author of "Flirt Fearlessly." "You absolutely will be judged based on the date you plan. There are so many subconscious impressions that we take in while dating." Gulp. Here are 10 terrible ideas that can land you on the no-lay list—and simple swaps to keep her happy. By K. Aleisha Fetters

Here are 15 signs we've been on "The Bachelor" bandwagon—all 27 seasons of it—for (possibly) longer than we'd care to admit.

In the grand tradition of celebrating love, we've chosen some of the mushiest, sweetest, and most memorable scenes to hit the big or small screen. From marriage proposals to unexpected serenades, these moments will make you believe in love (and want someone to cuddle up with, stat).

How to flag her little fibs. By Laura Tedesco

Revealr is a new iPhone app that allows those looking for love to hear their possible matches before they see them.

A new poll reveals 59 percent of the country supports same-sex marriage.

Celebrity engagements are so much fun to follow because every detail is bound to be over-the-top — from the proposal (like when Kanye rented out an entire stadium to propose to Kim) to the huge, sparkly engagement ring and, of course, the wedding. Plus, as trendsetters, celebs can be a source of inspiration even if you can't afford a million dollar ring. Here are our celebrity wedding predictions for 2014.

If you've ever been to a club—like, ever, even once—you are not going to be shocked to hear that women get a lot of unwanted, aggressive attention. But when you read the findings of this study on how often and why it happens, it might make you feel downright sick to your stomach.

No matter your current relationship status or past relationship fails, get a fresh start this month, with these tips for spring cleaning your love life.

Forget the rules you've always heard—it's time to start making your own.

Are you in an affair without knowing it? Unless you're a swinger, having sex with someone else counts as cheating. But then there's the fuzzy area between friendship and infidelity—and chances are, your girlfriend sees those shades of gray as more black and white than you do. "Men aren't as attuned to identifying ambiguous behaviors as cheating as women are," says Daniel Kruger, Ph.D., a University of Michigan psychologist, who's studied gender differences in definitions of infidelity. In other words, what you consider totally innocent could be her deal breaker.

We spoke with relationship therapist Rachel A. Sussman, author of "The Breakup Bible," for her tips on how regular girls can survive a split like an A-lister.