Flikdate: The new age of video dating
Flikdate lets you live video chat with potential dates on your smartphone.
The concept of dating has definitely changed since our parents were in college. Today, rarely is it as simple as the "boy meets girl, they fall in love and live happily ever after" scenario.  If you've seen enough lame dating websites and apps, we would like to introduce something new. 
Flikdate allows to you chat with people from all over the world, all from the comfort of your smartphone. By using a live video chat, you can actually see the person you are talking to, and hopefully find that spark of love!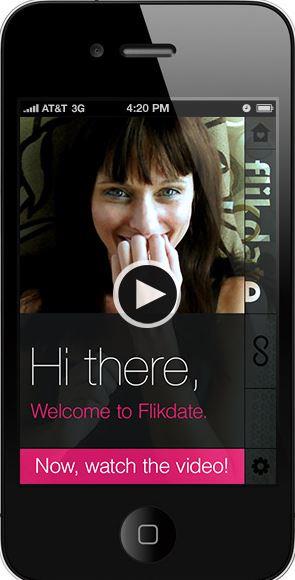 This is how it works:  Download the *free* Flikdate app on your smartphone. That's easy enough, right? It connects to your Facebook account, but only to verify information such as your age, education, location and basic information. This also means that everyone you find on Flikdate displays their accurate information, too!
After the initial set up and a quick, optional tutorial, you can begin Flikdating! Here is the basic rundown:
During a session, you get 90 seconds with each person. Each date is through a live video on your smartphone, so you can see and hear your Flikdate partner. You get 25 free fliks to start out, and you can buy more for $0.99 or just wait for the free refill every day. Also, you can make your experience personalized by choosing the geographical range of your dates. You can choose to chat with people from all over the world, from your continent, just around your country, or even people from only your university.
If you like the person you are Flikdating with and think they're cute, hot, funny, or whatever you're looking for, you can hit the "Thumbs Up" button. The person you are talking with can see if you hit this button, and likewise, you can see if someone presses it for you.  On the other hand, if you feel like you don't quite mesh with the guy and he isn't your type, you can hit the "Thumbs Down" button. This moves you on to a new date, or you can just flik the screen to move on.
love: friendships, dating, sex & marriage
LinkedUp connects to your LinkedIn profile to find you a date.

Plus, some report having no one at all they feel close to.

It's wedding season! Let's take a look back at when these stunning celebs put on gorgeous gowns and held beautiful bouquets in support of their friends' and family members' big days.

A new study says we're more open to consensual non-monogamy now than ever before — but does it work?

5 steps to being happy together in the long run.

There has been an exponential increase in the number of people who are questioning their marriage.

We're willing to bet that if you're not already grappling with these wedding-related snags, you will be soon.

Pull out the tissues for these personalized wedding vows.

Forgotten what love is all about? Read this note, and remember.

And a few that aren't so shocking.

If you find yourself doing any of these things, consider changing your behavior or counseling.

From pineapple sculptures made out of sunflowers to bold graphic printed tablecloths, ten trendsetters in the wedding industry shared 100 days' worth of inspiring new wedding details. See The Knot editors' top picks for the coolest and most awe-worthy ideas from the wedding experts.