Flikdate: The new age of video dating
Flikdate lets you live video chat with potential dates on your smartphone.
The concept of dating has definitely changed since our parents were in college. Today, rarely is it as simple as the "boy meets girl, they fall in love and live happily ever after" scenario.  If you've seen enough lame dating websites and apps, we would like to introduce something new. 
Flikdate allows to you chat with people from all over the world, all from the comfort of your smartphone. By using a live video chat, you can actually see the person you are talking to, and hopefully find that spark of love!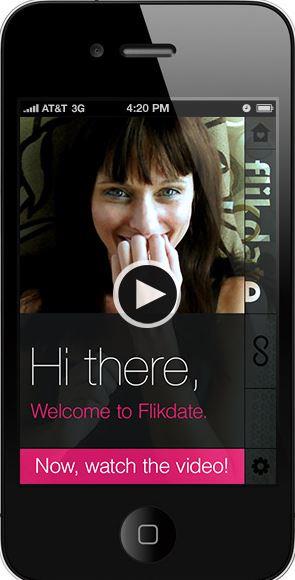 This is how it works:  Download the *free* Flikdate app on your smartphone. That's easy enough, right? It connects to your Facebook account, but only to verify information such as your age, education, location and basic information. This also means that everyone you find on Flikdate displays their accurate information, too!
After the initial set up and a quick, optional tutorial, you can begin Flikdating! Here is the basic rundown:
During a session, you get 90 seconds with each person. Each date is through a live video on your smartphone, so you can see and hear your Flikdate partner. You get 25 free fliks to start out, and you can buy more for $0.99 or just wait for the free refill every day. Also, you can make your experience personalized by choosing the geographical range of your dates. You can choose to chat with people from all over the world, from your continent, just around your country, or even people from only your university.
If you like the person you are Flikdating with and think they're cute, hot, funny, or whatever you're looking for, you can hit the "Thumbs Up" button. The person you are talking with can see if you hit this button, and likewise, you can see if someone presses it for you.  On the other hand, if you feel like you don't quite mesh with the guy and he isn't your type, you can hit the "Thumbs Down" button. This moves you on to a new date, or you can just flik the screen to move on.
love: friendships, dating, sex & marriage
This winter, it's all about mixing unexpected seasonal elements with elegant neutral details and a hint of sparkle and sequins. Take a look.

Here's why dudes without hair make the best boyfriends.

What do you wish you appreciated more when you were flying solo?

"If you're so busy tweeting and Instagraming, you're not paying attention," New York wedding planner Marcy Blum said. "It's almost a cosmic faux pas. People want your energy with them and focused on what they're doing."

The wedding favor, that little thank-you-for-coming gift, has risen to new heights with the bride and groom giving guests a wide range of favors that are meaningful to them.

Generations ago, planning a wedding was 100 percent the bride's job, but in today's age of gender equity, it's a mere 99 percent.

For all the self-help books and advice columns out there (um, keeping reading my advice anyway, please!), there's one tool we all already have in our arsenal for picking a partner that will keep us happy: our gut instincts.

According to a new study from the University of Texas and the University of California, Los Angeles, both men and women have regrets when it comes to sex, but the genders vary greatly when it comes to what they regret specifically.

Spending time alone with your guy is easy, but going public with your plus-one is another thing entirely. Whether it's your crazy relatives at Thanksgiving dinner or awkward convos with your boss at the holiday party, possible pitfalls are everywhere. Keep reading for tips on how to make his grand entrance into your social life a good thing.

Match.com survey reveals the day you're least likely to get spruced up for a date.

Drinking and relationships seem to go hand in hand in a lot of ways. But only in moderation!

Many men will tell you that they have no clue what their wives are thinking.