Flikdate: The new age of video dating
Flikdate lets you live video chat with potential dates on your smartphone.
The concept of dating has definitely changed since our parents were in college. Today, rarely is it as simple as the "boy meets girl, they fall in love and live happily ever after" scenario.  If you've seen enough lame dating websites and apps, we would like to introduce something new. 
Flikdate allows to you chat with people from all over the world, all from the comfort of your smartphone. By using a live video chat, you can actually see the person you are talking to, and hopefully find that spark of love!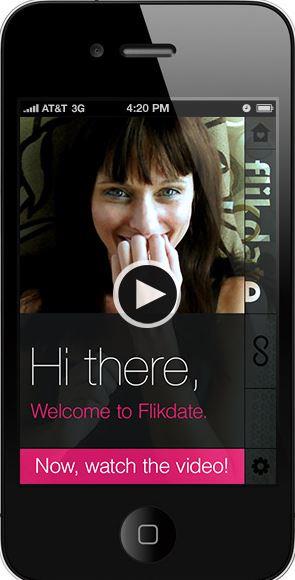 This is how it works:  Download the *free* Flikdate app on your smartphone. That's easy enough, right? It connects to your Facebook account, but only to verify information such as your age, education, location and basic information. This also means that everyone you find on Flikdate displays their accurate information, too!
After the initial set up and a quick, optional tutorial, you can begin Flikdating! Here is the basic rundown:
During a session, you get 90 seconds with each person. Each date is through a live video on your smartphone, so you can see and hear your Flikdate partner. You get 25 free fliks to start out, and you can buy more for $0.99 or just wait for the free refill every day. Also, you can make your experience personalized by choosing the geographical range of your dates. You can choose to chat with people from all over the world, from your continent, just around your country, or even people from only your university.
If you like the person you are Flikdating with and think they're cute, hot, funny, or whatever you're looking for, you can hit the "Thumbs Up" button. The person you are talking with can see if you hit this button, and likewise, you can see if someone presses it for you.  On the other hand, if you feel like you don't quite mesh with the guy and he isn't your type, you can hit the "Thumbs Down" button. This moves you on to a new date, or you can just flik the screen to move on.
love: friendships, dating, sex & marriage
New research shows they get divorced at vastly lower rates.

Brad Pitt and Angelina Jolie finally took the plunge, but marriage isn't always a good choice for everyone.

Learn how these surprising tactics can really improve your relationship.

Use these tips to up your chances of finding love.

Find out how paired-off ladies might feel lacking—and how you can make your relationship satisfying.

These signals are seriously subtle, but they can give you real insight into what's going through your husband's mind.

Check which changes are necessary to stay happy together.

We know some of this may sound obvious, but these simple statements can make both of you happier.

Making your relationship more secure, connected, and intimate doesn't have to feel overwhelming. Try these expert tips and reap the rewards now—and in the long run.

For those times when nothing big and horrible happened--but nothing is feeling right either.

What's more fun than animals in weddings? We've rounded up eight of the cutest.

Your puppy is all over your Instagram, Facebook and fridge, so there's no reason not to include him in your engagement pictures too. The best engagement photos give viewers a peek into your life. If you're a dog owner, take this opportunity to show off your pooch, like these 22 couples did! And we can't thank them enough.