Flikdate: The new age of video dating
Flikdate lets you live video chat with potential dates on your smartphone.
The concept of dating has definitely changed since our parents were in college. Today, rarely is it as simple as the "boy meets girl, they fall in love and live happily ever after" scenario.  If you've seen enough lame dating websites and apps, we would like to introduce something new. 
Flikdate allows to you chat with people from all over the world, all from the comfort of your smartphone. By using a live video chat, you can actually see the person you are talking to, and hopefully find that spark of love!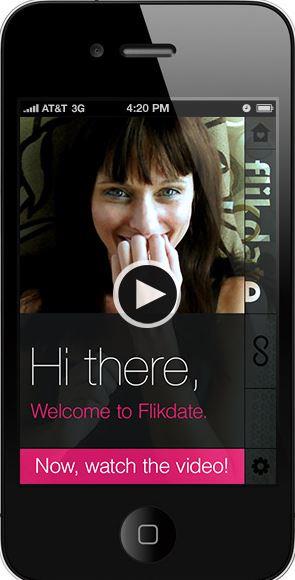 This is how it works:  Download the *free* Flikdate app on your smartphone. That's easy enough, right? It connects to your Facebook account, but only to verify information such as your age, education, location and basic information. This also means that everyone you find on Flikdate displays their accurate information, too!
After the initial set up and a quick, optional tutorial, you can begin Flikdating! Here is the basic rundown:
During a session, you get 90 seconds with each person. Each date is through a live video on your smartphone, so you can see and hear your Flikdate partner. You get 25 free fliks to start out, and you can buy more for $0.99 or just wait for the free refill every day. Also, you can make your experience personalized by choosing the geographical range of your dates. You can choose to chat with people from all over the world, from your continent, just around your country, or even people from only your university.
If you like the person you are Flikdating with and think they're cute, hot, funny, or whatever you're looking for, you can hit the "Thumbs Up" button. The person you are talking with can see if you hit this button, and likewise, you can see if someone presses it for you.  On the other hand, if you feel like you don't quite mesh with the guy and he isn't your type, you can hit the "Thumbs Down" button. This moves you on to a new date, or you can just flik the screen to move on.
love: friendships, dating, sex & marriage
You'd think brides and grooms who celebrate their nuptials with 50 guests have an equal shot at wedded bliss as those who invite 500, but apparently not.

Because some things are just better with a buddy (whom you happen to be dating).

They're smart, funny, and adorable, but are you a good match?

Fight the urge to sign her up for OkCupid and read this instead.

We know you have good intentions, but...please...stop.

You can't say we didn't warn you. Every month is Movember when you're dating a guy with a beard. And while the scruffy look can be hot, there are some very real, err, challenges that come with the territory. Don't believe us? Well…

Follow these steps to slash your wedding budget—not your fun—in half.

It won't all be cake and flowers, but it can be the best year of your life together so far.

Expert tips on moving past those oh-so-familiar arguments.

Grow as a couple by sharing adventures.

For many married couples, falling in love and saying "I do" was the easy part. Living happily ever after is the part that takes a whole lot of work.