Was shaming billboard just a marketing ploy?
A spurned North Carolina woman allegedly outed her cheating husband via billboard, but it may have just been a stunt.
UPDATE: Some news organizations are reporting that the revenge message broadcast on a billboard in in Greensboro, N.C., was actually just an advertisement for a restaurant.
The ad in question was replaced the very next day with another billboard ad, this time with a message for "Jessica" to meet "Jennifer" at Yodaddy's (a dessert bar), reports ABC News.
--------------------​--------------------​--------------------​--------------------​------
Reportedly, a North Carolina woman was so outraged by her husband's infidelity, she decided to broadcast it via a billboard on a busy street in Greensboro, N.C.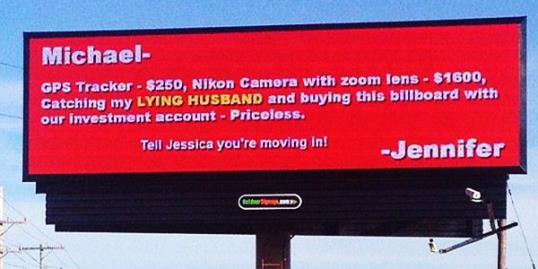 Paying homage to the MasterCard "Priceless" campaign, the woman, Jennifer, announced the following on a bright red billboard:
"Michael —
GPS tracker — $250, Nikon camera with zoom lens — $1600, Catching my LYING HUSBAND and buying this billboard with our investment account - Priceless.
Tell Jessica you're moving in!
– Jennifer"
More on MSN Living: GQ's foolproof guide to online dating
Greensboro's MyFox8 reported that the sign has "turned a lot of heads" and even slowed traffic in the area yesterday afternoon.
"The little message to Jessica is perfect," an unidentified woman told the news outlet. "I wish I had done that in an earlier relationship."
Not sure this is the most frugal way to plot revenge, but "Jennifer" certainly got her point across.
More on MSN Living: Men reveal 7 biggest first date complaints
"Look out Michael, you are going to get it," another woman said.
The over-the-top move has some believing it's a marketing ploy, and this could very well be the case.  Back in 2006, Court TV pulled a similar stunt, wherein a series of billboards were later revealed to be a promotion for an upcoming series.
Then again, it wouldn't be terribly surprising that a scorned lover should go to such lengths for revenge. Earlier this month, a wife made headlines for getting revenge on her cheating husband by selling all of his stuff on Craigslist.
"Last minute spontaneous estate sale," she wrote in the ad, dated March 8. "Husband left us for a piece of trash. Selling everything while he is gone this weekend with his floozie."
Up for sale? A red leather sofa and "lots of tools which he didn't have a clue how to use."
Tell us on Facebook: What do you think about this act of revenge?
If that's not enough vengeance indulgence for you, earlier this week, a husband took it upon himself to settle the score when his wife cheated with a guy named Charles.
He typed up a letter titled, "Do you know who you live near?" The note outlined the man's fling with his wife and included details of their affair as well as Charles' personal information. The husband then distributed the letter to Charles' neighbors, co-workers and fellow church members.
Is it just us, or has it been a busy month for revenge?
More from The Heart Beat:

Traditional weddings: Are they outdated?
The most popular days for sex
Cougar cruises help young guys hook up with older women
Love content like this? Friend us on Facebook, follow us on Twitter and find us on Pinterest
Photo: Woman calls out cheating boyfriend on billboard/Courtesy of Fox8 via Facebook, http://aka.ms/NCBill​board
love: friendships, dating, sex & marriage
How to flag her little fibs. By Laura Tedesco

A new study on attraction may help explain why fashions change.

As a general rule, any island that offers great weather year-round is going to attract the most visitors in the winter (high season) when we're all trying to escape the snow. Once summer rolls around, many islands see a sharp drop-off in tourism since many people have beach weather right in their own backyards.

And how you can attack the issues together.

A wedding is an exceptionally special day. Sometimes, an opportune photo flub makes the occasion even more memorable. Here are 25 awesome wedding photo bombs.

Somewhere between the first few butterfly-inducing dates and the committed-for-life stage, there's the period of wondering if you're both on the same page about how serious you feel about a future together. If you're not quite at the point of "that talk" but you're looking for a few clues you're heading in that direction, here are some signs he's in it for the long haul as your relationship progresses.

What's that sound? It's white noise blocking out the well-meaning person proclaiming groundbreaking news about where you can meet someone, asking why you're still single, or bugging you about when you're getting married already. Don't be that person. Here are 15 annoying things all single people don't want to hear.

With just a few days left before the big day, you already have a mile-long checklist of to-dos—now meet the don'ts! From impromptu skin treatments to all-night movie marathons, here are 11 things to avoid at all costs.

A new study shows that watching and discussing romantic films can drastically reduce your chance of divorce. These flicks more than fit the bill.

These seemingly innocent phrases still have the power to wound… big time.

Making "I do" last forever is one of the biggest challenges you'll ever face—and it's normal to worry about how you'll do it. But, if your connection involves any of these things, rest assured that you're in it for the long run.

Ultimately, as hard as it may seem at the beginning, a marital affair can be a turning point.