Was shaming billboard just a marketing ploy?
A spurned North Carolina woman allegedly outed her cheating husband via billboard, but it may have just been a stunt.
UPDATE: Some news organizations are reporting that the revenge message broadcast on a billboard in in Greensboro, N.C., was actually just an advertisement for a restaurant.
The ad in question was replaced the very next day with another billboard ad, this time with a message for "Jessica" to meet "Jennifer" at Yodaddy's (a dessert bar), reports ABC News.
--------------------​--------------------​--------------------​--------------------​------
Reportedly, a North Carolina woman was so outraged by her husband's infidelity, she decided to broadcast it via a billboard on a busy street in Greensboro, N.C.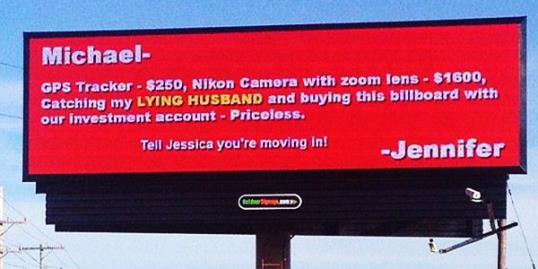 Paying homage to the MasterCard "Priceless" campaign, the woman, Jennifer, announced the following on a bright red billboard:
"Michael —
GPS tracker — $250, Nikon camera with zoom lens — $1600, Catching my LYING HUSBAND and buying this billboard with our investment account - Priceless.
Tell Jessica you're moving in!
– Jennifer"
More on MSN Living: GQ's foolproof guide to online dating
Greensboro's MyFox8 reported that the sign has "turned a lot of heads" and even slowed traffic in the area yesterday afternoon.
"The little message to Jessica is perfect," an unidentified woman told the news outlet. "I wish I had done that in an earlier relationship."
Not sure this is the most frugal way to plot revenge, but "Jennifer" certainly got her point across.
More on MSN Living: Men reveal 7 biggest first date complaints
"Look out Michael, you are going to get it," another woman said.
The over-the-top move has some believing it's a marketing ploy, and this could very well be the case.  Back in 2006, Court TV pulled a similar stunt, wherein a series of billboards were later revealed to be a promotion for an upcoming series.
Then again, it wouldn't be terribly surprising that a scorned lover should go to such lengths for revenge. Earlier this month, a wife made headlines for getting revenge on her cheating husband by selling all of his stuff on Craigslist.
"Last minute spontaneous estate sale," she wrote in the ad, dated March 8. "Husband left us for a piece of trash. Selling everything while he is gone this weekend with his floozie."
Up for sale? A red leather sofa and "lots of tools which he didn't have a clue how to use."
Tell us on Facebook: What do you think about this act of revenge?
If that's not enough vengeance indulgence for you, earlier this week, a husband took it upon himself to settle the score when his wife cheated with a guy named Charles.
He typed up a letter titled, "Do you know who you live near?" The note outlined the man's fling with his wife and included details of their affair as well as Charles' personal information. The husband then distributed the letter to Charles' neighbors, co-workers and fellow church members.
Is it just us, or has it been a busy month for revenge?
More from The Heart Beat:

Traditional weddings: Are they outdated?
The most popular days for sex
Cougar cruises help young guys hook up with older women
Love content like this? Friend us on Facebook, follow us on Twitter and find us on Pinterest
Photo: Woman calls out cheating boyfriend on billboard/Courtesy of Fox8 via Facebook, http://aka.ms/NCBill​board
love: friendships, dating, sex & marriage
No sense in wasting your time on someone who will never commit.

There he is, the man of your dreams. He's sitting across from you at the coffee shop or standing at the opposite side of the bar. His eyes meet yours, a quick glance, and then it's back to his drink. Was he giving you a signal?

Remember that time on "30 Rock" when Liz Lemon and her eventual-husband Criss went shopping at Ikea, only to end up in a major fight? We know it couldn't be closer to the truth because we've all been there. In honor of the irritation that can be Ikea, here are the top fights you'll likely encounter.

Love it or hate it, the selfie wields much power.

Dating doesn't have to be a daunting task, promise. Here's how to make it fun for you and him.

One woman's honest journey to divorce will break your heart and inspire you at the same time.

Want to send your date running? Try one these moves.

Two guests arrested in New Jersey.

Celebrities certainly know how to travel in style, so if you're struggling to select a honeymoon destination, look no further than these star-approved hotspots. To make it even easier, we're providing you with hotel recommendations, packing essentials, and tips on what to do and see! So channel your inner celeb at one of these U.S. destinations for an unforgettable vacation!

Tall Twitter users named Wayne, we're on to you!

Should little girls be dreaming of a different kind of "I do"?

Need a reason to pack your bags and get the hell out of here?