True love stories: Doctor diagnoses tumor, marries patient
One woman's tragedy turned into a lifetime of happiness.
The Heart Beat is excited to introduce our new weekly feature, "True love stories." Each week, a couple with a truly amazing love story will be profiled. If you know a couple with a story worth sharing, please email us at msnlivingmail@micros​​oft.com for a chance to be featured.
Sixteen years ago, Caryn McAllister was dealt a tragic blow. After suffering from severe headaches for three days straight, she made a doctor's appointment only to discover she had a brain tumor. Caryn's life would be forever changed, but thanks to an unexpected twist of fate, it was actually changed for the better.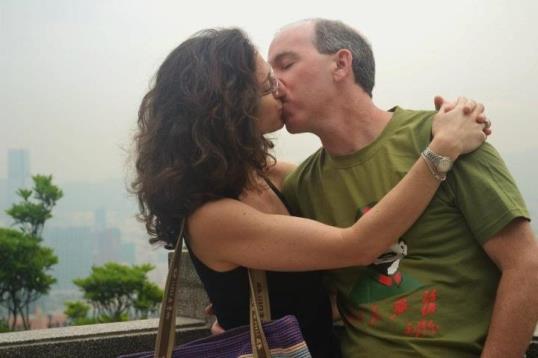 On her father's 50th birthday, Caryn had an appointment with "the best neurologist in the area" to undergo a brain scan. Upon being diagnosed with a tumor, Caryn had to tell her parents the gut-wrenching news . She described the experience to MSN's The Heart Beat:
"I slept in my mother's arms that night and we cried ourselves to sleep."
More on MSN Living: Strangest dating trends of 2012
The next day, Caryn returned to the neurologist's office with a full list of questions.
"He answered each one intelligently, compassionately and kindly.  I knew then that I needed to know this man who shared my concern and passion for caring for others."
A week after her tumor was diagnosed, Caryn underwent surgery. Fortunately, it was a success. Two months later, she began dating her neurologist, Peter McAllister. That, too, was a success.
"Our first date was at Cafe Christina, in the center of Westport, [Connecticut], which was my favorite area at the time.  It's quaint, by the water and very romantic."
A month after their first date, Caryn married the man who discovered and helped remove her brain tumor.
More on MSN Living: 8 most common reasons for divorce
"Quick? Definitely. Risky? Yes, I don't recommend this for everyone," Caryn tells us. "Would I do it again? In a heartbeat! There's nothing like falling in love with the person who saved your life."
Three kids and nearly two decades later, Caryn and Peter are still going strong.
"Although Peter diagnosed me with my brain tumor and facilitated its removal, I showed him love like he had never experienced and saved him as well, so he says.  We knew very quickly that we would share our lives together."
Her secret to a happy marriage?
"Treat each other as your best friend, share lots of interests together, compromise, travel together, love one another unconditionally and laugh a lot."
And for any disheartened or downtrodden folks out there, Caryn has some powerful words of experience:
"When things seem overwhelmingly terrible, they can often lead to better things in life than you ever imagined."
Here's wishing Caryn and Peter a lifetime of happiness in their beautiful marriage.
Photo: Courtesy of Caryn McAllister
More from The Heart Beat:
True love stories: Couple remarries 30 years after divorce
7 lost wedding ring stories with happy endings
Man pops the question atop an active volcano
love: friendships, dating, sex & marriage
Brad Pitt and Angelina Jolie finally took the plunge, but marriage isn't always a good choice for everyone.

Learn how these surprising tactics can really improve your relationship.

Use these tips to up your chances of finding love.

Find out how paired-off ladies might feel lacking—and how you can make your relationship satisfying.

These signals are seriously subtle, but they can give you real insight into what's going through your husband's mind.

Check which changes are necessary to stay happy together.

We know some of this may sound obvious, but these simple statements can make both of you happier.

Making your relationship more secure, connected, and intimate doesn't have to feel overwhelming. Try these expert tips and reap the rewards now—and in the long run.

For those times when nothing big and horrible happened--but nothing is feeling right either.

What's more fun than animals in weddings? We've rounded up eight of the cutest.

Your puppy is all over your Instagram, Facebook and fridge, so there's no reason not to include him in your engagement pictures too. The best engagement photos give viewers a peek into your life. If you're a dog owner, take this opportunity to show off your pooch, like these 22 couples did! And we can't thank them enough.

Our married blogger gets real about checking out other guys when you're taken.