True love stories: Doctor diagnoses tumor, marries patient
One woman's tragedy turned into a lifetime of happiness.
The Heart Beat is excited to introduce our new weekly feature, "True love stories." Each week, a couple with a truly amazing love story will be profiled. If you know a couple with a story worth sharing, please email us at msnlivingmail@micros​​oft.com for a chance to be featured.
Sixteen years ago, Caryn McAllister was dealt a tragic blow. After suffering from severe headaches for three days straight, she made a doctor's appointment only to discover she had a brain tumor. Caryn's life would be forever changed, but thanks to an unexpected twist of fate, it was actually changed for the better.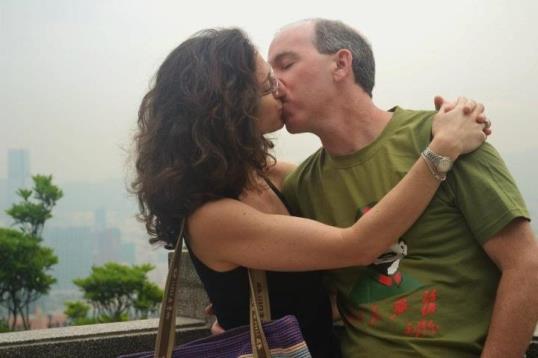 On her father's 50th birthday, Caryn had an appointment with "the best neurologist in the area" to undergo a brain scan. Upon being diagnosed with a tumor, Caryn had to tell her parents the gut-wrenching news . She described the experience to MSN's The Heart Beat:
"I slept in my mother's arms that night and we cried ourselves to sleep."
More on MSN Living: Strangest dating trends of 2012
The next day, Caryn returned to the neurologist's office with a full list of questions.
"He answered each one intelligently, compassionately and kindly.  I knew then that I needed to know this man who shared my concern and passion for caring for others."
A week after her tumor was diagnosed, Caryn underwent surgery. Fortunately, it was a success. Two months later, she began dating her neurologist, Peter McAllister. That, too, was a success.
"Our first date was at Cafe Christina, in the center of Westport, [Connecticut], which was my favorite area at the time.  It's quaint, by the water and very romantic."
A month after their first date, Caryn married the man who discovered and helped remove her brain tumor.
More on MSN Living: 8 most common reasons for divorce
"Quick? Definitely. Risky? Yes, I don't recommend this for everyone," Caryn tells us. "Would I do it again? In a heartbeat! There's nothing like falling in love with the person who saved your life."
Three kids and nearly two decades later, Caryn and Peter are still going strong.
"Although Peter diagnosed me with my brain tumor and facilitated its removal, I showed him love like he had never experienced and saved him as well, so he says.  We knew very quickly that we would share our lives together."
Her secret to a happy marriage?
"Treat each other as your best friend, share lots of interests together, compromise, travel together, love one another unconditionally and laugh a lot."
And for any disheartened or downtrodden folks out there, Caryn has some powerful words of experience:
"When things seem overwhelmingly terrible, they can often lead to better things in life than you ever imagined."
Here's wishing Caryn and Peter a lifetime of happiness in their beautiful marriage.
Photo: Courtesy of Caryn McAllister
More from The Heart Beat:
True love stories: Couple remarries 30 years after divorce
7 lost wedding ring stories with happy endings
Man pops the question atop an active volcano
love: friendships, dating, sex & marriage
The typical wedding: A white dress, tiered cake, floral centerpieces and a cute flower girl -- you know the drill. Every once in a while, though, a couple trades in tradition for a quirky, never-seen-that-before idea. Here are a few of the most out-there wedding photos that made us do a double take.

There's a lot to love about weddings this fall, like cocktails served in copper Moscow mule mugs, industrial-inspired lighting and pheasant feather details. See what's new!

Do you have to be engaged to sport a ring with bling?

124.6 million haven't gotten hitched.

Even though the national average wedding is $29,858, that's just an average. If you live in a smaller state like Idaho where the average wedding costs $16,159, you may find yourself saving a little more than half of the national spend! Check out some of the other least expensive cities to get married in below:

Summer is winding down, but the ubiquitous summer romance lives on.

For those times when nothing big and horrible happened--but nothing is feeling right either.

He's confident, distinguished and anywhere from 4 to 20 years older than you. Age is just a number, but there's something about older men that we love. Here are eight reasons why being in a relationship with an older man is tops.

While a younger man may have less life experience, that doesn't mean he's not emotionally mature. Here are the eight reasons why being in a relationship with a younger man is tops.

Have you ever wondered what the 'other woman' was thinking?

So fall is coming and you need some romantic inspiration now that long walks on the beach are out of the question. Well look no further! From apple picking to pumpkin carving, these are some great fall date ideas from girls just like you!

Getting bored of the same dinner and movie date night? Take an adorable cue from your favorite celebs and try something new! From dancing to boxing you can't go wrong with these awesome date ideas.