Poll: 10 odd stats about kissing
The Eskimo kiss: Make fun of it all you want; chances are, you've done it.
Dating site Zoosk recently polled 3,500 singles about their kissing habits and thoughts. The results were filled with a variety of odd but interesting facts. The Heart Beat has rounded up a few of our favorites.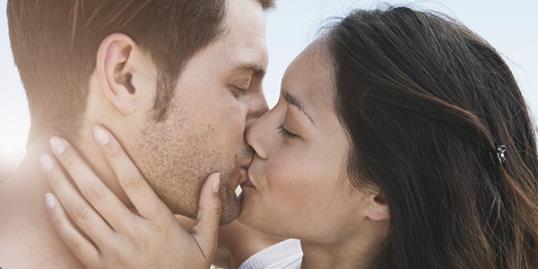 Gallery: Kissing dos & don'ts
What's the most memorable kiss of the summer? Forty-one percent of singles say Tony and Pepper's lip lock in "Iron Man 3" was the most unforgettable summer blockbuster smooch.

The best song for smooching is "Could I Have This Kiss Forever" by Whitney Houston and Enrique Iglesias, according to 21 percent of respondents.

Seventeen percent of singles chose Seal's "Kiss From a Rose" as the best song for swapping spit.

Thirty percent of singles say the beach is the best spot for kissing.

Twenty-three percent say a car is the ideal smooching location.
Ever dated a bad kisser? 73 percent of singles have.

Bing: The healthy benefits of kissing
More from MSN Living: How to kiss like you mean it
Eyes-closed kissing is preferred by 83 percent of respondents.

The most memorable kiss in recent political history is President Obama kissing his wife on election night, according to 59 percent of respondents.

Seventy-one percent of Americans say it is more awkward to see world leaders kissing vs. seeing a politician kiss his or her spouse.

Seventy-seven percent of singles have engaged in an Eskimo kiss.

More from The Heart Beat: 
Report: More cheating wives in the past 20 years
Choose your own ... phone sex adventure?
Coffee shop lets customers pay with a kiss
Subscribe to The Heart Beat | Friend us on Facebook, follow us on Twitter and find us on Pinterest.
Couple kissing on International Kiss Day / Westend61/Getty Images
If you REALLY want to experience the BEST kiss ever, stop whatever you're doing, walk over to your partner and get them to stop whatever they are doing (no matter how hard it is), look them in the eyes while remembering all the things you love most about them, and when you have their undivided attention, tell them how much you love them (REALLY love them), then kiss them lightly on the mouth for at least 10 seconds. You'll be glad you did. It will be the "Best kiss of your life" , until the next time you do it.
Are you sure you want to delete this comment?
love: friendships, dating, sex & marriage
How to flag her little fibs. By Laura Tedesco

A new study on attraction may help explain why fashions change.

As a general rule, any island that offers great weather year-round is going to attract the most visitors in the winter (high season) when we're all trying to escape the snow. Once summer rolls around, many islands see a sharp drop-off in tourism since many people have beach weather right in their own backyards.

And how you can attack the issues together.

A wedding is an exceptionally special day. Sometimes, an opportune photo flub makes the occasion even more memorable. Here are 25 awesome wedding photo bombs.

Somewhere between the first few butterfly-inducing dates and the committed-for-life stage, there's the period of wondering if you're both on the same page about how serious you feel about a future together. If you're not quite at the point of "that talk" but you're looking for a few clues you're heading in that direction, here are some signs he's in it for the long haul as your relationship progresses.

What's that sound? It's white noise blocking out the well-meaning person proclaiming groundbreaking news about where you can meet someone, asking why you're still single, or bugging you about when you're getting married already. Don't be that person. Here are 15 annoying things all single people don't want to hear.

With just a few days left before the big day, you already have a mile-long checklist of to-dos—now meet the don'ts! From impromptu skin treatments to all-night movie marathons, here are 11 things to avoid at all costs.

A new study shows that watching and discussing romantic films can drastically reduce your chance of divorce. These flicks more than fit the bill.

These seemingly innocent phrases still have the power to wound… big time.

Making "I do" last forever is one of the biggest challenges you'll ever face—and it's normal to worry about how you'll do it. But, if your connection involves any of these things, rest assured that you're in it for the long run.

Ultimately, as hard as it may seem at the beginning, a marital affair can be a turning point.