Poll: 10 odd stats about kissing
The Eskimo kiss: Make fun of it all you want; chances are, you've done it.
Dating site Zoosk recently polled 3,500 singles about their kissing habits and thoughts. The results were filled with a variety of odd but interesting facts. The Heart Beat has rounded up a few of our favorites.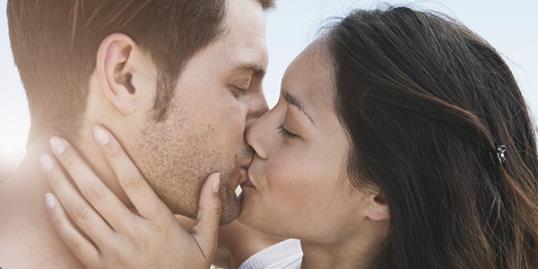 Gallery: Kissing dos & don'ts
What's the most memorable kiss of the summer? Forty-one percent of singles say Tony and Pepper's lip lock in "Iron Man 3" was the most unforgettable summer blockbuster smooch.

The best song for smooching is "Could I Have This Kiss Forever" by Whitney Houston and Enrique Iglesias, according to 21 percent of respondents.

Seventeen percent of singles chose Seal's "Kiss From a Rose" as the best song for swapping spit.

Thirty percent of singles say the beach is the best spot for kissing.

Twenty-three percent say a car is the ideal smooching location.
Ever dated a bad kisser? 73 percent of singles have.

Bing: The healthy benefits of kissing
More from MSN Living: How to kiss like you mean it
Eyes-closed kissing is preferred by 83 percent of respondents.

The most memorable kiss in recent political history is President Obama kissing his wife on election night, according to 59 percent of respondents.

Seventy-one percent of Americans say it is more awkward to see world leaders kissing vs. seeing a politician kiss his or her spouse.

Seventy-seven percent of singles have engaged in an Eskimo kiss.

More from The Heart Beat: 
Report: More cheating wives in the past 20 years
Choose your own ... phone sex adventure?
Coffee shop lets customers pay with a kiss
Subscribe to The Heart Beat | Friend us on Facebook, follow us on Twitter and find us on Pinterest.
Couple kissing on International Kiss Day / Westend61/Getty Images
If you REALLY want to experience the BEST kiss ever, stop whatever you're doing, walk over to your partner and get them to stop whatever they are doing (no matter how hard it is), look them in the eyes while remembering all the things you love most about them, and when you have their undivided attention, tell them how much you love them (REALLY love them), then kiss them lightly on the mouth for at least 10 seconds. You'll be glad you did. It will be the "Best kiss of your life" , until the next time you do it.
Are you sure you want to delete this comment?
love: friendships, dating, sex & marriage
This time of year, we dust off our holiday traditions of special songs, stories, events and food to make our season bright. Here's a look into the traditional, unique and quirky holiday traditions of some famous couples.

Look, I looooove engagement season for obvious reasons, but even I can admit I'm like, "Really, AGAIN?" when yet ANOTHER engagement ring pops up in my news feed. Seriously, there were two this weekend. (Congrats, Gemma and Danny!)

We asked real men and women (and a few first-base experts, too) to give us the cardinal rules of kissing, tell us what makes someone a good kisser and more. So whether you're leaning in for kiss No. 1 or 1,000, read on.by Devin Tomb

Not quite sure which diamond shape suits your personality? We're here to help.

Dating can lead to all kinds of tricky situations. To help you navigate even the most awkward moments, we've compiled our 50 best dating tips—some new, some old—given to us by experts, moms, women like you, and even Justin Timberlake.

Customers as Madison's new Snuggle House can snuggle with professional cuddlers for $60 an hour.

Can you believe it was only about 15 years ago that engagement ring shopping meant a time-consuming slog from jewelry boutique to jewelry boutique? Thank goodness for the internet; nowadays, it's easy to do all that legwork online.

The holiday season, with all its twinkly lights and fireplaces and cold nights perfect for snuggling, is most definitely for lovers—but "The Single Woman" author Mandy Hale is here to remind you that it's also for singles, too.

Studies show that being satisfied with your romantic relationship is one of the best predictors of happiness -- even more important than education, income, or having a high-status job. Resolve to make 2014 your happiest year yet with these bond-strengthening pledges.

This winter, it's all about mixing unexpected seasonal elements with elegant neutral details and a hint of sparkle and sequins. Take a look.

Here's why dudes without hair make the best boyfriends.

What do you wish you appreciated more when you were flying solo?