Poll: 10 odd stats about kissing
The Eskimo kiss: Make fun of it all you want; chances are, you've done it.
Dating site Zoosk recently polled 3,500 singles about their kissing habits and thoughts. The results were filled with a variety of odd but interesting facts. The Heart Beat has rounded up a few of our favorites.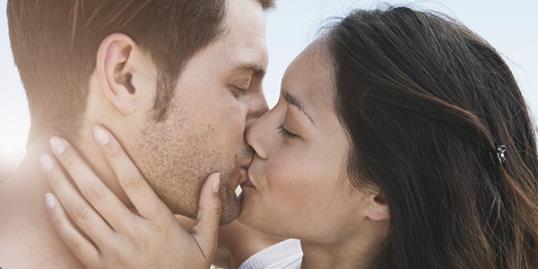 Gallery: Kissing dos & don'ts
What's the most memorable kiss of the summer? Forty-one percent of singles say Tony and Pepper's lip lock in "Iron Man 3" was the most unforgettable summer blockbuster smooch.

The best song for smooching is "Could I Have This Kiss Forever" by Whitney Houston and Enrique Iglesias, according to 21 percent of respondents.

Seventeen percent of singles chose Seal's "Kiss From a Rose" as the best song for swapping spit.

Thirty percent of singles say the beach is the best spot for kissing.

Twenty-three percent say a car is the ideal smooching location.
Ever dated a bad kisser? 73 percent of singles have.

Bing: The healthy benefits of kissing
More from MSN Living: How to kiss like you mean it
Eyes-closed kissing is preferred by 83 percent of respondents.

The most memorable kiss in recent political history is President Obama kissing his wife on election night, according to 59 percent of respondents.

Seventy-one percent of Americans say it is more awkward to see world leaders kissing vs. seeing a politician kiss his or her spouse.

Seventy-seven percent of singles have engaged in an Eskimo kiss.

More from The Heart Beat: 
Report: More cheating wives in the past 20 years
Choose your own ... phone sex adventure?
Coffee shop lets customers pay with a kiss
Subscribe to The Heart Beat | Friend us on Facebook, follow us on Twitter and find us on Pinterest.
Couple kissing on International Kiss Day / Westend61/Getty Images
If you REALLY want to experience the BEST kiss ever, stop whatever you're doing, walk over to your partner and get them to stop whatever they are doing (no matter how hard it is), look them in the eyes while remembering all the things you love most about them, and when you have their undivided attention, tell them how much you love them (REALLY love them), then kiss them lightly on the mouth for at least 10 seconds. You'll be glad you did. It will be the "Best kiss of your life" , until the next time you do it.
Are you sure you want to delete this comment?
love: friendships, dating, sex & marriage
This just in: A new study shows girls are warriors in the womb.

You can make a pros and cons list...but ultimately you know what works best for you.

Maggie Reyes is a life coach, writer, and the founder of ModernMarried.com. She helps newlyweds re-think what married life can be. Here, she's revealing tricks every newlywed couple needs to know.

Government-supported Vietnamese classes teach women Korean language, customs.

Whether you're into creative artists or uber-preppy bankers, there's something to be said for trying something new.

Sometimes two characters on a TV show or movie can portray being a happy couple effortlessly, or can have lots of fun playing former spouses — especially if they're married to each other in real life! Keep scrolling for six celebrity costars you probably didn't know tied the knot, even after the bloodiest and craziest story lines.

Some couples want nothing more than a laid-back, by-the-book proposal. Then there are the other couples, where the proposal not only needs to be personalized, it also has to be unique and entirely different than the typical restaurant, bended-knee idea. Sound like you? Then get inspired by some of the most creative proposal ideas we've ever seen. If you find something you like, steal it and then modify it to make your proposal something totally unforgettable.

From Nantucket all the way to Cayo Espanto, we've rounded up some of the prettiest beaches to travel to for your honeymoon.

Researchers studied the age-old stereotype that women really are more talkative than men.

'There is a science behind attraction,' SingldOut says.

One minute you're happy and in love, the next he's delivering the "It's not you, it's me" speech. Why? We have the scoop on the real reasons most couples split up.

Want to keep your wedding budget in check? Start by checking out this list of the 10 things that could end up costing you a lot more than you anticipated.