Poll: 10 odd stats about kissing
The Eskimo kiss: Make fun of it all you want; chances are, you've done it.
Dating site Zoosk recently polled 3,500 singles about their kissing habits and thoughts. The results were filled with a variety of odd but interesting facts. The Heart Beat has rounded up a few of our favorites.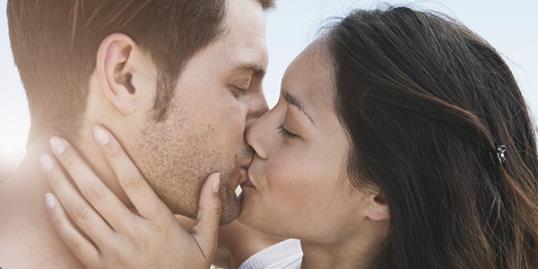 Gallery: Kissing dos & don'ts
What's the most memorable kiss of the summer? Forty-one percent of singles say Tony and Pepper's lip lock in "Iron Man 3" was the most unforgettable summer blockbuster smooch.

The best song for smooching is "Could I Have This Kiss Forever" by Whitney Houston and Enrique Iglesias, according to 21 percent of respondents.

Seventeen percent of singles chose Seal's "Kiss From a Rose" as the best song for swapping spit.

Thirty percent of singles say the beach is the best spot for kissing.

Twenty-three percent say a car is the ideal smooching location.
Ever dated a bad kisser? 73 percent of singles have.

Bing: The healthy benefits of kissing
More from MSN Living: How to kiss like you mean it
Eyes-closed kissing is preferred by 83 percent of respondents.

The most memorable kiss in recent political history is President Obama kissing his wife on election night, according to 59 percent of respondents.

Seventy-one percent of Americans say it is more awkward to see world leaders kissing vs. seeing a politician kiss his or her spouse.

Seventy-seven percent of singles have engaged in an Eskimo kiss.

More from The Heart Beat: 
Report: More cheating wives in the past 20 years
Choose your own ... phone sex adventure?
Coffee shop lets customers pay with a kiss
Subscribe to The Heart Beat | Friend us on Facebook, follow us on Twitter and find us on Pinterest.
Couple kissing on International Kiss Day / Westend61/Getty Images
If you REALLY want to experience the BEST kiss ever, stop whatever you're doing, walk over to your partner and get them to stop whatever they are doing (no matter how hard it is), look them in the eyes while remembering all the things you love most about them, and when you have their undivided attention, tell them how much you love them (REALLY love them), then kiss them lightly on the mouth for at least 10 seconds. You'll be glad you did. It will be the "Best kiss of your life" , until the next time you do it.
Are you sure you want to delete this comment?
love: friendships, dating, sex & marriage
The typical wedding: A white dress, tiered cake, floral centerpieces and a cute flower girl -- you know the drill. Every once in a while, though, a couple trades in tradition for a quirky, never-seen-that-before idea. Here are a few of the most out-there wedding photos that made us do a double take.

There's a lot to love about weddings this fall, like cocktails served in copper Moscow mule mugs, industrial-inspired lighting and pheasant feather details. See what's new!

Do you have to be engaged to sport a ring with bling?

124.6 million haven't gotten hitched.

Even though the national average wedding is $29,858, that's just an average. If you live in a smaller state like Idaho where the average wedding costs $16,159, you may find yourself saving a little more than half of the national spend! Check out some of the other least expensive cities to get married in below:

Summer is winding down, but the ubiquitous summer romance lives on.

For those times when nothing big and horrible happened--but nothing is feeling right either.

He's confident, distinguished and anywhere from 4 to 20 years older than you. Age is just a number, but there's something about older men that we love. Here are eight reasons why being in a relationship with an older man is tops.

While a younger man may have less life experience, that doesn't mean he's not emotionally mature. Here are the eight reasons why being in a relationship with a younger man is tops.

Have you ever wondered what the 'other woman' was thinking?

So fall is coming and you need some romantic inspiration now that long walks on the beach are out of the question. Well look no further! From apple picking to pumpkin carving, these are some great fall date ideas from girls just like you!

Getting bored of the same dinner and movie date night? Take an adorable cue from your favorite celebs and try something new! From dancing to boxing you can't go wrong with these awesome date ideas.