Poll: 10 odd stats about kissing
The Eskimo kiss: Make fun of it all you want; chances are, you've done it.
Dating site Zoosk recently polled 3,500 singles about their kissing habits and thoughts. The results were filled with a variety of odd but interesting facts. The Heart Beat has rounded up a few of our favorites.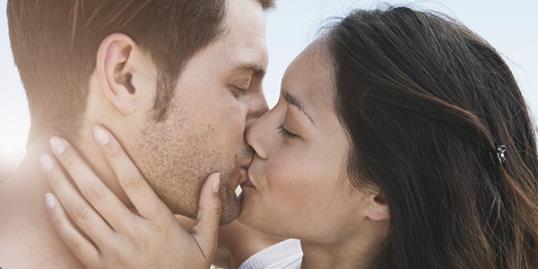 Gallery: Kissing dos & don'ts
What's the most memorable kiss of the summer? Forty-one percent of singles say Tony and Pepper's lip lock in "Iron Man 3" was the most unforgettable summer blockbuster smooch.

The best song for smooching is "Could I Have This Kiss Forever" by Whitney Houston and Enrique Iglesias, according to 21 percent of respondents.

Seventeen percent of singles chose Seal's "Kiss From a Rose" as the best song for swapping spit.

Thirty percent of singles say the beach is the best spot for kissing.

Twenty-three percent say a car is the ideal smooching location.
Ever dated a bad kisser? 73 percent of singles have.

Bing: The healthy benefits of kissing
More from MSN Living: How to kiss like you mean it
Eyes-closed kissing is preferred by 83 percent of respondents.

The most memorable kiss in recent political history is President Obama kissing his wife on election night, according to 59 percent of respondents.

Seventy-one percent of Americans say it is more awkward to see world leaders kissing vs. seeing a politician kiss his or her spouse.

Seventy-seven percent of singles have engaged in an Eskimo kiss.

More from The Heart Beat: 
Report: More cheating wives in the past 20 years
Choose your own ... phone sex adventure?
Coffee shop lets customers pay with a kiss
Subscribe to The Heart Beat | Friend us on Facebook, follow us on Twitter and find us on Pinterest.
Couple kissing on International Kiss Day / Westend61/Getty Images
If you REALLY want to experience the BEST kiss ever, stop whatever you're doing, walk over to your partner and get them to stop whatever they are doing (no matter how hard it is), look them in the eyes while remembering all the things you love most about them, and when you have their undivided attention, tell them how much you love them (REALLY love them), then kiss them lightly on the mouth for at least 10 seconds. You'll be glad you did. It will be the "Best kiss of your life" , until the next time you do it.
Are you sure you want to delete this comment?
love: friendships, dating, sex & marriage
After your return from your honeymoon, your marriage officially starts and with that come some changes. It's not to say that the honeymoon phase is over, but you'll have to get some things situated in order to have your marriage start off on the right foot. We tapped the expert advice of wedding planner and reality TV star David Tutera and love and career coach Charreah Jackson to dish on six things you must do to have a successful first month of marriage — from wedding-related logistics to wrap up to relationship rules to set.

Owner of Weddings in Vieques, a destination-wedding planning company off the coast of Puerto Rico, Sandy Malone has helped countless couples plan their big day since 2007. Here, the veteran planner is sharing some expert advice for free: She's sharing the top eight things you have to do right after you get engaged.

Is the idea of a big bridal bash just not your thing? Or perhaps you and your fiancé are just the super spontaneous type, so why not make your next beach vacation your nuptials as well? If you're thinking of eloping but have questions on the mind, we're here to help. We tapped elopement and wedding planner Lindsey Nickel, founder of Events, Etc., for her top dos and don'ts for getting hitched on the sly.

Easy everyday ways to keep the love alive.

Expert tips on moving past those oh-so-familiar arguments.

Sometimes you have to do things you don't want to do, like hang out with his lame friends. You're not always in the mood to nurse a beer silently while he and his boys argue about who's going to die next on "Game of Thrones" — but tomorrow he's sitting through a seven-girl brunch. So.

Why holding on to your partner's mistakes will end up hurting you.

A little extra effort, will power and research can help your marriage bloom well into old age.

These are the conversations all betrothed couples should take the time to have before they get hitched.

Brace yourself, this is uncomfortable.

There's nothing wrong with grabbing Italian food and alternating between watching action films and romantic comedies, but shaking up your going-out routine with an extreme date night can be the ultimate turn on and the best way to keep your relationship exciting.

This just in: Guys over 5'10" are twice as likely to stray.