3 ways to exit a bad date (gracefully!)
Some first dates are full of fireworks... and some are just a disaster. Here's how to exit a bad one gracefully.
First dates have loads of potential to be either rewarding… or disastrous. It takes a confident woman to take this first step forward into being in a relationship! Some would say that the benefits of going on a first date aren't worth the potential risks, including awkwardness, incompatibility and extreme nervousness. But taking the plunge and going on that date is definitely HC-approved. It may not go as swimmingly as you like, but you won't have to live with regret, always wondering, 'What would've happened if I went out with that guy?'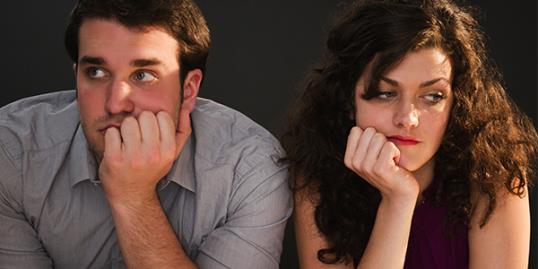 Despite the possible gains, one of the major date deterrents for college women remains the fear of the Bad Date. The Bad Date nearly always has an uncomfortable ending, as these college women will attest:
"Bad dates are awkward all the time, but the endings are the worst, especially if he drove and is dropping you off at your house. I just cross my fingers and get out of the car and into my door ASAP so he doesn't try and make a move!" – Briana, University of Missouri-Kansas City
"At the end of a date there's always the inevitable, 'So, will we see each other again? is the question hanging in the air. If the date sucked, then it is so awkward to know in the back of your head that you don't want to pursue anything else with him." – Emily, DePaul University
Bing: Create the most attractive online profile
No doubt, a bad first date beginning makes for a less than pleasant bad first date ending. Luckily, it is possible to make your thoughts on the date and on your future – or lack thereof – with the guy clear without coming across as a mean girl or completely crushing his heart. And it's important to remember that although ending the date is initially awkward, it WILL have an end and tomorrow will be the start of a new day (a day when you don't have to redo your date).
But to make it easier before you get to the point when you've said your goodbyes, Her Campus has three ways for you to make the exit of your bad first date smooth without seeming stone cold!
During the date
Yes, the key to a graceful exit begins before you reach your doorstep. If you follow your intuition, you will most likely realize if the date isn't going well pretty quickly. Conversation will feel forced. You'll be noticing some red flags. You'll find yourself disagreeing with a lot of things the guy is saying. In general, you will just feel some unease as opposed to some spark. To have an un-dramatic exit from this situation, you can't lead him on!
1. Keep some things to yourself
To explain simply, don't overshare or open up more than you would to a casual acquaintance. If you sense the date isn't going well, don't bring up intense things about your past or talk about all of your hopes and dreams for the future. Here's why:
When you don't want to go on a second date, he will just be confused. Why did you seem so comfortable talking about emotional topics if you weren't connecting on a special level?
If he does take the fact that you're not interested in a second date harshly, he will have loads of personal information about you to use against you. He may try to take something you say and twist it into a nasty rumor! (Which would be more proof that he wasn't worth your time…)
There's nothing wrong with making conversation, but you may want to be on your guard with what you share—especially if you feel the date heading south. Stick to lighter topics like hobbies and favorites before you delve into family life and career aspirations.
2. Don't be a 'yes' woman
This goes for any date, not just a bad one. If you were talking with a friend and she said something that directly challenged your beliefs or opinions, you'd be honest with her about how you felt. Chances are if you're on a good date, most of the things he will say won't contradict your views. If you're on a bad one, the odds of this may increase. "On one first date with a guy I went to church with, he asked me straight up about my feelings regarding gay marriage and abortion and told me all about how he felt," says Briana. "I'm sorry – to me those are really personal things to ask about on a first date. I just felt uncomfortable."
Obviously, getting defensive or angry when this happens is not the way to go if you want to avoid awkwardness. When you find yourself in this situation, be honest but not aggressive. Here's a short and non-serious (unless you're really intense about your '90s boy band allegiance) dialogue to give you an idea about how to respond if this happens:
Him: "'N Sync was clearly the best boy band of the '90s. I honestly don't get how anybody could listen to the Backstreet Boys. Their CD players must have been broken."
You: "Well, I actually preferred the Backstreet Boys when I was younger. I think everyone just has his or her own music preferences though. I don't have anything against 'N Sync fans!"
Though you're unlikely to end up butting heads over pop music of decades past, the same principle applies: By being honest about your opinion, you aren't leading him on to believe that you're meant for each other. Plus, if it is meant to be, the fact that you don't agree on everything wouldn't be a turn-off for him.
3. Avoid physical contact
This one is pretty obvious. If you don't feel you have chemistry with a guy, don't be overly flirtatious. That means don't hold hands or put your hand on his arm when you're talking with him. What's the point of this besides leading him on? Physical contact is a sign that you're enjoying yourself, so be careful not to lead him on when you aren't!
If he's making contact with you when you aren't feeling the spark, chances are your night will only get worse. You didn't sign up for this kind of discomfort when you agreed to go on the date, but it's easy to neutralize the situation. If he's crossing that boundary, make him aware of it. Move your hand away or say something like, "I'm sorry, I'm just not comfortable with this right now!" and give him a smile to let him know that you don't plan on biting his head off for attempting to hold your hand. It may be awkward in the moment, but you shouldn't have to increase your discomfort just to get through the date.
For three more ways to exit a bad date gracefully and more love advice, check out HerCampus.com!
More from The Heart Beat: 
Couple weds amid tear gas in Turkey
1 in 5 grooms choose bride's dress
Coffee shop lets customers pay with a kiss
Subscribe to The Heart Beat | Friend us on Facebook, follow us on Twitter and find us on Pinterest.
Photo: Bad date / Jamie Grill/Getty Images

love: friendships, dating, sex & marriage
Brad Pitt and Angelina Jolie finally took the plunge, but marriage isn't always a good choice for everyone.

Learn how these surprising tactics can really improve your relationship.

Use these tips to up your chances of finding love.

Find out how paired-off ladies might feel lacking—and how you can make your relationship satisfying.

These signals are seriously subtle, but they can give you real insight into what's going through your husband's mind.

Check which changes are necessary to stay happy together.

We know some of this may sound obvious, but these simple statements can make both of you happier.

Making your relationship more secure, connected, and intimate doesn't have to feel overwhelming. Try these expert tips and reap the rewards now—and in the long run.

For those times when nothing big and horrible happened--but nothing is feeling right either.

What's more fun than animals in weddings? We've rounded up eight of the cutest.

Your puppy is all over your Instagram, Facebook and fridge, so there's no reason not to include him in your engagement pictures too. The best engagement photos give viewers a peek into your life. If you're a dog owner, take this opportunity to show off your pooch, like these 22 couples did! And we can't thank them enough.

Our married blogger gets real about checking out other guys when you're taken.