Researchers can't find a man who hasn't seen porn
A study on porn gets scrapped when scientists can't find any men who haven't been exposed to pornography.
This might be as interesting a finding as anything the study would have revealed.
Researchers in Canada wanted to compare the behavior of men who watch porn regularly with men who have never seen porn at all. But there was a small hitch in their plan—they couldn't find any men who had never watched porn.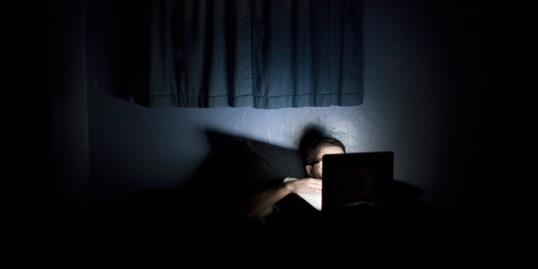 More on MSN Living: Just got engaged? 11 things to do NOW!
"We started our research by seeking men in their 20s who had never consumed pornography," University of Montreal professor Simon Louis Lajeunesse said. "But we couldn't find any at all!"
Their preliminary research wasn't all for naught. Lajeunesse decided to simply revamp the study, instead focusing it on the general porn viewing behavior of his subjects. He found that single men spend about 40 minutes watching porn three times a week. Men in committed relationships watch 20 minutes of porn 1.7 times a week by comparison.
More on MSN Living: Engagement etiquette tips everyone should know
"The objective of my work is to observe the impact of pornography on the sexuality of men, and how it shapes their perception of men and women," Lajeunesse said.
He also found that most boys seek out pornography by the age of 10. And while some experts say porn is responsible for a generation of sexually desensitized men, Lajeunesse might disagree.
Bing: A zoo animal addicted to porn
He noted that pornography doesn't keep men from distinguishing fantasy from reality.
"Pornography hasn't changed their perception of women or their relationship which they all want as harmonious and fulfilling as possible," he said. "Those who could not live out their fantasy in real life with their partner simply set aside the fantasy. The fantasy is broken in the real world and men don't want their partner to look like a porn star."
Men, what do you think—would you have made a suitable subject in the original study?
Love content like this? Friend us on Facebook, follow us on Twitter and find us on Pinterest
More from The Heart Beat:
We've watched 1.2 million years worth of porn in 16 years
A virtual reality sex game is on the way
Women want two hours of romance per day
Photo: Joel Addams/Getty Images
Are you sure you want to delete this comment?
love: friendships, dating, sex & marriage
You'd think brides and grooms who celebrate their nuptials with 50 guests have an equal shot at wedded bliss as those who invite 500, but apparently not.

Because some things are just better with a buddy (whom you happen to be dating).

They're smart, funny, and adorable, but are you a good match?

Fight the urge to sign her up for OkCupid and read this instead.

We know you have good intentions, but...please...stop.

You can't say we didn't warn you. Every month is Movember when you're dating a guy with a beard. And while the scruffy look can be hot, there are some very real, err, challenges that come with the territory. Don't believe us? Well…

Follow these steps to slash your wedding budget—not your fun—in half.

It won't all be cake and flowers, but it can be the best year of your life together so far.

Expert tips on moving past those oh-so-familiar arguments.

Grow as a couple by sharing adventures.

For many married couples, falling in love and saying "I do" was the easy part. Living happily ever after is the part that takes a whole lot of work.