New wedding trend: The anti-invite
We cordially invite you to stay at home.
A controversial new wedding trend is emerging: the anti-invite. Some have also dubbed it the unvite. Whatever you want to call it, you're not invited.
Couples planning a budget-friendly wedding are often faced with the dilemma of the guest list—too many friends and family, and the budget is blown. To deal with this awkward issue, many couples have started sending out alerts that tell acquaintances, "You're not invited."
As you can imagine, the trend is a little contentious.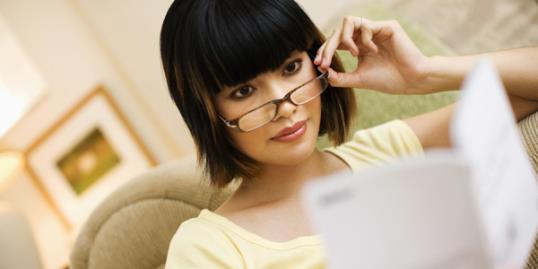 More on MSN Living: 8 signs you're too bossy in bed
Cafemom.com noticed the trend emerging in a "Dear Prudence" letter on Slate:
"Recently I received two separate announcements letting me know that I'm not invited to the wedding of a friend. Both of these came out of the blue; I had not precipitated them by asking if I was going to get an invitation. Apparently, it's a trend for brides and grooms to tell people who didn't make the cut that they aren't going to witness the special day."
More on MSN Living: What his sex signals really mean
Tatiana Byron, founder of event planning firm The Wedding Salon, confirmed the trend with Today.com. She said that couples sometimes deliver these anti-invites via email. Other times, they take the time to mail cards. But often, the wedding planner is the messenger.
"Some of their friends complain and criticize the couple, thinking the planner won't tell the client."
In defense of the trend, Kellee Khalil, founder of bridal site Lover.ly, explains:
"Many brides don't consider the fact that this will come up (often) once the guest list has been set, so it's good to have a general plan to avoid awkwardness and hurt feelings as soon as you send out your save-the-dates."
But if the anti-invite sounds insensitive to you—wait. It gets worse.
"The B list" invite is an offshoot of the anti-invite. It informs a would-be guest that if someone else cancels, they're guaranteed a spot. It's basically a wait list for a wedding.
Bing: Worst wedding trends
In a forum on weddingbee.com, one bride defended her decision to send out "B list" invites:
"Wish we didn't have to, but [we] had financial and venue-related constraints.  Most individuals knew that we had these limitations and were understanding."
What do you think—is this new trend a reasonable part of wedding planning? Or is it just plain rude?
More from The Heart Beat:

Traditional weddings: Are they outdated?
The most popular days for sex
Are macho men more loyal?
Love content like this? Friend us on Facebook, follow us on Twitter and find us on Pinterest    
Photo: SuperStock
love: friendships, dating, sex & marriage
Juan Pablo will be joining his two chosen finalists for one more rose ceremony tonight. You know you'll be watching—and so will we.

Revealr is a new iPhone app that allows those looking for love to hear their possible matches before they see them.

A new poll reveals 59 percent of the country supports same-sex marriage.

Celebrity engagements are so much fun to follow because every detail is bound to be over-the-top — from the proposal (like when Kanye rented out an entire stadium to propose to Kim) to the huge, sparkly engagement ring and, of course, the wedding. Plus, as trendsetters, celebs can be a source of inspiration even if you can't afford a million dollar ring. Here are our celebrity wedding predictions for 2014.

If you've ever been to a club—like, ever, even once—you are not going to be shocked to hear that women get a lot of unwanted, aggressive attention. But when you read the findings of this study on how often and why it happens, it might make you feel downright sick to your stomach.

Hopeless romantics and cringe-worthy chick flicks would tell you that it doesn't matter what you do on the date, as long as you're together. But they're wrong. Dead wrong. Women use your date ideas to size you up, says matchmaker Rachel DeAlto, author of "Flirt Fearlessly." "You absolutely will be judged based on the date you plan. There are so many subconscious impressions that we take in while dating." Gulp. Here are 10 terrible ideas that can land you on the no-lay list—and simple swaps to keep her happy. By K. Aleisha Fetters

No matter your current relationship status or past relationship fails, get a fresh start this month, with these tips for spring cleaning your love life.

Forget the rules you've always heard—it's time to start making your own.

Are you in an affair without knowing it? Unless you're a swinger, having sex with someone else counts as cheating. But then there's the fuzzy area between friendship and infidelity—and chances are, your girlfriend sees those shades of gray as more black and white than you do. "Men aren't as attuned to identifying ambiguous behaviors as cheating as women are," says Daniel Kruger, Ph.D., a University of Michigan psychologist, who's studied gender differences in definitions of infidelity. In other words, what you consider totally innocent could be her deal breaker.

We spoke with relationship therapist Rachel A. Sussman, author of "The Breakup Bible," for her tips on how regular girls can survive a split like an A-lister.

A researcher from Texas Tech University has found that people who use the same kind of "function words" are more likely to get together.

Check out these five celebrity stunners.