New wedding trend: The anti-invite
We cordially invite you to stay at home.
A controversial new wedding trend is emerging: the anti-invite. Some have also dubbed it the unvite. Whatever you want to call it, you're not invited.
Couples planning a budget-friendly wedding are often faced with the dilemma of the guest list—too many friends and family, and the budget is blown. To deal with this awkward issue, many couples have started sending out alerts that tell acquaintances, "You're not invited."
As you can imagine, the trend is a little contentious.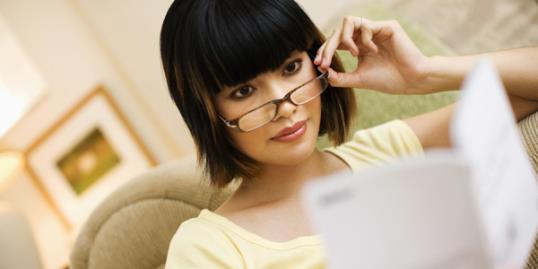 More on MSN Living: 8 signs you're too bossy in bed
Cafemom.com noticed the trend emerging in a "Dear Prudence" letter on Slate:
"Recently I received two separate announcements letting me know that I'm not invited to the wedding of a friend. Both of these came out of the blue; I had not precipitated them by asking if I was going to get an invitation. Apparently, it's a trend for brides and grooms to tell people who didn't make the cut that they aren't going to witness the special day."
More on MSN Living: What his sex signals really mean
Tatiana Byron, founder of event planning firm The Wedding Salon, confirmed the trend with Today.com. She said that couples sometimes deliver these anti-invites via email. Other times, they take the time to mail cards. But often, the wedding planner is the messenger.
"Some of their friends complain and criticize the couple, thinking the planner won't tell the client."
In defense of the trend, Kellee Khalil, founder of bridal site Lover.ly, explains:
"Many brides don't consider the fact that this will come up (often) once the guest list has been set, so it's good to have a general plan to avoid awkwardness and hurt feelings as soon as you send out your save-the-dates."
But if the anti-invite sounds insensitive to you—wait. It gets worse.
"The B list" invite is an offshoot of the anti-invite. It informs a would-be guest that if someone else cancels, they're guaranteed a spot. It's basically a wait list for a wedding.
Bing: Worst wedding trends
In a forum on weddingbee.com, one bride defended her decision to send out "B list" invites:
"Wish we didn't have to, but [we] had financial and venue-related constraints.  Most individuals knew that we had these limitations and were understanding."
What do you think—is this new trend a reasonable part of wedding planning? Or is it just plain rude?
More from The Heart Beat:

Traditional weddings: Are they outdated?
The most popular days for sex
Are macho men more loyal?
Love content like this? Friend us on Facebook, follow us on Twitter and find us on Pinterest    
Photo: SuperStock
love: friendship, dating, sex & marriage
What's worse than getting snubbed while proposing? Having your heart broken in front of countless strangers.

We asked brides on TheKnot.com to tell all -- and they did. Here, five of the most likely culprits and advice for how to deal with your drama-causing guests along the way.

This short course in flirting will not only teach you how to flirt better but also how to tell when someone is flirting with you—and how to respond. Have fun.

Gatsby glamour doesn't have to just live on the big screen! Embrace the trendy (yet timeless) art deco style with sequins, pearls, feathers and geometric patterns. Check out these art deco ideas and achieve the feel of 1920s decadence. By the way, all of these are affordable, except for the $600 hairpiece which is a splurge, but a knockout. Shop the look!

Wondering if your summer love will last? Here are 15 signs if your seasonal love is fleeting or for real.

Sixteen years after "Titanic's" release—and 101 years after the historic ship's notorious sinking—our hearts still go on for star-crossed lovers Rose DeWitt Bukater (Kate Winslet) and Jack Dawson (Leonardo DiCaprio). We rounded up some of our favorite ill-fated, but oh-so-romantic affairs on film, from "Gone with the Wind" to "Moulin Rouge!".

Flirting shouldn't be retired once you've got the ring. We asked relationship expert Harlan Cohen, as well as real husbands, the best way to keep the sparks flying.

When we're annoyed by male behavior, we turn to columnist Aaron Traister. His logic may be strange, but we have to admit, it's pretty helpful. Here, he answers our many questions for guys.

Author Amanda Robb talks to clinical psychologist David Schnarch, Ph.D., author of Passionate Marriage: Keeping Love and Intimacy Alive in Committed Relationships and Intimacy and Desire: Awaken the Passion in Your Relationship, to discover the ways she can relight the fire in her own relationship. What she learned just might help you wake up your own libido.

The average wedding costs $28,000. Think that's pricey? You're in for a surprise. We've rounded up some of the most expensive weddings of all time. See if you can guess how much was dropped on these over-the-top affairs, then click through to Bing to see if you're right.

A guide to staying together forever…straight from divorce lawyers! They know what tears couples apart, and they'll tell you how to avoid it.

We've come across some odd tales of lost love. Here's our list of the weirdest reasons people have divorced.