New wedding trend: The anti-invite
We cordially invite you to stay at home.
A controversial new wedding trend is emerging: the anti-invite. Some have also dubbed it the unvite. Whatever you want to call it, you're not invited.
Couples planning a budget-friendly wedding are often faced with the dilemma of the guest list—too many friends and family, and the budget is blown. To deal with this awkward issue, many couples have started sending out alerts that tell acquaintances, "You're not invited."
As you can imagine, the trend is a little contentious.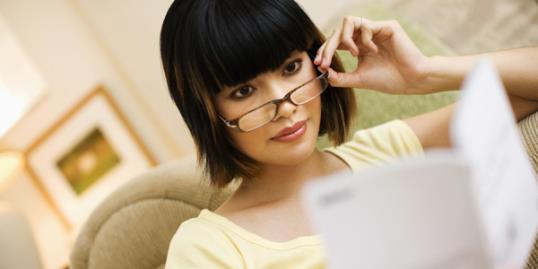 More on MSN Living: 8 signs you're too bossy in bed
Cafemom.com noticed the trend emerging in a "Dear Prudence" letter on Slate:
"Recently I received two separate announcements letting me know that I'm not invited to the wedding of a friend. Both of these came out of the blue; I had not precipitated them by asking if I was going to get an invitation. Apparently, it's a trend for brides and grooms to tell people who didn't make the cut that they aren't going to witness the special day."
More on MSN Living: What his sex signals really mean
Tatiana Byron, founder of event planning firm The Wedding Salon, confirmed the trend with Today.com. She said that couples sometimes deliver these anti-invites via email. Other times, they take the time to mail cards. But often, the wedding planner is the messenger.
"Some of their friends complain and criticize the couple, thinking the planner won't tell the client."
In defense of the trend, Kellee Khalil, founder of bridal site Lover.ly, explains:
"Many brides don't consider the fact that this will come up (often) once the guest list has been set, so it's good to have a general plan to avoid awkwardness and hurt feelings as soon as you send out your save-the-dates."
But if the anti-invite sounds insensitive to you—wait. It gets worse.
"The B list" invite is an offshoot of the anti-invite. It informs a would-be guest that if someone else cancels, they're guaranteed a spot. It's basically a wait list for a wedding.
Bing: Worst wedding trends
In a forum on weddingbee.com, one bride defended her decision to send out "B list" invites:
"Wish we didn't have to, but [we] had financial and venue-related constraints.  Most individuals knew that we had these limitations and were understanding."
What do you think—is this new trend a reasonable part of wedding planning? Or is it just plain rude?
More from The Heart Beat:

Traditional weddings: Are they outdated?
The most popular days for sex
Are macho men more loyal?
Love content like this? Friend us on Facebook, follow us on Twitter and find us on Pinterest    
Photo: SuperStock
love: friendships, dating, sex & marriage
Here's why dudes without hair make the best boyfriends.

What do you wish you appreciated more when you were flying solo?

"If you're so busy tweeting and Instagraming, you're not paying attention," New York wedding planner Marcy Blum said. "It's almost a cosmic faux pas. People want your energy with them and focused on what they're doing."

The wedding favor, that little thank-you-for-coming gift, has risen to new heights with the bride and groom giving guests a wide range of favors that are meaningful to them.

Generations ago, planning a wedding was 100 percent the bride's job, but in today's age of gender equity, it's a mere 99 percent.

For all the self-help books and advice columns out there (um, keeping reading my advice anyway, please!), there's one tool we all already have in our arsenal for picking a partner that will keep us happy: our gut instincts.

According to a new study from the University of Texas and the University of California, Los Angeles, both men and women have regrets when it comes to sex, but the genders vary greatly when it comes to what they regret specifically.

Spending time alone with your guy is easy, but going public with your plus-one is another thing entirely. Whether it's your crazy relatives at Thanksgiving dinner or awkward convos with your boss at the holiday party, possible pitfalls are everywhere. Keep reading for tips on how to make his grand entrance into your social life a good thing.

Match.com survey reveals the day you're least likely to get spruced up for a date.

Drinking and relationships seem to go hand in hand in a lot of ways. But only in moderation!

Many men will tell you that they have no clue what their wives are thinking.

Spending the holidays with your guy's family for the first time is a huge relationship milestone. But between your nerves, the usual family tension, and your weird Uncle Sal's inappropriate stories, it's also a prime opportunity for total disaster. Read on for 10 of our readers' most embarrassing meet-the-parents moments.