Bride seeks groom for fake wedding
It's hard enough to find a groom for a real wedding.
Who says you need a marriage to get married?
Sam Young is single, but that's not stopping her from throwing a beautiful wedding ceremony—for herself. She's got the bridesmaids locked down. The cake, dress—even the engagement ring—have all been picked out and purchased. Now she's on the hunt for a faux groom:
"Groom needed for fake wedding reception," Young posted to Facebook. "Intrigued? Read on... Your duties will be the first dance and then to have a good time. You can bring your (best man!)... You must be single and preferably over 5ft 9in and must be between the age of 40 and 50. Literate and sense of humour a must."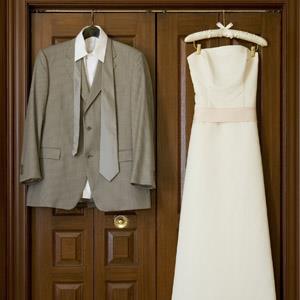 More on MSN Living: The ultimate wedding etiquette guide
The 47-year-old English woman was shopping with her sister when she came up with the idea to walk down the aisle, relationship status be damned.
"My sister and I went shopping and she was looking at jewelry for her partner," Young told the Daily Mail. "I was looking at all these glamorous wedding and engagement rings and my sister said 'you need the bloke first' and I thought 'no, I don't.'"
More on MSN Living: The science behind a great marriage
Young explained that she's been single for a long time, and she's perfectly happy being single, but she thought, "Why can't I do this?"
"So I bought the ring. If I find a man, he can reimburse me!"
Young married when she was 21, but it didn't last. She divorced in 1995. In the past year, she's lost a significant amount of weight. She's now ready to flaunt her new figure in a fake wedding gown.
"I was quite a large lady and I have lost lots of weight. I thought 'I would love to wear a beautiful wedding dress' because I'm now a size 10 and I was an 18."
There are more sentimental reasons for Young's plans, however. Her 87-year-old grandmother has pancreatic cancer, and Young wants to do something to cheer up her family.
Bing: Biggest wedding planning mistakes
The wedding is booked at the Brighton Hill Community Centre in Basingstoke, England. Young has already received some applications from potential grooms. What's in it for them? Free cake and the possibility of an open bar, we presume.
More from The Heart Beat:

Revealed: The key to becoming fast friends
'Missed Connections' map shows most common places for lost love
Longest kiss ever: Couple locks lips for 58 hours
Love content like this? Friend us on Facebook, follow us on Twitter and find us on Pinterest.
Photo: Woman plans fake wedding / Getty Images
love: friendships, dating, sex & marriage
This just in: A new study shows girls are warriors in the womb.

You can make a pros and cons list...but ultimately you know what works best for you.

Maggie Reyes is a life coach, writer, and the founder of ModernMarried.com. She helps newlyweds re-think what married life can be. Here, she's revealing tricks every newlywed couple needs to know.

Government-supported Vietnamese classes teach women Korean language, customs.

Whether you're into creative artists or uber-preppy bankers, there's something to be said for trying something new.

Sometimes two characters on a TV show or movie can portray being a happy couple effortlessly, or can have lots of fun playing former spouses — especially if they're married to each other in real life! Keep scrolling for six celebrity costars you probably didn't know tied the knot, even after the bloodiest and craziest story lines.

Some couples want nothing more than a laid-back, by-the-book proposal. Then there are the other couples, where the proposal not only needs to be personalized, it also has to be unique and entirely different than the typical restaurant, bended-knee idea. Sound like you? Then get inspired by some of the most creative proposal ideas we've ever seen. If you find something you like, steal it and then modify it to make your proposal something totally unforgettable.

From Nantucket all the way to Cayo Espanto, we've rounded up some of the prettiest beaches to travel to for your honeymoon.

Researchers studied the age-old stereotype that women really are more talkative than men.

'There is a science behind attraction,' SingldOut says.

One minute you're happy and in love, the next he's delivering the "It's not you, it's me" speech. Why? We have the scoop on the real reasons most couples split up.

Want to keep your wedding budget in check? Start by checking out this list of the 10 things that could end up costing you a lot more than you anticipated.