Bride seeks groom for fake wedding
It's hard enough to find a groom for a real wedding.
Who says you need a marriage to get married?
Sam Young is single, but that's not stopping her from throwing a beautiful wedding ceremony—for herself. She's got the bridesmaids locked down. The cake, dress—even the engagement ring—have all been picked out and purchased. Now she's on the hunt for a faux groom:
"Groom needed for fake wedding reception," Young posted to Facebook. "Intrigued? Read on... Your duties will be the first dance and then to have a good time. You can bring your (best man!)... You must be single and preferably over 5ft 9in and must be between the age of 40 and 50. Literate and sense of humour a must."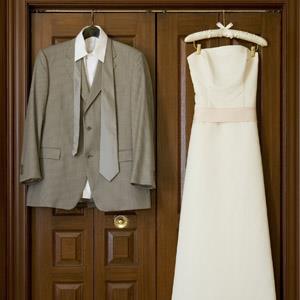 More on MSN Living: The ultimate wedding etiquette guide
The 47-year-old English woman was shopping with her sister when she came up with the idea to walk down the aisle, relationship status be damned.
"My sister and I went shopping and she was looking at jewelry for her partner," Young told the Daily Mail. "I was looking at all these glamorous wedding and engagement rings and my sister said 'you need the bloke first' and I thought 'no, I don't.'"
More on MSN Living: The science behind a great marriage
Young explained that she's been single for a long time, and she's perfectly happy being single, but she thought, "Why can't I do this?"
"So I bought the ring. If I find a man, he can reimburse me!"
Young married when she was 21, but it didn't last. She divorced in 1995. In the past year, she's lost a significant amount of weight. She's now ready to flaunt her new figure in a fake wedding gown.
"I was quite a large lady and I have lost lots of weight. I thought 'I would love to wear a beautiful wedding dress' because I'm now a size 10 and I was an 18."
There are more sentimental reasons for Young's plans, however. Her 87-year-old grandmother has pancreatic cancer, and Young wants to do something to cheer up her family.
Bing: Biggest wedding planning mistakes
The wedding is booked at the Brighton Hill Community Centre in Basingstoke, England. Young has already received some applications from potential grooms. What's in it for them? Free cake and the possibility of an open bar, we presume.
More from The Heart Beat:

Revealed: The key to becoming fast friends
'Missed Connections' map shows most common places for lost love
Longest kiss ever: Couple locks lips for 58 hours
Love content like this? Friend us on Facebook, follow us on Twitter and find us on Pinterest.
Photo: Woman plans fake wedding / Getty Images
love: friendships, dating, sex & marriage
Here's why dudes without hair make the best boyfriends.

What do you wish you appreciated more when you were flying solo?

"If you're so busy tweeting and Instagraming, you're not paying attention," New York wedding planner Marcy Blum said. "It's almost a cosmic faux pas. People want your energy with them and focused on what they're doing."

The wedding favor, that little thank-you-for-coming gift, has risen to new heights with the bride and groom giving guests a wide range of favors that are meaningful to them.

Generations ago, planning a wedding was 100 percent the bride's job, but in today's age of gender equity, it's a mere 99 percent.

For all the self-help books and advice columns out there (um, keeping reading my advice anyway, please!), there's one tool we all already have in our arsenal for picking a partner that will keep us happy: our gut instincts.

According to a new study from the University of Texas and the University of California, Los Angeles, both men and women have regrets when it comes to sex, but the genders vary greatly when it comes to what they regret specifically.

Spending time alone with your guy is easy, but going public with your plus-one is another thing entirely. Whether it's your crazy relatives at Thanksgiving dinner or awkward convos with your boss at the holiday party, possible pitfalls are everywhere. Keep reading for tips on how to make his grand entrance into your social life a good thing.

Match.com survey reveals the day you're least likely to get spruced up for a date.

Drinking and relationships seem to go hand in hand in a lot of ways. But only in moderation!

Many men will tell you that they have no clue what their wives are thinking.

Spending the holidays with your guy's family for the first time is a huge relationship milestone. But between your nerves, the usual family tension, and your weird Uncle Sal's inappropriate stories, it's also a prime opportunity for total disaster. Read on for 10 of our readers' most embarrassing meet-the-parents moments.