Bride seeks groom for fake wedding
It's hard enough to find a groom for a real wedding.
Who says you need a marriage to get married?
Sam Young is single, but that's not stopping her from throwing a beautiful wedding ceremony—for herself. She's got the bridesmaids locked down. The cake, dress—even the engagement ring—have all been picked out and purchased. Now she's on the hunt for a faux groom:
"Groom needed for fake wedding reception," Young posted to Facebook. "Intrigued? Read on... Your duties will be the first dance and then to have a good time. You can bring your (best man!)... You must be single and preferably over 5ft 9in and must be between the age of 40 and 50. Literate and sense of humour a must."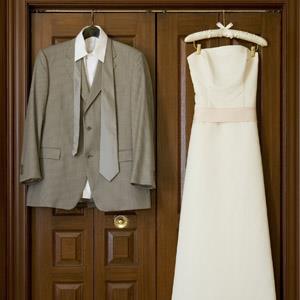 More on MSN Living: The ultimate wedding etiquette guide
The 47-year-old English woman was shopping with her sister when she came up with the idea to walk down the aisle, relationship status be damned.
"My sister and I went shopping and she was looking at jewelry for her partner," Young told the Daily Mail. "I was looking at all these glamorous wedding and engagement rings and my sister said 'you need the bloke first' and I thought 'no, I don't.'"
More on MSN Living: The science behind a great marriage
Young explained that she's been single for a long time, and she's perfectly happy being single, but she thought, "Why can't I do this?"
"So I bought the ring. If I find a man, he can reimburse me!"
Young married when she was 21, but it didn't last. She divorced in 1995. In the past year, she's lost a significant amount of weight. She's now ready to flaunt her new figure in a fake wedding gown.
"I was quite a large lady and I have lost lots of weight. I thought 'I would love to wear a beautiful wedding dress' because I'm now a size 10 and I was an 18."
There are more sentimental reasons for Young's plans, however. Her 87-year-old grandmother has pancreatic cancer, and Young wants to do something to cheer up her family.
Bing: Biggest wedding planning mistakes
The wedding is booked at the Brighton Hill Community Centre in Basingstoke, England. Young has already received some applications from potential grooms. What's in it for them? Free cake and the possibility of an open bar, we presume.
More from The Heart Beat:

Revealed: The key to becoming fast friends
'Missed Connections' map shows most common places for lost love
Longest kiss ever: Couple locks lips for 58 hours
Love content like this? Friend us on Facebook, follow us on Twitter and find us on Pinterest.
Photo: Woman plans fake wedding / Getty Images
love: friendships, dating, sex & marriage
It's wedding season! Let's take a look back at when these stunning celebs put on gorgeous gowns and held beautiful bouquets in support of their friends' and family members' big days.

A new study says we're more open to consensual non-monogamy now than ever before — but does it work?

5 steps to being happy together in the long run.

There has been an exponential increase in the number of people who are questioning their marriage.

We're willing to bet that if you're not already grappling with these wedding-related snags, you will be soon.

Pull out the tissues for these personalized wedding vows.

Forgotten what love is all about? Read this note, and remember.

And a few that aren't so shocking.

If you find yourself doing any of these things, consider changing your behavior or counseling.

From pineapple sculptures made out of sunflowers to bold graphic printed tablecloths, ten trendsetters in the wedding industry shared 100 days' worth of inspiring new wedding details. See The Knot editors' top picks for the coolest and most awe-worthy ideas from the wedding experts.

Those Facebook friends who seem to have perfect lives with flawless mates whom they adore at all times? Even they face tough times like these.

How to flag her little fibs. By Laura Tedesco