Is saying 'no' to the invitation a new wedding trend?
It's not that your friends don't want to attend your big day; sometimes it's just too expensive.
Last year, Marissa Anwar, a 29-year-old operations consultant from Ontario, Canada, dropped $7,000 to attend six weddings, reports the Toronto Sun. This sum covered gifts, dresses, travel, bridal showers and bachelorette parties. Saddled with personal debt, the financial burden associated with her friends' big days caused the frequent guest to make a decision: no more weddings.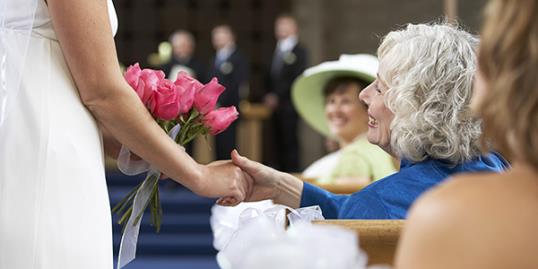 "It adds up really quickly," Anwar told the newspaper, adding that she has turned down about five invitations since instituting her no-go policy. "Girls can be very extravagant with their weddings, but not everyone can afford to drop a few hundred dollars as a wedding guest or a member of the bridal party multiple times a year. It's just too much."
Bing slide show: Most expensive weddings of all time
Anwar is not alone. According to the wedding website TheKnot.com, the average bridesmaid spends roughly $1,385 when adding all potential costs. Then consider that almost a quarter of all weddings in 2012 were destination events, which can cause the price of celebrating your favorite couple's big day to skyrocket.  
But saying no isn't easy, and for many people, it causes feelings of remorse.
More on MSN Living: Funniest wedding invitations from Pinterest
A Los Angeles-based freelance writer recalls not attending her former roommate's wedding more than a decade ago. She'd just moved cross-country, money was tight, and the wedding fell over the holidays (read: expensive flights) in some hard-to-get-to Northeastern town. Oh, and her car had just died.
"I had a few hundred extra dollars in my bank account, and it was either spend it on a wedding, not see my family for Christmas and hope for the best with my car, or use it for a car and/or maybe see my grandparents; it was the last for my grandfather, I think, for the holidays," she told me.
The really bad part?
Bing: The average cost of a wedding
"I was supposed to be in the wedding," she told me. She says she felt horrible and was not on speaking terms with her friend for a few years after that. They're on good terms now but, she admits to still feeling pangs of guilt for not being able to follow through.
JC was in the same position when her best friend got hitched in 2009.
Her friend was getting married out of state, and JC doesn't drive. "I was factoring the costs for travel, hotel, outfit, gift and money in case of emergencies, and I knew I was fooling myself," she told me. "I was barely making rent. I was literally saving so I could file Chapter 7."
Jennifer suspects she wasn't the only one unable to attend a longtime friend's wedding due to costs. After her friend had been searching, and trying to wait patiently for many years, they decided on a location at a Washington resort right on Puget Sound.
"It was a remote resort, so my only option was to stay for $225 a night," she told me. "In the middle of a divorce while simultaneously hunting for a job, I just couldn't afford the wedding weekend and had to very sadly decline."
So, when your budget won't budge or you're hit with a rapid-fire succession of friends getting hitched, how do you politely decline an invitation to an event that many women spend their entire lives dreaming about?
"People should continue to make their dream wedding plans, but they absolutely can't hold a grudge if you can't make it for financial reasons," says Chelsea Lin, who reluctantly missed a good friend's wedding at a time when she was unemployed, broke and about 1,000 miles away. "Heck, I think that's part of the reason people plan elaborate destination weddings: to keep so many guests away."
Tell us: Have you ever turned down a wedding invitation because cost was a factor?
More from The Heart Beat:
Happily married wife allows husband to cheat
Researchers can't find a man who hasn't seen porn
Photo: New wedding trend: saying no to invitations / Rob Melnychuk/Getty Images
love: friendships, dating, sex & marriage
The typical wedding: A white dress, tiered cake, floral centerpieces and a cute flower girl -- you know the drill. Every once in a while, though, a couple trades in tradition for a quirky, never-seen-that-before idea. Here are a few of the most out-there wedding photos that made us do a double take.

There's a lot to love about weddings this fall, like cocktails served in copper Moscow mule mugs, industrial-inspired lighting and pheasant feather details. See what's new!

Do you have to be engaged to sport a ring with bling?

124.6 million haven't gotten hitched.

Even though the national average wedding is $29,858, that's just an average. If you live in a smaller state like Idaho where the average wedding costs $16,159, you may find yourself saving a little more than half of the national spend! Check out some of the other least expensive cities to get married in below:

Summer is winding down, but the ubiquitous summer romance lives on.

For those times when nothing big and horrible happened--but nothing is feeling right either.

He's confident, distinguished and anywhere from 4 to 20 years older than you. Age is just a number, but there's something about older men that we love. Here are eight reasons why being in a relationship with an older man is tops.

While a younger man may have less life experience, that doesn't mean he's not emotionally mature. Here are the eight reasons why being in a relationship with a younger man is tops.

Have you ever wondered what the 'other woman' was thinking?

So fall is coming and you need some romantic inspiration now that long walks on the beach are out of the question. Well look no further! From apple picking to pumpkin carving, these are some great fall date ideas from girls just like you!

Getting bored of the same dinner and movie date night? Take an adorable cue from your favorite celebs and try something new! From dancing to boxing you can't go wrong with these awesome date ideas.