Is saying 'no' to the invitation a new wedding trend?
It's not that your friends don't want to attend your big day; sometimes it's just too expensive.
Last year, Marissa Anwar, a 29-year-old operations consultant from Ontario, Canada, dropped $7,000 to attend six weddings, reports the Toronto Sun. This sum covered gifts, dresses, travel, bridal showers and bachelorette parties. Saddled with personal debt, the financial burden associated with her friends' big days caused the frequent guest to make a decision: no more weddings.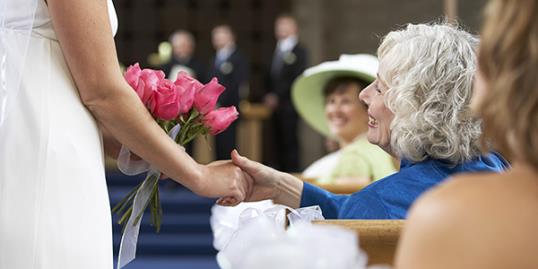 "It adds up really quickly," Anwar told the newspaper, adding that she has turned down about five invitations since instituting her no-go policy. "Girls can be very extravagant with their weddings, but not everyone can afford to drop a few hundred dollars as a wedding guest or a member of the bridal party multiple times a year. It's just too much."
Bing slide show: Most expensive weddings of all time
Anwar is not alone. According to the wedding website TheKnot.com, the average bridesmaid spends roughly $1,385 when adding all potential costs. Then consider that almost a quarter of all weddings in 2012 were destination events, which can cause the price of celebrating your favorite couple's big day to skyrocket.  
But saying no isn't easy, and for many people, it causes feelings of remorse.
More on MSN Living: Funniest wedding invitations from Pinterest
A Los Angeles-based freelance writer recalls not attending her former roommate's wedding more than a decade ago. She'd just moved cross-country, money was tight, and the wedding fell over the holidays (read: expensive flights) in some hard-to-get-to Northeastern town. Oh, and her car had just died.
"I had a few hundred extra dollars in my bank account, and it was either spend it on a wedding, not see my family for Christmas and hope for the best with my car, or use it for a car and/or maybe see my grandparents; it was the last for my grandfather, I think, for the holidays," she told me.
The really bad part?
Bing: The average cost of a wedding
"I was supposed to be in the wedding," she told me. She says she felt horrible and was not on speaking terms with her friend for a few years after that. They're on good terms now but, she admits to still feeling pangs of guilt for not being able to follow through.
JC was in the same position when her best friend got hitched in 2009.
Her friend was getting married out of state, and JC doesn't drive. "I was factoring the costs for travel, hotel, outfit, gift and money in case of emergencies, and I knew I was fooling myself," she told me. "I was barely making rent. I was literally saving so I could file Chapter 7."
Jennifer suspects she wasn't the only one unable to attend a longtime friend's wedding due to costs. After her friend had been searching, and trying to wait patiently for many years, they decided on a location at a Washington resort right on Puget Sound.
"It was a remote resort, so my only option was to stay for $225 a night," she told me. "In the middle of a divorce while simultaneously hunting for a job, I just couldn't afford the wedding weekend and had to very sadly decline."
So, when your budget won't budge or you're hit with a rapid-fire succession of friends getting hitched, how do you politely decline an invitation to an event that many women spend their entire lives dreaming about?
"People should continue to make their dream wedding plans, but they absolutely can't hold a grudge if you can't make it for financial reasons," says Chelsea Lin, who reluctantly missed a good friend's wedding at a time when she was unemployed, broke and about 1,000 miles away. "Heck, I think that's part of the reason people plan elaborate destination weddings: to keep so many guests away."
Tell us: Have you ever turned down a wedding invitation because cost was a factor?
More from The Heart Beat:
Happily married wife allows husband to cheat
Researchers can't find a man who hasn't seen porn
Photo: New wedding trend: saying no to invitations / Rob Melnychuk/Getty Images
love: friendships, dating, sex & marriage
Here's why dudes without hair make the best boyfriends.

What do you wish you appreciated more when you were flying solo?

"If you're so busy tweeting and Instagraming, you're not paying attention," New York wedding planner Marcy Blum said. "It's almost a cosmic faux pas. People want your energy with them and focused on what they're doing."

The wedding favor, that little thank-you-for-coming gift, has risen to new heights with the bride and groom giving guests a wide range of favors that are meaningful to them.

Generations ago, planning a wedding was 100 percent the bride's job, but in today's age of gender equity, it's a mere 99 percent.

For all the self-help books and advice columns out there (um, keeping reading my advice anyway, please!), there's one tool we all already have in our arsenal for picking a partner that will keep us happy: our gut instincts.

According to a new study from the University of Texas and the University of California, Los Angeles, both men and women have regrets when it comes to sex, but the genders vary greatly when it comes to what they regret specifically.

Spending time alone with your guy is easy, but going public with your plus-one is another thing entirely. Whether it's your crazy relatives at Thanksgiving dinner or awkward convos with your boss at the holiday party, possible pitfalls are everywhere. Keep reading for tips on how to make his grand entrance into your social life a good thing.

Match.com survey reveals the day you're least likely to get spruced up for a date.

Drinking and relationships seem to go hand in hand in a lot of ways. But only in moderation!

Many men will tell you that they have no clue what their wives are thinking.

Spending the holidays with your guy's family for the first time is a huge relationship milestone. But between your nerves, the usual family tension, and your weird Uncle Sal's inappropriate stories, it's also a prime opportunity for total disaster. Read on for 10 of our readers' most embarrassing meet-the-parents moments.