Is saying 'no' to the invitation a new wedding trend?
It's not that your friends don't want to attend your big day; sometimes it's just too expensive.
Last year, Marissa Anwar, a 29-year-old operations consultant from Ontario, Canada, dropped $7,000 to attend six weddings, reports the Toronto Sun. This sum covered gifts, dresses, travel, bridal showers and bachelorette parties. Saddled with personal debt, the financial burden associated with her friends' big days caused the frequent guest to make a decision: no more weddings.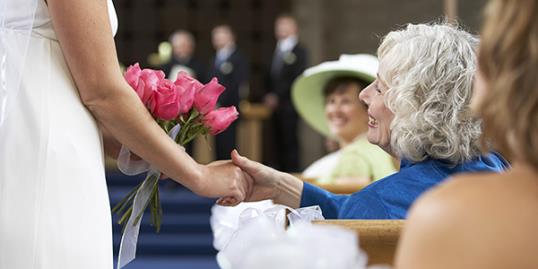 "It adds up really quickly," Anwar told the newspaper, adding that she has turned down about five invitations since instituting her no-go policy. "Girls can be very extravagant with their weddings, but not everyone can afford to drop a few hundred dollars as a wedding guest or a member of the bridal party multiple times a year. It's just too much."
Bing slide show: Most expensive weddings of all time
Anwar is not alone. According to the wedding website TheKnot.com, the average bridesmaid spends roughly $1,385 when adding all potential costs. Then consider that almost a quarter of all weddings in 2012 were destination events, which can cause the price of celebrating your favorite couple's big day to skyrocket.  
But saying no isn't easy, and for many people, it causes feelings of remorse.
More on MSN Living: Funniest wedding invitations from Pinterest
A Los Angeles-based freelance writer recalls not attending her former roommate's wedding more than a decade ago. She'd just moved cross-country, money was tight, and the wedding fell over the holidays (read: expensive flights) in some hard-to-get-to Northeastern town. Oh, and her car had just died.
"I had a few hundred extra dollars in my bank account, and it was either spend it on a wedding, not see my family for Christmas and hope for the best with my car, or use it for a car and/or maybe see my grandparents; it was the last for my grandfather, I think, for the holidays," she told me.
The really bad part?
Bing: The average cost of a wedding
"I was supposed to be in the wedding," she told me. She says she felt horrible and was not on speaking terms with her friend for a few years after that. They're on good terms now but, she admits to still feeling pangs of guilt for not being able to follow through.
JC was in the same position when her best friend got hitched in 2009.
Her friend was getting married out of state, and JC doesn't drive. "I was factoring the costs for travel, hotel, outfit, gift and money in case of emergencies, and I knew I was fooling myself," she told me. "I was barely making rent. I was literally saving so I could file Chapter 7."
Jennifer suspects she wasn't the only one unable to attend a longtime friend's wedding due to costs. After her friend had been searching, and trying to wait patiently for many years, they decided on a location at a Washington resort right on Puget Sound.
"It was a remote resort, so my only option was to stay for $225 a night," she told me. "In the middle of a divorce while simultaneously hunting for a job, I just couldn't afford the wedding weekend and had to very sadly decline."
So, when your budget won't budge or you're hit with a rapid-fire succession of friends getting hitched, how do you politely decline an invitation to an event that many women spend their entire lives dreaming about?
"People should continue to make their dream wedding plans, but they absolutely can't hold a grudge if you can't make it for financial reasons," says Chelsea Lin, who reluctantly missed a good friend's wedding at a time when she was unemployed, broke and about 1,000 miles away. "Heck, I think that's part of the reason people plan elaborate destination weddings: to keep so many guests away."
Tell us: Have you ever turned down a wedding invitation because cost was a factor?
More from The Heart Beat:
Happily married wife allows husband to cheat
Researchers can't find a man who hasn't seen porn
Photo: New wedding trend: saying no to invitations / Rob Melnychuk/Getty Images
love: friendships, dating, sex & marriage
Hopeless romantics and cringe-worthy chick flicks would tell you that it doesn't matter what you do on the date, as long as you're together. But they're wrong. Dead wrong. Women use your date ideas to size you up, says matchmaker Rachel DeAlto, author of "Flirt Fearlessly." "You absolutely will be judged based on the date you plan. There are so many subconscious impressions that we take in while dating." Gulp. Here are 10 terrible ideas that can land you on the no-lay list—and simple swaps to keep her happy. By K. Aleisha Fetters

Here are 15 signs we've been on "The Bachelor" bandwagon—all 27 seasons of it—for (possibly) longer than we'd care to admit.

In the grand tradition of celebrating love, we've chosen some of the mushiest, sweetest, and most memorable scenes to hit the big or small screen. From marriage proposals to unexpected serenades, these moments will make you believe in love (and want someone to cuddle up with, stat).

How to flag her little fibs. By Laura Tedesco

Revealr is a new iPhone app that allows those looking for love to hear their possible matches before they see them.

A new poll reveals 59 percent of the country supports same-sex marriage.

Celebrity engagements are so much fun to follow because every detail is bound to be over-the-top — from the proposal (like when Kanye rented out an entire stadium to propose to Kim) to the huge, sparkly engagement ring and, of course, the wedding. Plus, as trendsetters, celebs can be a source of inspiration even if you can't afford a million dollar ring. Here are our celebrity wedding predictions for 2014.

If you've ever been to a club—like, ever, even once—you are not going to be shocked to hear that women get a lot of unwanted, aggressive attention. But when you read the findings of this study on how often and why it happens, it might make you feel downright sick to your stomach.

No matter your current relationship status or past relationship fails, get a fresh start this month, with these tips for spring cleaning your love life.

Forget the rules you've always heard—it's time to start making your own.

Are you in an affair without knowing it? Unless you're a swinger, having sex with someone else counts as cheating. But then there's the fuzzy area between friendship and infidelity—and chances are, your girlfriend sees those shades of gray as more black and white than you do. "Men aren't as attuned to identifying ambiguous behaviors as cheating as women are," says Daniel Kruger, Ph.D., a University of Michigan psychologist, who's studied gender differences in definitions of infidelity. In other words, what you consider totally innocent could be her deal breaker.

We spoke with relationship therapist Rachel A. Sussman, author of "The Breakup Bible," for her tips on how regular girls can survive a split like an A-lister.