True love stories: Stolen love letters found 40 years later
"It was a hell of a surprise."
The Heart Beat is excited to introduce our new weekly feature, "True love stories." Each week, a couple with a truly amazing love story will be profiled. If you know a couple with a story worth sharing, please email us at msnlivingmail@micros​​​​oft.com for a chance to be featured.
On Dec. 31, Lloyd and Marian Michael celebrated their 70th wedding anniversary. They kicked off their 71st year together with a heartwarming surprise.
In November, a man from Moreno Valley, Calif., called the Michaels to let them know he had found a box of their old love letters. The letters dated back to World War II, when Lloyd was deployed in Europe.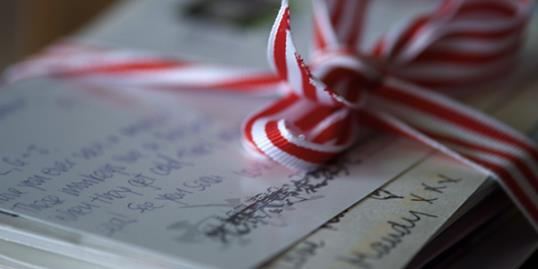 "We were devastated to think someone would steal our love letters and probably throw them to the wind," an 88-year-old Marian told the Daily Bulletin.
More on MSN Living: 14 surprising facts about getting engaged
Someone had broken into the couple's home 40 years ago and stolen a chest, which not only contained the letters, but also a collection of Lloyd's war paraphernalia.
The Moreno Valley man, who was not involved with the burglary, met the Rancho Cucamonga, Calif., couple at a local In 'N' Out to return their lost mementos.
More on MSN Living: 10 cliche holiday marriage proposals
"It was a hell of a surprise," Lloyd, 89, said. " The gentlemen had traced me down through my military service number. He said there are a hell of a lot of Lloyd Michaels in the service. You're the only one that has a wife named Marian."
Lloyd and Marian courted each other while they were high school students at Chaffey High School, and they had their first date at Fox Theater in Pomona. They tied the knot on Dec. 31, 1942.
Bing: Tips on how to write a meaningful love letter.
But soon after their wedding, Lloyd joined the Army Air Corps, becoming a mechanic on P-47 fighter planes. While Lloyd was overseas, he received a letter from Marian every day.
"I was very fortunate to have never gotten a 'Dear John' letter from my wife," Lloyd said.
The two had even devised a complex code within their letters so that Marian could know exactly where in Europe Lloyd was. That information was confidential at the time, but their code somehow got past military censors.
The Michaels' love letters are now bound in a cardboard box.
"Neither one of us can read them; we break down too quick," Lloyd said.
Photo: Ally T/Getty Images
More from The Heart Beat:
True love stories: Couple remarries 30 years after divorce
7 lost wedding ring stories with happy endings
Man pops the question atop an active volcano
Are you sure you want to delete this comment?
love: friendships, dating, sex & marriage
We know some of this may sound obvious, but these simple statements can make both of you happier.

Making your relationship more secure, connected, and intimate doesn't have to feel overwhelming. Try these expert tips and reap the rewards now—and in the long run.

For those times when nothing big and horrible happened--but nothing is feeling right either.

What's more fun than animals in weddings? We've rounded up eight of the cutest.

Your puppy is all over your Instagram, Facebook and fridge, so there's no reason not to include him in your engagement pictures too. The best engagement photos give viewers a peek into your life. If you're a dog owner, take this opportunity to show off your pooch, like these 22 couples did! And we can't thank them enough.

Our married blogger gets real about checking out other guys when you're taken.

He's confident, distinguished and anywhere from 4 to 20 years older than you. Age is just a number, but there's something about older men that we love. Here are eight reasons why being in a relationship with an older man is tops.

While a younger man may have less life experience, that doesn't mean he's not emotionally mature. Here are the eight reasons why being in a relationship with a younger man is tops.

While we do love crazy, funny and over-the-top engagements, sometimes there's just nothing like a proposal with a heartfelt story behind it (warning: you might need some tissues). We've rounded up some of the most romantic wedding proposals from couples across the country, so keep scrolling for seven of our favorites:

As much as you'd like to think your guests will love every single aspect of your wedding, the truth is you really can't please everyone. However, you can try to avoid ticking them off. Here's how.

You'd think brides and grooms who celebrate their nuptials with 50 guests have an equal shot at wedded bliss as those who invite 500, but apparently not.

Because some things are just better with a buddy (whom you happen to be dating).