True love stories: Stolen love letters found 40 years later
"It was a hell of a surprise."
The Heart Beat is excited to introduce our new weekly feature, "True love stories." Each week, a couple with a truly amazing love story will be profiled. If you know a couple with a story worth sharing, please email us at msnlivingmail@micros​​​​oft.com for a chance to be featured.
On Dec. 31, Lloyd and Marian Michael celebrated their 70th wedding anniversary. They kicked off their 71st year together with a heartwarming surprise.
In November, a man from Moreno Valley, Calif., called the Michaels to let them know he had found a box of their old love letters. The letters dated back to World War II, when Lloyd was deployed in Europe.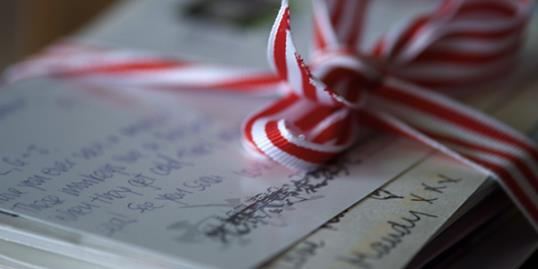 "We were devastated to think someone would steal our love letters and probably throw them to the wind," an 88-year-old Marian told the Daily Bulletin.
More on MSN Living: 14 surprising facts about getting engaged
Someone had broken into the couple's home 40 years ago and stolen a chest, which not only contained the letters, but also a collection of Lloyd's war paraphernalia.
The Moreno Valley man, who was not involved with the burglary, met the Rancho Cucamonga, Calif., couple at a local In 'N' Out to return their lost mementos.
More on MSN Living: 10 cliche holiday marriage proposals
"It was a hell of a surprise," Lloyd, 89, said. " The gentlemen had traced me down through my military service number. He said there are a hell of a lot of Lloyd Michaels in the service. You're the only one that has a wife named Marian."
Lloyd and Marian courted each other while they were high school students at Chaffey High School, and they had their first date at Fox Theater in Pomona. They tied the knot on Dec. 31, 1942.
Bing: Tips on how to write a meaningful love letter.
But soon after their wedding, Lloyd joined the Army Air Corps, becoming a mechanic on P-47 fighter planes. While Lloyd was overseas, he received a letter from Marian every day.
"I was very fortunate to have never gotten a 'Dear John' letter from my wife," Lloyd said.
The two had even devised a complex code within their letters so that Marian could know exactly where in Europe Lloyd was. That information was confidential at the time, but their code somehow got past military censors.
The Michaels' love letters are now bound in a cardboard box.
"Neither one of us can read them; we break down too quick," Lloyd said.
Photo: Ally T/Getty Images
More from The Heart Beat:
True love stories: Couple remarries 30 years after divorce
7 lost wedding ring stories with happy endings
Man pops the question atop an active volcano
Are you sure you want to delete this comment?
love: friendships, dating, sex & marriage
This time of year, we dust off our holiday traditions of special songs, stories, events and food to make our season bright. Here's a look into the traditional, unique and quirky holiday traditions of some famous couples.

Look, I looooove engagement season for obvious reasons, but even I can admit I'm like, "Really, AGAIN?" when yet ANOTHER engagement ring pops up in my news feed. Seriously, there were two this weekend. (Congrats, Gemma and Danny!)

We asked real men and women (and a few first-base experts, too) to give us the cardinal rules of kissing, tell us what makes someone a good kisser and more. So whether you're leaning in for kiss No. 1 or 1,000, read on.by Devin Tomb

Not quite sure which diamond shape suits your personality? We're here to help.

Dating can lead to all kinds of tricky situations. To help you navigate even the most awkward moments, we've compiled our 50 best dating tips—some new, some old—given to us by experts, moms, women like you, and even Justin Timberlake.

Customers as Madison's new Snuggle House can snuggle with professional cuddlers for $60 an hour.

Can you believe it was only about 15 years ago that engagement ring shopping meant a time-consuming slog from jewelry boutique to jewelry boutique? Thank goodness for the internet; nowadays, it's easy to do all that legwork online.

The holiday season, with all its twinkly lights and fireplaces and cold nights perfect for snuggling, is most definitely for lovers—but "The Single Woman" author Mandy Hale is here to remind you that it's also for singles, too.

Studies show that being satisfied with your romantic relationship is one of the best predictors of happiness -- even more important than education, income, or having a high-status job. Resolve to make 2014 your happiest year yet with these bond-strengthening pledges.

This winter, it's all about mixing unexpected seasonal elements with elegant neutral details and a hint of sparkle and sequins. Take a look.

Here's why dudes without hair make the best boyfriends.

What do you wish you appreciated more when you were flying solo?