Should You Dump Your Boyfriend? There's an App for That
Your phone can now reveal whether your relationship is doomed.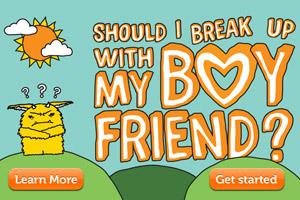 If our Smartphones weren't taking over our lives enough already, they're now butting in on our relationships. If you're dating someone who makes you hot one day and cold the next, your phone can now let you know whether or not you two should just be friends.
Sarah Gray, a Chicago-based programmer, was going through a rocky, long-distance relationship several years ago when she came up with the app, "Should I Break Up With My Boyfriend?" in her living room. Gray said in a statement:
"I wished I had a way to track how I felt about him and our relationship, and could see a graph which would show me if things were mostly good–or mostly sucked. That way, I could do something about it."
Gray said she wanted an objective opinion on the matter.
"Being able to see your relationship clearly and objectively is the ­first step on the path to a happy, healthy, love life," Gray said. "Sometimes, we need an objective voice to help us appreciate a good thing or accept something painful. And this app helps us tap into the best voice of all - the one inside ourselves."
I can't help but think if you're depending on an app to decide the fate of your relationship, it's probably not going too well anyway. I should also mention that, for now, this app is focused on boyfriends, though I imagine it can be used in the same way to see if you should break up with your girlfriend.
At any rate, here's how it works, according to the app itself:
"To help you track your ups and downs, we'll send you a daily reminder to rate how you're feeling about him. You'll also have the option to add notes to each rating. You can rate him as often as you like, since you never know when he might surprise you."
You enter those ratings for about two weeks, and you're not able to see your results during that time.  Once you've told your phone how you feel, you then get advice based on your entry patterns. The app admits it doesn't replace time with a licensed therapist or best friend, but it does tell us:
"This information is displayed as a graph…"
So you know you're dealing with real science here.  I know it's just silly fun, but here's the part where it gets a bit over-the-top:
"We save your entries for past boyfriends so you can review them any time. You'll always have access to all of your diary notes and statistics, which can come in handy if you ever forget what's great (or not so great) about a particular guy."
If there was any doubt that our social lives are suffering because of technology, this should squash it. Because not only are our phones replacing human interaction, they're now reminding us about our own feelings. Who needs memories when it's right there in your phone?
Then again, I suppose it's like revisiting an old diary. If you choose not to take it that seriously, the app is probably an interesting little diversion. Gray's results? She found that she was only happy about 39 percent of the time. She realized it was time to move on from her relationship, thanks to "Should I Break Up With My Boyfriend?"
That's an awkward conversation. Sorry, honey. My phone thinks we should see other people...
"Should I Break Up With My Boyfriend?" is available for the iPhone in the App Store. What do you think? Would you take relationship advice from your phone?
Photo: Courtesy of MercuryApp LLC
More on love & sex from MSN Living:
How to Determine If He's Marriage Material
8 Secret Guy Insecurities

On Location: A New Orleans Wedding
love: friendships, dating, sex & marriage
The typical wedding: A white dress, tiered cake, floral centerpieces and a cute flower girl -- you know the drill. Every once in a while, though, a couple trades in tradition for a quirky, never-seen-that-before idea. Here are a few of the most out-there wedding photos that made us do a double take.

There's a lot to love about weddings this fall, like cocktails served in copper Moscow mule mugs, industrial-inspired lighting and pheasant feather details. See what's new!

Do you have to be engaged to sport a ring with bling?

124.6 million haven't gotten hitched.

Even though the national average wedding is $29,858, that's just an average. If you live in a smaller state like Idaho where the average wedding costs $16,159, you may find yourself saving a little more than half of the national spend! Check out some of the other least expensive cities to get married in below:

Summer is winding down, but the ubiquitous summer romance lives on.

For those times when nothing big and horrible happened--but nothing is feeling right either.

He's confident, distinguished and anywhere from 4 to 20 years older than you. Age is just a number, but there's something about older men that we love. Here are eight reasons why being in a relationship with an older man is tops.

While a younger man may have less life experience, that doesn't mean he's not emotionally mature. Here are the eight reasons why being in a relationship with a younger man is tops.

Have you ever wondered what the 'other woman' was thinking?

So fall is coming and you need some romantic inspiration now that long walks on the beach are out of the question. Well look no further! From apple picking to pumpkin carving, these are some great fall date ideas from girls just like you!

Getting bored of the same dinner and movie date night? Take an adorable cue from your favorite celebs and try something new! From dancing to boxing you can't go wrong with these awesome date ideas.