Should You Dump Your Boyfriend? There's an App for That
Your phone can now reveal whether your relationship is doomed.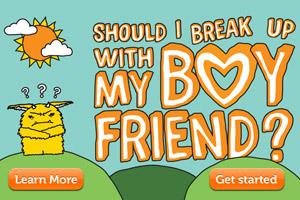 If our Smartphones weren't taking over our lives enough already, they're now butting in on our relationships. If you're dating someone who makes you hot one day and cold the next, your phone can now let you know whether or not you two should just be friends.
Sarah Gray, a Chicago-based programmer, was going through a rocky, long-distance relationship several years ago when she came up with the app, "Should I Break Up With My Boyfriend?" in her living room. Gray said in a statement:
"I wished I had a way to track how I felt about him and our relationship, and could see a graph which would show me if things were mostly good–or mostly sucked. That way, I could do something about it."
Gray said she wanted an objective opinion on the matter.
"Being able to see your relationship clearly and objectively is the ­first step on the path to a happy, healthy, love life," Gray said. "Sometimes, we need an objective voice to help us appreciate a good thing or accept something painful. And this app helps us tap into the best voice of all - the one inside ourselves."
I can't help but think if you're depending on an app to decide the fate of your relationship, it's probably not going too well anyway. I should also mention that, for now, this app is focused on boyfriends, though I imagine it can be used in the same way to see if you should break up with your girlfriend.
At any rate, here's how it works, according to the app itself:
"To help you track your ups and downs, we'll send you a daily reminder to rate how you're feeling about him. You'll also have the option to add notes to each rating. You can rate him as often as you like, since you never know when he might surprise you."
You enter those ratings for about two weeks, and you're not able to see your results during that time.  Once you've told your phone how you feel, you then get advice based on your entry patterns. The app admits it doesn't replace time with a licensed therapist or best friend, but it does tell us:
"This information is displayed as a graph…"
So you know you're dealing with real science here.  I know it's just silly fun, but here's the part where it gets a bit over-the-top:
"We save your entries for past boyfriends so you can review them any time. You'll always have access to all of your diary notes and statistics, which can come in handy if you ever forget what's great (or not so great) about a particular guy."
If there was any doubt that our social lives are suffering because of technology, this should squash it. Because not only are our phones replacing human interaction, they're now reminding us about our own feelings. Who needs memories when it's right there in your phone?
Then again, I suppose it's like revisiting an old diary. If you choose not to take it that seriously, the app is probably an interesting little diversion. Gray's results? She found that she was only happy about 39 percent of the time. She realized it was time to move on from her relationship, thanks to "Should I Break Up With My Boyfriend?"
That's an awkward conversation. Sorry, honey. My phone thinks we should see other people...
"Should I Break Up With My Boyfriend?" is available for the iPhone in the App Store. What do you think? Would you take relationship advice from your phone?
Photo: Courtesy of MercuryApp LLC
More on love & sex from MSN Living:
How to Determine If He's Marriage Material
8 Secret Guy Insecurities

On Location: A New Orleans Wedding
love: friendships, dating, sex & marriage
As a general rule, any island that offers great weather year-round is going to attract the most visitors in the winter (high season) when we're all trying to escape the snow. Once summer rolls around, many islands see a sharp drop-off in tourism since many people have beach weather right in their own backyards.

And how you can attack the issues together.

A wedding is an exceptionally special day. Sometimes, an opportune photo flub makes the occasion even more memorable. Here are 25 awesome wedding photo bombs.

Somewhere between the first few butterfly-inducing dates and the committed-for-life stage, there's the period of wondering if you're both on the same page about how serious you feel about a future together. If you're not quite at the point of "that talk" but you're looking for a few clues you're heading in that direction, here are some signs he's in it for the long haul as your relationship progresses.

What's that sound? It's white noise blocking out the well-meaning person proclaiming groundbreaking news about where you can meet someone, asking why you're still single, or bugging you about when you're getting married already. Don't be that person. Here are 15 annoying things all single people don't want to hear.

With just a few days left before the big day, you already have a mile-long checklist of to-dos—now meet the don'ts! From impromptu skin treatments to all-night movie marathons, here are 11 things to avoid at all costs.

A new study shows that watching and discussing romantic films can drastically reduce your chance of divorce. These flicks more than fit the bill.

These seemingly innocent phrases still have the power to wound… big time.

Making "I do" last forever is one of the biggest challenges you'll ever face—and it's normal to worry about how you'll do it. But, if your connection involves any of these things, rest assured that you're in it for the long run.

Ultimately, as hard as it may seem at the beginning, a marital affair can be a turning point.

Five months after the Boston Marathon bombing, The Knot reached out to Rebekah Gregory and Pete DiMartino and offered to throw them a dream wedding. They said yes, and on April 4, 2014, the two married at the Biltmore Estate in Asheville, North Carolina. Rebekah and Pete exchanged vows on the tennis lawn amidst the cherry tree blossoms and then celebrated with all of their friends and family at a beautiful reception tent right in front of the estate. All of the details were perfectly executed by a team of talented and generous wedding industry pros, including celebrity wedding planner Marcy Blum. Here, a few highlights from Rebekah and Pete's wedding day.

Your wedding is your special day, but you want to keep your guests happy, too. Here are 20 typical wedding guest complaints and what you can do about them.