Should You Dump Your Boyfriend? There's an App for That
Your phone can now reveal whether your relationship is doomed.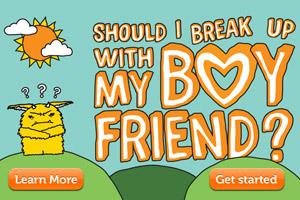 If our Smartphones weren't taking over our lives enough already, they're now butting in on our relationships. If you're dating someone who makes you hot one day and cold the next, your phone can now let you know whether or not you two should just be friends.
Sarah Gray, a Chicago-based programmer, was going through a rocky, long-distance relationship several years ago when she came up with the app, "Should I Break Up With My Boyfriend?" in her living room. Gray said in a statement:
"I wished I had a way to track how I felt about him and our relationship, and could see a graph which would show me if things were mostly good–or mostly sucked. That way, I could do something about it."
Gray said she wanted an objective opinion on the matter.
"Being able to see your relationship clearly and objectively is the ­first step on the path to a happy, healthy, love life," Gray said. "Sometimes, we need an objective voice to help us appreciate a good thing or accept something painful. And this app helps us tap into the best voice of all - the one inside ourselves."
I can't help but think if you're depending on an app to decide the fate of your relationship, it's probably not going too well anyway. I should also mention that, for now, this app is focused on boyfriends, though I imagine it can be used in the same way to see if you should break up with your girlfriend.
At any rate, here's how it works, according to the app itself:
"To help you track your ups and downs, we'll send you a daily reminder to rate how you're feeling about him. You'll also have the option to add notes to each rating. You can rate him as often as you like, since you never know when he might surprise you."
You enter those ratings for about two weeks, and you're not able to see your results during that time.  Once you've told your phone how you feel, you then get advice based on your entry patterns. The app admits it doesn't replace time with a licensed therapist or best friend, but it does tell us:
"This information is displayed as a graph…"
So you know you're dealing with real science here.  I know it's just silly fun, but here's the part where it gets a bit over-the-top:
"We save your entries for past boyfriends so you can review them any time. You'll always have access to all of your diary notes and statistics, which can come in handy if you ever forget what's great (or not so great) about a particular guy."
If there was any doubt that our social lives are suffering because of technology, this should squash it. Because not only are our phones replacing human interaction, they're now reminding us about our own feelings. Who needs memories when it's right there in your phone?
Then again, I suppose it's like revisiting an old diary. If you choose not to take it that seriously, the app is probably an interesting little diversion. Gray's results? She found that she was only happy about 39 percent of the time. She realized it was time to move on from her relationship, thanks to "Should I Break Up With My Boyfriend?"
That's an awkward conversation. Sorry, honey. My phone thinks we should see other people...
"Should I Break Up With My Boyfriend?" is available for the iPhone in the App Store. What do you think? Would you take relationship advice from your phone?
Photo: Courtesy of MercuryApp LLC
More on love & sex from MSN Living:
How to Determine If He's Marriage Material
8 Secret Guy Insecurities

On Location: A New Orleans Wedding
love: friendships, dating, sex & marriage
This winter, it's all about mixing unexpected seasonal elements with elegant neutral details and a hint of sparkle and sequins. Take a look.

Here's why dudes without hair make the best boyfriends.

What do you wish you appreciated more when you were flying solo?

"If you're so busy tweeting and Instagraming, you're not paying attention," New York wedding planner Marcy Blum said. "It's almost a cosmic faux pas. People want your energy with them and focused on what they're doing."

The wedding favor, that little thank-you-for-coming gift, has risen to new heights with the bride and groom giving guests a wide range of favors that are meaningful to them.

Generations ago, planning a wedding was 100 percent the bride's job, but in today's age of gender equity, it's a mere 99 percent.

For all the self-help books and advice columns out there (um, keeping reading my advice anyway, please!), there's one tool we all already have in our arsenal for picking a partner that will keep us happy: our gut instincts.

According to a new study from the University of Texas and the University of California, Los Angeles, both men and women have regrets when it comes to sex, but the genders vary greatly when it comes to what they regret specifically.

Spending time alone with your guy is easy, but going public with your plus-one is another thing entirely. Whether it's your crazy relatives at Thanksgiving dinner or awkward convos with your boss at the holiday party, possible pitfalls are everywhere. Keep reading for tips on how to make his grand entrance into your social life a good thing.

Match.com survey reveals the day you're least likely to get spruced up for a date.

Drinking and relationships seem to go hand in hand in a lot of ways. But only in moderation!

Many men will tell you that they have no clue what their wives are thinking.