Should You Dump Your Boyfriend? There's an App for That
Your phone can now reveal whether your relationship is doomed.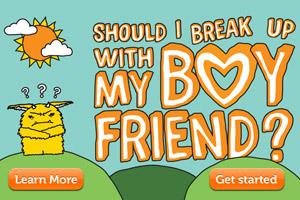 If our Smartphones weren't taking over our lives enough already, they're now butting in on our relationships. If you're dating someone who makes you hot one day and cold the next, your phone can now let you know whether or not you two should just be friends.
Sarah Gray, a Chicago-based programmer, was going through a rocky, long-distance relationship several years ago when she came up with the app, "Should I Break Up With My Boyfriend?" in her living room. Gray said in a statement:
"I wished I had a way to track how I felt about him and our relationship, and could see a graph which would show me if things were mostly good–or mostly sucked. That way, I could do something about it."
Gray said she wanted an objective opinion on the matter.
"Being able to see your relationship clearly and objectively is the ­first step on the path to a happy, healthy, love life," Gray said. "Sometimes, we need an objective voice to help us appreciate a good thing or accept something painful. And this app helps us tap into the best voice of all - the one inside ourselves."
I can't help but think if you're depending on an app to decide the fate of your relationship, it's probably not going too well anyway. I should also mention that, for now, this app is focused on boyfriends, though I imagine it can be used in the same way to see if you should break up with your girlfriend.
At any rate, here's how it works, according to the app itself:
"To help you track your ups and downs, we'll send you a daily reminder to rate how you're feeling about him. You'll also have the option to add notes to each rating. You can rate him as often as you like, since you never know when he might surprise you."
You enter those ratings for about two weeks, and you're not able to see your results during that time.  Once you've told your phone how you feel, you then get advice based on your entry patterns. The app admits it doesn't replace time with a licensed therapist or best friend, but it does tell us:
"This information is displayed as a graph…"
So you know you're dealing with real science here.  I know it's just silly fun, but here's the part where it gets a bit over-the-top:
"We save your entries for past boyfriends so you can review them any time. You'll always have access to all of your diary notes and statistics, which can come in handy if you ever forget what's great (or not so great) about a particular guy."
If there was any doubt that our social lives are suffering because of technology, this should squash it. Because not only are our phones replacing human interaction, they're now reminding us about our own feelings. Who needs memories when it's right there in your phone?
Then again, I suppose it's like revisiting an old diary. If you choose not to take it that seriously, the app is probably an interesting little diversion. Gray's results? She found that she was only happy about 39 percent of the time. She realized it was time to move on from her relationship, thanks to "Should I Break Up With My Boyfriend?"
That's an awkward conversation. Sorry, honey. My phone thinks we should see other people...
"Should I Break Up With My Boyfriend?" is available for the iPhone in the App Store. What do you think? Would you take relationship advice from your phone?
Photo: Courtesy of MercuryApp LLC
More on love & sex from MSN Living:
How to Determine If He's Marriage Material
8 Secret Guy Insecurities

On Location: A New Orleans Wedding
love: friendships, dating, sex & marriage
Hopeless romantics and cringe-worthy chick flicks would tell you that it doesn't matter what you do on the date, as long as you're together. But they're wrong. Dead wrong. Women use your date ideas to size you up, says matchmaker Rachel DeAlto, author of "Flirt Fearlessly." "You absolutely will be judged based on the date you plan. There are so many subconscious impressions that we take in while dating." Gulp. Here are 10 terrible ideas that can land you on the no-lay list—and simple swaps to keep her happy. By K. Aleisha Fetters

Here are 15 signs we've been on "The Bachelor" bandwagon—all 27 seasons of it—for (possibly) longer than we'd care to admit.

In the grand tradition of celebrating love, we've chosen some of the mushiest, sweetest, and most memorable scenes to hit the big or small screen. From marriage proposals to unexpected serenades, these moments will make you believe in love (and want someone to cuddle up with, stat).

How to flag her little fibs. By Laura Tedesco

Revealr is a new iPhone app that allows those looking for love to hear their possible matches before they see them.

A new poll reveals 59 percent of the country supports same-sex marriage.

Celebrity engagements are so much fun to follow because every detail is bound to be over-the-top — from the proposal (like when Kanye rented out an entire stadium to propose to Kim) to the huge, sparkly engagement ring and, of course, the wedding. Plus, as trendsetters, celebs can be a source of inspiration even if you can't afford a million dollar ring. Here are our celebrity wedding predictions for 2014.

If you've ever been to a club—like, ever, even once—you are not going to be shocked to hear that women get a lot of unwanted, aggressive attention. But when you read the findings of this study on how often and why it happens, it might make you feel downright sick to your stomach.

No matter your current relationship status or past relationship fails, get a fresh start this month, with these tips for spring cleaning your love life.

Forget the rules you've always heard—it's time to start making your own.

Are you in an affair without knowing it? Unless you're a swinger, having sex with someone else counts as cheating. But then there's the fuzzy area between friendship and infidelity—and chances are, your girlfriend sees those shades of gray as more black and white than you do. "Men aren't as attuned to identifying ambiguous behaviors as cheating as women are," says Daniel Kruger, Ph.D., a University of Michigan psychologist, who's studied gender differences in definitions of infidelity. In other words, what you consider totally innocent could be her deal breaker.

We spoke with relationship therapist Rachel A. Sussman, author of "The Breakup Bible," for her tips on how regular girls can survive a split like an A-lister.