Study: Men Happiest Doing Housework
Now we know why Mr. Clean was always smiling.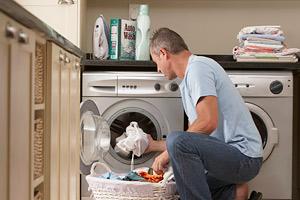 Good news for couples; you now have one less thing to argue about, according to information from the University of Cambridge.
While the issue of housework can sometimes be distressing for women, as it turns out, we should just leave those dishes in the sink and keep the floor unmopped, because apparently, men love doing chores.
In a paper discussing gender's "incomplete revolution," the University references results from a Brussels-funded European
study
. That study, which included 30,000 people in 34 different countries, found that men "are actually happier when they make an equal contribution to household chores." An introduction to that study
reads
:
"Contrary to expectations, they found that men, not women, benefited from a less traditional gender role divide in household chores."
Even the researchers were surprised. The University of Cambridge's
press release
states: 
"The academics expected to find that men's work-family conflict rose, and their well-being fell, when they did more housework. In practice, they found the opposite, with conflict falling, and well-being going up."
Participants were asked questions about how much they contributed to various chores, and then they were asked whether they felt "fulfilled" in life and if they woke up feeling refreshed. They were also asked to measure their levels of "work-life conflict."
So what's the explanation? Because personally, I'm pretty sure I would hate doing the dishes even if I were a man. Jacqueline Scott, a Sociology professor at the University of Cambridge, says the results might have to do with men's guilt.
"[The results] suggest that men may be uncomfortably conscious of work getting in the way of their doing a fair share of chores at home, whereas women have long been used to doing a 'double shift'."
According to researchers, men are actually uncomfortable when they're not able to contribute equally to housework. They say men are more supportive of gender equality than they have been in the past.
Women may still be fighting for equal rights in the workplace, but hey, at least the gender gap on chores is closing.
Photo: Andrew Olney/Getty Images
More on love & sex from MSN Living:
The Most Amazing Wedding Venues in the World
12 Fourth of July Wedding Ideas
How to Determine If He's Marriage Material
love: friendships, dating, sex & marriage
We know some of this may sound obvious, but these simple statements can make both of you happier.

Making your relationship more secure, connected, and intimate doesn't have to feel overwhelming. Try these expert tips and reap the rewards now—and in the long run.

For those times when nothing big and horrible happened--but nothing is feeling right either.

What's more fun than animals in weddings? We've rounded up eight of the cutest.

Your puppy is all over your Instagram, Facebook and fridge, so there's no reason not to include him in your engagement pictures too. The best engagement photos give viewers a peek into your life. If you're a dog owner, take this opportunity to show off your pooch, like these 22 couples did! And we can't thank them enough.

Our married blogger gets real about checking out other guys when you're taken.

He's confident, distinguished and anywhere from 4 to 20 years older than you. Age is just a number, but there's something about older men that we love. Here are eight reasons why being in a relationship with an older man is tops.

While a younger man may have less life experience, that doesn't mean he's not emotionally mature. Here are the eight reasons why being in a relationship with a younger man is tops.

While we do love crazy, funny and over-the-top engagements, sometimes there's just nothing like a proposal with a heartfelt story behind it (warning: you might need some tissues). We've rounded up some of the most romantic wedding proposals from couples across the country, so keep scrolling for seven of our favorites:

As much as you'd like to think your guests will love every single aspect of your wedding, the truth is you really can't please everyone. However, you can try to avoid ticking them off. Here's how.

You'd think brides and grooms who celebrate their nuptials with 50 guests have an equal shot at wedded bliss as those who invite 500, but apparently not.

Because some things are just better with a buddy (whom you happen to be dating).