Study: Men Happiest Doing Housework
Now we know why Mr. Clean was always smiling.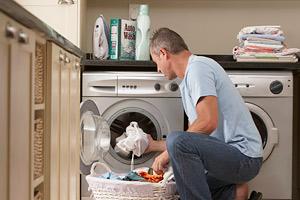 Good news for couples; you now have one less thing to argue about, according to information from the University of Cambridge.
While the issue of housework can sometimes be distressing for women, as it turns out, we should just leave those dishes in the sink and keep the floor unmopped, because apparently, men love doing chores.
In a paper discussing gender's "incomplete revolution," the University references results from a Brussels-funded European
study
. That study, which included 30,000 people in 34 different countries, found that men "are actually happier when they make an equal contribution to household chores." An introduction to that study
reads
:
"Contrary to expectations, they found that men, not women, benefited from a less traditional gender role divide in household chores."
Even the researchers were surprised. The University of Cambridge's
press release
states: 
"The academics expected to find that men's work-family conflict rose, and their well-being fell, when they did more housework. In practice, they found the opposite, with conflict falling, and well-being going up."
Participants were asked questions about how much they contributed to various chores, and then they were asked whether they felt "fulfilled" in life and if they woke up feeling refreshed. They were also asked to measure their levels of "work-life conflict."
So what's the explanation? Because personally, I'm pretty sure I would hate doing the dishes even if I were a man. Jacqueline Scott, a Sociology professor at the University of Cambridge, says the results might have to do with men's guilt.
"[The results] suggest that men may be uncomfortably conscious of work getting in the way of their doing a fair share of chores at home, whereas women have long been used to doing a 'double shift'."
According to researchers, men are actually uncomfortable when they're not able to contribute equally to housework. They say men are more supportive of gender equality than they have been in the past.
Women may still be fighting for equal rights in the workplace, but hey, at least the gender gap on chores is closing.
Photo: Andrew Olney/Getty Images
More on love & sex from MSN Living:
The Most Amazing Wedding Venues in the World
12 Fourth of July Wedding Ideas
How to Determine If He's Marriage Material
love: friendships, dating, sex & marriage
This winter, it's all about mixing unexpected seasonal elements with elegant neutral details and a hint of sparkle and sequins. Take a look.

Here's why dudes without hair make the best boyfriends.

What do you wish you appreciated more when you were flying solo?

"If you're so busy tweeting and Instagraming, you're not paying attention," New York wedding planner Marcy Blum said. "It's almost a cosmic faux pas. People want your energy with them and focused on what they're doing."

The wedding favor, that little thank-you-for-coming gift, has risen to new heights with the bride and groom giving guests a wide range of favors that are meaningful to them.

Generations ago, planning a wedding was 100 percent the bride's job, but in today's age of gender equity, it's a mere 99 percent.

For all the self-help books and advice columns out there (um, keeping reading my advice anyway, please!), there's one tool we all already have in our arsenal for picking a partner that will keep us happy: our gut instincts.

According to a new study from the University of Texas and the University of California, Los Angeles, both men and women have regrets when it comes to sex, but the genders vary greatly when it comes to what they regret specifically.

Spending time alone with your guy is easy, but going public with your plus-one is another thing entirely. Whether it's your crazy relatives at Thanksgiving dinner or awkward convos with your boss at the holiday party, possible pitfalls are everywhere. Keep reading for tips on how to make his grand entrance into your social life a good thing.

Match.com survey reveals the day you're least likely to get spruced up for a date.

Drinking and relationships seem to go hand in hand in a lot of ways. But only in moderation!

Many men will tell you that they have no clue what their wives are thinking.