Audrey Hepburn wins best pickup line
Do you believe in love at first sight? Or should I walk by again?
Breaking the ice isn't always easy. So you really can't blame suitors for having a crack at their best pickup lines in an attempt to get a phone number or nab a date.
Online dating site Badoo.com wanted to see what lines are most successful on both men and women. But they didn't go the route of: "Baby, you must be a broom, 'cause you just swept me off my feet." Nope—instead of cheesy bar lines, Badoo presented pickup lines from classic movies to 1,000 singles to see which ones they would use most.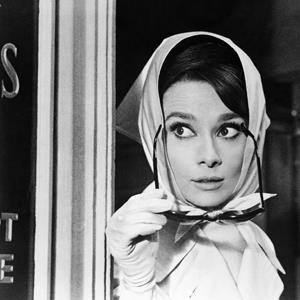 More on MSN Living: 18 biggest things married couples complain about
Women responded best to the Audrey Hepburn quote from the movie "Charade":
"I don't bite, you know…unless it's called for."
What line was most preferred among the men? They liked the Bette Davis quote from the movie "The Cabin in the Cotton":
"I'd love to kiss you, but I just washed my hair."
More on MSN Living: 30 of the most romantic celebrity social posts
As awkward as they may be, a recent poll found that pickup lines might be more effective than we think. eHarmony recently surveyed over 2,000 of its members, asking them questions about dating. Forty-four percent of women admitted they like pickup lines. That's not a majority, but it's enough to keep trying.
But choose wisely, singles. In 2007, researchers at the University of Edinburgh studied the efficacy of pickup lines. They found that women responded best to lines that reflected the specific situation or surroundings. Corny jokes and compliments didn't do so well.
Tell us—what's your go-to icebreaker?
More from The Heart Beat:

5 most vital relationship upkeep tips
Scorned exes get digital revenge
Is make-up sex unhealthy?
Love content like this? Friend us on Facebook, follow us on Twitter and find us on Pinterest.
Photo: Audrey Hepburn wins best pickup line / Silver Screen Collection/Getty Images
love: friendships, dating, sex & marriage
No sense in wasting your time on someone who will never commit.

There he is, the man of your dreams. He's sitting across from you at the coffee shop or standing at the opposite side of the bar. His eyes meet yours, a quick glance, and then it's back to his drink. Was he giving you a signal?

Remember that time on "30 Rock" when Liz Lemon and her eventual-husband Criss went shopping at Ikea, only to end up in a major fight? We know it couldn't be closer to the truth because we've all been there. In honor of the irritation that can be Ikea, here are the top fights you'll likely encounter.

Love it or hate it, the selfie wields much power.

Dating doesn't have to be a daunting task, promise. Here's how to make it fun for you and him.

One woman's honest journey to divorce will break your heart and inspire you at the same time.

Want to send your date running? Try one these moves.

Two guests arrested in New Jersey.

Celebrities certainly know how to travel in style, so if you're struggling to select a honeymoon destination, look no further than these star-approved hotspots. To make it even easier, we're providing you with hotel recommendations, packing essentials, and tips on what to do and see! So channel your inner celeb at one of these U.S. destinations for an unforgettable vacation!

Tall Twitter users named Wayne, we're on to you!

Should little girls be dreaming of a different kind of "I do"?

Need a reason to pack your bags and get the hell out of here?