Audrey Hepburn wins best pickup line
Do you believe in love at first sight? Or should I walk by again?
Breaking the ice isn't always easy. So you really can't blame suitors for having a crack at their best pickup lines in an attempt to get a phone number or nab a date.
Online dating site Badoo.com wanted to see what lines are most successful on both men and women. But they didn't go the route of: "Baby, you must be a broom, 'cause you just swept me off my feet." Nope—instead of cheesy bar lines, Badoo presented pickup lines from classic movies to 1,000 singles to see which ones they would use most.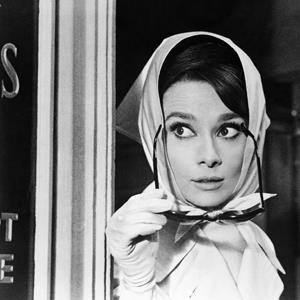 More on MSN Living: 18 biggest things married couples complain about
Women responded best to the Audrey Hepburn quote from the movie "Charade":
"I don't bite, you know…unless it's called for."
What line was most preferred among the men? They liked the Bette Davis quote from the movie "The Cabin in the Cotton":
"I'd love to kiss you, but I just washed my hair."
More on MSN Living: 30 of the most romantic celebrity social posts
As awkward as they may be, a recent poll found that pickup lines might be more effective than we think. eHarmony recently surveyed over 2,000 of its members, asking them questions about dating. Forty-four percent of women admitted they like pickup lines. That's not a majority, but it's enough to keep trying.
But choose wisely, singles. In 2007, researchers at the University of Edinburgh studied the efficacy of pickup lines. They found that women responded best to lines that reflected the specific situation or surroundings. Corny jokes and compliments didn't do so well.
Tell us—what's your go-to icebreaker?
More from The Heart Beat:

5 most vital relationship upkeep tips
Scorned exes get digital revenge
Is make-up sex unhealthy?
Love content like this? Friend us on Facebook, follow us on Twitter and find us on Pinterest.
Photo: Audrey Hepburn wins best pickup line / Silver Screen Collection/Getty Images
love: friendships, dating, sex & marriage
It's not that you don't find every little thing about your partner endearing and adorable; it's just that it would have been really, really nice if that map could have been consulted three hours ago.

The typical wedding: A white dress, tiered cake, floral centerpieces and a cute flower girl -- you know the drill. Every once in a while, though, a couple trades in tradition for a quirky, never-seen-that-before idea. Here are a few of the most out-there wedding photos that made us do a double take.

There's a lot to love about weddings this fall, like cocktails served in copper Moscow mule mugs, industrial-inspired lighting and pheasant feather details. See what's new!

Do you have to be engaged to sport a ring with bling?

124.6 million haven't gotten hitched.

Even though the national average wedding is $29,858, that's just an average. If you live in a smaller state like Idaho where the average wedding costs $16,159, you may find yourself saving a little more than half of the national spend! Check out some of the other least expensive cities to get married in below:

Summer is winding down, but the ubiquitous summer romance lives on.

For those times when nothing big and horrible happened--but nothing is feeling right either.

He's confident, distinguished and anywhere from 4 to 20 years older than you. Age is just a number, but there's something about older men that we love. Here are eight reasons why being in a relationship with an older man is tops.

While a younger man may have less life experience, that doesn't mean he's not emotionally mature. Here are the eight reasons why being in a relationship with a younger man is tops.

Have you ever wondered what the 'other woman' was thinking?

So fall is coming and you need some romantic inspiration now that long walks on the beach are out of the question. Well look no further! From apple picking to pumpkin carving, these are some great fall date ideas from girls just like you!