Audrey Hepburn wins best pickup line
Do you believe in love at first sight? Or should I walk by again?
Breaking the ice isn't always easy. So you really can't blame suitors for having a crack at their best pickup lines in an attempt to get a phone number or nab a date.
Online dating site Badoo.com wanted to see what lines are most successful on both men and women. But they didn't go the route of: "Baby, you must be a broom, 'cause you just swept me off my feet." Nope—instead of cheesy bar lines, Badoo presented pickup lines from classic movies to 1,000 singles to see which ones they would use most.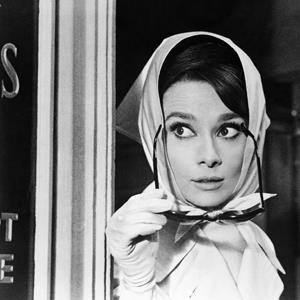 More on MSN Living: 18 biggest things married couples complain about
Women responded best to the Audrey Hepburn quote from the movie "Charade":
"I don't bite, you know…unless it's called for."
What line was most preferred among the men? They liked the Bette Davis quote from the movie "The Cabin in the Cotton":
"I'd love to kiss you, but I just washed my hair."
More on MSN Living: 30 of the most romantic celebrity social posts
As awkward as they may be, a recent poll found that pickup lines might be more effective than we think. eHarmony recently surveyed over 2,000 of its members, asking them questions about dating. Forty-four percent of women admitted they like pickup lines. That's not a majority, but it's enough to keep trying.
But choose wisely, singles. In 2007, researchers at the University of Edinburgh studied the efficacy of pickup lines. They found that women responded best to lines that reflected the specific situation or surroundings. Corny jokes and compliments didn't do so well.
Tell us—what's your go-to icebreaker?
More from The Heart Beat:

5 most vital relationship upkeep tips
Scorned exes get digital revenge
Is make-up sex unhealthy?
Love content like this? Friend us on Facebook, follow us on Twitter and find us on Pinterest.
Photo: Audrey Hepburn wins best pickup line / Silver Screen Collection/Getty Images
love: friendships, dating, sex & marriage
Her partner? Wine? Downtime? Find out where it all ranks.

Pheromones *may* be the key to finding your perfect match.

This time of year, we dust off our holiday traditions of special songs, stories, events and food to make our season bright. Here's a look into the traditional, unique and quirky holiday traditions of some famous couples.

Look, I looooove engagement season for obvious reasons, but even I can admit I'm like, "Really, AGAIN?" when yet ANOTHER engagement ring pops up in my news feed. Seriously, there were two this weekend. (Congrats, Gemma and Danny!)

We asked real men and women (and a few first-base experts, too) to give us the cardinal rules of kissing, tell us what makes someone a good kisser and more. So whether you're leaning in for kiss No. 1 or 1,000, read on.by Devin Tomb

Not quite sure which diamond shape suits your personality? We're here to help.

Dating can lead to all kinds of tricky situations. To help you navigate even the most awkward moments, we've compiled our 50 best dating tips—some new, some old—given to us by experts, moms, women like you, and even Justin Timberlake.

Customers as Madison's new Snuggle House can snuggle with professional cuddlers for $60 an hour.

Can you believe it was only about 15 years ago that engagement ring shopping meant a time-consuming slog from jewelry boutique to jewelry boutique? Thank goodness for the internet; nowadays, it's easy to do all that legwork online.

The holiday season, with all its twinkly lights and fireplaces and cold nights perfect for snuggling, is most definitely for lovers—but "The Single Woman" author Mandy Hale is here to remind you that it's also for singles, too.

Studies show that being satisfied with your romantic relationship is one of the best predictors of happiness -- even more important than education, income, or having a high-status job. Resolve to make 2014 your happiest year yet with these bond-strengthening pledges.

This winter, it's all about mixing unexpected seasonal elements with elegant neutral details and a hint of sparkle and sequins. Take a look.