Audrey Hepburn wins best pickup line
Do you believe in love at first sight? Or should I walk by again?
Breaking the ice isn't always easy. So you really can't blame suitors for having a crack at their best pickup lines in an attempt to get a phone number or nab a date.
Online dating site Badoo.com wanted to see what lines are most successful on both men and women. But they didn't go the route of: "Baby, you must be a broom, 'cause you just swept me off my feet." Nope—instead of cheesy bar lines, Badoo presented pickup lines from classic movies to 1,000 singles to see which ones they would use most.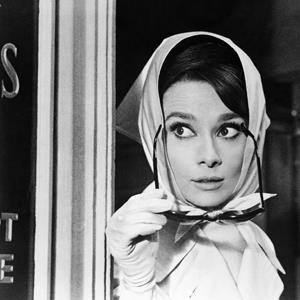 More on MSN Living: 18 biggest things married couples complain about
Women responded best to the Audrey Hepburn quote from the movie "Charade":
"I don't bite, you know…unless it's called for."
What line was most preferred among the men? They liked the Bette Davis quote from the movie "The Cabin in the Cotton":
"I'd love to kiss you, but I just washed my hair."
More on MSN Living: 30 of the most romantic celebrity social posts
As awkward as they may be, a recent poll found that pickup lines might be more effective than we think. eHarmony recently surveyed over 2,000 of its members, asking them questions about dating. Forty-four percent of women admitted they like pickup lines. That's not a majority, but it's enough to keep trying.
But choose wisely, singles. In 2007, researchers at the University of Edinburgh studied the efficacy of pickup lines. They found that women responded best to lines that reflected the specific situation or surroundings. Corny jokes and compliments didn't do so well.
Tell us—what's your go-to icebreaker?
More from The Heart Beat:

5 most vital relationship upkeep tips
Scorned exes get digital revenge
Is make-up sex unhealthy?
Love content like this? Friend us on Facebook, follow us on Twitter and find us on Pinterest.
Photo: Audrey Hepburn wins best pickup line / Silver Screen Collection/Getty Images
love: friendships, dating, sex & marriage
This just in: A new study shows girls are warriors in the womb.

You can make a pros and cons list...but ultimately you know what works best for you.

Maggie Reyes is a life coach, writer, and the founder of ModernMarried.com. She helps newlyweds re-think what married life can be. Here, she's revealing tricks every newlywed couple needs to know.

Government-supported Vietnamese classes teach women Korean language, customs.

Whether you're into creative artists or uber-preppy bankers, there's something to be said for trying something new.

Sometimes two characters on a TV show or movie can portray being a happy couple effortlessly, or can have lots of fun playing former spouses — especially if they're married to each other in real life! Keep scrolling for six celebrity costars you probably didn't know tied the knot, even after the bloodiest and craziest story lines.

Some couples want nothing more than a laid-back, by-the-book proposal. Then there are the other couples, where the proposal not only needs to be personalized, it also has to be unique and entirely different than the typical restaurant, bended-knee idea. Sound like you? Then get inspired by some of the most creative proposal ideas we've ever seen. If you find something you like, steal it and then modify it to make your proposal something totally unforgettable.

From Nantucket all the way to Cayo Espanto, we've rounded up some of the prettiest beaches to travel to for your honeymoon.

Researchers studied the age-old stereotype that women really are more talkative than men.

'There is a science behind attraction,' SingldOut says.

One minute you're happy and in love, the next he's delivering the "It's not you, it's me" speech. Why? We have the scoop on the real reasons most couples split up.

Want to keep your wedding budget in check? Start by checking out this list of the 10 things that could end up costing you a lot more than you anticipated.