And the best city for dating is ....
Men's Health ranks the best places for dating and relationships.
If you live in Atlanta and your name is Ted Turner, you don't need help finding a girlfriend—or four, the number Turner was juggling last May. Alas, Atlanta singles without billions aren't so lucky.
"The city is very spread out," said Janet Page, Ph.D., a relationship therapist in Atlanta. "It can be hard to break into the social scene."
This may be why Hotlanta is a hotbed of online dating.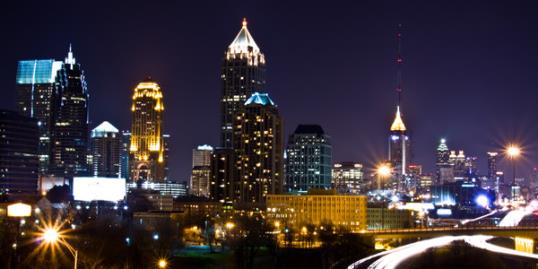 "People here are almost never members of just one site," Page said. "They're on two or three."
Here are the top 100 cities in America for dating:
1.    Atlanta, GA
2.    Denver, CO
3.    San Diego, CA
4.    Orlando, FL
5.    San Francisco, CA
The 10 commandments of online dating
6.    Las Vegas, NV
7.    Miami, FL
8.    Seattle, WA
9.    Charlotte, NC
10.  Minneapolis, MN
11.    Austin, TX
12.    Tampa, FL
13.    Portland, ME
14.    Pittsburgh, PA
15.    Raleigh, NC
16.    Houston, TX
17.    New York, NY
18.    Dallas, TX
19.    Indianapolis, IN
How to land the girl of your dreams
20.    Chicago, IL
21.    Jacksonville, FL
22.    Salt Lake City, UT
23.    Louisville, KY
24.    Washington, DC
25.    Baltimore, MD
26.    Cincinnati, OH
27.    Colorado Springs, CO
28.    San Antonio, TX
29.    Philadelphia, PA
30.    Boston, MA
31.    Phoenix, AZ
32.    Columbus, OH
33.    Los Angeles, CA
34.    Omaha, NE
35.    Kansas City, MO
36.    Cleveland, OH
37.    Columbia, SC
38.    Sacramento, CA
39.    Virginia Beach, VA
40.    Lexington, KY
41.    Tucson, AZ
42.    Nashville, TN
43.    San Jose, CA
44.    St. Louis, MO
45.    Boise City, ID
46.    Madison, WI
47.    Birmingham, AL
48.    Baton Rouge, LA
49.    Tulsa, OK
50.    Milwaukee, WI
51.    Oklahoma City, OK
52.    St. Paul, MN
53.    Charleston, WV
54.    Fort Worth, TX
55.    Buffalo, NY
56.    Greensboro, NC
57.    Albuquerque, NM
58.    Des Moines, IA
59.    Manchester, NH
60.    Honolulu, HI
61.    Anchorage, AK
62.    Plano, TX
63.    Portland, OR
64.    Lincoln, NE
65.    Fort Wayne, IN
66.    Aurora, CO
67.    Providence, RI
68.    Reno, NV
69.    Cheyenne, WY
70.    New Orleans, LA
71.    Norfolk, VA
72.    Riverside, CA
73.    Memphis, TN
74.    Toledo, OH
75.    Fargo, ND
76.    Jersey City, NJ
77.    Wichita, KS
78.    Winston-Salem, NC
79.    Wilmington, DE
80.    Durham, NC
81.    Billings, MT
82.    Little Rock, AR
83.    El Paso, TX
84.    Fresno, CA
85.    Anaheim, CA
86.    Corpus Christi, TX
87.    Oakland, CA
88.    Burlington, VT
89.    Bakersfield, CA
90.    Lubbock, TX
91.    Chesapeake, VA
92.    Detroit, MI
93.    Bridgeport, CT
94.    St. Petersburg, FL
95.    San Bernardino, CA
96.    Jackson, MS
97.    Newark, NJ
98.    Sioux Falls, SD
99.    Stockton, CA
100.  Laredo, TX
Photo: Richard Williams Photography/Getty Images
More from Men's Health:
love: friendships, dating, sex & marriage
It's not that you don't find every little thing about your partner endearing and adorable; it's just that it would have been really, really nice if that map could have been consulted three hours ago.

The typical wedding: A white dress, tiered cake, floral centerpieces and a cute flower girl -- you know the drill. Every once in a while, though, a couple trades in tradition for a quirky, never-seen-that-before idea. Here are a few of the most out-there wedding photos that made us do a double take.

There's a lot to love about weddings this fall, like cocktails served in copper Moscow mule mugs, industrial-inspired lighting and pheasant feather details. See what's new!

Do you have to be engaged to sport a ring with bling?

124.6 million haven't gotten hitched.

Even though the national average wedding is $29,858, that's just an average. If you live in a smaller state like Idaho where the average wedding costs $16,159, you may find yourself saving a little more than half of the national spend! Check out some of the other least expensive cities to get married in below:

Summer is winding down, but the ubiquitous summer romance lives on.

For those times when nothing big and horrible happened--but nothing is feeling right either.

He's confident, distinguished and anywhere from 4 to 20 years older than you. Age is just a number, but there's something about older men that we love. Here are eight reasons why being in a relationship with an older man is tops.

While a younger man may have less life experience, that doesn't mean he's not emotionally mature. Here are the eight reasons why being in a relationship with a younger man is tops.

Have you ever wondered what the 'other woman' was thinking?

So fall is coming and you need some romantic inspiration now that long walks on the beach are out of the question. Well look no further! From apple picking to pumpkin carving, these are some great fall date ideas from girls just like you!