And the best city for dating is ....
Men's Health ranks the best places for dating and relationships.
If you live in Atlanta and your name is Ted Turner, you don't need help finding a girlfriend—or four, the number Turner was juggling last May. Alas, Atlanta singles without billions aren't so lucky.
"The city is very spread out," said Janet Page, Ph.D., a relationship therapist in Atlanta. "It can be hard to break into the social scene."
This may be why Hotlanta is a hotbed of online dating.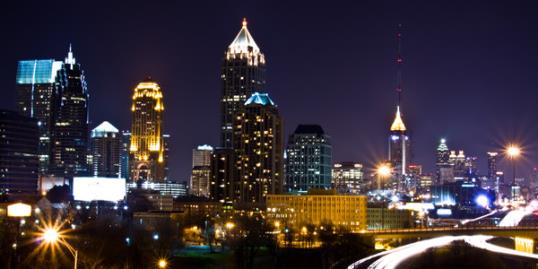 "People here are almost never members of just one site," Page said. "They're on two or three."
Here are the top 100 cities in America for dating:
1.    Atlanta, GA
2.    Denver, CO
3.    San Diego, CA
4.    Orlando, FL
5.    San Francisco, CA
The 10 commandments of online dating
6.    Las Vegas, NV
7.    Miami, FL
8.    Seattle, WA
9.    Charlotte, NC
10.  Minneapolis, MN
11.    Austin, TX
12.    Tampa, FL
13.    Portland, ME
14.    Pittsburgh, PA
15.    Raleigh, NC
16.    Houston, TX
17.    New York, NY
18.    Dallas, TX
19.    Indianapolis, IN
How to land the girl of your dreams
20.    Chicago, IL
21.    Jacksonville, FL
22.    Salt Lake City, UT
23.    Louisville, KY
24.    Washington, DC
25.    Baltimore, MD
26.    Cincinnati, OH
27.    Colorado Springs, CO
28.    San Antonio, TX
29.    Philadelphia, PA
30.    Boston, MA
31.    Phoenix, AZ
32.    Columbus, OH
33.    Los Angeles, CA
34.    Omaha, NE
35.    Kansas City, MO
36.    Cleveland, OH
37.    Columbia, SC
38.    Sacramento, CA
39.    Virginia Beach, VA
40.    Lexington, KY
41.    Tucson, AZ
42.    Nashville, TN
43.    San Jose, CA
44.    St. Louis, MO
45.    Boise City, ID
46.    Madison, WI
47.    Birmingham, AL
48.    Baton Rouge, LA
49.    Tulsa, OK
50.    Milwaukee, WI
51.    Oklahoma City, OK
52.    St. Paul, MN
53.    Charleston, WV
54.    Fort Worth, TX
55.    Buffalo, NY
56.    Greensboro, NC
57.    Albuquerque, NM
58.    Des Moines, IA
59.    Manchester, NH
60.    Honolulu, HI
61.    Anchorage, AK
62.    Plano, TX
63.    Portland, OR
64.    Lincoln, NE
65.    Fort Wayne, IN
66.    Aurora, CO
67.    Providence, RI
68.    Reno, NV
69.    Cheyenne, WY
70.    New Orleans, LA
71.    Norfolk, VA
72.    Riverside, CA
73.    Memphis, TN
74.    Toledo, OH
75.    Fargo, ND
76.    Jersey City, NJ
77.    Wichita, KS
78.    Winston-Salem, NC
79.    Wilmington, DE
80.    Durham, NC
81.    Billings, MT
82.    Little Rock, AR
83.    El Paso, TX
84.    Fresno, CA
85.    Anaheim, CA
86.    Corpus Christi, TX
87.    Oakland, CA
88.    Burlington, VT
89.    Bakersfield, CA
90.    Lubbock, TX
91.    Chesapeake, VA
92.    Detroit, MI
93.    Bridgeport, CT
94.    St. Petersburg, FL
95.    San Bernardino, CA
96.    Jackson, MS
97.    Newark, NJ
98.    Sioux Falls, SD
99.    Stockton, CA
100.  Laredo, TX
Photo: Richard Williams Photography/Getty Images
More from Men's Health:
love: friendships, dating, sex & marriage
As much as you'd like to think your guests will love every single aspect of your wedding, the truth is you really can't please everyone. However, you can try to avoid ticking them off. Here's how.

You'd think brides and grooms who celebrate their nuptials with 50 guests have an equal shot at wedded bliss as those who invite 500, but apparently not.

Because some things are just better with a buddy (whom you happen to be dating).

They're smart, funny, and adorable, but are you a good match?

Fight the urge to sign her up for OkCupid and read this instead.

We know you have good intentions, but...please...stop.