And the best city for dating is ....
Men's Health ranks the best places for dating and relationships.
If you live in Atlanta and your name is Ted Turner, you don't need help finding a girlfriend—or four, the number Turner was juggling last May. Alas, Atlanta singles without billions aren't so lucky.
"The city is very spread out," said Janet Page, Ph.D., a relationship therapist in Atlanta. "It can be hard to break into the social scene."
This may be why Hotlanta is a hotbed of online dating.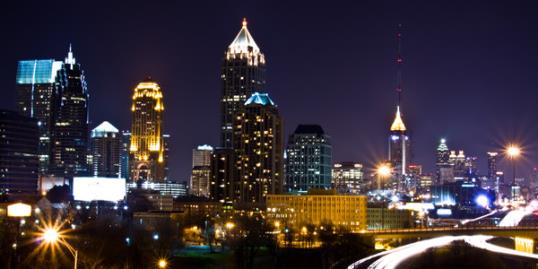 "People here are almost never members of just one site," Page said. "They're on two or three."
Here are the top 100 cities in America for dating:
1.    Atlanta, GA
2.    Denver, CO
3.    San Diego, CA
4.    Orlando, FL
5.    San Francisco, CA
The 10 commandments of online dating
6.    Las Vegas, NV
7.    Miami, FL
8.    Seattle, WA
9.    Charlotte, NC
10.  Minneapolis, MN
11.    Austin, TX
12.    Tampa, FL
13.    Portland, ME
14.    Pittsburgh, PA
15.    Raleigh, NC
16.    Houston, TX
17.    New York, NY
18.    Dallas, TX
19.    Indianapolis, IN
How to land the girl of your dreams
20.    Chicago, IL
21.    Jacksonville, FL
22.    Salt Lake City, UT
23.    Louisville, KY
24.    Washington, DC
25.    Baltimore, MD
26.    Cincinnati, OH
27.    Colorado Springs, CO
28.    San Antonio, TX
29.    Philadelphia, PA
30.    Boston, MA
31.    Phoenix, AZ
32.    Columbus, OH
33.    Los Angeles, CA
34.    Omaha, NE
35.    Kansas City, MO
36.    Cleveland, OH
37.    Columbia, SC
38.    Sacramento, CA
39.    Virginia Beach, VA
40.    Lexington, KY
41.    Tucson, AZ
42.    Nashville, TN
43.    San Jose, CA
44.    St. Louis, MO
45.    Boise City, ID
46.    Madison, WI
47.    Birmingham, AL
48.    Baton Rouge, LA
49.    Tulsa, OK
50.    Milwaukee, WI
51.    Oklahoma City, OK
52.    St. Paul, MN
53.    Charleston, WV
54.    Fort Worth, TX
55.    Buffalo, NY
56.    Greensboro, NC
57.    Albuquerque, NM
58.    Des Moines, IA
59.    Manchester, NH
60.    Honolulu, HI
61.    Anchorage, AK
62.    Plano, TX
63.    Portland, OR
64.    Lincoln, NE
65.    Fort Wayne, IN
66.    Aurora, CO
67.    Providence, RI
68.    Reno, NV
69.    Cheyenne, WY
70.    New Orleans, LA
71.    Norfolk, VA
72.    Riverside, CA
73.    Memphis, TN
74.    Toledo, OH
75.    Fargo, ND
76.    Jersey City, NJ
77.    Wichita, KS
78.    Winston-Salem, NC
79.    Wilmington, DE
80.    Durham, NC
81.    Billings, MT
82.    Little Rock, AR
83.    El Paso, TX
84.    Fresno, CA
85.    Anaheim, CA
86.    Corpus Christi, TX
87.    Oakland, CA
88.    Burlington, VT
89.    Bakersfield, CA
90.    Lubbock, TX
91.    Chesapeake, VA
92.    Detroit, MI
93.    Bridgeport, CT
94.    St. Petersburg, FL
95.    San Bernardino, CA
96.    Jackson, MS
97.    Newark, NJ
98.    Sioux Falls, SD
99.    Stockton, CA
100.  Laredo, TX
Photo: Richard Williams Photography/Getty Images
More from Men's Health:
love: friendships, dating, sex & marriage
Lesson learned: don't be afraid to shake things up!

Plus, what to do if you're experiencing a dry spell.

To go Dutch or not to go Dutch? Turns out, it's really not that simple.

While the national average wedding cost may be $29,858, if you live in a larger city, like Manhattan where the average wedding costs $86,916, you may find yourself spending close to triple of that number! Take a look at some of the other most expensive places in America to get married.

Happy spring! Luckily, the weather here in New York is fairly warm and beautifully sunny, so I'm totally feeling that start of the season buzz. You know, when you want to walk outside for hours and then reorganize your entire closet by getting rid of all your stupid snow boots and sweaters immediately?

The American Civil Liberties Union's primary work is litigation, but this month it's moonlighting as a wedding planner as part of its role in the campaign to legalize same-sex marriage nationwide.