And the best city for dating is ....
Men's Health ranks the best places for dating and relationships.
If you live in Atlanta and your name is Ted Turner, you don't need help finding a girlfriend—or four, the number Turner was juggling last May. Alas, Atlanta singles without billions aren't so lucky.
"The city is very spread out," said Janet Page, Ph.D., a relationship therapist in Atlanta. "It can be hard to break into the social scene."
This may be why Hotlanta is a hotbed of online dating.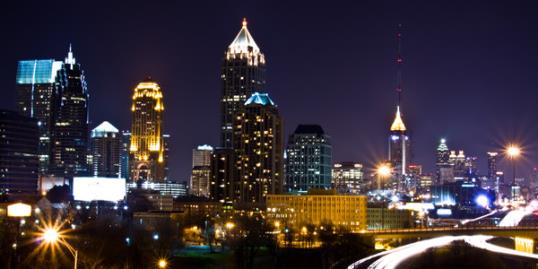 "People here are almost never members of just one site," Page said. "They're on two or three."
Here are the top 100 cities in America for dating:
1.    Atlanta, GA
2.    Denver, CO
3.    San Diego, CA
4.    Orlando, FL
5.    San Francisco, CA
The 10 commandments of online dating
6.    Las Vegas, NV
7.    Miami, FL
8.    Seattle, WA
9.    Charlotte, NC
10.  Minneapolis, MN
11.    Austin, TX
12.    Tampa, FL
13.    Portland, ME
14.    Pittsburgh, PA
15.    Raleigh, NC
16.    Houston, TX
17.    New York, NY
18.    Dallas, TX
19.    Indianapolis, IN
How to land the girl of your dreams
20.    Chicago, IL
21.    Jacksonville, FL
22.    Salt Lake City, UT
23.    Louisville, KY
24.    Washington, DC
25.    Baltimore, MD
26.    Cincinnati, OH
27.    Colorado Springs, CO
28.    San Antonio, TX
29.    Philadelphia, PA
30.    Boston, MA
31.    Phoenix, AZ
32.    Columbus, OH
33.    Los Angeles, CA
34.    Omaha, NE
35.    Kansas City, MO
36.    Cleveland, OH
37.    Columbia, SC
38.    Sacramento, CA
39.    Virginia Beach, VA
40.    Lexington, KY
41.    Tucson, AZ
42.    Nashville, TN
43.    San Jose, CA
44.    St. Louis, MO
45.    Boise City, ID
46.    Madison, WI
47.    Birmingham, AL
48.    Baton Rouge, LA
49.    Tulsa, OK
50.    Milwaukee, WI
51.    Oklahoma City, OK
52.    St. Paul, MN
53.    Charleston, WV
54.    Fort Worth, TX
55.    Buffalo, NY
56.    Greensboro, NC
57.    Albuquerque, NM
58.    Des Moines, IA
59.    Manchester, NH
60.    Honolulu, HI
61.    Anchorage, AK
62.    Plano, TX
63.    Portland, OR
64.    Lincoln, NE
65.    Fort Wayne, IN
66.    Aurora, CO
67.    Providence, RI
68.    Reno, NV
69.    Cheyenne, WY
70.    New Orleans, LA
71.    Norfolk, VA
72.    Riverside, CA
73.    Memphis, TN
74.    Toledo, OH
75.    Fargo, ND
76.    Jersey City, NJ
77.    Wichita, KS
78.    Winston-Salem, NC
79.    Wilmington, DE
80.    Durham, NC
81.    Billings, MT
82.    Little Rock, AR
83.    El Paso, TX
84.    Fresno, CA
85.    Anaheim, CA
86.    Corpus Christi, TX
87.    Oakland, CA
88.    Burlington, VT
89.    Bakersfield, CA
90.    Lubbock, TX
91.    Chesapeake, VA
92.    Detroit, MI
93.    Bridgeport, CT
94.    St. Petersburg, FL
95.    San Bernardino, CA
96.    Jackson, MS
97.    Newark, NJ
98.    Sioux Falls, SD
99.    Stockton, CA
100.  Laredo, TX
Photo: Richard Williams Photography/Getty Images
More from Men's Health:
love: friendships, dating, sex & marriage
Customers as Madison's new Snuggle House can snuggle with professional cuddlers for $60 an hour.

Can you believe it was only about 15 years ago that engagement ring shopping meant a time-consuming slog from jewelry boutique to jewelry boutique? Thank goodness for the internet; nowadays, it's easy to do all that legwork online.

The holiday season, with all its twinkly lights and fireplaces and cold nights perfect for snuggling, is most definitely for lovers—but "The Single Woman" author Mandy Hale is here to remind you that it's also for singles, too.

Studies show that being satisfied with your romantic relationship is one of the best predictors of happiness -- even more important than education, income, or having a high-status job. Resolve to make 2014 your happiest year yet with these bond-strengthening pledges.

This winter, it's all about mixing unexpected seasonal elements with elegant neutral details and a hint of sparkle and sequins. Take a look.

Here's why dudes without hair make the best boyfriends.

What do you wish you appreciated more when you were flying solo?

"If you're so busy tweeting and Instagraming, you're not paying attention," New York wedding planner Marcy Blum said. "It's almost a cosmic faux pas. People want your energy with them and focused on what they're doing."

The wedding favor, that little thank-you-for-coming gift, has risen to new heights with the bride and groom giving guests a wide range of favors that are meaningful to them.

Generations ago, planning a wedding was 100 percent the bride's job, but in today's age of gender equity, it's a mere 99 percent.

For all the self-help books and advice columns out there (um, keeping reading my advice anyway, please!), there's one tool we all already have in our arsenal for picking a partner that will keep us happy: our gut instincts.

According to a new study from the University of Texas and the University of California, Los Angeles, both men and women have regrets when it comes to sex, but the genders vary greatly when it comes to what they regret specifically.