And the best city for dating is ....
Men's Health ranks the best places for dating and relationships.
If you live in Atlanta and your name is Ted Turner, you don't need help finding a girlfriend—or four, the number Turner was juggling last May. Alas, Atlanta singles without billions aren't so lucky.
"The city is very spread out," said Janet Page, Ph.D., a relationship therapist in Atlanta. "It can be hard to break into the social scene."
This may be why Hotlanta is a hotbed of online dating.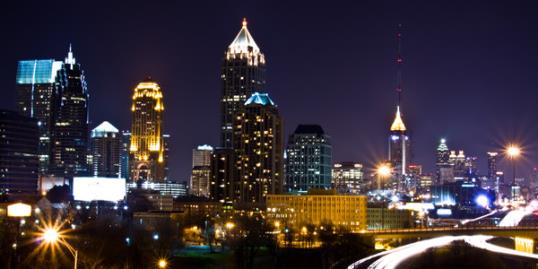 "People here are almost never members of just one site," Page said. "They're on two or three."
Here are the top 100 cities in America for dating:
1.    Atlanta, GA
2.    Denver, CO
3.    San Diego, CA
4.    Orlando, FL
5.    San Francisco, CA
The 10 commandments of online dating
6.    Las Vegas, NV
7.    Miami, FL
8.    Seattle, WA
9.    Charlotte, NC
10.  Minneapolis, MN
11.    Austin, TX
12.    Tampa, FL
13.    Portland, ME
14.    Pittsburgh, PA
15.    Raleigh, NC
16.    Houston, TX
17.    New York, NY
18.    Dallas, TX
19.    Indianapolis, IN
How to land the girl of your dreams
20.    Chicago, IL
21.    Jacksonville, FL
22.    Salt Lake City, UT
23.    Louisville, KY
24.    Washington, DC
25.    Baltimore, MD
26.    Cincinnati, OH
27.    Colorado Springs, CO
28.    San Antonio, TX
29.    Philadelphia, PA
30.    Boston, MA
31.    Phoenix, AZ
32.    Columbus, OH
33.    Los Angeles, CA
34.    Omaha, NE
35.    Kansas City, MO
36.    Cleveland, OH
37.    Columbia, SC
38.    Sacramento, CA
39.    Virginia Beach, VA
40.    Lexington, KY
41.    Tucson, AZ
42.    Nashville, TN
43.    San Jose, CA
44.    St. Louis, MO
45.    Boise City, ID
46.    Madison, WI
47.    Birmingham, AL
48.    Baton Rouge, LA
49.    Tulsa, OK
50.    Milwaukee, WI
51.    Oklahoma City, OK
52.    St. Paul, MN
53.    Charleston, WV
54.    Fort Worth, TX
55.    Buffalo, NY
56.    Greensboro, NC
57.    Albuquerque, NM
58.    Des Moines, IA
59.    Manchester, NH
60.    Honolulu, HI
61.    Anchorage, AK
62.    Plano, TX
63.    Portland, OR
64.    Lincoln, NE
65.    Fort Wayne, IN
66.    Aurora, CO
67.    Providence, RI
68.    Reno, NV
69.    Cheyenne, WY
70.    New Orleans, LA
71.    Norfolk, VA
72.    Riverside, CA
73.    Memphis, TN
74.    Toledo, OH
75.    Fargo, ND
76.    Jersey City, NJ
77.    Wichita, KS
78.    Winston-Salem, NC
79.    Wilmington, DE
80.    Durham, NC
81.    Billings, MT
82.    Little Rock, AR
83.    El Paso, TX
84.    Fresno, CA
85.    Anaheim, CA
86.    Corpus Christi, TX
87.    Oakland, CA
88.    Burlington, VT
89.    Bakersfield, CA
90.    Lubbock, TX
91.    Chesapeake, VA
92.    Detroit, MI
93.    Bridgeport, CT
94.    St. Petersburg, FL
95.    San Bernardino, CA
96.    Jackson, MS
97.    Newark, NJ
98.    Sioux Falls, SD
99.    Stockton, CA
100.  Laredo, TX
Photo: Richard Williams Photography/Getty Images
More from Men's Health:
love: friendship, dating, sex & marriage
Your summer wedding is only a few months away? Don't sweat it! We have the finishing touches that will guarantee your wedding to be the absolute best blow out.

Planning a wedding involves months (sometimes years) of endless details, pressing deadlines, family drama and—far too often—enough stress to make you just want to elope. Stop right there. Consider this your cheat sheet and secret weapon against such insanity.

Those Facebook friends that seem to have the perfect life with the flawless husband they adore at all times? Even they face tough times like these.

If you're planning a crazy fun wedding, check out these hilarious wedding invitations.

Up your dating game this summer by taking advantage of the season's warm weather and extended evening light to move some of your dates outdoors.

You've said yes. Now it's time to start planning your wedding. Give guests a heads up with clever "save the date" cards. Here are 30 funny ones.

Gifts, affirmations, physical touch—what makes you feel most loved? One expert identified five main ways we express love. What's your preferred love language?

Rocky relationship? Maybe you and your spouse just have different ways of expressing love. Not to worry—here are some tips for speaking your partner's love language.

Hershey's syrup, whipped cream, and a Catwoman mask. Yes, yes, we were thinking the same thing: Nothing beats a woman who purrs. But what if you're still trying to get to the next level of your relationship? Well, that's where the fun comes in. "Ultimately, fun is the best aphrodisiac," says Paul Joannides, author of "The Guide to Getting It On!" "Quit looking for sexy and look for fun instead—and you'll end up having more sex." We like the way this guy thinks. That's why we brainstormed these adventures (with some help from experts and our female friends).

Before you sit down for 'the talk', read this guide to make sure you don't say the wrong things.

They look lovingly at each other across rooms, finish their partners' sentences, and playfully poke fun at one another. Here's how those blissful twosomes keep the romance alive.

Dear readers, You really are the sweetest. These quotes, sourced from our Facebook page, show that there are plenty of unique ways to tell your partner just how much you adore him.