Here Comes the Groomzilla?
These days, more grooms are involved with the wedding planning.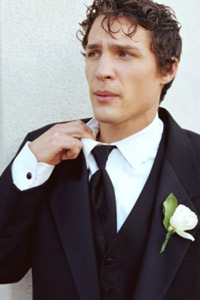 We're all familiar with the stereotype that guys are less interested in planning the wedding than women; their assumed attitude is generally, "whatever you want, honey." After all, there are a million wedding shows dedicated to women—Bridezillas, Say Yes to the Dress, etc.—but I can't think of a single show that caters to the groom's needs.
But thanks to Chris Easter, co-founder of TheManRegistry.com, there is a website for men who want a bigger part in the wedding planning.
The site is filled with male-centric registry gifts—the personalized poker chip set, for example. There's also the chalkboard beer mug. And the RC remote control cooler. (Does it make me less of a woman for wanting that last one?)
But it's not just about the registry. The website also includes cool venues, vendors, and a helpful section called Groom 101. In Groom 101, there are various articles for grooms—How to Survive Pre-Wedding Cold Feet, Who is Invited to the Bachelor Party, and my personal favorite—Scheduling Your Fall Wedding Around Football.
FastCompany interviewed Easter, who admits that there's some truth to the stereotype of men caring less about the wedding.
"There's some truth to it traditionally. But couples are getting married at older ages…and so couples are spending more of their own money and less of mom and dad's money on weddings. If I'm spending my money, I'm going to be more involved…Our company proves that men do care intimately about planning their weddings and just needed an outlet."
Event planner Karen Pecora confirms with the Bridal Bulletin that, indeed, men have become more involved. She adds that meeting clients in the past usually meant meeting the bride and her parents.  But times have changed:
"Sometimes, we wouldn't even meet the groom until the wedding day," Pecora says." Now, there's never a groom we haven't met."
In some cases, the groom becomes so involved with the wedding that he mutates into the dreaded Groomzilla. Alabama wedding planner Martie Duncan tells Marie Claire:
"I've seen so many grooms have meltdowns. One guy dragged his fiancée dress shopping all over town. Nothing was good enough for him, and he wasn't interested in his bride's input."
According to Duncan, on the big day, the same groom actually called a nearby airport repeatedly to find out whether the planes flying overhead would disturb the wedding. "And he harassed the weather station to confirm sunny skies," Duncan adds.
Let's hope most dudes don't take things quite that far (although I would totally watch many, many episodes of Groomzillas).
"The Man Registry is about being a man by stepping up and being involved in the planning of your wedding," Easter adds
So what exactly does it mean to be a man?
"Being a man can mean a lot of things. Being a man is not about being out with your shirt off drinking beers. It's about: This is the biggest day of your life, and if you're not involved, that's a problem."
Leave the shirtless beer guzzling for the reception.
Photo: Greg Ceo/Getty Images
More on love & sex from MSN Living:
The Most Amazing Wedding Venues in the World
12 Fourth of July Wedding Ideas
How to Determine If He's Marriage Material
love: friendships, dating, sex & marriage
Revealr is a new iPhone app that allows those looking for love to hear their possible matches before they see them.

A new poll reveals 59 percent of the country supports same-sex marriage.

Celebrity engagements are so much fun to follow because every detail is bound to be over-the-top — from the proposal (like when Kanye rented out an entire stadium to propose to Kim) to the huge, sparkly engagement ring and, of course, the wedding. Plus, as trendsetters, celebs can be a source of inspiration even if you can't afford a million dollar ring. Here are our celebrity wedding predictions for 2014.

If you've ever been to a club—like, ever, even once—you are not going to be shocked to hear that women get a lot of unwanted, aggressive attention. But when you read the findings of this study on how often and why it happens, it might make you feel downright sick to your stomach.

Hopeless romantics and cringe-worthy chick flicks would tell you that it doesn't matter what you do on the date, as long as you're together. But they're wrong. Dead wrong. Women use your date ideas to size you up, says matchmaker Rachel DeAlto, author of "Flirt Fearlessly." "You absolutely will be judged based on the date you plan. There are so many subconscious impressions that we take in while dating." Gulp. Here are 10 terrible ideas that can land you on the no-lay list—and simple swaps to keep her happy. By K. Aleisha Fetters

No matter your current relationship status or past relationship fails, get a fresh start this month, with these tips for spring cleaning your love life.

Forget the rules you've always heard—it's time to start making your own.

Are you in an affair without knowing it? Unless you're a swinger, having sex with someone else counts as cheating. But then there's the fuzzy area between friendship and infidelity—and chances are, your girlfriend sees those shades of gray as more black and white than you do. "Men aren't as attuned to identifying ambiguous behaviors as cheating as women are," says Daniel Kruger, Ph.D., a University of Michigan psychologist, who's studied gender differences in definitions of infidelity. In other words, what you consider totally innocent could be her deal breaker.

We spoke with relationship therapist Rachel A. Sussman, author of "The Breakup Bible," for her tips on how regular girls can survive a split like an A-lister.

A researcher from Texas Tech University has found that people who use the same kind of "function words" are more likely to get together.

Check out these five celebrity stunners.

And by weird, we really mean friggin' awesome.