Here Comes the Groomzilla?
These days, more grooms are involved with the wedding planning.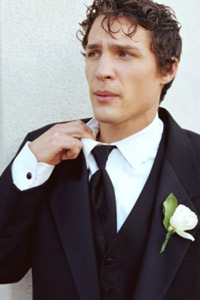 We're all familiar with the stereotype that guys are less interested in planning the wedding than women; their assumed attitude is generally, "whatever you want, honey." After all, there are a million wedding shows dedicated to women—Bridezillas, Say Yes to the Dress, etc.—but I can't think of a single show that caters to the groom's needs.
But thanks to Chris Easter, co-founder of TheManRegistry.com, there is a website for men who want a bigger part in the wedding planning.
The site is filled with male-centric registry gifts—the personalized poker chip set, for example. There's also the chalkboard beer mug. And the RC remote control cooler. (Does it make me less of a woman for wanting that last one?)
But it's not just about the registry. The website also includes cool venues, vendors, and a helpful section called Groom 101. In Groom 101, there are various articles for grooms—How to Survive Pre-Wedding Cold Feet, Who is Invited to the Bachelor Party, and my personal favorite—Scheduling Your Fall Wedding Around Football.
FastCompany interviewed Easter, who admits that there's some truth to the stereotype of men caring less about the wedding.
"There's some truth to it traditionally. But couples are getting married at older ages…and so couples are spending more of their own money and less of mom and dad's money on weddings. If I'm spending my money, I'm going to be more involved…Our company proves that men do care intimately about planning their weddings and just needed an outlet."
Event planner Karen Pecora confirms with the Bridal Bulletin that, indeed, men have become more involved. She adds that meeting clients in the past usually meant meeting the bride and her parents.  But times have changed:
"Sometimes, we wouldn't even meet the groom until the wedding day," Pecora says." Now, there's never a groom we haven't met."
In some cases, the groom becomes so involved with the wedding that he mutates into the dreaded Groomzilla. Alabama wedding planner Martie Duncan tells Marie Claire:
"I've seen so many grooms have meltdowns. One guy dragged his fiancée dress shopping all over town. Nothing was good enough for him, and he wasn't interested in his bride's input."
According to Duncan, on the big day, the same groom actually called a nearby airport repeatedly to find out whether the planes flying overhead would disturb the wedding. "And he harassed the weather station to confirm sunny skies," Duncan adds.
Let's hope most dudes don't take things quite that far (although I would totally watch many, many episodes of Groomzillas).
"The Man Registry is about being a man by stepping up and being involved in the planning of your wedding," Easter adds
So what exactly does it mean to be a man?
"Being a man can mean a lot of things. Being a man is not about being out with your shirt off drinking beers. It's about: This is the biggest day of your life, and if you're not involved, that's a problem."
Leave the shirtless beer guzzling for the reception.
Photo: Greg Ceo/Getty Images
More on love & sex from MSN Living:
The Most Amazing Wedding Venues in the World
12 Fourth of July Wedding Ideas
How to Determine If He's Marriage Material
love: friendship, dating, sex & marriage
What's worse than getting snubbed while proposing? Having your heart broken in front of countless strangers.

We asked brides on TheKnot.com to tell all -- and they did. Here, five of the most likely culprits and advice for how to deal with your drama-causing guests along the way.

This short course in flirting will not only teach you how to flirt better but also how to tell when someone is flirting with you—and how to respond. Have fun.

Gatsby glamour doesn't have to just live on the big screen! Embrace the trendy (yet timeless) art deco style with sequins, pearls, feathers and geometric patterns. Check out these art deco ideas and achieve the feel of 1920s decadence. By the way, all of these are affordable, except for the $600 hairpiece which is a splurge, but a knockout. Shop the look!

Wondering if your summer love will last? Here are 15 signs if your seasonal love is fleeting or for real.

Sixteen years after "Titanic's" release—and 101 years after the historic ship's notorious sinking—our hearts still go on for star-crossed lovers Rose DeWitt Bukater (Kate Winslet) and Jack Dawson (Leonardo DiCaprio). We rounded up some of our favorite ill-fated, but oh-so-romantic affairs on film, from "Gone with the Wind" to "Moulin Rouge!".

Flirting shouldn't be retired once you've got the ring. We asked relationship expert Harlan Cohen, as well as real husbands, the best way to keep the sparks flying.

When we're annoyed by male behavior, we turn to columnist Aaron Traister. His logic may be strange, but we have to admit, it's pretty helpful. Here, he answers our many questions for guys.

Author Amanda Robb talks to clinical psychologist David Schnarch, Ph.D., author of Passionate Marriage: Keeping Love and Intimacy Alive in Committed Relationships and Intimacy and Desire: Awaken the Passion in Your Relationship, to discover the ways she can relight the fire in her own relationship. What she learned just might help you wake up your own libido.

The average wedding costs $28,000. Think that's pricey? You're in for a surprise. We've rounded up some of the most expensive weddings of all time. See if you can guess how much was dropped on these over-the-top affairs, then click through to Bing to see if you're right.

A guide to staying together forever…straight from divorce lawyers! They know what tears couples apart, and they'll tell you how to avoid it.

We've come across some odd tales of lost love. Here's our list of the weirdest reasons people have divorced.