Here Comes the Groomzilla?
These days, more grooms are involved with the wedding planning.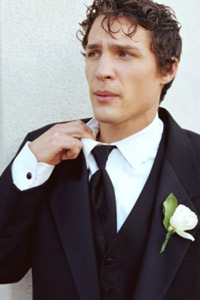 We're all familiar with the stereotype that guys are less interested in planning the wedding than women; their assumed attitude is generally, "whatever you want, honey." After all, there are a million wedding shows dedicated to women—Bridezillas, Say Yes to the Dress, etc.—but I can't think of a single show that caters to the groom's needs.
But thanks to Chris Easter, co-founder of TheManRegistry.com, there is a website for men who want a bigger part in the wedding planning.
The site is filled with male-centric registry gifts—the personalized poker chip set, for example. There's also the chalkboard beer mug. And the RC remote control cooler. (Does it make me less of a woman for wanting that last one?)
But it's not just about the registry. The website also includes cool venues, vendors, and a helpful section called Groom 101. In Groom 101, there are various articles for grooms—How to Survive Pre-Wedding Cold Feet, Who is Invited to the Bachelor Party, and my personal favorite—Scheduling Your Fall Wedding Around Football.
FastCompany interviewed Easter, who admits that there's some truth to the stereotype of men caring less about the wedding.
"There's some truth to it traditionally. But couples are getting married at older ages…and so couples are spending more of their own money and less of mom and dad's money on weddings. If I'm spending my money, I'm going to be more involved…Our company proves that men do care intimately about planning their weddings and just needed an outlet."
Event planner Karen Pecora confirms with the Bridal Bulletin that, indeed, men have become more involved. She adds that meeting clients in the past usually meant meeting the bride and her parents.  But times have changed:
"Sometimes, we wouldn't even meet the groom until the wedding day," Pecora says." Now, there's never a groom we haven't met."
In some cases, the groom becomes so involved with the wedding that he mutates into the dreaded Groomzilla. Alabama wedding planner Martie Duncan tells Marie Claire:
"I've seen so many grooms have meltdowns. One guy dragged his fiancée dress shopping all over town. Nothing was good enough for him, and he wasn't interested in his bride's input."
According to Duncan, on the big day, the same groom actually called a nearby airport repeatedly to find out whether the planes flying overhead would disturb the wedding. "And he harassed the weather station to confirm sunny skies," Duncan adds.
Let's hope most dudes don't take things quite that far (although I would totally watch many, many episodes of Groomzillas).
"The Man Registry is about being a man by stepping up and being involved in the planning of your wedding," Easter adds
So what exactly does it mean to be a man?
"Being a man can mean a lot of things. Being a man is not about being out with your shirt off drinking beers. It's about: This is the biggest day of your life, and if you're not involved, that's a problem."
Leave the shirtless beer guzzling for the reception.
Photo: Greg Ceo/Getty Images
More on love & sex from MSN Living:
The Most Amazing Wedding Venues in the World
12 Fourth of July Wedding Ideas
How to Determine If He's Marriage Material
love: friendships, dating, sex & marriage
While we do love crazy, funny and over-the-top engagements, sometimes there's just nothing like a proposal with a heartfelt story behind it (warning: you might need some tissues). We've rounded up some of the most romantic wedding proposals from couples across the country, so keep scrolling for seven of our favorites:

As much as you'd like to think your guests will love every single aspect of your wedding, the truth is you really can't please everyone. However, you can try to avoid ticking them off. Here's how.

You'd think brides and grooms who celebrate their nuptials with 50 guests have an equal shot at wedded bliss as those who invite 500, but apparently not.

Because some things are just better with a buddy (whom you happen to be dating).

They're smart, funny, and adorable, but are you a good match?

Fight the urge to sign her up for OkCupid and read this instead.

We know you have good intentions, but...please...stop.

You can't say we didn't warn you. Every month is Movember when you're dating a guy with a beard. And while the scruffy look can be hot, there are some very real, err, challenges that come with the territory. Don't believe us? Well…

Follow these steps to slash your wedding budget—not your fun—in half.

It won't all be cake and flowers, but it can be the best year of your life together so far.

Expert tips on moving past those oh-so-familiar arguments.