Here Comes the Groomzilla?
These days, more grooms are involved with the wedding planning.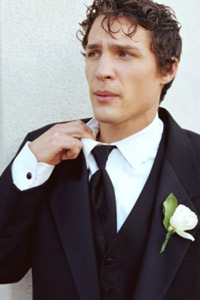 We're all familiar with the stereotype that guys are less interested in planning the wedding than women; their assumed attitude is generally, "whatever you want, honey." After all, there are a million wedding shows dedicated to women—Bridezillas, Say Yes to the Dress, etc.—but I can't think of a single show that caters to the groom's needs.
But thanks to Chris Easter, co-founder of TheManRegistry.com, there is a website for men who want a bigger part in the wedding planning.
The site is filled with male-centric registry gifts—the personalized poker chip set, for example. There's also the chalkboard beer mug. And the RC remote control cooler. (Does it make me less of a woman for wanting that last one?)
But it's not just about the registry. The website also includes cool venues, vendors, and a helpful section called Groom 101. In Groom 101, there are various articles for grooms—How to Survive Pre-Wedding Cold Feet, Who is Invited to the Bachelor Party, and my personal favorite—Scheduling Your Fall Wedding Around Football.
FastCompany interviewed Easter, who admits that there's some truth to the stereotype of men caring less about the wedding.
"There's some truth to it traditionally. But couples are getting married at older ages…and so couples are spending more of their own money and less of mom and dad's money on weddings. If I'm spending my money, I'm going to be more involved…Our company proves that men do care intimately about planning their weddings and just needed an outlet."
Event planner Karen Pecora confirms with the Bridal Bulletin that, indeed, men have become more involved. She adds that meeting clients in the past usually meant meeting the bride and her parents.  But times have changed:
"Sometimes, we wouldn't even meet the groom until the wedding day," Pecora says." Now, there's never a groom we haven't met."
In some cases, the groom becomes so involved with the wedding that he mutates into the dreaded Groomzilla. Alabama wedding planner Martie Duncan tells Marie Claire:
"I've seen so many grooms have meltdowns. One guy dragged his fiancée dress shopping all over town. Nothing was good enough for him, and he wasn't interested in his bride's input."
According to Duncan, on the big day, the same groom actually called a nearby airport repeatedly to find out whether the planes flying overhead would disturb the wedding. "And he harassed the weather station to confirm sunny skies," Duncan adds.
Let's hope most dudes don't take things quite that far (although I would totally watch many, many episodes of Groomzillas).
"The Man Registry is about being a man by stepping up and being involved in the planning of your wedding," Easter adds
So what exactly does it mean to be a man?
"Being a man can mean a lot of things. Being a man is not about being out with your shirt off drinking beers. It's about: This is the biggest day of your life, and if you're not involved, that's a problem."
Leave the shirtless beer guzzling for the reception.
Photo: Greg Ceo/Getty Images
More on love & sex from MSN Living:
The Most Amazing Wedding Venues in the World
12 Fourth of July Wedding Ideas
How to Determine If He's Marriage Material
love: friendships, dating, sex & marriage
Here's why dudes without hair make the best boyfriends.

What do you wish you appreciated more when you were flying solo?

"If you're so busy tweeting and Instagraming, you're not paying attention," New York wedding planner Marcy Blum said. "It's almost a cosmic faux pas. People want your energy with them and focused on what they're doing."

The wedding favor, that little thank-you-for-coming gift, has risen to new heights with the bride and groom giving guests a wide range of favors that are meaningful to them.

Generations ago, planning a wedding was 100 percent the bride's job, but in today's age of gender equity, it's a mere 99 percent.

For all the self-help books and advice columns out there (um, keeping reading my advice anyway, please!), there's one tool we all already have in our arsenal for picking a partner that will keep us happy: our gut instincts.

According to a new study from the University of Texas and the University of California, Los Angeles, both men and women have regrets when it comes to sex, but the genders vary greatly when it comes to what they regret specifically.

Spending time alone with your guy is easy, but going public with your plus-one is another thing entirely. Whether it's your crazy relatives at Thanksgiving dinner or awkward convos with your boss at the holiday party, possible pitfalls are everywhere. Keep reading for tips on how to make his grand entrance into your social life a good thing.

Match.com survey reveals the day you're least likely to get spruced up for a date.

Drinking and relationships seem to go hand in hand in a lot of ways. But only in moderation!

Many men will tell you that they have no clue what their wives are thinking.

Spending the holidays with your guy's family for the first time is a huge relationship milestone. But between your nerves, the usual family tension, and your weird Uncle Sal's inappropriate stories, it's also a prime opportunity for total disaster. Read on for 10 of our readers' most embarrassing meet-the-parents moments.