Why nice guys actually do finish last
Do women really want bad boys, or is dependability a more attractive trait?
As the loving girlfriend of a classic nice guy, I've never quite understood the complaint that they finish last. "Girls always want bad boys," my male friends often lament. "I feel like I should be a jerk just to get dates."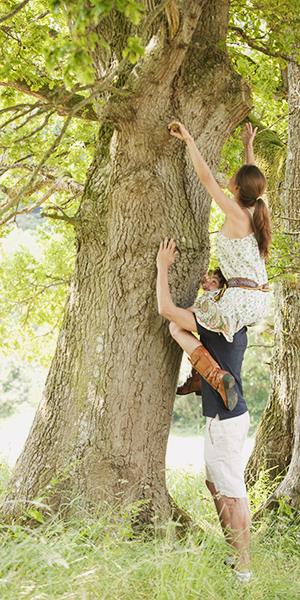 Admittedly, the stats support their claim. A 2012 University of Texas study found that ovulating women view bad boys as better mating partners. In 2011, researchers from Notre Dame and Cornell found a link between "agreeableness" and low earnings for men. And a poll from that same year found that women do indeed have a thing for broody boys.
More on MSN Living: Funniest save the dates from Pinterest
So what's the deal? Why do some women fall for rebellious dudes and not their nice, dependable counterparts? 
Dating and relationship expert Lucia says there are two main reasons. She tells MSN Living's The Heart Beat:
"Nice guys don't set boundaries. They let women get away with everything and agree with anything they say or want to do. Women don't respect men who behave like doormats and can't be attracted to men they don't respect."
She adds, "Nice guys don't appear to be as confident as 'bad boys.'" Confidence is a crucial trait when it comes to attractiveness, Lucia says.
In an article for YourTango.com, she also says that being too nice can be counterproductive: "No one can always be that nice unless they're a saint. They are busy being nice instead of being real, and women instinctually don't trust that."
More on MSN Living: Funniest wedding invitations from Pinterest
Nice guys will argue that women simply crave excitement. Lucia doesn't disagree.
"Women are attracted to bad boys for a multitude of reasons, only one of which is challenge.  The type of women who are interested in the challenge are generally younger, have a low self-esteem and/or are afraid of intimacy and don't want a real relationship."
But there's hope yet. Researchers Geoffrey Urbaniak and Peter Kilmann authored "Physical Attractiveness and the 'Nice Guy Paradox': Do Nice Guys Really Finish Last?" In that study, they found that kindness is the most important trait women seek when choosing a serious partner.
"Niceness appeared to be the most salient factor when it came to desirability for more serious relationships, whereas physical attractiveness appeared more important in terms of desirability for more casual, sexual relationships."
When it comes to dating, perhaps bad boys have the advantage, though this study seems to find it's more about looks than anything else. But when it comes to the long haul, women do indeed fall for kindness and agreeability.
Bing: This kind of man is more likely to cheat, study finds
"Everything in life is about balance," Lucia says. "Guys who are too nice need to understand that the ideal man is neither a bad boy nor a nice guy but a combination of both."
More from The Heart Beat:
Sex survey says women are better than men in bed
Airline plays matchmaker with passengers
Love content like this? Friend us on Facebook, follow us on Twitter and find us on Pinterest.
Photo: Philip Lee Harvey/Getty Images
love: friendships, dating, sex & marriage
Revealr is a new iPhone app that allows those looking for love to hear their possible matches before they see them.

A new poll reveals 59 percent of the country supports same-sex marriage.

Celebrity engagements are so much fun to follow because every detail is bound to be over-the-top — from the proposal (like when Kanye rented out an entire stadium to propose to Kim) to the huge, sparkly engagement ring and, of course, the wedding. Plus, as trendsetters, celebs can be a source of inspiration even if you can't afford a million dollar ring. Here are our celebrity wedding predictions for 2014.

If you've ever been to a club—like, ever, even once—you are not going to be shocked to hear that women get a lot of unwanted, aggressive attention. But when you read the findings of this study on how often and why it happens, it might make you feel downright sick to your stomach.

Hopeless romantics and cringe-worthy chick flicks would tell you that it doesn't matter what you do on the date, as long as you're together. But they're wrong. Dead wrong. Women use your date ideas to size you up, says matchmaker Rachel DeAlto, author of "Flirt Fearlessly." "You absolutely will be judged based on the date you plan. There are so many subconscious impressions that we take in while dating." Gulp. Here are 10 terrible ideas that can land you on the no-lay list—and simple swaps to keep her happy. By K. Aleisha Fetters

No matter your current relationship status or past relationship fails, get a fresh start this month, with these tips for spring cleaning your love life.

Forget the rules you've always heard—it's time to start making your own.

Are you in an affair without knowing it? Unless you're a swinger, having sex with someone else counts as cheating. But then there's the fuzzy area between friendship and infidelity—and chances are, your girlfriend sees those shades of gray as more black and white than you do. "Men aren't as attuned to identifying ambiguous behaviors as cheating as women are," says Daniel Kruger, Ph.D., a University of Michigan psychologist, who's studied gender differences in definitions of infidelity. In other words, what you consider totally innocent could be her deal breaker.

We spoke with relationship therapist Rachel A. Sussman, author of "The Breakup Bible," for her tips on how regular girls can survive a split like an A-lister.

A researcher from Texas Tech University has found that people who use the same kind of "function words" are more likely to get together.

Check out these five celebrity stunners.

And by weird, we really mean friggin' awesome.