Identical twins marry identical twins
A love story that'll have you seeing double.
As identical twins, Diane and Darlene Nettemeier have a lot in common. In fact, their husbands look exactly alike—they're twins, too.
Years ago, the sisters attended a twins' festival in Ohio. It was there that they met Mark Sanders—a handsome man who was also an identical twin. Upon meeting the women, Mark called his brother Craig, who was up in his hotel room. Craig recalled the love-at-first-sight moment: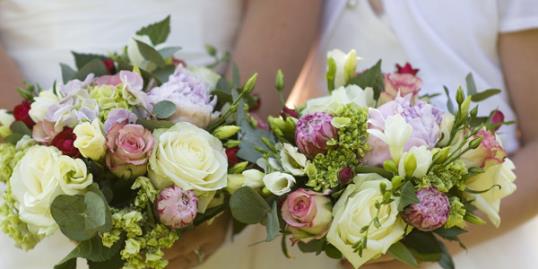 More on MSN Living: Just got engaged? 11 things to do NOW!
"When I went downstairs I was instantly attracted to the one on the right," Craig said on the Jeff Probst Show. "Diane was standing on the right, and Darlene was standing on the left, and I was instantly attracted to Diane."
After meeting at the festival, Mark and Craig made plans to visit the ladies in St. Louis, where the four of them went on a double date to a baseball game.
More on MSN Living: Engagement etiquette tips everyone should know

Soon after, Craig and Diane and Mark and Darlene married in a joint ceremony. At this point, it was just plain appropriate—both couples were engaged on the same day, too.
"We had a double wedding and Darlene and I decided that we wanted to wear the same dress and then our dad walked us both down the aisle at the same time," Diane said.
Then, in 2001, Diane and Craig gave birth—to identical twins.
"When you throw in a third set of identical twins, that makes it even more unusual," Mark said.
The Sanders families now have five children between them, and they live right next door to each other.
Here's wishing them the best. Here's wishing them the best.
More from The Heart Beat:
True love stories: Doctor diagnoses tumor, marries patient
Couple finds lost wedding photos after earthquake
Women want two hours of romance per day
Photo: Lee Avison/Getty Images
love: friendships, dating, sex & marriage
This just in: A new study shows girls are warriors in the womb.

You can make a pros and cons list...but ultimately you know what works best for you.

Maggie Reyes is a life coach, writer, and the founder of ModernMarried.com. She helps newlyweds re-think what married life can be. Here, she's revealing tricks every newlywed couple needs to know.

Government-supported Vietnamese classes teach women Korean language, customs.

Whether you're into creative artists or uber-preppy bankers, there's something to be said for trying something new.

Sometimes two characters on a TV show or movie can portray being a happy couple effortlessly, or can have lots of fun playing former spouses — especially if they're married to each other in real life! Keep scrolling for six celebrity costars you probably didn't know tied the knot, even after the bloodiest and craziest story lines.

Some couples want nothing more than a laid-back, by-the-book proposal. Then there are the other couples, where the proposal not only needs to be personalized, it also has to be unique and entirely different than the typical restaurant, bended-knee idea. Sound like you? Then get inspired by some of the most creative proposal ideas we've ever seen. If you find something you like, steal it and then modify it to make your proposal something totally unforgettable.

From Nantucket all the way to Cayo Espanto, we've rounded up some of the prettiest beaches to travel to for your honeymoon.

Researchers studied the age-old stereotype that women really are more talkative than men.

'There is a science behind attraction,' SingldOut says.

One minute you're happy and in love, the next he's delivering the "It's not you, it's me" speech. Why? We have the scoop on the real reasons most couples split up.

Want to keep your wedding budget in check? Start by checking out this list of the 10 things that could end up costing you a lot more than you anticipated.