Identical twins marry identical twins
A love story that'll have you seeing double.
As identical twins, Diane and Darlene Nettemeier have a lot in common. In fact, their husbands look exactly alike—they're twins, too.
Years ago, the sisters attended a twins' festival in Ohio. It was there that they met Mark Sanders—a handsome man who was also an identical twin. Upon meeting the women, Mark called his brother Craig, who was up in his hotel room. Craig recalled the love-at-first-sight moment: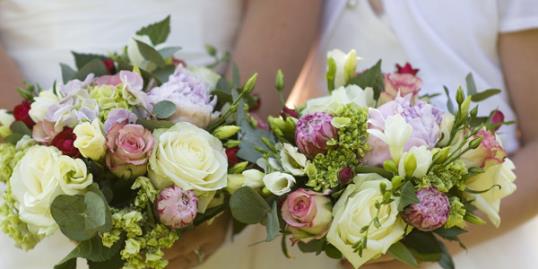 More on MSN Living: Just got engaged? 11 things to do NOW!
"When I went downstairs I was instantly attracted to the one on the right," Craig said on the Jeff Probst Show. "Diane was standing on the right, and Darlene was standing on the left, and I was instantly attracted to Diane."
After meeting at the festival, Mark and Craig made plans to visit the ladies in St. Louis, where the four of them went on a double date to a baseball game.
More on MSN Living: Engagement etiquette tips everyone should know

Soon after, Craig and Diane and Mark and Darlene married in a joint ceremony. At this point, it was just plain appropriate—both couples were engaged on the same day, too.
"We had a double wedding and Darlene and I decided that we wanted to wear the same dress and then our dad walked us both down the aisle at the same time," Diane said.
Then, in 2001, Diane and Craig gave birth—to identical twins.
"When you throw in a third set of identical twins, that makes it even more unusual," Mark said.
The Sanders families now have five children between them, and they live right next door to each other.
Here's wishing them the best. Here's wishing them the best.
More from The Heart Beat:
True love stories: Doctor diagnoses tumor, marries patient
Couple finds lost wedding photos after earthquake
Women want two hours of romance per day
Photo: Lee Avison/Getty Images
love: friendships, dating, sex & marriage
Here's why dudes without hair make the best boyfriends.

What do you wish you appreciated more when you were flying solo?

"If you're so busy tweeting and Instagraming, you're not paying attention," New York wedding planner Marcy Blum said. "It's almost a cosmic faux pas. People want your energy with them and focused on what they're doing."

The wedding favor, that little thank-you-for-coming gift, has risen to new heights with the bride and groom giving guests a wide range of favors that are meaningful to them.

Generations ago, planning a wedding was 100 percent the bride's job, but in today's age of gender equity, it's a mere 99 percent.

For all the self-help books and advice columns out there (um, keeping reading my advice anyway, please!), there's one tool we all already have in our arsenal for picking a partner that will keep us happy: our gut instincts.

According to a new study from the University of Texas and the University of California, Los Angeles, both men and women have regrets when it comes to sex, but the genders vary greatly when it comes to what they regret specifically.

Spending time alone with your guy is easy, but going public with your plus-one is another thing entirely. Whether it's your crazy relatives at Thanksgiving dinner or awkward convos with your boss at the holiday party, possible pitfalls are everywhere. Keep reading for tips on how to make his grand entrance into your social life a good thing.

Match.com survey reveals the day you're least likely to get spruced up for a date.

Drinking and relationships seem to go hand in hand in a lot of ways. But only in moderation!

Many men will tell you that they have no clue what their wives are thinking.

Spending the holidays with your guy's family for the first time is a huge relationship milestone. But between your nerves, the usual family tension, and your weird Uncle Sal's inappropriate stories, it's also a prime opportunity for total disaster. Read on for 10 of our readers' most embarrassing meet-the-parents moments.