Identical twins marry identical twins
A love story that'll have you seeing double.
As identical twins, Diane and Darlene Nettemeier have a lot in common. In fact, their husbands look exactly alike—they're twins, too.
Years ago, the sisters attended a twins' festival in Ohio. It was there that they met Mark Sanders—a handsome man who was also an identical twin. Upon meeting the women, Mark called his brother Craig, who was up in his hotel room. Craig recalled the love-at-first-sight moment: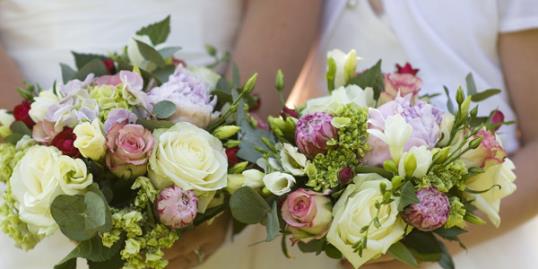 More on MSN Living: Just got engaged? 11 things to do NOW!
"When I went downstairs I was instantly attracted to the one on the right," Craig said on the Jeff Probst Show. "Diane was standing on the right, and Darlene was standing on the left, and I was instantly attracted to Diane."
After meeting at the festival, Mark and Craig made plans to visit the ladies in St. Louis, where the four of them went on a double date to a baseball game.
More on MSN Living: Engagement etiquette tips everyone should know

Soon after, Craig and Diane and Mark and Darlene married in a joint ceremony. At this point, it was just plain appropriate—both couples were engaged on the same day, too.
"We had a double wedding and Darlene and I decided that we wanted to wear the same dress and then our dad walked us both down the aisle at the same time," Diane said.
Then, in 2001, Diane and Craig gave birth—to identical twins.
"When you throw in a third set of identical twins, that makes it even more unusual," Mark said.
The Sanders families now have five children between them, and they live right next door to each other.
Here's wishing them the best. Here's wishing them the best.
More from The Heart Beat:
True love stories: Doctor diagnoses tumor, marries patient
Couple finds lost wedding photos after earthquake
Women want two hours of romance per day
Photo: Lee Avison/Getty Images
love: friendships, dating, sex & marriage
While we do love crazy, funny and over-the-top engagements, sometimes there's just nothing like a proposal with a heartfelt story behind it (warning: you might need some tissues). We've rounded up some of the most romantic wedding proposals from couples across the country, so keep scrolling for seven of our favorites:

As much as you'd like to think your guests will love every single aspect of your wedding, the truth is you really can't please everyone. However, you can try to avoid ticking them off. Here's how.

You'd think brides and grooms who celebrate their nuptials with 50 guests have an equal shot at wedded bliss as those who invite 500, but apparently not.

Because some things are just better with a buddy (whom you happen to be dating).

They're smart, funny, and adorable, but are you a good match?

Fight the urge to sign her up for OkCupid and read this instead.

We know you have good intentions, but...please...stop.

You can't say we didn't warn you. Every month is Movember when you're dating a guy with a beard. And while the scruffy look can be hot, there are some very real, err, challenges that come with the territory. Don't believe us? Well…

Follow these steps to slash your wedding budget—not your fun—in half.

It won't all be cake and flowers, but it can be the best year of your life together so far.

Expert tips on moving past those oh-so-familiar arguments.