Identical twins marry identical twins
A love story that'll have you seeing double.
As identical twins, Diane and Darlene Nettemeier have a lot in common. In fact, their husbands look exactly alike—they're twins, too.
Years ago, the sisters attended a twins' festival in Ohio. It was there that they met Mark Sanders—a handsome man who was also an identical twin. Upon meeting the women, Mark called his brother Craig, who was up in his hotel room. Craig recalled the love-at-first-sight moment: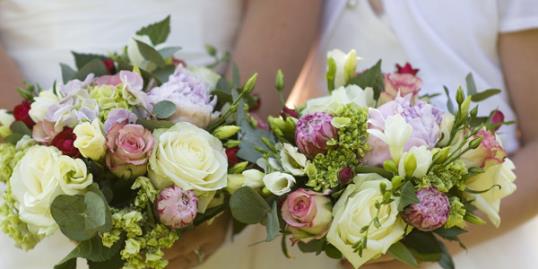 More on MSN Living: Just got engaged? 11 things to do NOW!
"When I went downstairs I was instantly attracted to the one on the right," Craig said on the Jeff Probst Show. "Diane was standing on the right, and Darlene was standing on the left, and I was instantly attracted to Diane."
After meeting at the festival, Mark and Craig made plans to visit the ladies in St. Louis, where the four of them went on a double date to a baseball game.
More on MSN Living: Engagement etiquette tips everyone should know

Soon after, Craig and Diane and Mark and Darlene married in a joint ceremony. At this point, it was just plain appropriate—both couples were engaged on the same day, too.
"We had a double wedding and Darlene and I decided that we wanted to wear the same dress and then our dad walked us both down the aisle at the same time," Diane said.
Then, in 2001, Diane and Craig gave birth—to identical twins.
"When you throw in a third set of identical twins, that makes it even more unusual," Mark said.
The Sanders families now have five children between them, and they live right next door to each other.
Here's wishing them the best. Here's wishing them the best.
More from The Heart Beat:
True love stories: Doctor diagnoses tumor, marries patient
Couple finds lost wedding photos after earthquake
Women want two hours of romance per day
Photo: Lee Avison/Getty Images
love: friendships, dating, sex & marriage
Two guests arrested in New Jersey.

Celebrities certainly know how to travel in style, so if you're struggling to select a honeymoon destination, look no further than these star-approved hotspots. To make it even easier, we're providing you with hotel recommendations, packing essentials, and tips on what to do and see! So channel your inner celeb at one of these U.S. destinations for an unforgettable vacation!

Tall Twitter users named Wayne, we're on to you!

Should little girls be dreaming of a different kind of "I do"?

Need a reason to pack your bags and get the hell out of here?

After your return from your honeymoon, your marriage officially starts and with that come some changes. It's not to say that the honeymoon phase is over, but you'll have to get some things situated in order to have your marriage start off on the right foot. We tapped the expert advice of wedding planner and reality TV star David Tutera and love and career coach Charreah Jackson to dish on six things you must do to have a successful first month of marriage — from wedding-related logistics to wrap up to relationship rules to set.

Owner of Weddings in Vieques, a destination-wedding planning company off the coast of Puerto Rico, Sandy Malone has helped countless couples plan their big day since 2007. Here, the veteran planner is sharing some expert advice for free: She's sharing the top eight things you have to do right after you get engaged.

Is the idea of a big bridal bash just not your thing? Or perhaps you and your fiancé are just the super spontaneous type, so why not make your next beach vacation your nuptials as well? If you're thinking of eloping but have questions on the mind, we're here to help. We tapped elopement and wedding planner Lindsey Nickel, founder of Events, Etc., for her top dos and don'ts for getting hitched on the sly.

Easy everyday ways to keep the love alive.

Expert tips on moving past those oh-so-familiar arguments.

Sometimes you have to do things you don't want to do, like hang out with his lame friends. You're not always in the mood to nurse a beer silently while he and his boys argue about who's going to die next on "Game of Thrones" — but tomorrow he's sitting through a seven-girl brunch. So.

Why holding on to your partner's mistakes will end up hurting you.