Leaders are better at relationships, study finds
Is there a link between your job title and your love life?
From making the first move to maintaining the spark, relationships can be hard work. But some might have it easier than others. 
According to a recent study from the University of California at Berkeley, powerful people have a few advantages when it comes to dating and relationships.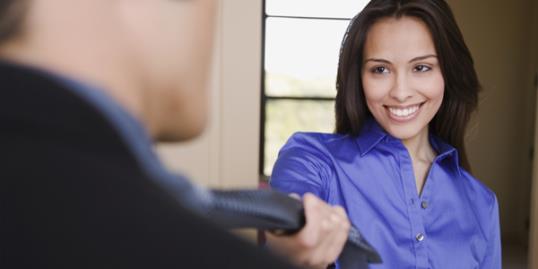 More on MSN Living: Kissing dos and don'ts
For most of us, making the first move is downright nerve-racking. When it comes to approaching someone for a date, the possibility of rejection is enough to hold back even the most charismatic among us. But for those in positions of power, rejection is less of a risk.
Lead researcher Maya Kuehn conducted a series of experiments to test the impact of rejection on people in both high and low level workplace positions. In one experiment, subjects were told they weren't invited to a happy hour gathering, for example. Kuehn reported her findings: 
"When rejected instead of accepted, subordinates reported lower self-esteem and greater negative emotion, but supervisors did not show an adverse reaction to rejection."  
More on MSN Living: 50 wedding cost-cutting tips from real brides

Theoretically, if you have subordinates, you probably have more game. Or you at least find the game less daunting.
In another experiment, Kuehn brought couples into a lab and videotaped them discussing problem solving tasks. Beforehand, she asked the couples to rate each other according to who had the most power in real-life relationships. Kuehn found that powerful people were more willing to work through problems with their partner. Meanwhile, the submissive partners were more negative about the conflict; they were less willing to find a solution with their significant other. The study seems to imply that powerful people are more willing to stick it out in tough times. 
While many of us find it difficult to connect with someone special, that connection might be easier for natural leaders, too. Kuehn found that the subjects in high-level positions were more willing to seek out opportunities to bond with others.
Jack Zenger, an author who specializes in leadership development, said: 
"The most important competency of inspiring leaders is their ability to make an emotional connection with those they lead." 
Overall, leaders are driven by interpersonal relationships. So perhaps it's only natural that they should jump over these romantic hurdles with ease. 
What do you think—are you a powerful person? If so, do you find it easier to maintain your love life, or are you just as afraid of conflict and rejection?
More from The Heart Beat: 
Study: It takes men 20 minutes to decide if they want a second date
Why powerful people are more likely to cheat
Are fewer women keeping maiden names?
Bing: It's divorce season?!
Love content like this? Friend us on Facebook, follow us on Twitter and find us on Pinterest
Photo: Patrick Lane/Getty Images
Are you sure you want to delete this comment?
love: friendships, dating, sex & marriage
It's not that you don't find every little thing about your partner endearing and adorable; it's just that it would have been really, really nice if that map could have been consulted three hours ago.

The typical wedding: A white dress, tiered cake, floral centerpieces and a cute flower girl -- you know the drill. Every once in a while, though, a couple trades in tradition for a quirky, never-seen-that-before idea. Here are a few of the most out-there wedding photos that made us do a double take.

There's a lot to love about weddings this fall, like cocktails served in copper Moscow mule mugs, industrial-inspired lighting and pheasant feather details. See what's new!

Do you have to be engaged to sport a ring with bling?

124.6 million haven't gotten hitched.

Even though the national average wedding is $29,858, that's just an average. If you live in a smaller state like Idaho where the average wedding costs $16,159, you may find yourself saving a little more than half of the national spend! Check out some of the other least expensive cities to get married in below:

Summer is winding down, but the ubiquitous summer romance lives on.

For those times when nothing big and horrible happened--but nothing is feeling right either.

He's confident, distinguished and anywhere from 4 to 20 years older than you. Age is just a number, but there's something about older men that we love. Here are eight reasons why being in a relationship with an older man is tops.

While a younger man may have less life experience, that doesn't mean he's not emotionally mature. Here are the eight reasons why being in a relationship with a younger man is tops.

Have you ever wondered what the 'other woman' was thinking?

So fall is coming and you need some romantic inspiration now that long walks on the beach are out of the question. Well look no further! From apple picking to pumpkin carving, these are some great fall date ideas from girls just like you!