Leaders are better at relationships, study finds
Is there a link between your job title and your love life?
From making the first move to maintaining the spark, relationships can be hard work. But some might have it easier than others. 
According to a recent study from the University of California at Berkeley, powerful people have a few advantages when it comes to dating and relationships.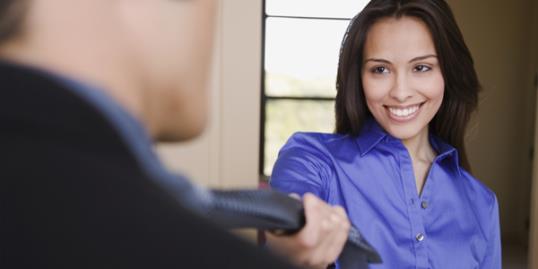 More on MSN Living: Kissing dos and don'ts
For most of us, making the first move is downright nerve-racking. When it comes to approaching someone for a date, the possibility of rejection is enough to hold back even the most charismatic among us. But for those in positions of power, rejection is less of a risk.
Lead researcher Maya Kuehn conducted a series of experiments to test the impact of rejection on people in both high and low level workplace positions. In one experiment, subjects were told they weren't invited to a happy hour gathering, for example. Kuehn reported her findings: 
"When rejected instead of accepted, subordinates reported lower self-esteem and greater negative emotion, but supervisors did not show an adverse reaction to rejection."  
More on MSN Living: 50 wedding cost-cutting tips from real brides

Theoretically, if you have subordinates, you probably have more game. Or you at least find the game less daunting.
In another experiment, Kuehn brought couples into a lab and videotaped them discussing problem solving tasks. Beforehand, she asked the couples to rate each other according to who had the most power in real-life relationships. Kuehn found that powerful people were more willing to work through problems with their partner. Meanwhile, the submissive partners were more negative about the conflict; they were less willing to find a solution with their significant other. The study seems to imply that powerful people are more willing to stick it out in tough times. 
While many of us find it difficult to connect with someone special, that connection might be easier for natural leaders, too. Kuehn found that the subjects in high-level positions were more willing to seek out opportunities to bond with others.
Jack Zenger, an author who specializes in leadership development, said: 
"The most important competency of inspiring leaders is their ability to make an emotional connection with those they lead." 
Overall, leaders are driven by interpersonal relationships. So perhaps it's only natural that they should jump over these romantic hurdles with ease. 
What do you think—are you a powerful person? If so, do you find it easier to maintain your love life, or are you just as afraid of conflict and rejection?
More from The Heart Beat: 
Study: It takes men 20 minutes to decide if they want a second date
Why powerful people are more likely to cheat
Are fewer women keeping maiden names?
Bing: It's divorce season?!
Love content like this? Friend us on Facebook, follow us on Twitter and find us on Pinterest
Photo: Patrick Lane/Getty Images
Are you sure you want to delete this comment?
love: friendships, dating, sex & marriage
A researcher from Texas Tech University has found that people who use the same kind of "function words" are more likely to get together.

Check out these five celebrity stunners.

And by weird, we really mean friggin' awesome.

Being in a relationship can sometimes mean having less time to hang out with your mates. But lazy boyfriends will be delighted to hear about a new app that sends automated texts to their other halves.

Only 2 percent of bridesmaids will actually wear their dresses again (plus more fun facts you didn't know).

When even their president is being caught sneaking around behind his partner's back, it is perhaps unsurprising to find the French topping a poll for infidelity, alongside the equally hot-blooded Italians.

They're not NBD, and they can put a real dent in your marriage.

You probably don't even realize you're doing it. Nix this little habit for a stronger bond.

We're not making this up. Some couples are looking for ways to include marijuana in their wedding day plans – from cannabis reception centerpieces to special brownies at the bridal shower. And while we don't expect it to become as popular as, say, the signature drink at cocktail hour, many of the Colorado and Washington state-based wedding planners and experts we talked to gave us reason to believe that we can expect to see more of it over the next year.

Researchers found that couples who live together for at least four years prior to marriage are more likely to stay together.

The great outdoors provides a glorious backdrop — and a wealth of decorating inspiration — for an unforgettable New Hampshire wedding. For the most impact in an outdoor setting, use intense colors.

Let your guests dine in style! From galvanized buckets to glass hurricanes, these ideas for floral arrangements, candle groupings, and more will put the finishing touches on your big day.