We'll spend $18.6 billion this Valentine's Day
Those little candy hearts add up.
You can't buy love, but we sure do spend a lot to honor it. The countdown to Valentine's Day has begun—only nine more days—and the National Retail Foundation has released their annual spending survey. 
This Valentine's Day, the average person is expected to shell out a little over $130 to say 'I love you' with candy, gifts and flowers.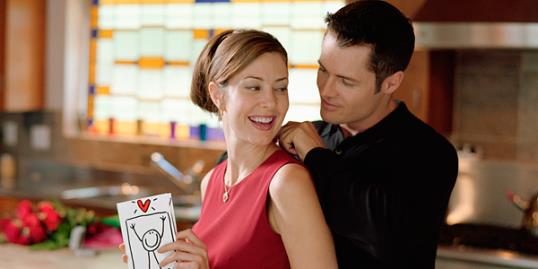 More on MSN Living: 8 signs you're too bossy in bed
And while we spent an impressive $17 billion in 2012, we're expected to outdo ourselves in 2013, spending a total of $18.6 billion. Seems like a lot, but the National Retail Foundation (NRF) actually points out that this is a "slight increase."
So what kind of gifts are we all buying for a cool, collective $18 billion?
The NRF estimates that both traditional and non-traditional gifts will be popular this year. More than half of us (51 percent) will buy candy, and 36 percent will pick up a bouquet for our Valentine.
More on MSN Living: What his sex signals really mean
Nineteen percent of gift-givers are expected to buy jewelry, putting a $4.4 billion dent in that grand total. Surprisingly, gift cards are expected to be popular, too—15 percent of consumers will purchase one for their loved one.
Men will spend an average of $175 on these gifts, while women will fork over $88.
Candy and flowers are expected to remain the most popular gifts, but guys might want to proceed with caution. According to a recent survey, women are over the traditional Valentine's Day gift of chocolate and red roses. A ProFlowers poll sent to The Heart Beat found that 31 percent of women think red roses are cliché, and 21 percent say it's not a very creative gift.
That might be something to consider before you contribute to that $18 billion.
More from The Heart Beat:
Valentine's Day: Toss the cliche candy and roses
Is make-up sex unhealthy?
Men no longer willing to pay for first date
Love content like this? Friend us on Facebook, follow us on Twitter and find us on Pinterest
Photo: Stewart Cohen/Getty Images
love: friendships, dating, sex & marriage
There had to be a better way.

LinkedUp connects to your LinkedIn profile to find you a date.

Plus, some report having no one at all they feel close to.

It's wedding season! Let's take a look back at when these stunning celebs put on gorgeous gowns and held beautiful bouquets in support of their friends' and family members' big days.

A new study says we're more open to consensual non-monogamy now than ever before — but does it work?

5 steps to being happy together in the long run.

There has been an exponential increase in the number of people who are questioning their marriage.

We're willing to bet that if you're not already grappling with these wedding-related snags, you will be soon.

Pull out the tissues for these personalized wedding vows.

Forgotten what love is all about? Read this note, and remember.

And a few that aren't so shocking.

If you find yourself doing any of these things, consider changing your behavior or counseling.