We'll spend $18.6 billion this Valentine's Day
Those little candy hearts add up.
You can't buy love, but we sure do spend a lot to honor it. The countdown to Valentine's Day has begun—only nine more days—and the National Retail Foundation has released their annual spending survey. 
This Valentine's Day, the average person is expected to shell out a little over $130 to say 'I love you' with candy, gifts and flowers.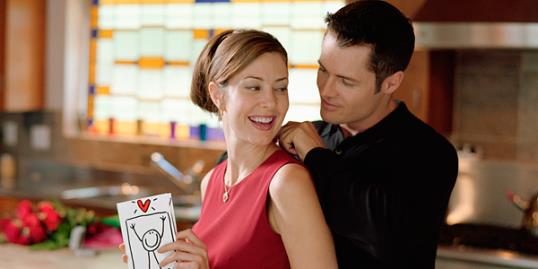 More on MSN Living: 8 signs you're too bossy in bed
And while we spent an impressive $17 billion in 2012, we're expected to outdo ourselves in 2013, spending a total of $18.6 billion. Seems like a lot, but the National Retail Foundation (NRF) actually points out that this is a "slight increase."
So what kind of gifts are we all buying for a cool, collective $18 billion?
The NRF estimates that both traditional and non-traditional gifts will be popular this year. More than half of us (51 percent) will buy candy, and 36 percent will pick up a bouquet for our Valentine.
More on MSN Living: What his sex signals really mean
Nineteen percent of gift-givers are expected to buy jewelry, putting a $4.4 billion dent in that grand total. Surprisingly, gift cards are expected to be popular, too—15 percent of consumers will purchase one for their loved one.
Men will spend an average of $175 on these gifts, while women will fork over $88.
Candy and flowers are expected to remain the most popular gifts, but guys might want to proceed with caution. According to a recent survey, women are over the traditional Valentine's Day gift of chocolate and red roses. A ProFlowers poll sent to The Heart Beat found that 31 percent of women think red roses are cliché, and 21 percent say it's not a very creative gift.
That might be something to consider before you contribute to that $18 billion.
More from The Heart Beat:
Valentine's Day: Toss the cliche candy and roses
Is make-up sex unhealthy?
Men no longer willing to pay for first date
Love content like this? Friend us on Facebook, follow us on Twitter and find us on Pinterest
Photo: Stewart Cohen/Getty Images
love: friendships, dating, sex & marriage
Lesson learned: don't be afraid to shake things up!

Plus, what to do if you're experiencing a dry spell.

To go Dutch or not to go Dutch? Turns out, it's really not that simple.

While the national average wedding cost may be $29,858, if you live in a larger city, like Manhattan where the average wedding costs $86,916, you may find yourself spending close to triple of that number! Take a look at some of the other most expensive places in America to get married.

Happy spring! Luckily, the weather here in New York is fairly warm and beautifully sunny, so I'm totally feeling that start of the season buzz. You know, when you want to walk outside for hours and then reorganize your entire closet by getting rid of all your stupid snow boots and sweaters immediately?

The American Civil Liberties Union's primary work is litigation, but this month it's moonlighting as a wedding planner as part of its role in the campaign to legalize same-sex marriage nationwide.