We'll spend $18.6 billion this Valentine's Day
Those little candy hearts add up.
You can't buy love, but we sure do spend a lot to honor it. The countdown to Valentine's Day has begun—only nine more days—and the National Retail Foundation has released their annual spending survey. 
This Valentine's Day, the average person is expected to shell out a little over $130 to say 'I love you' with candy, gifts and flowers.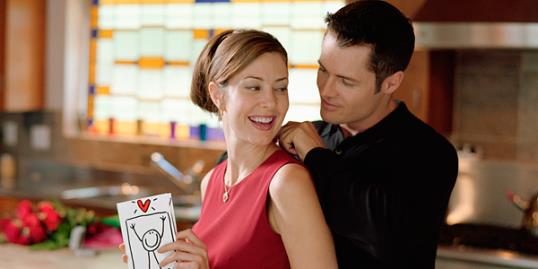 More on MSN Living: 8 signs you're too bossy in bed
And while we spent an impressive $17 billion in 2012, we're expected to outdo ourselves in 2013, spending a total of $18.6 billion. Seems like a lot, but the National Retail Foundation (NRF) actually points out that this is a "slight increase."
So what kind of gifts are we all buying for a cool, collective $18 billion?
The NRF estimates that both traditional and non-traditional gifts will be popular this year. More than half of us (51 percent) will buy candy, and 36 percent will pick up a bouquet for our Valentine.
More on MSN Living: What his sex signals really mean
Nineteen percent of gift-givers are expected to buy jewelry, putting a $4.4 billion dent in that grand total. Surprisingly, gift cards are expected to be popular, too—15 percent of consumers will purchase one for their loved one.
Men will spend an average of $175 on these gifts, while women will fork over $88.
Candy and flowers are expected to remain the most popular gifts, but guys might want to proceed with caution. According to a recent survey, women are over the traditional Valentine's Day gift of chocolate and red roses. A ProFlowers poll sent to The Heart Beat found that 31 percent of women think red roses are cliché, and 21 percent say it's not a very creative gift.
That might be something to consider before you contribute to that $18 billion.
More from The Heart Beat:
Valentine's Day: Toss the cliche candy and roses
Is make-up sex unhealthy?
Men no longer willing to pay for first date
Love content like this? Friend us on Facebook, follow us on Twitter and find us on Pinterest
Photo: Stewart Cohen/Getty Images
love: friendships, dating, sex & marriage
Spending the holidays with your guy's family for the first time is a huge relationship milestone. But between your nerves, the usual family tension, and your weird Uncle Sal's inappropriate stories, it's also a prime opportunity for total disaster. Read on for 10 of our readers' most embarrassing meet-the-parents moments.

Want a classic round stone but an extra special setting? These stunning rings are not your average solitaire.

If you just got engaged, congrats! This is seriously exciting news that deserves lots of congratulatory hugs, "oohing" and "ahhing" over the ring and plenty of bubbly. To make sure you get the right response from friends, family and coworkers, avoid announcing your engagement like this…

All year long we laugh and cry along to some of the cutest, funniest and most creative proposals on the Internet. We've seen it all -- from marching bands to every kind of flash mob you can imagine. Here, we've narrowed down our favorites from this year.

John F. Kennedy reigned with his wife Jackie in the Washington golden age known as Camelot. They were young, beautiful and seemingly the perfect couple. But behind the scenes, it was a totally different story. JFK's affairs were as legendary as some of his conquests.

Persistent nagging could cause an avalanche of distrust the way an affair can.