We'll spend $18.6 billion this Valentine's Day
Those little candy hearts add up.
You can't buy love, but we sure do spend a lot to honor it. The countdown to Valentine's Day has begun—only nine more days—and the National Retail Foundation has released their annual spending survey. 
This Valentine's Day, the average person is expected to shell out a little over $130 to say 'I love you' with candy, gifts and flowers.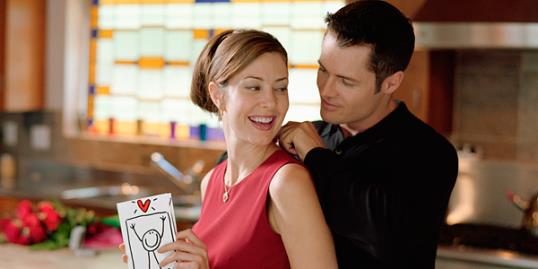 More on MSN Living: 8 signs you're too bossy in bed
And while we spent an impressive $17 billion in 2012, we're expected to outdo ourselves in 2013, spending a total of $18.6 billion. Seems like a lot, but the National Retail Foundation (NRF) actually points out that this is a "slight increase."
So what kind of gifts are we all buying for a cool, collective $18 billion?
The NRF estimates that both traditional and non-traditional gifts will be popular this year. More than half of us (51 percent) will buy candy, and 36 percent will pick up a bouquet for our Valentine.
More on MSN Living: What his sex signals really mean
Nineteen percent of gift-givers are expected to buy jewelry, putting a $4.4 billion dent in that grand total. Surprisingly, gift cards are expected to be popular, too—15 percent of consumers will purchase one for their loved one.
Men will spend an average of $175 on these gifts, while women will fork over $88.
Candy and flowers are expected to remain the most popular gifts, but guys might want to proceed with caution. According to a recent survey, women are over the traditional Valentine's Day gift of chocolate and red roses. A ProFlowers poll sent to The Heart Beat found that 31 percent of women think red roses are cliché, and 21 percent say it's not a very creative gift.
That might be something to consider before you contribute to that $18 billion.
More from The Heart Beat:
Valentine's Day: Toss the cliche candy and roses
Is make-up sex unhealthy?
Men no longer willing to pay for first date
Love content like this? Friend us on Facebook, follow us on Twitter and find us on Pinterest
Photo: Stewart Cohen/Getty Images
love: friendship, dating, sex & marriage
As chore wars rage in the media, we couldn't help but wonder: Can little things like vacuuming actually make or break a relationship?

Are you dealing with an unavailable partner? While distance can be a relationship red flag, it doesn't have to mean that the state of your union is shaky. Here, Harriet Lerner, Ph.D., relationship expert and bestselling author of Marriage Rules: A Manual For the Married and Coupled Up, offers 10 simple steps to reconnection, guaranteed to bring you closer.

Between soccer practices and school plays, it's easy to put romance on the back burner. Show some appreciation for your man with these tips straight from real guys yearning for a little TLC. By Alexa Tucker

Spring has sprung, and it's once again time to clean out the closets, wipe down the walls and refresh and renew your space. After you've knocked out your usual cleaning checklist, here's a new challenge to consider: Are you up for spring-cleaning your sex life? It's the perfect time to revitalize your bedroom mojo and let newer, more exciting lovemaking bloom. Ready to get started? Here's how.

Same old, same old? Put the fire back into your date nights with these tips from relationship guru Rachel DeAlto.

Psst, want to know a secret? Men love spontaneity. It's sexy, it's fun, and it ensures there's never a dull moment when you're together. If your plan is to catch him off guard and drive him wild, we know just the tricks to try. (Grab those notebooks!) Turn the heat up at home with one of these seven sexy ideas.