We'll spend $18.6 billion this Valentine's Day
Those little candy hearts add up.
You can't buy love, but we sure do spend a lot to honor it. The countdown to Valentine's Day has begun—only nine more days—and the National Retail Foundation has released their annual spending survey. 
This Valentine's Day, the average person is expected to shell out a little over $130 to say 'I love you' with candy, gifts and flowers.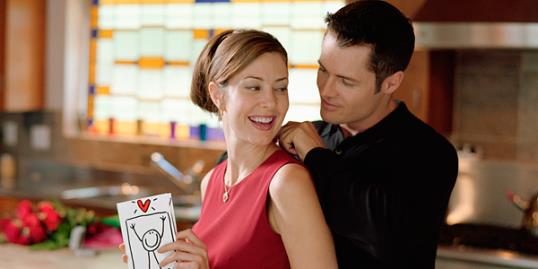 More on MSN Living: 8 signs you're too bossy in bed
And while we spent an impressive $17 billion in 2012, we're expected to outdo ourselves in 2013, spending a total of $18.6 billion. Seems like a lot, but the National Retail Foundation (NRF) actually points out that this is a "slight increase."
So what kind of gifts are we all buying for a cool, collective $18 billion?
The NRF estimates that both traditional and non-traditional gifts will be popular this year. More than half of us (51 percent) will buy candy, and 36 percent will pick up a bouquet for our Valentine.
More on MSN Living: What his sex signals really mean
Nineteen percent of gift-givers are expected to buy jewelry, putting a $4.4 billion dent in that grand total. Surprisingly, gift cards are expected to be popular, too—15 percent of consumers will purchase one for their loved one.
Men will spend an average of $175 on these gifts, while women will fork over $88.
Candy and flowers are expected to remain the most popular gifts, but guys might want to proceed with caution. According to a recent survey, women are over the traditional Valentine's Day gift of chocolate and red roses. A ProFlowers poll sent to The Heart Beat found that 31 percent of women think red roses are cliché, and 21 percent say it's not a very creative gift.
That might be something to consider before you contribute to that $18 billion.
More from The Heart Beat:
Valentine's Day: Toss the cliche candy and roses
Is make-up sex unhealthy?
Men no longer willing to pay for first date
Love content like this? Friend us on Facebook, follow us on Twitter and find us on Pinterest
Photo: Stewart Cohen/Getty Images
love: friendships, dating, sex & marriage
Two steps forward, one giant fight afterward?

If you've been hiding any of this stuff, it's time to fess up.

The outlandish things we do for love have no limits; just ask these guys. Who's hugged the longest? Kissed the longest? Been on the most expensive date? Take a look below as we count down the world's most loving record-breakers.

If you just got engaged, congrats! This is seriously exciting news that deserves lots of congratulatory hugs, "oohing" and "ahhing" over the ring and plenty of bubbly. To make sure you get the right response from friends, family and coworkers, avoid announcing your engagement like this…

Ladies, give yourself the best gift of all this season: The NYC Taxi Driver 2014 Calendar. By Michelle Toglia

Pheromones may be the key to finding your perfect match.

Her partner? Wine? Downtime? Find out where it all ranks.

This time of year, we dust off our holiday traditions of special songs, stories, events and food to make our season bright. Here's a look into the traditional, unique and quirky holiday traditions of some famous couples.

Look, I looooove engagement season for obvious reasons, but even I can admit I'm like, "Really, AGAIN?" when yet ANOTHER engagement ring pops up in my news feed. Seriously, there were two this weekend. (Congrats, Gemma and Danny!)

We asked real men and women (and a few first-base experts, too) to give us the cardinal rules of kissing, tell us what makes someone a good kisser and more. So whether you're leaning in for kiss No. 1 or 1,000, read on.by Devin Tomb

Not quite sure which diamond shape suits your personality? We're here to help.

Dating can lead to all kinds of tricky situations. To help you navigate even the most awkward moments, we've compiled our 50 best dating tips—some new, some old—given to us by experts, moms, women like you, and even Justin Timberlake.