We'll spend $18.6 billion this Valentine's Day
Those little candy hearts add up.
You can't buy love, but we sure do spend a lot to honor it. The countdown to Valentine's Day has begun—only nine more days—and the National Retail Foundation has released their annual spending survey. 
This Valentine's Day, the average person is expected to shell out a little over $130 to say 'I love you' with candy, gifts and flowers.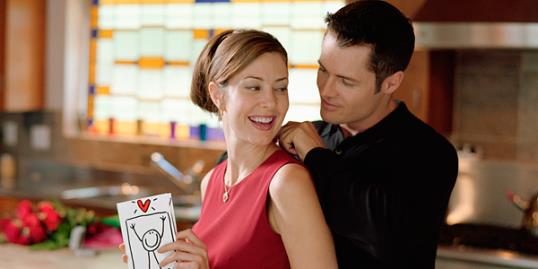 More on MSN Living: 8 signs you're too bossy in bed
And while we spent an impressive $17 billion in 2012, we're expected to outdo ourselves in 2013, spending a total of $18.6 billion. Seems like a lot, but the National Retail Foundation (NRF) actually points out that this is a "slight increase."
So what kind of gifts are we all buying for a cool, collective $18 billion?
The NRF estimates that both traditional and non-traditional gifts will be popular this year. More than half of us (51 percent) will buy candy, and 36 percent will pick up a bouquet for our Valentine.
More on MSN Living: What his sex signals really mean
Nineteen percent of gift-givers are expected to buy jewelry, putting a $4.4 billion dent in that grand total. Surprisingly, gift cards are expected to be popular, too—15 percent of consumers will purchase one for their loved one.
Men will spend an average of $175 on these gifts, while women will fork over $88.
Candy and flowers are expected to remain the most popular gifts, but guys might want to proceed with caution. According to a recent survey, women are over the traditional Valentine's Day gift of chocolate and red roses. A ProFlowers poll sent to The Heart Beat found that 31 percent of women think red roses are cliché, and 21 percent say it's not a very creative gift.
That might be something to consider before you contribute to that $18 billion.
More from The Heart Beat:
Valentine's Day: Toss the cliche candy and roses
Is make-up sex unhealthy?
Men no longer willing to pay for first date
Love content like this? Friend us on Facebook, follow us on Twitter and find us on Pinterest
Photo: Stewart Cohen/Getty Images
love: friendships, dating, sex & marriage
Love it or hate it, the selfie wields much power.

Talk about some blurred lines.

Come on people, it's not that hard to mind your own business.

No sense in wasting your time on someone who will never commit.

There he is, the man of your dreams. He's sitting across from you at the coffee shop or standing at the opposite side of the bar. His eyes meet yours, a quick glance, and then it's back to his drink. Was he giving you a signal?

Remember that time on "30 Rock" when Liz Lemon and her eventual-husband Criss went shopping at Ikea, only to end up in a major fight? We know it couldn't be closer to the truth because we've all been there. In honor of the irritation that can be Ikea, here are the top fights you'll likely encounter.

Dating doesn't have to be a daunting task, promise. Here's how to make it fun for you and him.

One woman's honest journey to divorce will break your heart and inspire you at the same time.

Want to send your date running? Try one these moves.

Two guests arrested in New Jersey.

Celebrities certainly know how to travel in style, so if you're struggling to select a honeymoon destination, look no further than these star-approved hotspots. To make it even easier, we're providing you with hotel recommendations, packing essentials, and tips on what to do and see! So channel your inner celeb at one of these U.S. destinations for an unforgettable vacation!

Tall Twitter users named Wayne, we're on to you!