Shooting range adds wedding chapel
"You can have your dream gun-themed wedding."
Las Vegas is known for its quirky wedding venues and services. There's the Denny's wedding chapel, for example. Oh, and if you're in a real hurry, you can get married curbside.
So maybe it's not terribly surprising that The Gun Store, one of Las Vegas' original shooting ranges, has recently added a wedding chapel.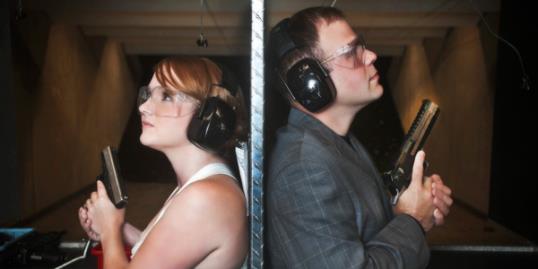 More on MSN Living: Just got engaged? 11 things to do NOW!
The store's website boasts that they have ordained ministers and wedding officiants on staff "so you can have your dream gun-themed wedding in our VIP range."
We're not sure how many little girls' dream it is to get married at a shooting range, but in case it is, they've got you covered.
More on MSN Living: Engagement etiquette tips everyone should know
The Gun Store has a full list of packages and services for brides and grooms to be, including a luxury limo ride, champagne and bridal boutiques. But wait, there's more:
"As part of our services, we will give you gift bags, five shots on a shotgun, custom hats, shirts and photo opportunities where you can pose with each gun you shoot! For couples who are gun-crazy, (or not) our Mr. & Mrs. Smith & Wesson package hits the spot. More guns, more ammunition and more targets translate into more enjoyment on your big day! We are talking real shotguns and machine guns that you may have seen in movies or read about in the papers - a great chance to have an explosive wedding!"
Some couples have already taken them up on the offer. Jason and Alta, for example, tied the knot at The Gun Store on August 19, 2012.
Bing: New York passes sweeping new gun law.
The minister who married them was wearing a shoulder holster.
Love content like this? Friend us on Facebook, follow us on Twitter and find us on Pinterest
More from The Heart Beat:
Weird wedding trend: Naked nuptials
Poll: Women don't marry the best sex of their lives
Working women more likely to be divorced than men
Photo: Courtesy of PhotoFM.com/thegunst​orelasvegas.com
love: friendships, dating, sex & marriage
All year long we obsess over hundreds of beautiful photos of every wedding detail, from the cutest flower girl dresses ever to wedding favor ideas that no one has ever seen before. But we couldn't keep these brilliant details to ourselves — here, 10 of the year's most unique wedding ideas!

Sexier sex! Very public proposals! Nearlyweds! It was a pretty busy year for love and relationships. As 2013 comes to a close, we look back at the best trends that made headlines.

The most wonderful time of the year can quickly become the most irritating time of the year if you're waiting for an engagement ring.

The holidays are a time of joy, cheer, and fighting with your boyfriend because he forgot to bring the gift you bought for his mom after you reminded him five times. These practical tips will help you avoid the bickering so you can get back to the important stuff—like eating more cookies.

Wedding cake, wedding reception? Psh! This couple is forgoing both—and going for a run instead.

Part of the reason Christmas felt so magical when you were a kid was because of all the special things you did only at that time of year, like sing Christmas carols or help decorate your mom's famous sugar cookies. (OK, fine. Also because of presents.)

Talk about a marriage proposal to remember.

I was just discussing last night how annoying posed professional portraits have become.

The key to wedded bliss isn't over-the-top romance, but these surprisingly simple practices you can do to stay - or fall back - in love with your partner. Read on for expert tips on how to have a happy marriage.

Do not get him a dopp kit, a money clip, a tie (seriously?), cufflinks or a bunch of candy that you will eat after he opens. Get him this stuff instead. He'll be surprised—but more importantly, he'll be happy. These gifts are good.

It might be time to let go of our general assumption that long-distance relationships are pure torture.

Researchers in a recent study conclude that men are better at focusing on one task, while women are more attuned to multi-task.