Your 'How We Met' Story Can Predict Your Relationship
Just how cute is your meet-cute?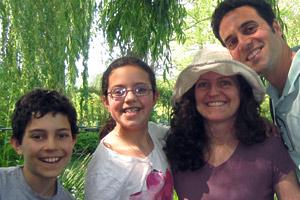 Are there rules for how you should meet your significant other? Does one's "how we met" moment predict a relationship? And do "meet-cute" stories set the course for romance?
Those are the questions Faith Salie and Mario Correa sought to answer. They're the hosts of WNYC's RelationShow, a program about couples and relationships.
"Is it better if you meet someone through friends, as opposed to 'I-just-spotted-you-​across-the-street.com?'" Correa asked on NPR's Weekend Edition Sunday.
Salie wanted to disprove the idea of the meet-cute, which "says you have to meet your mate in some preposterously cute way."
To help answer their questions, Salie and Correa talked to a handful of couples and found out how they met.
One of those couples, Becky and Jeremy, met through a mutual friend. Becky said, at the time, she felt compelled to write Jeremy a love letter. She recalled that the letter read:
"Will you marry me? I don't know you, but I want to marry you."
Jeremy remembers that when he got it, he showed it to his fraternity brothers, bragging:
"Look, I'm getting love letters from people I don't even know!"
22 years and two kids later, Becky and Jeremy are still going strong.
In addition to interviewing couples, Salie and Correa also talked to renowned relationship expert John Gottman.  Gottman says it's not about the story at all. 
No surprise—love can flourish whether you meet your significant other through friends or by chance. But
how
the couple tells the story
is
important.
"You can really tell when people have a very positive 'story of us,'" Gottman says. "They're sitting close, they're smiling [and] there's a relish in telling the story."
Gottman says the fact that Becky and Jeremy are enjoying each other's sense of humor while telling their story is a good sign.
On the other hand, if the relationship isn't going well, Gottman says the couple will remember their story negatively, and it can be like "pulling teeth" to get them to talk about how they met.
Gottman studies the same couples over the course of years, listens to the changes in how they tell their stories, and from there, he can precisely determine where the relationship is headed.
In 1992, Gottman and researchers at the Gottman Institute listened to various couple's "how we met" stories and had the couples participate in laboratory-based discussions. Researchers then predicted which marriages would end in divorce. Checking back in with the couples three years later, the researchers found that their analysis predicted divorce with 94 percent accuracy.
So what's your "how we met" story? Remember, stay positive.
For more info on the RelationShow, visit www.wnyc.org/shows/r​elationshow/.
Photo: Courtesy of Rebecca Sussman

love: friendships, dating, sex & marriage
While we do love crazy, funny and over-the-top engagements, sometimes there's just nothing like a proposal with a heartfelt story behind it (warning: you might need some tissues). We've rounded up some of the most romantic wedding proposals from couples across the country, so keep scrolling for seven of our favorites:

As much as you'd like to think your guests will love every single aspect of your wedding, the truth is you really can't please everyone. However, you can try to avoid ticking them off. Here's how.

You'd think brides and grooms who celebrate their nuptials with 50 guests have an equal shot at wedded bliss as those who invite 500, but apparently not.

Because some things are just better with a buddy (whom you happen to be dating).

They're smart, funny, and adorable, but are you a good match?

Fight the urge to sign her up for OkCupid and read this instead.

We know you have good intentions, but...please...stop.

You can't say we didn't warn you. Every month is Movember when you're dating a guy with a beard. And while the scruffy look can be hot, there are some very real, err, challenges that come with the territory. Don't believe us? Well…

Follow these steps to slash your wedding budget—not your fun—in half.

It won't all be cake and flowers, but it can be the best year of your life together so far.

Expert tips on moving past those oh-so-familiar arguments.