Your 'How We Met' Story Can Predict Your Relationship
Just how cute is your meet-cute?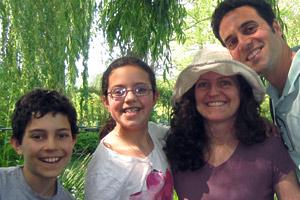 Are there rules for how you should meet your significant other? Does one's "how we met" moment predict a relationship? And do "meet-cute" stories set the course for romance?
Those are the questions Faith Salie and Mario Correa sought to answer. They're the hosts of WNYC's RelationShow, a program about couples and relationships.
"Is it better if you meet someone through friends, as opposed to 'I-just-spotted-you-​across-the-street.com?'" Correa asked on NPR's Weekend Edition Sunday.
Salie wanted to disprove the idea of the meet-cute, which "says you have to meet your mate in some preposterously cute way."
To help answer their questions, Salie and Correa talked to a handful of couples and found out how they met.
One of those couples, Becky and Jeremy, met through a mutual friend. Becky said, at the time, she felt compelled to write Jeremy a love letter. She recalled that the letter read:
"Will you marry me? I don't know you, but I want to marry you."
Jeremy remembers that when he got it, he showed it to his fraternity brothers, bragging:
"Look, I'm getting love letters from people I don't even know!"
22 years and two kids later, Becky and Jeremy are still going strong.
In addition to interviewing couples, Salie and Correa also talked to renowned relationship expert John Gottman.  Gottman says it's not about the story at all. 
No surprise—love can flourish whether you meet your significant other through friends or by chance. But
how
the couple tells the story
is
important.
"You can really tell when people have a very positive 'story of us,'" Gottman says. "They're sitting close, they're smiling [and] there's a relish in telling the story."
Gottman says the fact that Becky and Jeremy are enjoying each other's sense of humor while telling their story is a good sign.
On the other hand, if the relationship isn't going well, Gottman says the couple will remember their story negatively, and it can be like "pulling teeth" to get them to talk about how they met.
Gottman studies the same couples over the course of years, listens to the changes in how they tell their stories, and from there, he can precisely determine where the relationship is headed.
In 1992, Gottman and researchers at the Gottman Institute listened to various couple's "how we met" stories and had the couples participate in laboratory-based discussions. Researchers then predicted which marriages would end in divorce. Checking back in with the couples three years later, the researchers found that their analysis predicted divorce with 94 percent accuracy.
So what's your "how we met" story? Remember, stay positive.
For more info on the RelationShow, visit www.wnyc.org/shows/r​elationshow/.
Photo: Courtesy of Rebecca Sussman

love: friendships, dating, sex & marriage
No sense in wasting your time on someone who will never commit.

There he is, the man of your dreams. He's sitting across from you at the coffee shop or standing at the opposite side of the bar. His eyes meet yours, a quick glance, and then it's back to his drink. Was he giving you a signal?

Remember that time on "30 Rock" when Liz Lemon and her eventual-husband Criss went shopping at Ikea, only to end up in a major fight? We know it couldn't be closer to the truth because we've all been there. In honor of the irritation that can be Ikea, here are the top fights you'll likely encounter.

Love it or hate it, the selfie wields much power.

Dating doesn't have to be a daunting task, promise. Here's how to make it fun for you and him.

One woman's honest journey to divorce will break your heart and inspire you at the same time.

Want to send your date running? Try one these moves.

Two guests arrested in New Jersey.

Celebrities certainly know how to travel in style, so if you're struggling to select a honeymoon destination, look no further than these star-approved hotspots. To make it even easier, we're providing you with hotel recommendations, packing essentials, and tips on what to do and see! So channel your inner celeb at one of these U.S. destinations for an unforgettable vacation!

Tall Twitter users named Wayne, we're on to you!

Should little girls be dreaming of a different kind of "I do"?

Need a reason to pack your bags and get the hell out of here?