Not-so-solid dating tips from the 1930s
Remember, ladies: Never talk about your clothes to a man.
by Gena Kaufman
It's always a laugh to look back at love advice from different eras and see how much things have changed. Like in 50 years, someone will probably be all "Gena Kaufman was so quaint when she suggested she preferred texting to calling! God, remember when we had cell phones? Hahaha. Old people."
A roundup of tips from the '30s has been making the rounds, so just for fun, let's check it out. Some of the tips are timeless ("The last straw is to pass out from too much liquor" is good advice for anyone regardless of gender or relationship status),  others, not so much. Here are a few to consider:
Don't talk about clothes or try to describe your new gown to a man. Please and flatter your date by talking about thing he wants to talk about.
And if you don't feel like discussing his fantasy football team for three hours, well, too darn bad, girl. It's your job to flatter him about how skilled he is at sitting on the couch in sweatpants playing imaginary sports.
More from Glamour: 10 Hot Date-Night Outfits (According to Guys)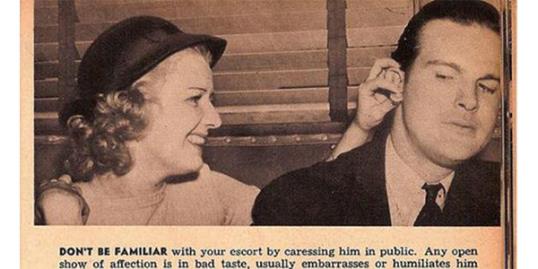 Don't be familiar with your escort by caressing him in public. Any open show of affection is in bad taste, usually embarrasses or humiliates him.
I think this is the '30s version of pretending to be sexy strangers, except totally lame.
Careless women never appeal to gentlemen. Don't talk while dancing, for when a man dances he wants to dance.
Yes. Because 75 percent of the straight men today are really super into dancing. They just love to feel the music and romance of the moment. Riiiiight.
More from Glamour: 25 Celebrity Hairstyles That Will Make You Want Bangs
Don't sit in awkward positions and never look bored, even if you are. Be alert, and if you must chew gum (not advised), do it silently, mouth closed.
Chewing gum politely is a good tip for life generally, but a better solution if you're bored than pretending you're not is to get the heck out of that date already. Life's too short to pretend you're super fascinated by the details of his last trip to the dentist.
Which of these tips do you think are still relevant today? Which make you laugh the most? Girdles in general make me giggle, so I pick the one about that.
More from Glamour:
10 Wardrobe Essentials Every Woman Should Own
15 Hair-Color Makeover Ideas to Try in 2013
10 Beauty Tricks That Make Guys Melt

Subscribe to The Heart Beat | Friend us on Facebook, follow us on Twitter and find us on Pinterest.
Photo: Retronaut.com,
http://aka.ms/single​womentips
love: friendships, dating, sex & marriage
The outlandish things we do for love have no limits; just ask these guys. Who's hugged the longest? Kissed the longest? Been on the most expensive date? Take a look below as we count down the world's most loving record-breakers.

If you just got engaged, congrats! This is seriously exciting news that deserves lots of congratulatory hugs, "oohing" and "ahhing" over the ring and plenty of bubbly. To make sure you get the right response from friends, family and coworkers, avoid announcing your engagement like this…

Ladies, give yourself the best gift of all this season: The NYC Taxi Driver 2014 Calendar. By Michelle Toglia

Pheromones may be the key to finding your perfect match.

Her partner? Wine? Downtime? Find out where it all ranks.

This time of year, we dust off our holiday traditions of special songs, stories, events and food to make our season bright. Here's a look into the traditional, unique and quirky holiday traditions of some famous couples.

Look, I looooove engagement season for obvious reasons, but even I can admit I'm like, "Really, AGAIN?" when yet ANOTHER engagement ring pops up in my news feed. Seriously, there were two this weekend. (Congrats, Gemma and Danny!)

We asked real men and women (and a few first-base experts, too) to give us the cardinal rules of kissing, tell us what makes someone a good kisser and more. So whether you're leaning in for kiss No. 1 or 1,000, read on.by Devin Tomb

Not quite sure which diamond shape suits your personality? We're here to help.

Dating can lead to all kinds of tricky situations. To help you navigate even the most awkward moments, we've compiled our 50 best dating tips—some new, some old—given to us by experts, moms, women like you, and even Justin Timberlake.

Customers as Madison's new Snuggle House can snuggle with professional cuddlers for $60 an hour.

Can you believe it was only about 15 years ago that engagement ring shopping meant a time-consuming slog from jewelry boutique to jewelry boutique? Thank goodness for the internet; nowadays, it's easy to do all that legwork online.