Proposal planners help guys pop the question
Want to propose but don't know how? There's help—but it'll cost you.
Last year, Tiffany Wright and Daisy Amodio witnessed a marriage proposal. The guy was attempting to spell out, "make me the happiest man alive" in candle flames. Sounds incredibly creative and romantic, but there was one problem:
"He had spelled happiest wrong," Daisy explained.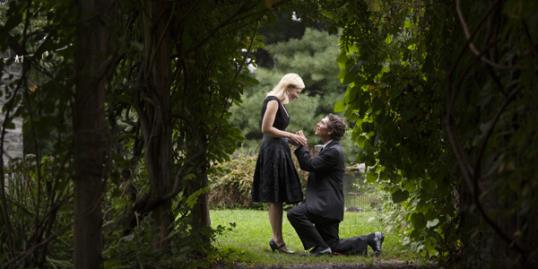 Witnessing that proposal flop stirred something in Tiffany and Daisy. They decided to become business partners, starting their own proposal planning company, aptly named The Proposers.
"Marriage proposals have become big," Tiffany told Gulf News. "It's no longer about just getting down on one knee and asking for a woman's hand. Men have to up their game, and that's where we can help."
More on MSN Living: Readers share their funniest, cheesiest and best pickup lines
The Proposers help by considering every detail of the proposal. They inquire about the client's history and then come up with unique, customized proposal plans that include calling vendors, finding props and booking locations.
Danny Amodi hired Tiffany and Daisy to help pull off his own proposal. He was pleased with the results, which included popping the question at The Ritz in London.
"On the day of the proposal they stuck up photos and memories of [my girlfriend] Annie and I around London on iconic buildings and places such as Big Ben and The Ritz. I told Annie I had a surprise for her and handed her a map, which directed her to all of the photos and clues. She spent the day in London following the clues and reading the memories and letters I had left for her, before being led to a restaurant overlooking The Thames where I was waiting on bended knee."
Tiffany and Daisy aren't the only ones who have profited from men popping the question. Many proposal-related planning companies have emerged in recent years. 
Sarah Pease, for example, owned a successful event-planning firm in New York — Brilliant Event Planning. When Pease witnessed a friend propose by putting an engagement ring in a bucket of Kentucky Fried Chicken, she got an idea.
More on MSN Living: MSN Living readers share engagement rings
"I figured there must be a better way," Sarah told the New York Times. She decided to expand her event-planning business to include proposal planning. Sarah charges $500 for conceiving an original proposal idea. From there, clients might spend up to $12,000 on the pomp and circumstance that lead up to four little words. Which is a lot of money for the possibility of a "no."
But in an age where anything and everything creative has the possibility to go viral, it's hard to deny the increasing pressure on what was once a simple but sweet milestone.
"Handing a woman a ring in the middle of the kitchen just doesn't cut it any more — women want a proposal that they can tell their grandchildren about in years to come," Tiffany argues.
What do you think — does getting down on one knee (or digging in a bucket of chicken) not cut it anymore? Is hiring a proposal planner imaginative or just impersonal?
More from The Heart Beat:
True love stories: Husband helps wife remember their love story
New wedding trend: The anti-invite
China's 'fake-marriage market' a growing trend
Love content like this? Friend us on Facebook, follow us on Twitter and find us on Pinterest.
Photo: Proposal planners help men propose / Cavan Images/Getty Images
love: friendships, dating, sex & marriage
All year long we obsess over hundreds of beautiful photos of every wedding detail, from the cutest flower girl dresses ever to wedding favor ideas that no one has ever seen before. But we couldn't keep these brilliant details to ourselves — here, 10 of the year's most unique wedding ideas!

Sexier sex! Very public proposals! Nearlyweds! It was a pretty busy year for love and relationships. As 2013 comes to a close, we look back at the best trends that made headlines.

The most wonderful time of the year can quickly become the most irritating time of the year if you're waiting for an engagement ring.

The holidays are a time of joy, cheer, and fighting with your boyfriend because he forgot to bring the gift you bought for his mom after you reminded him five times. These practical tips will help you avoid the bickering so you can get back to the important stuff—like eating more cookies.

Wedding cake, wedding reception? Psh! This couple is forgoing both—and going for a run instead.

Part of the reason Christmas felt so magical when you were a kid was because of all the special things you did only at that time of year, like sing Christmas carols or help decorate your mom's famous sugar cookies. (OK, fine. Also because of presents.)

Talk about a marriage proposal to remember.

I was just discussing last night how annoying posed professional portraits have become.

The key to wedded bliss isn't over-the-top romance, but these surprisingly simple practices you can do to stay - or fall back - in love with your partner. Read on for expert tips on how to have a happy marriage.

Do not get him a dopp kit, a money clip, a tie (seriously?), cufflinks or a bunch of candy that you will eat after he opens. Get him this stuff instead. He'll be surprised—but more importantly, he'll be happy. These gifts are good.

It might be time to let go of our general assumption that long-distance relationships are pure torture.

Researchers in a recent study conclude that men are better at focusing on one task, while women are more attuned to multi-task.