Proposal planners help guys pop the question
Want to propose but don't know how? There's help—but it'll cost you.
Last year, Tiffany Wright and Daisy Amodio witnessed a marriage proposal. The guy was attempting to spell out, "make me the happiest man alive" in candle flames. Sounds incredibly creative and romantic, but there was one problem:
"He had spelled happiest wrong," Daisy explained.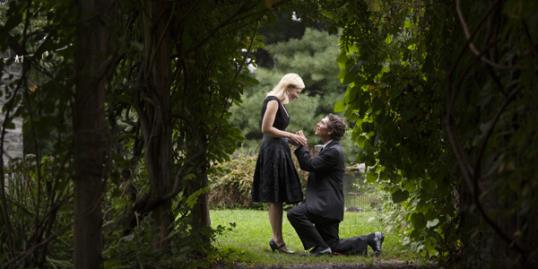 Witnessing that proposal flop stirred something in Tiffany and Daisy. They decided to become business partners, starting their own proposal planning company, aptly named The Proposers.
"Marriage proposals have become big," Tiffany told Gulf News. "It's no longer about just getting down on one knee and asking for a woman's hand. Men have to up their game, and that's where we can help."
More on MSN Living: Readers share their funniest, cheesiest and best pickup lines
The Proposers help by considering every detail of the proposal. They inquire about the client's history and then come up with unique, customized proposal plans that include calling vendors, finding props and booking locations.
Danny Amodi hired Tiffany and Daisy to help pull off his own proposal. He was pleased with the results, which included popping the question at The Ritz in London.
"On the day of the proposal they stuck up photos and memories of [my girlfriend] Annie and I around London on iconic buildings and places such as Big Ben and The Ritz. I told Annie I had a surprise for her and handed her a map, which directed her to all of the photos and clues. She spent the day in London following the clues and reading the memories and letters I had left for her, before being led to a restaurant overlooking The Thames where I was waiting on bended knee."
Tiffany and Daisy aren't the only ones who have profited from men popping the question. Many proposal-related planning companies have emerged in recent years. 
Sarah Pease, for example, owned a successful event-planning firm in New York — Brilliant Event Planning. When Pease witnessed a friend propose by putting an engagement ring in a bucket of Kentucky Fried Chicken, she got an idea.
More on MSN Living: MSN Living readers share engagement rings
"I figured there must be a better way," Sarah told the New York Times. She decided to expand her event-planning business to include proposal planning. Sarah charges $500 for conceiving an original proposal idea. From there, clients might spend up to $12,000 on the pomp and circumstance that lead up to four little words. Which is a lot of money for the possibility of a "no."
But in an age where anything and everything creative has the possibility to go viral, it's hard to deny the increasing pressure on what was once a simple but sweet milestone.
"Handing a woman a ring in the middle of the kitchen just doesn't cut it any more — women want a proposal that they can tell their grandchildren about in years to come," Tiffany argues.
What do you think — does getting down on one knee (or digging in a bucket of chicken) not cut it anymore? Is hiring a proposal planner imaginative or just impersonal?
More from The Heart Beat:
True love stories: Husband helps wife remember their love story
New wedding trend: The anti-invite
China's 'fake-marriage market' a growing trend
Love content like this? Friend us on Facebook, follow us on Twitter and find us on Pinterest.
Photo: Proposal planners help men propose / Cavan Images/Getty Images
love: friendships, dating, sex & marriage
After your return from your honeymoon, your marriage officially starts and with that come some changes. It's not to say that the honeymoon phase is over, but you'll have to get some things situated in order to have your marriage start off on the right foot. We tapped the expert advice of wedding planner and reality TV star David Tutera and love and career coach Charreah Jackson to dish on six things you must do to have a successful first month of marriage — from wedding-related logistics to wrap up to relationship rules to set.

Owner of Weddings in Vieques, a destination-wedding planning company off the coast of Puerto Rico, Sandy Malone has helped countless couples plan their big day since 2007. Here, the veteran planner is sharing some expert advice for free: She's sharing the top eight things you have to do right after you get engaged.

Is the idea of a big bridal bash just not your thing? Or perhaps you and your fiancé are just the super spontaneous type, so why not make your next beach vacation your nuptials as well? If you're thinking of eloping but have questions on the mind, we're here to help. We tapped elopement and wedding planner Lindsey Nickel, founder of Events, Etc., for her top dos and don'ts for getting hitched on the sly.

Easy everyday ways to keep the love alive.

Expert tips on moving past those oh-so-familiar arguments.

Sometimes you have to do things you don't want to do, like hang out with his lame friends. You're not always in the mood to nurse a beer silently while he and his boys argue about who's going to die next on "Game of Thrones" — but tomorrow he's sitting through a seven-girl brunch. So.

Why holding on to your partner's mistakes will end up hurting you.

A little extra effort, will power and research can help your marriage bloom well into old age.

These are the conversations all betrothed couples should take the time to have before they get hitched.

Brace yourself, this is uncomfortable.

There's nothing wrong with grabbing Italian food and alternating between watching action films and romantic comedies, but shaking up your going-out routine with an extreme date night can be the ultimate turn on and the best way to keep your relationship exciting.

This just in: Guys over 5'10" are twice as likely to stray.