Proposal planners help guys pop the question
Want to propose but don't know how? There's help—but it'll cost you.
Last year, Tiffany Wright and Daisy Amodio witnessed a marriage proposal. The guy was attempting to spell out, "make me the happiest man alive" in candle flames. Sounds incredibly creative and romantic, but there was one problem:
"He had spelled happiest wrong," Daisy explained.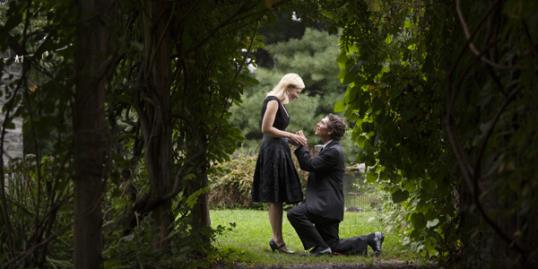 Witnessing that proposal flop stirred something in Tiffany and Daisy. They decided to become business partners, starting their own proposal planning company, aptly named The Proposers.
"Marriage proposals have become big," Tiffany told Gulf News. "It's no longer about just getting down on one knee and asking for a woman's hand. Men have to up their game, and that's where we can help."
More on MSN Living: Readers share their funniest, cheesiest and best pickup lines
The Proposers help by considering every detail of the proposal. They inquire about the client's history and then come up with unique, customized proposal plans that include calling vendors, finding props and booking locations.
Danny Amodi hired Tiffany and Daisy to help pull off his own proposal. He was pleased with the results, which included popping the question at The Ritz in London.
"On the day of the proposal they stuck up photos and memories of [my girlfriend] Annie and I around London on iconic buildings and places such as Big Ben and The Ritz. I told Annie I had a surprise for her and handed her a map, which directed her to all of the photos and clues. She spent the day in London following the clues and reading the memories and letters I had left for her, before being led to a restaurant overlooking The Thames where I was waiting on bended knee."
Tiffany and Daisy aren't the only ones who have profited from men popping the question. Many proposal-related planning companies have emerged in recent years. 
Sarah Pease, for example, owned a successful event-planning firm in New York — Brilliant Event Planning. When Pease witnessed a friend propose by putting an engagement ring in a bucket of Kentucky Fried Chicken, she got an idea.
More on MSN Living: MSN Living readers share engagement rings
"I figured there must be a better way," Sarah told the New York Times. She decided to expand her event-planning business to include proposal planning. Sarah charges $500 for conceiving an original proposal idea. From there, clients might spend up to $12,000 on the pomp and circumstance that lead up to four little words. Which is a lot of money for the possibility of a "no."
But in an age where anything and everything creative has the possibility to go viral, it's hard to deny the increasing pressure on what was once a simple but sweet milestone.
"Handing a woman a ring in the middle of the kitchen just doesn't cut it any more — women want a proposal that they can tell their grandchildren about in years to come," Tiffany argues.
What do you think — does getting down on one knee (or digging in a bucket of chicken) not cut it anymore? Is hiring a proposal planner imaginative or just impersonal?
More from The Heart Beat:
True love stories: Husband helps wife remember their love story
New wedding trend: The anti-invite
China's 'fake-marriage market' a growing trend
Love content like this? Friend us on Facebook, follow us on Twitter and find us on Pinterest.
Photo: Proposal planners help men propose / Cavan Images/Getty Images
love: friendships, dating, sex & marriage
Forgotten what love is all about? Read this note, and remember.

And a few that aren't so shocking.

If you find yourself doing any of these things, consider changing your behavior or counseling.

From pineapple sculptures made out of sunflowers to bold graphic printed tablecloths, ten trendsetters in the wedding industry shared 100 days' worth of inspiring new wedding details. See The Knot editors' top picks for the coolest and most awe-worthy ideas from the wedding experts.

Those Facebook friends who seem to have perfect lives with flawless mates whom they adore at all times? Even they face tough times like these.

How to flag her little fibs. By Laura Tedesco

A new study on attraction may help explain why fashions change.

As a general rule, any island that offers great weather year-round is going to attract the most visitors in the winter (high season) when we're all trying to escape the snow. Once summer rolls around, many islands see a sharp drop-off in tourism since many people have beach weather right in their own backyards.

And how you can attack the issues together.

A wedding is an exceptionally special day. Sometimes, an opportune photo flub makes the occasion even more memorable. Here are 25 awesome wedding photo bombs.

Somewhere between the first few butterfly-inducing dates and the committed-for-life stage, there's the period of wondering if you're both on the same page about how serious you feel about a future together. If you're not quite at the point of "that talk" but you're looking for a few clues you're heading in that direction, here are some signs he's in it for the long haul as your relationship progresses.

What's that sound? It's white noise blocking out the well-meaning person proclaiming groundbreaking news about where you can meet someone, asking why you're still single, or bugging you about when you're getting married already. Don't be that person. Here are 15 annoying things all single people don't want to hear.