Scorned exes get digital revenge
Got sext regret? Understandable—a new report shows that many Americans have been hacked by angry exes.
If your Valentine's Day gift included a racy photo from your significant other, you're not alone. This year, 36 percent of Americans said they planned to send their partner an explicit photo to celebrate the holiday. Because nothing says, "I love you" like an X-rated selfie.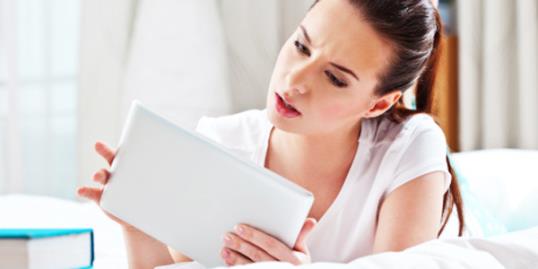 More on MSN Living: 25 little things he loves about you
The bad news is, 12 percent of people have had their personal data leaked by an ex, according to a recent study from Internet security company McAfee. What's more, one in 10 people have had an ex threaten to post risqué photos of them online.
And there are plenty of outlets for those threats, with more and more "ex revenge" sites popping up. The Heart Beat talked to Norton Internet Safety Advocate Marian Merritt. She gave us some ways to prevent digital revenge and some tips to recover if you're already a victim.
More on MSN Living: 8 signs you're too bossy in bed
McAfee's study revealed that more than half of people share their passwords with a partner. It's sort of harrowing that the same study revealed over 56 percent people have also logged into their partner's email or social media account.
"It's okay to keep some things to yourself," Merritt told us. "If you do share your passwords, and things in your relationship take a turn for the worse, be sure to reset them and avoid using words or names someone close to you could easily guess."
Of those scorned exes that leaked intimate photos or personal information, 45 percent said they did it because of lying. Forty-one percent were cheated on, and 14 percent were left at the altar.
"Bad relationships can leave lasting pain," Merritt told us. " Your ex could try to install spy software on your computer or mobile device when you're not around, so be sure to use passwords that lock your screen."
If you're one of the unfortunate 12 percent that have had your personal data leaked by an ex, there are some options for recovering after the damage is done.
Here are some tips that Norton shared with MSN's
The Heart Beat
:
Take action immediately by shutting down any affected accounts, or ones you think an ex or hacker could leverage.

Watch your credit cards and credit reports carefully. The sooner you catch fraudulent behavior, the easier it will be to refute.

Set up fraud alert with the three national consumer reporting agencies (Equifax, Experian, and Trans Union).

While it may seem silly, be sure to file a police report. Whether or not you're able to provide the police with enough information to bring the criminal to justice, the police report can be used as evidence if you need to fight any fraudulent claims.

 Let your friends and family know you've been hacked and that they shouldn't click on links in suspicious emails from you or "like" any of your unusual posts on social networks. Ask your friends and family to notify you if they receive a "friend request" in your name from a new account, even if it claims it's from you and that your previous account should be ignored "due to hacking."

Contact the social network if you suspect on of your accounts has been compromised and report the hack or any accounts trying to impersonate you.
More from The Heart Beat:
Where are America's least faithful cities?
Romance fades three and a half years into marriage
Is kissing cheating? Some men don't think so
Love content like this? Friend us on Facebook, follow us on Twitter and find us on Pinterest.
Photo: Izabela Habur/Getty Images
love: friendship, dating, sex & marriage
What's worse than getting snubbed while proposing? Having your heart broken in front of countless strangers.

We asked brides on TheKnot.com to tell all -- and they did. Here, five of the most likely culprits and advice for how to deal with your drama-causing guests along the way.

This short course in flirting will not only teach you how to flirt better but also how to tell when someone is flirting with you—and how to respond. Have fun.

Gatsby glamour doesn't have to just live on the big screen! Embrace the trendy (yet timeless) art deco style with sequins, pearls, feathers and geometric patterns. Check out these art deco ideas and achieve the feel of 1920s decadence. By the way, all of these are affordable, except for the $600 hairpiece which is a splurge, but a knockout. Shop the look!

Wondering if your summer love will last? Here are 15 signs if your seasonal love is fleeting or for real.

Sixteen years after "Titanic's" release—and 101 years after the historic ship's notorious sinking—our hearts still go on for star-crossed lovers Rose DeWitt Bukater (Kate Winslet) and Jack Dawson (Leonardo DiCaprio). We rounded up some of our favorite ill-fated, but oh-so-romantic affairs on film, from "Gone with the Wind" to "Moulin Rouge!".

Flirting shouldn't be retired once you've got the ring. We asked relationship expert Harlan Cohen, as well as real husbands, the best way to keep the sparks flying.

When we're annoyed by male behavior, we turn to columnist Aaron Traister. His logic may be strange, but we have to admit, it's pretty helpful. Here, he answers our many questions for guys.

Author Amanda Robb talks to clinical psychologist David Schnarch, Ph.D., author of Passionate Marriage: Keeping Love and Intimacy Alive in Committed Relationships and Intimacy and Desire: Awaken the Passion in Your Relationship, to discover the ways she can relight the fire in her own relationship. What she learned just might help you wake up your own libido.

The average wedding costs $28,000. Think that's pricey? You're in for a surprise. We've rounded up some of the most expensive weddings of all time. See if you can guess how much was dropped on these over-the-top affairs, then click through to Bing to see if you're right.

A guide to staying together forever…straight from divorce lawyers! They know what tears couples apart, and they'll tell you how to avoid it.

We've come across some odd tales of lost love. Here's our list of the weirdest reasons people have divorced.