Couples split over bad gifts, poll finds
What are these breakup-worthy presents?
Isn't it the thought that counts?
Well, thoughtless or not, a significant number of couples actually split over bad gift giving, according to a new poll.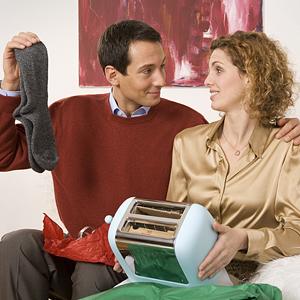 The survey finds that one in six couples have had a full-blown fight over a bad gift, and what's more, one in 20 couples have actually broken up for the same reason.
Related: 50 signs he's not that into you
John Starr Gift Card and Voucher Week, an annual event in November, commissioned the study, which included more than 2,000 men and women. Starr says he found it's mostly men who get gifts wrong. He told MSN's The Heart Beat:
 "It can be a little insulting for women when the person they know best in life hasn't got a clue what to get them."
But hey, it's not easy on guys, either:
"Even the most thoughtful of presents can be received with caution by women, who seem to assume that with every gift comes a hint."
Related: 20 'annoying' girl things he secretly loves about you
Bad gifting is nothing new, but the surprising statistic is that some couples actually split over poorly thought out presents.  I suppose if a relationship is liable to breakup over a present, the bond wasn't that strong to begin with. Or, maybe the gift was just that bad.
Starr also found that a whopping 80 percent of women think their partner genuinely tries but still gets the gift wrong. Conversely, 21 percent of men say their significant other doesn't get it right, either.
So what are these bad gifts that couples are receiving? Men complained that women have a tendency to buy them clothes and shoes they hate. Women, on the other hand, don't particularly appreciate sex toys or anti-aging products.
As the holidays close in on us, it's easy to get caught up in the materialism of gifting. But lovers, remember -- the greatest gifts are free. As Princess Diana once said: "I don't want expensive gifts … I just want someone to be there for me, to make me feel safe and secure." With that kind of support and love, who cares if you get an occasional bad gift?
But then again, Lady Di probably never got this.
At any rate, here are the top 10 gifts men get wrong, according to the study:
Underwear
Toiletries
Perfume
Kitchen utensils
Cheap jewelry
Chocolates
Shoes or slippers
Vacuum cleaner
Flowers
Exercise clothes or DVD
And the top 10 gifts women get wrong:
Clothes
Cheap gadgets
A man bag
Soft toys
Shoes
Jewelry
Chocolates
A meal out
Aftershave
A framed photo

Photo: Westend61/Getty Images
Bing: Get gift ideas for your boyfriend.
More Sex & Love on MSN Living:
How to determine if he's marriage material
10 habits that keep marriages strong
Marriage counselors: The trickiest issues we've ever solved
50 unique engagement rings
love: friendships, dating, sex & marriage
Government-supported Vietnamese classes teach women Korean language, customs.

Whether you're into creative artists or uber-preppy bankers, there's something to be said for trying something new.

Sometimes two characters on a TV show or movie can portray being a happy couple effortlessly, or can have lots of fun playing former spouses — especially if they're married to each other in real life! Keep scrolling for six celebrity costars you probably didn't know tied the knot, even after the bloodiest and craziest story lines.

Some couples want nothing more than a laid-back, by-the-book proposal. Then there are the other couples, where the proposal not only needs to be personalized, it also has to be unique and entirely different than the typical restaurant, bended-knee idea. Sound like you? Then get inspired by some of the most creative proposal ideas we've ever seen. If you find something you like, steal it and then modify it to make your proposal something totally unforgettable.

From Nantucket all the way to Cayo Espanto, we've rounded up some of the prettiest beaches to travel to for your honeymoon.

Researchers studied the age-old stereotype that women really are more talkative than men.

'There is a science behind attraction,' SingldOut says.

One minute you're happy and in love, the next he's delivering the "It's not you, it's me" speech. Why? We have the scoop on the real reasons most couples split up.

Want to keep your wedding budget in check? Start by checking out this list of the 10 things that could end up costing you a lot more than you anticipated.

Brace yourself, this is uncomfortable.

The proposal-filled site How He Asked has shared its top 10 most emotional proposal photos with us, so have your tissues handy. We're suckers for a good proposal story, and these ones are truly tear-worthy. Check them out now, and watch your heart grow (at least) three sizes!

How to do weddings: Yet another foreign (and expensive) aspect of adulthood that you have to learn the hard way. But have no fear! Click through for some must-have wedding tips.