Couples split over bad gifts, poll finds
What are these breakup-worthy presents?
Isn't it the thought that counts?
Well, thoughtless or not, a significant number of couples actually split over bad gift giving, according to a new poll.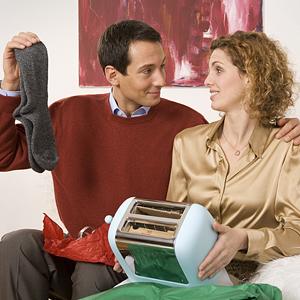 The survey finds that one in six couples have had a full-blown fight over a bad gift, and what's more, one in 20 couples have actually broken up for the same reason.
Related: 50 signs he's not that into you
John Starr Gift Card and Voucher Week, an annual event in November, commissioned the study, which included more than 2,000 men and women. Starr says he found it's mostly men who get gifts wrong. He told MSN's The Heart Beat:
 "It can be a little insulting for women when the person they know best in life hasn't got a clue what to get them."
But hey, it's not easy on guys, either:
"Even the most thoughtful of presents can be received with caution by women, who seem to assume that with every gift comes a hint."
Related: 20 'annoying' girl things he secretly loves about you
Bad gifting is nothing new, but the surprising statistic is that some couples actually split over poorly thought out presents.  I suppose if a relationship is liable to breakup over a present, the bond wasn't that strong to begin with. Or, maybe the gift was just that bad.
Starr also found that a whopping 80 percent of women think their partner genuinely tries but still gets the gift wrong. Conversely, 21 percent of men say their significant other doesn't get it right, either.
So what are these bad gifts that couples are receiving? Men complained that women have a tendency to buy them clothes and shoes they hate. Women, on the other hand, don't particularly appreciate sex toys or anti-aging products.
As the holidays close in on us, it's easy to get caught up in the materialism of gifting. But lovers, remember -- the greatest gifts are free. As Princess Diana once said: "I don't want expensive gifts … I just want someone to be there for me, to make me feel safe and secure." With that kind of support and love, who cares if you get an occasional bad gift?
But then again, Lady Di probably never got this.
At any rate, here are the top 10 gifts men get wrong, according to the study:
Underwear
Toiletries
Perfume
Kitchen utensils
Cheap jewelry
Chocolates
Shoes or slippers
Vacuum cleaner
Flowers
Exercise clothes or DVD
And the top 10 gifts women get wrong:
Clothes
Cheap gadgets
A man bag
Soft toys
Shoes
Jewelry
Chocolates
A meal out
Aftershave
A framed photo

Photo: Westend61/Getty Images
Bing: Get gift ideas for your boyfriend.
More Sex & Love on MSN Living:
How to determine if he's marriage material
10 habits that keep marriages strong
Marriage counselors: The trickiest issues we've ever solved
50 unique engagement rings
love: friendships, dating, sex & marriage
A wedding is an exceptionally special day. Sometimes, an opportune photo flub makes the occasion even more memorable. Here are 25 awesome wedding photo bombs.

Somewhere between the first few butterfly-inducing dates and the committed-for-life stage, there's the period of wondering if you're both on the same page about how serious you feel about a future together. If you're not quite at the point of "that talk" but you're looking for a few clues you're heading in that direction, here are some signs he's in it for the long haul as your relationship progresses.

What's that sound? It's white noise blocking out the well-meaning person proclaiming groundbreaking news about where you can meet someone, asking why you're still single, or bugging you about when you're getting married already. Don't be that person. Here are 15 annoying things all single people don't want to hear.

With just a few days left before the big day, you already have a mile-long checklist of to-dos—now meet the don'ts! From impromptu skin treatments to all-night movie marathons, here are 11 things to avoid at all costs.

A new study shows that watching and discussing romantic films can drastically reduce your chance of divorce. These flicks more than fit the bill.

These seemingly innocent phrases still have the power to wound… big time.

Making "I do" last forever is one of the biggest challenges you'll ever face—and it's normal to worry about how you'll do it. But, if your connection involves any of these things, rest assured that you're in it for the long run.

Ultimately, as hard as it may seem at the beginning, a marital affair can be a turning point.

Five months after the Boston Marathon bombing, The Knot reached out to Rebekah Gregory and Pete DiMartino and offered to throw them a dream wedding. They said yes, and on April 4, 2014, the two married at the Biltmore Estate in Asheville, North Carolina. Rebekah and Pete exchanged vows on the tennis lawn amidst the cherry tree blossoms and then celebrated with all of their friends and family at a beautiful reception tent right in front of the estate. All of the details were perfectly executed by a team of talented and generous wedding industry pros, including celebrity wedding planner Marcy Blum. Here, a few highlights from Rebekah and Pete's wedding day.

Your wedding is your special day, but you want to keep your guests happy, too. Here are 20 typical wedding guest complaints and what you can do about them.

Study finds that early birds get the long-term relationships.

Receptions would take place near where raw sewage is processed.