Dating in a new city: Where to start
Just moved? Find out how to find love in your new city!
Moving to a new city can be rough. Once you've found an apartment and have gone through the grueling pack-unpack-decorate​ process, you're still faced with the daunting task of meeting new people — especially guys. If thinking about trying to find a date in a new city makes your palms start to sweat, then keep reading. Her Campus is here with a list of easy ways to help you meet guys after you move!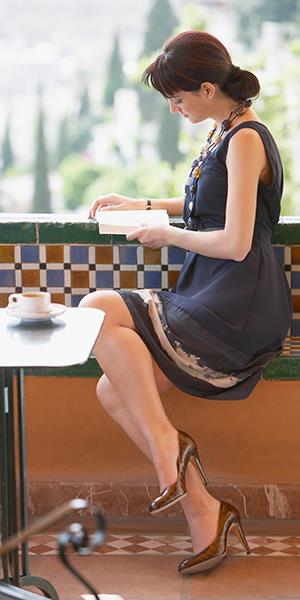 1. Join a club or a sports team
Just after a big move is the perfect time to branch out and try something new! Whether you're athletic or creative, it's likely that classes are offered in something you've always wanted to try right in your new hometown. Taking a class or joining a recreational sports team could be the perfect way to meet the man of your dreams! Hit a pottery class at the local community center or join a fitness class at the gym on your block.
Bing: Best cities to find a date
There are likely soccer, kickball or softball leagues in your new hometown, too, along with loads of other sports. Whether you've played before or not, joining these teams can give you a great opportunity to meet athletic, fun guys at the practices and games (and to celebrate with them after a big win!). 
If you want to get the ball rolling early, join a social networking site like meetup.com that will help you find people in your area who share your interests. Doing what you love will help you find a guy who likes rock climbing, photography, or whatever else you enjoy just as much as you do!
2. Go out alone
It's harder for guys to gather the courage to approach you when you're dancing with a bunch of your girls or when you're out to dinner with your best friend. So instead of taking along your pals next time, try going out alone! Bring a book to the coffee shop and sit at a table for two, or sit at a two-person table for lunch at a little café in your new town.
Try not to be on your laptop or phone, though — guys might feel like you're waiting for someone if you're constantly texting or like they're interrupting your hard work if you're typing away on your computer. You'll come off as mysterious if you're sitting alone and reading, and it will be easier for guys to approach you if you're by yourself. Be sure to keep an eye out for guys sitting alone doing the same thing! 
Additionally, if one of your new friends in the area invites you to a party at their place, you shouldn't drag a bunch of your female friends along with you. Going alone will force you to make conversation with new people because you won't have a friend you already know keeping you occupied. It may sound intimidating, but since showing up solo requires confidence, it will make you exponentially more attractive to guys and will draw them to you (so you won't be alone for long!).
For the last two ways to meet guys in a new city and even more love advice, check out HerCampus.com!
More from The Heart Beat:
Pastor calls for porn boycott
Anthony Weiner featured in Museum of Sex exhibit
10 odd stats about kissing
Subscribe to The Heart Beat | Friend us on Facebook, follow us on Twitter and find us on Pinterest.
Photo: Tom Merton/Getty Images

Not on the market but dating is easy. Most of you make way too much of it. You see someone you find attractive and ask them for a date, simple, if they say no then say nice to meet you an move on. Too many of the men (Boys) today are so scarred to walk up and take a chance it's funny. I always went to the most beautiful women and asked them, I knew most guys were afraid of the beautiful women, got lots of dates. My wife is a 10 plus, no guts no glory...

Pottery and crafts classes usually attract older women - not good.  Art museums and art galleries are good, especially at evening openings and events - and it's easy to walk up to people and comment on the art.  If you like nature and science, look for a science center, an aquarium, a botanical garden.  Go to their events, and volunteer.  If you like the outdoors and sports, join a team, a hiking group, or a biking group.  Getting involved with volunteer work will introduce you to all sorts of people, not just guys to date.   All of the people I know in this town, I have met through the 4 or 5 groups I belong to.  And when I moved here, I knew no one at all.  I have a very busy social life now . . ..
Are you sure you want to delete this comment?
love: friendships, dating, sex & marriage
Revealr is a new iPhone app that allows those looking for love to hear their possible matches before they see them.

A new poll reveals 59 percent of the country supports same-sex marriage.

Celebrity engagements are so much fun to follow because every detail is bound to be over-the-top — from the proposal (like when Kanye rented out an entire stadium to propose to Kim) to the huge, sparkly engagement ring and, of course, the wedding. Plus, as trendsetters, celebs can be a source of inspiration even if you can't afford a million dollar ring. Here are our celebrity wedding predictions for 2014.

If you've ever been to a club—like, ever, even once—you are not going to be shocked to hear that women get a lot of unwanted, aggressive attention. But when you read the findings of this study on how often and why it happens, it might make you feel downright sick to your stomach.

Hopeless romantics and cringe-worthy chick flicks would tell you that it doesn't matter what you do on the date, as long as you're together. But they're wrong. Dead wrong. Women use your date ideas to size you up, says matchmaker Rachel DeAlto, author of "Flirt Fearlessly." "You absolutely will be judged based on the date you plan. There are so many subconscious impressions that we take in while dating." Gulp. Here are 10 terrible ideas that can land you on the no-lay list—and simple swaps to keep her happy. By K. Aleisha Fetters

No matter your current relationship status or past relationship fails, get a fresh start this month, with these tips for spring cleaning your love life.

Forget the rules you've always heard—it's time to start making your own.

Are you in an affair without knowing it? Unless you're a swinger, having sex with someone else counts as cheating. But then there's the fuzzy area between friendship and infidelity—and chances are, your girlfriend sees those shades of gray as more black and white than you do. "Men aren't as attuned to identifying ambiguous behaviors as cheating as women are," says Daniel Kruger, Ph.D., a University of Michigan psychologist, who's studied gender differences in definitions of infidelity. In other words, what you consider totally innocent could be her deal breaker.

We spoke with relationship therapist Rachel A. Sussman, author of "The Breakup Bible," for her tips on how regular girls can survive a split like an A-lister.

A researcher from Texas Tech University has found that people who use the same kind of "function words" are more likely to get together.

Check out these five celebrity stunners.

And by weird, we really mean friggin' awesome.