Dating in a new city: Where to start
Just moved? Find out how to find love in your new city!
Moving to a new city can be rough. Once you've found an apartment and have gone through the grueling pack-unpack-decorate​ process, you're still faced with the daunting task of meeting new people — especially guys. If thinking about trying to find a date in a new city makes your palms start to sweat, then keep reading. Her Campus is here with a list of easy ways to help you meet guys after you move!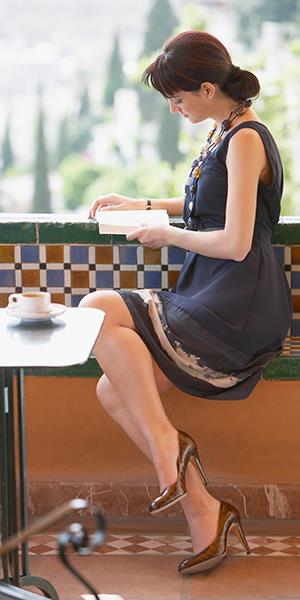 1. Join a club or a sports team
Just after a big move is the perfect time to branch out and try something new! Whether you're athletic or creative, it's likely that classes are offered in something you've always wanted to try right in your new hometown. Taking a class or joining a recreational sports team could be the perfect way to meet the man of your dreams! Hit a pottery class at the local community center or join a fitness class at the gym on your block.
Bing: Best cities to find a date
There are likely soccer, kickball or softball leagues in your new hometown, too, along with loads of other sports. Whether you've played before or not, joining these teams can give you a great opportunity to meet athletic, fun guys at the practices and games (and to celebrate with them after a big win!). 
If you want to get the ball rolling early, join a social networking site like meetup.com that will help you find people in your area who share your interests. Doing what you love will help you find a guy who likes rock climbing, photography, or whatever else you enjoy just as much as you do!
2. Go out alone
It's harder for guys to gather the courage to approach you when you're dancing with a bunch of your girls or when you're out to dinner with your best friend. So instead of taking along your pals next time, try going out alone! Bring a book to the coffee shop and sit at a table for two, or sit at a two-person table for lunch at a little café in your new town.
Try not to be on your laptop or phone, though — guys might feel like you're waiting for someone if you're constantly texting or like they're interrupting your hard work if you're typing away on your computer. You'll come off as mysterious if you're sitting alone and reading, and it will be easier for guys to approach you if you're by yourself. Be sure to keep an eye out for guys sitting alone doing the same thing! 
Additionally, if one of your new friends in the area invites you to a party at their place, you shouldn't drag a bunch of your female friends along with you. Going alone will force you to make conversation with new people because you won't have a friend you already know keeping you occupied. It may sound intimidating, but since showing up solo requires confidence, it will make you exponentially more attractive to guys and will draw them to you (so you won't be alone for long!).
For the last two ways to meet guys in a new city and even more love advice, check out HerCampus.com!
More from The Heart Beat:
Pastor calls for porn boycott
Anthony Weiner featured in Museum of Sex exhibit
10 odd stats about kissing
Subscribe to The Heart Beat | Friend us on Facebook, follow us on Twitter and find us on Pinterest.
Photo: Tom Merton/Getty Images

Not on the market but dating is easy. Most of you make way too much of it. You see someone you find attractive and ask them for a date, simple, if they say no then say nice to meet you an move on. Too many of the men (Boys) today are so scarred to walk up and take a chance it's funny. I always went to the most beautiful women and asked them, I knew most guys were afraid of the beautiful women, got lots of dates. My wife is a 10 plus, no guts no glory...

Pottery and crafts classes usually attract older women - not good.  Art museums and art galleries are good, especially at evening openings and events - and it's easy to walk up to people and comment on the art.  If you like nature and science, look for a science center, an aquarium, a botanical garden.  Go to their events, and volunteer.  If you like the outdoors and sports, join a team, a hiking group, or a biking group.  Getting involved with volunteer work will introduce you to all sorts of people, not just guys to date.   All of the people I know in this town, I have met through the 4 or 5 groups I belong to.  And when I moved here, I knew no one at all.  I have a very busy social life now . . ..
Are you sure you want to delete this comment?
love: friendships, dating, sex & marriage
There's a lot to love about weddings this fall, like cocktails served in copper Moscow mule mugs, industrial-inspired lighting and pheasant feather details. See what's new!

Do you have to be engaged to sport a ring with bling?

124.6 million haven't gotten hitched.

Even though the national average wedding is $29,858, that's just an average. If you live in a smaller state like Idaho where the average wedding costs $16,159, you may find yourself saving a little more than half of the national spend! Check out some of the other least expensive cities to get married in below:

Summer is winding down, but the ubiquitous summer romance lives on.

For those times when nothing big and horrible happened--but nothing is feeling right either.

He's confident, distinguished and anywhere from 4 to 20 years older than you. Age is just a number, but there's something about older men that we love. Here are eight reasons why being in a relationship with an older man is tops.

While a younger man may have less life experience, that doesn't mean he's not emotionally mature. Here are the eight reasons why being in a relationship with a younger man is tops.

Have you ever wondered what the 'other woman' was thinking?

So fall is coming and you need some romantic inspiration now that long walks on the beach are out of the question. Well look no further! From apple picking to pumpkin carving, these are some great fall date ideas from girls just like you!

Getting bored of the same dinner and movie date night? Take an adorable cue from your favorite celebs and try something new! From dancing to boxing you can't go wrong with these awesome date ideas.

New research shows they get divorced at vastly lower rates.