Bride plans wedding 10 years before meeting her groom
Say what you will about the bride, but there's one thing you can't call her—a procrastinator.
When Shawn Owens proposed to his girlfriend Kate, she accepted. And then she whipped out a binder that included every detail of the couple's wedding, down to the menus. The binder was aptly labeled, "Life." Years before Kate even met Shawn, this wedding had been painstakingly planned.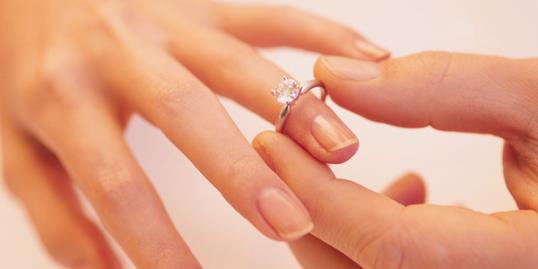 More on MSN Living: 9 sex & dating myths
"I think some people probably thought I was nuts," Owens told ABC News.
Kate even went so far as to book a band back in 2003. She saw them playing at a bar and thought they would be perfect for her sometime-in-the-futu​re ceremony.
"I booked my band nine years in advance. I said, ''I don't have a groom, but if you guys are still around, will you play my wedding?'"
More on MSN Living: 28 ways to have a sexy February
For nearly a decade, Kate had been perfecting her big day. She hired a wedding planner, picked out the dresses and even knew what hairstyles she wanted for her wedding party.
"I knew the style of wedding dress I wanted. I knew what style bridesmaids' dress I wanted. I knew the color scheme. I knew I wanted it to be outdoors."
When she met Shawn, she didn't him about these plans--understandabl​e. So when he proposed, and Kate revealed her secret, Shawn says he was "a little surprised." But eventually, he learned to appreciate Kate's…er…
initiative.
"The fact that she had so much planning done ahead of time, I realized how low-stress this process was going to be."
Is Kate's behavior odd, or is she just highly-organized? Is it okay to plan the wedding without the groom? The Heart Beat talked to Kristin Banta, who owns an event-planning firm in Los Angeles.
"These are two people coming together for a union. They should be united in their planning and be on the same page. It should not be all about the bride," Banta told us. "This is their first opportunity to present something reflective of them as a married couple. And I'm not sure why or how this idea of it being solely 'her day' has come about."
To be fair, Shawn did have some input when the couple married last June:
"He picked out the tux that he wore," Kate said. "He picked out the suit and everything that the guys wore. I just gave him a color scheme to work with."
Shawn revealed that he and Kate are now working on starting a family.  We bet the colleges are all picked out.
Readers: Would you like to be featured in an upcoming MSN Living slideshow? Please email a photo of your engagement ring (yes, you can be wearing it!) to msnlivingmail@micros​oft.com. Please include your name, city and state as well as any information you'd like to share about your ring and how you were proposed to.
More from The Heart Beat:
Study: Couples cuddle eight times a week

Sex is a chore for one-third of married people

Men no longer willing to pay for first date
Love content like this? Friend us on Facebook, follow us on Twitter and find us on Pinterest
Photo: Tom Grill/Getty Images
love: friendships, dating, sex & marriage
Two guests arrested in New Jersey.

Celebrities certainly know how to travel in style, so if you're struggling to select a honeymoon destination, look no further than these star-approved hotspots. To make it even easier, we're providing you with hotel recommendations, packing essentials, and tips on what to do and see! So channel your inner celeb at one of these U.S. destinations for an unforgettable vacation!

Tall Twitter users named Wayne, we're on to you!

Should little girls be dreaming of a different kind of "I do"?

Need a reason to pack your bags and get the hell out of here?

After your return from your honeymoon, your marriage officially starts and with that come some changes. It's not to say that the honeymoon phase is over, but you'll have to get some things situated in order to have your marriage start off on the right foot. We tapped the expert advice of wedding planner and reality TV star David Tutera and love and career coach Charreah Jackson to dish on six things you must do to have a successful first month of marriage — from wedding-related logistics to wrap up to relationship rules to set.

Owner of Weddings in Vieques, a destination-wedding planning company off the coast of Puerto Rico, Sandy Malone has helped countless couples plan their big day since 2007. Here, the veteran planner is sharing some expert advice for free: She's sharing the top eight things you have to do right after you get engaged.

Is the idea of a big bridal bash just not your thing? Or perhaps you and your fiancé are just the super spontaneous type, so why not make your next beach vacation your nuptials as well? If you're thinking of eloping but have questions on the mind, we're here to help. We tapped elopement and wedding planner Lindsey Nickel, founder of Events, Etc., for her top dos and don'ts for getting hitched on the sly.

Easy everyday ways to keep the love alive.

Expert tips on moving past those oh-so-familiar arguments.

Sometimes you have to do things you don't want to do, like hang out with his lame friends. You're not always in the mood to nurse a beer silently while he and his boys argue about who's going to die next on "Game of Thrones" — but tomorrow he's sitting through a seven-girl brunch. So.

Why holding on to your partner's mistakes will end up hurting you.