Bride plans wedding 10 years before meeting her groom
Say what you will about the bride, but there's one thing you can't call her—a procrastinator.
When Shawn Owens proposed to his girlfriend Kate, she accepted. And then she whipped out a binder that included every detail of the couple's wedding, down to the menus. The binder was aptly labeled, "Life." Years before Kate even met Shawn, this wedding had been painstakingly planned.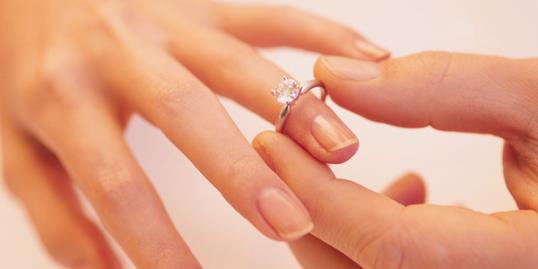 More on MSN Living: 9 sex & dating myths
"I think some people probably thought I was nuts," Owens told ABC News.
Kate even went so far as to book a band back in 2003. She saw them playing at a bar and thought they would be perfect for her sometime-in-the-futu​re ceremony.
"I booked my band nine years in advance. I said, ''I don't have a groom, but if you guys are still around, will you play my wedding?'"
More on MSN Living: 28 ways to have a sexy February
For nearly a decade, Kate had been perfecting her big day. She hired a wedding planner, picked out the dresses and even knew what hairstyles she wanted for her wedding party.
"I knew the style of wedding dress I wanted. I knew what style bridesmaids' dress I wanted. I knew the color scheme. I knew I wanted it to be outdoors."
When she met Shawn, she didn't him about these plans--understandabl​e. So when he proposed, and Kate revealed her secret, Shawn says he was "a little surprised." But eventually, he learned to appreciate Kate's…er…
initiative.
"The fact that she had so much planning done ahead of time, I realized how low-stress this process was going to be."
Is Kate's behavior odd, or is she just highly-organized? Is it okay to plan the wedding without the groom? The Heart Beat talked to Kristin Banta, who owns an event-planning firm in Los Angeles.
"These are two people coming together for a union. They should be united in their planning and be on the same page. It should not be all about the bride," Banta told us. "This is their first opportunity to present something reflective of them as a married couple. And I'm not sure why or how this idea of it being solely 'her day' has come about."
To be fair, Shawn did have some input when the couple married last June:
"He picked out the tux that he wore," Kate said. "He picked out the suit and everything that the guys wore. I just gave him a color scheme to work with."
Shawn revealed that he and Kate are now working on starting a family.  We bet the colleges are all picked out.
Readers: Would you like to be featured in an upcoming MSN Living slideshow? Please email a photo of your engagement ring (yes, you can be wearing it!) to msnlivingmail@micros​oft.com. Please include your name, city and state as well as any information you'd like to share about your ring and how you were proposed to.
More from The Heart Beat:
Study: Couples cuddle eight times a week

Sex is a chore for one-third of married people

Men no longer willing to pay for first date
Love content like this? Friend us on Facebook, follow us on Twitter and find us on Pinterest
Photo: Tom Grill/Getty Images
love: friendships, dating, sex & marriage
There had to be a better way.

LinkedUp connects to your LinkedIn profile to find you a date.

Plus, some report having no one at all they feel close to.

It's wedding season! Let's take a look back at when these stunning celebs put on gorgeous gowns and held beautiful bouquets in support of their friends' and family members' big days.

A new study says we're more open to consensual non-monogamy now than ever before — but does it work?

5 steps to being happy together in the long run.

There has been an exponential increase in the number of people who are questioning their marriage.

We're willing to bet that if you're not already grappling with these wedding-related snags, you will be soon.

Pull out the tissues for these personalized wedding vows.

Forgotten what love is all about? Read this note, and remember.

And a few that aren't so shocking.

If you find yourself doing any of these things, consider changing your behavior or counseling.