Sheriff's Department Bans Workplace Romance
Marriage will get you fired, too.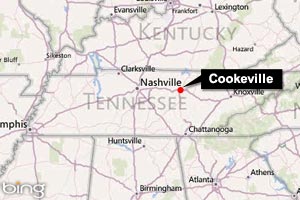 Surveys show that over half of all working people have engaged in some sort of relationship with a co-worker. And according to a recent CareerBuilder survey, 31 percent of workers said their office romance has led to marriage. As taboo as dating a fellow employee can be, the fact is, many couples meet in the workplace.
Unless they work at the Putnam County Sheriff's Department in Tennessee.
Sheriff David Andrews has implemented a strict no-dating and no-marrying policy for the purpose of maintaining a "friendly but professional atmosphere" within the department.
The policy reads:
"Employees of the Putnam County Sheriff's Department are not allowed to date or marry one another. In the event employees wish to date one another, one of the parties must abandon his/her employment with the Putnam County Sheriff's Department."
Don't get any ideas, either. Casual flings aren't allowed.
"Romantic or sexual relations between employees at the Putnam County Sheriff's Department are inappropriate and will result in disciplinary action up to dismissal of either or both persons involved."
Sheriff's Chief Deputy Jacky Farley said the policy is meant to prevent workplace conflicts.
"These situations sometimes cause scheduling difficulties or result in conflicts that could get in the way of work," Farley told the Herald Citizen.
But there's a bit of a problem. Some of the employees at the Putnam Sherriff's Department are already involved in blossoming office romances. They will be affected by the new policy. Some of them have said they plan to challenge it in court.
Ashley Brightwell, a lawyer in Atlanta, explains that many workplaces realize that preventing office dating is futile, so they utilize love contracts. Brightwell told the Wall Street Journal:
"It used to be that many companies had strict prohibitions on office romances. Then they recognized that wasn't going to work, and that no matter what the policies were, employees were going to get involved. That's when the idea of a love contract came along. It's a tool that employers use to protect themselves when an office romance goes sour."
So what happens when office romances go sour? According to both Brightwell and this article from the HR Specialist, scorned lovers often "allege that their former lover was a sexual harasser."
 So it's understandable that employers would want to get rid of the lovey-dovey business altogether, and legally, they can. But HR Specialist argues:
"…it probably isn't the wisest move. A 'no romance' policy could be nearly impossible to enforce and affect employees who are already involved in relationships with co-workers."
So the new policy might end up causing more problems in the Putnam Sherriff's Department than it's trying to prevent. Still, Farley says:
"We believe the new policy is legally acceptable and that it will help the department maintain a professional atmosphere."
What do you think? Should office romance be forbidden? Did you meet your partner at work?
Image: Map of Cookeville, Tenn. (© 2011 Microsoft Corporation/2010 NAVTEQ)
More on love & sex from MSN Living:
How to Reconnect with Your Spouse
10 Fun, Frisky Ways to Spice Up Your Relationship
love: friendship, dating, sex & marriage
What's worse than getting snubbed while proposing? Having your heart broken in front of countless strangers.

We asked brides on TheKnot.com to tell all -- and they did. Here, five of the most likely culprits and advice for how to deal with your drama-causing guests along the way.

This short course in flirting will not only teach you how to flirt better but also how to tell when someone is flirting with you—and how to respond. Have fun.

Gatsby glamour doesn't have to just live on the big screen! Embrace the trendy (yet timeless) art deco style with sequins, pearls, feathers and geometric patterns. Check out these art deco ideas and achieve the feel of 1920s decadence. By the way, all of these are affordable, except for the $600 hairpiece which is a splurge, but a knockout. Shop the look!

Wondering if your summer love will last? Here are 15 signs if your seasonal love is fleeting or for real.

Sixteen years after "Titanic's" release—and 101 years after the historic ship's notorious sinking—our hearts still go on for star-crossed lovers Rose DeWitt Bukater (Kate Winslet) and Jack Dawson (Leonardo DiCaprio). We rounded up some of our favorite ill-fated, but oh-so-romantic affairs on film, from "Gone with the Wind" to "Moulin Rouge!".

Flirting shouldn't be retired once you've got the ring. We asked relationship expert Harlan Cohen, as well as real husbands, the best way to keep the sparks flying.

When we're annoyed by male behavior, we turn to columnist Aaron Traister. His logic may be strange, but we have to admit, it's pretty helpful. Here, he answers our many questions for guys.

Author Amanda Robb talks to clinical psychologist David Schnarch, Ph.D., author of Passionate Marriage: Keeping Love and Intimacy Alive in Committed Relationships and Intimacy and Desire: Awaken the Passion in Your Relationship, to discover the ways she can relight the fire in her own relationship. What she learned just might help you wake up your own libido.

The average wedding costs $28,000. Think that's pricey? You're in for a surprise. We've rounded up some of the most expensive weddings of all time. See if you can guess how much was dropped on these over-the-top affairs, then click through to Bing to see if you're right.

A guide to staying together forever…straight from divorce lawyers! They know what tears couples apart, and they'll tell you how to avoid it.

We've come across some odd tales of lost love. Here's our list of the weirdest reasons people have divorced.