Sheriff's Department Bans Workplace Romance
Marriage will get you fired, too.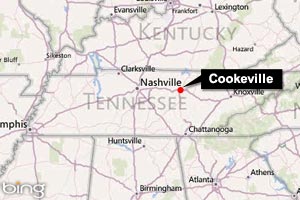 Surveys show that over half of all working people have engaged in some sort of relationship with a co-worker. And according to a recent CareerBuilder survey, 31 percent of workers said their office romance has led to marriage. As taboo as dating a fellow employee can be, the fact is, many couples meet in the workplace.
Unless they work at the Putnam County Sheriff's Department in Tennessee.
Sheriff David Andrews has implemented a strict no-dating and no-marrying policy for the purpose of maintaining a "friendly but professional atmosphere" within the department.
The policy reads:
"Employees of the Putnam County Sheriff's Department are not allowed to date or marry one another. In the event employees wish to date one another, one of the parties must abandon his/her employment with the Putnam County Sheriff's Department."
Don't get any ideas, either. Casual flings aren't allowed.
"Romantic or sexual relations between employees at the Putnam County Sheriff's Department are inappropriate and will result in disciplinary action up to dismissal of either or both persons involved."
Sheriff's Chief Deputy Jacky Farley said the policy is meant to prevent workplace conflicts.
"These situations sometimes cause scheduling difficulties or result in conflicts that could get in the way of work," Farley told the Herald Citizen.
But there's a bit of a problem. Some of the employees at the Putnam Sherriff's Department are already involved in blossoming office romances. They will be affected by the new policy. Some of them have said they plan to challenge it in court.
Ashley Brightwell, a lawyer in Atlanta, explains that many workplaces realize that preventing office dating is futile, so they utilize love contracts. Brightwell told the Wall Street Journal:
"It used to be that many companies had strict prohibitions on office romances. Then they recognized that wasn't going to work, and that no matter what the policies were, employees were going to get involved. That's when the idea of a love contract came along. It's a tool that employers use to protect themselves when an office romance goes sour."
So what happens when office romances go sour? According to both Brightwell and this article from the HR Specialist, scorned lovers often "allege that their former lover was a sexual harasser."
 So it's understandable that employers would want to get rid of the lovey-dovey business altogether, and legally, they can. But HR Specialist argues:
"…it probably isn't the wisest move. A 'no romance' policy could be nearly impossible to enforce and affect employees who are already involved in relationships with co-workers."
So the new policy might end up causing more problems in the Putnam Sherriff's Department than it's trying to prevent. Still, Farley says:
"We believe the new policy is legally acceptable and that it will help the department maintain a professional atmosphere."
What do you think? Should office romance be forbidden? Did you meet your partner at work?
Image: Map of Cookeville, Tenn. (© 2011 Microsoft Corporation/2010 NAVTEQ)
More on love & sex from MSN Living:
How to Reconnect with Your Spouse
10 Fun, Frisky Ways to Spice Up Your Relationship
love: friendships, dating, sex & marriage
Here's why dudes without hair make the best boyfriends.

What do you wish you appreciated more when you were flying solo?

"If you're so busy tweeting and Instagraming, you're not paying attention," New York wedding planner Marcy Blum said. "It's almost a cosmic faux pas. People want your energy with them and focused on what they're doing."

The wedding favor, that little thank-you-for-coming gift, has risen to new heights with the bride and groom giving guests a wide range of favors that are meaningful to them.

Generations ago, planning a wedding was 100 percent the bride's job, but in today's age of gender equity, it's a mere 99 percent.

For all the self-help books and advice columns out there (um, keeping reading my advice anyway, please!), there's one tool we all already have in our arsenal for picking a partner that will keep us happy: our gut instincts.

According to a new study from the University of Texas and the University of California, Los Angeles, both men and women have regrets when it comes to sex, but the genders vary greatly when it comes to what they regret specifically.

Spending time alone with your guy is easy, but going public with your plus-one is another thing entirely. Whether it's your crazy relatives at Thanksgiving dinner or awkward convos with your boss at the holiday party, possible pitfalls are everywhere. Keep reading for tips on how to make his grand entrance into your social life a good thing.

Match.com survey reveals the day you're least likely to get spruced up for a date.

Drinking and relationships seem to go hand in hand in a lot of ways. But only in moderation!

Many men will tell you that they have no clue what their wives are thinking.

Spending the holidays with your guy's family for the first time is a huge relationship milestone. But between your nerves, the usual family tension, and your weird Uncle Sal's inappropriate stories, it's also a prime opportunity for total disaster. Read on for 10 of our readers' most embarrassing meet-the-parents moments.