Sheriff's Department Bans Workplace Romance
Marriage will get you fired, too.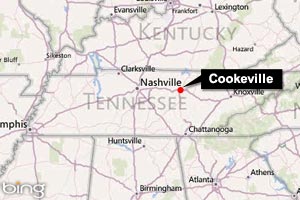 Surveys show that over half of all working people have engaged in some sort of relationship with a co-worker. And according to a recent CareerBuilder survey, 31 percent of workers said their office romance has led to marriage. As taboo as dating a fellow employee can be, the fact is, many couples meet in the workplace.
Unless they work at the Putnam County Sheriff's Department in Tennessee.
Sheriff David Andrews has implemented a strict no-dating and no-marrying policy for the purpose of maintaining a "friendly but professional atmosphere" within the department.
The policy reads:
"Employees of the Putnam County Sheriff's Department are not allowed to date or marry one another. In the event employees wish to date one another, one of the parties must abandon his/her employment with the Putnam County Sheriff's Department."
Don't get any ideas, either. Casual flings aren't allowed.
"Romantic or sexual relations between employees at the Putnam County Sheriff's Department are inappropriate and will result in disciplinary action up to dismissal of either or both persons involved."
Sheriff's Chief Deputy Jacky Farley said the policy is meant to prevent workplace conflicts.
"These situations sometimes cause scheduling difficulties or result in conflicts that could get in the way of work," Farley told the Herald Citizen.
But there's a bit of a problem. Some of the employees at the Putnam Sherriff's Department are already involved in blossoming office romances. They will be affected by the new policy. Some of them have said they plan to challenge it in court.
Ashley Brightwell, a lawyer in Atlanta, explains that many workplaces realize that preventing office dating is futile, so they utilize love contracts. Brightwell told the Wall Street Journal:
"It used to be that many companies had strict prohibitions on office romances. Then they recognized that wasn't going to work, and that no matter what the policies were, employees were going to get involved. That's when the idea of a love contract came along. It's a tool that employers use to protect themselves when an office romance goes sour."
So what happens when office romances go sour? According to both Brightwell and this article from the HR Specialist, scorned lovers often "allege that their former lover was a sexual harasser."
 So it's understandable that employers would want to get rid of the lovey-dovey business altogether, and legally, they can. But HR Specialist argues:
"…it probably isn't the wisest move. A 'no romance' policy could be nearly impossible to enforce and affect employees who are already involved in relationships with co-workers."
So the new policy might end up causing more problems in the Putnam Sherriff's Department than it's trying to prevent. Still, Farley says:
"We believe the new policy is legally acceptable and that it will help the department maintain a professional atmosphere."
What do you think? Should office romance be forbidden? Did you meet your partner at work?
Image: Map of Cookeville, Tenn. (© 2011 Microsoft Corporation/2010 NAVTEQ)
More on love & sex from MSN Living:
How to Reconnect with Your Spouse
10 Fun, Frisky Ways to Spice Up Your Relationship
love: friendships, dating, sex & marriage
It's not that you don't find every little thing about your partner endearing and adorable; it's just that it would have been really, really nice if that map could have been consulted three hours ago.

The typical wedding: A white dress, tiered cake, floral centerpieces and a cute flower girl -- you know the drill. Every once in a while, though, a couple trades in tradition for a quirky, never-seen-that-before idea. Here are a few of the most out-there wedding photos that made us do a double take.

There's a lot to love about weddings this fall, like cocktails served in copper Moscow mule mugs, industrial-inspired lighting and pheasant feather details. See what's new!

Do you have to be engaged to sport a ring with bling?

124.6 million haven't gotten hitched.

Even though the national average wedding is $29,858, that's just an average. If you live in a smaller state like Idaho where the average wedding costs $16,159, you may find yourself saving a little more than half of the national spend! Check out some of the other least expensive cities to get married in below:

Summer is winding down, but the ubiquitous summer romance lives on.

For those times when nothing big and horrible happened--but nothing is feeling right either.

He's confident, distinguished and anywhere from 4 to 20 years older than you. Age is just a number, but there's something about older men that we love. Here are eight reasons why being in a relationship with an older man is tops.

While a younger man may have less life experience, that doesn't mean he's not emotionally mature. Here are the eight reasons why being in a relationship with a younger man is tops.

Have you ever wondered what the 'other woman' was thinking?

So fall is coming and you need some romantic inspiration now that long walks on the beach are out of the question. Well look no further! From apple picking to pumpkin carving, these are some great fall date ideas from girls just like you!