Sheriff's Department Bans Workplace Romance
Marriage will get you fired, too.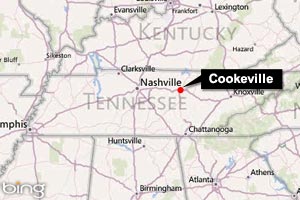 Surveys show that over half of all working people have engaged in some sort of relationship with a co-worker. And according to a recent CareerBuilder survey, 31 percent of workers said their office romance has led to marriage. As taboo as dating a fellow employee can be, the fact is, many couples meet in the workplace.
Unless they work at the Putnam County Sheriff's Department in Tennessee.
Sheriff David Andrews has implemented a strict no-dating and no-marrying policy for the purpose of maintaining a "friendly but professional atmosphere" within the department.
The policy reads:
"Employees of the Putnam County Sheriff's Department are not allowed to date or marry one another. In the event employees wish to date one another, one of the parties must abandon his/her employment with the Putnam County Sheriff's Department."
Don't get any ideas, either. Casual flings aren't allowed.
"Romantic or sexual relations between employees at the Putnam County Sheriff's Department are inappropriate and will result in disciplinary action up to dismissal of either or both persons involved."
Sheriff's Chief Deputy Jacky Farley said the policy is meant to prevent workplace conflicts.
"These situations sometimes cause scheduling difficulties or result in conflicts that could get in the way of work," Farley told the Herald Citizen.
But there's a bit of a problem. Some of the employees at the Putnam Sherriff's Department are already involved in blossoming office romances. They will be affected by the new policy. Some of them have said they plan to challenge it in court.
Ashley Brightwell, a lawyer in Atlanta, explains that many workplaces realize that preventing office dating is futile, so they utilize love contracts. Brightwell told the Wall Street Journal:
"It used to be that many companies had strict prohibitions on office romances. Then they recognized that wasn't going to work, and that no matter what the policies were, employees were going to get involved. That's when the idea of a love contract came along. It's a tool that employers use to protect themselves when an office romance goes sour."
So what happens when office romances go sour? According to both Brightwell and this article from the HR Specialist, scorned lovers often "allege that their former lover was a sexual harasser."
 So it's understandable that employers would want to get rid of the lovey-dovey business altogether, and legally, they can. But HR Specialist argues:
"…it probably isn't the wisest move. A 'no romance' policy could be nearly impossible to enforce and affect employees who are already involved in relationships with co-workers."
So the new policy might end up causing more problems in the Putnam Sherriff's Department than it's trying to prevent. Still, Farley says:
"We believe the new policy is legally acceptable and that it will help the department maintain a professional atmosphere."
What do you think? Should office romance be forbidden? Did you meet your partner at work?
Image: Map of Cookeville, Tenn. (© 2011 Microsoft Corporation/2010 NAVTEQ)
More on love & sex from MSN Living:
How to Reconnect with Your Spouse
10 Fun, Frisky Ways to Spice Up Your Relationship
love: friendships, dating, sex & marriage
Revealr is a new iPhone app that allows those looking for love to hear their possible matches before they see them.

A new poll reveals 59 percent of the country supports same-sex marriage.

Celebrity engagements are so much fun to follow because every detail is bound to be over-the-top — from the proposal (like when Kanye rented out an entire stadium to propose to Kim) to the huge, sparkly engagement ring and, of course, the wedding. Plus, as trendsetters, celebs can be a source of inspiration even if you can't afford a million dollar ring. Here are our celebrity wedding predictions for 2014.

If you've ever been to a club—like, ever, even once—you are not going to be shocked to hear that women get a lot of unwanted, aggressive attention. But when you read the findings of this study on how often and why it happens, it might make you feel downright sick to your stomach.

Hopeless romantics and cringe-worthy chick flicks would tell you that it doesn't matter what you do on the date, as long as you're together. But they're wrong. Dead wrong. Women use your date ideas to size you up, says matchmaker Rachel DeAlto, author of "Flirt Fearlessly." "You absolutely will be judged based on the date you plan. There are so many subconscious impressions that we take in while dating." Gulp. Here are 10 terrible ideas that can land you on the no-lay list—and simple swaps to keep her happy. By K. Aleisha Fetters

No matter your current relationship status or past relationship fails, get a fresh start this month, with these tips for spring cleaning your love life.

Forget the rules you've always heard—it's time to start making your own.

Are you in an affair without knowing it? Unless you're a swinger, having sex with someone else counts as cheating. But then there's the fuzzy area between friendship and infidelity—and chances are, your girlfriend sees those shades of gray as more black and white than you do. "Men aren't as attuned to identifying ambiguous behaviors as cheating as women are," says Daniel Kruger, Ph.D., a University of Michigan psychologist, who's studied gender differences in definitions of infidelity. In other words, what you consider totally innocent could be her deal breaker.

We spoke with relationship therapist Rachel A. Sussman, author of "The Breakup Bible," for her tips on how regular girls can survive a split like an A-lister.

A researcher from Texas Tech University has found that people who use the same kind of "function words" are more likely to get together.

Check out these five celebrity stunners.

And by weird, we really mean friggin' awesome.