Sex with an ex is common post-breakup
Plus, an expert tells us why revisiting romance is a terrible idea.
For many young adults, "ex sex" is just part of the breakup process. At least that's what a new study from Lucas County, Ohio has found.
Researchers collected data on 792 "emerging adults" between the ages of 17 to 24. All had been in a relationship in the past two years, and the study authors found that nearly half (44 percent) had hooked up with an ex post-breakup.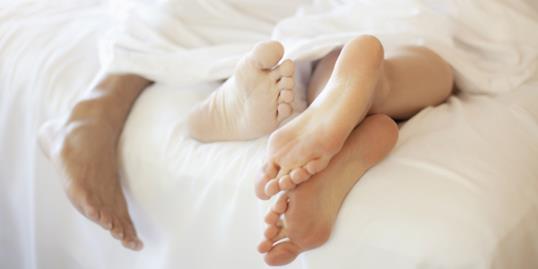 More on MSN Living: Kissing dos and don'ts
Researchers and relationship experts agree—post-breakup sex is a bad idea. In an article in the Journal of Adolescent Research, the study's authors wrote:
"Those who stay in contact following a breakup continue to feel the pain of the breakup more intensely and may have more difficulty moving on. Previous research found that college students who had sex with their exes mostly described this as a 'difficult or negative event.'"
More on MSN Living: 50 wedding cost-cutting tips from real brides
Dating expert Shay "
Your Date Diva
" Williams agrees. She's a certified dating and relationship coach and has written extensively on the topic of "ex sex." She tells
The Heart Beat
that young adults may be more likely to hop in the sack with an ex for three reasons:
"Most times it is their first time at love or really bonding with another, and it is hard to break away from those strong attachments."
Second, they lack the experience to realize that "sex with the ex is a dead end street that leads to more pain and heartache." And finally, it's a familiar and comfortable way to find sexual satisfaction. For young ladies, this may be especially appealing, as they can avoid the stigma of increasing their "sexual number," Williams explains.
Aside from the obvious issue of prolonged heartbreak, Williams says there are a variety of reasons why ex sex is an awful idea.
"My favorite saying is that 'if the paint was wet when you got up, it will be still wet when you try to sit back down!'  There is a reason why the relationship ended. Introducing sex into a situation with no boundaries leaves everyone emotionally vulnerable and unable to fully let go and trust each other.  This leads to a downhill spiral of dysfunction in the relationship as it removes any motivation for the male to win back the affections of his ex.  Sex with the ex is self-torture at it's best." 
If youth is wasted on the young, then so is precautionary advice. We've all lived through a time when "do now, think later" was our main mantra.  So what if you've already revisited romance and are now dealing with the repressions?
"The only way to start clearing your system of the surge of this hormone is to cut one's self off cold turkey," Williams tells us.  "It will hurt at first but with time, a growing self-love and determination, you will wonder what you ever saw in the ex in the first place."
More from The Heart Beat: 
Is courtship really dead?
Leaders are better at relationships, study finds
Cellphones are ruining relationships, study finds
Bing: It's divorce season?!
Love content like this? Friend us on Facebook, follow us on Twitter and find us on Pinterest
Photo: Assembly/Getty Images
love: friendship, dating, sex & marriage
What's worse than getting snubbed while proposing? Having your heart broken in front of countless strangers.

We asked brides on TheKnot.com to tell all -- and they did. Here, five of the most likely culprits and advice for how to deal with your drama-causing guests along the way.

This short course in flirting will not only teach you how to flirt better but also how to tell when someone is flirting with you—and how to respond. Have fun.

Gatsby glamour doesn't have to just live on the big screen! Embrace the trendy (yet timeless) art deco style with sequins, pearls, feathers and geometric patterns. Check out these art deco ideas and achieve the feel of 1920s decadence. By the way, all of these are affordable, except for the $600 hairpiece which is a splurge, but a knockout. Shop the look!

Wondering if your summer love will last? Here are 15 signs if your seasonal love is fleeting or for real.

Sixteen years after "Titanic's" release—and 101 years after the historic ship's notorious sinking—our hearts still go on for star-crossed lovers Rose DeWitt Bukater (Kate Winslet) and Jack Dawson (Leonardo DiCaprio). We rounded up some of our favorite ill-fated, but oh-so-romantic affairs on film, from "Gone with the Wind" to "Moulin Rouge!".

Flirting shouldn't be retired once you've got the ring. We asked relationship expert Harlan Cohen, as well as real husbands, the best way to keep the sparks flying.

When we're annoyed by male behavior, we turn to columnist Aaron Traister. His logic may be strange, but we have to admit, it's pretty helpful. Here, he answers our many questions for guys.

Author Amanda Robb talks to clinical psychologist David Schnarch, Ph.D., author of Passionate Marriage: Keeping Love and Intimacy Alive in Committed Relationships and Intimacy and Desire: Awaken the Passion in Your Relationship, to discover the ways she can relight the fire in her own relationship. What she learned just might help you wake up your own libido.

The average wedding costs $28,000. Think that's pricey? You're in for a surprise. We've rounded up some of the most expensive weddings of all time. See if you can guess how much was dropped on these over-the-top affairs, then click through to Bing to see if you're right.

A guide to staying together forever…straight from divorce lawyers! They know what tears couples apart, and they'll tell you how to avoid it.

We've come across some odd tales of lost love. Here's our list of the weirdest reasons people have divorced.