Sex with an ex is common post-breakup
Plus, an expert tells us why revisiting romance is a terrible idea.
For many young adults, "ex sex" is just part of the breakup process. At least that's what a new study from Lucas County, Ohio has found.
Researchers collected data on 792 "emerging adults" between the ages of 17 to 24. All had been in a relationship in the past two years, and the study authors found that nearly half (44 percent) had hooked up with an ex post-breakup.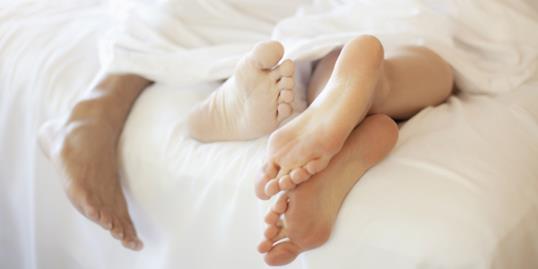 More on MSN Living: Kissing dos and don'ts
Researchers and relationship experts agree—post-breakup sex is a bad idea. In an article in the Journal of Adolescent Research, the study's authors wrote:
"Those who stay in contact following a breakup continue to feel the pain of the breakup more intensely and may have more difficulty moving on. Previous research found that college students who had sex with their exes mostly described this as a 'difficult or negative event.'"
More on MSN Living: 50 wedding cost-cutting tips from real brides
Dating expert Shay "
Your Date Diva
" Williams agrees. She's a certified dating and relationship coach and has written extensively on the topic of "ex sex." She tells
The Heart Beat
that young adults may be more likely to hop in the sack with an ex for three reasons:
"Most times it is their first time at love or really bonding with another, and it is hard to break away from those strong attachments."
Second, they lack the experience to realize that "sex with the ex is a dead end street that leads to more pain and heartache." And finally, it's a familiar and comfortable way to find sexual satisfaction. For young ladies, this may be especially appealing, as they can avoid the stigma of increasing their "sexual number," Williams explains.
Aside from the obvious issue of prolonged heartbreak, Williams says there are a variety of reasons why ex sex is an awful idea.
"My favorite saying is that 'if the paint was wet when you got up, it will be still wet when you try to sit back down!'  There is a reason why the relationship ended. Introducing sex into a situation with no boundaries leaves everyone emotionally vulnerable and unable to fully let go and trust each other.  This leads to a downhill spiral of dysfunction in the relationship as it removes any motivation for the male to win back the affections of his ex.  Sex with the ex is self-torture at it's best." 
If youth is wasted on the young, then so is precautionary advice. We've all lived through a time when "do now, think later" was our main mantra.  So what if you've already revisited romance and are now dealing with the repressions?
"The only way to start clearing your system of the surge of this hormone is to cut one's self off cold turkey," Williams tells us.  "It will hurt at first but with time, a growing self-love and determination, you will wonder what you ever saw in the ex in the first place."
More from The Heart Beat: 
Is courtship really dead?
Leaders are better at relationships, study finds
Cellphones are ruining relationships, study finds
Bing: It's divorce season?!
Love content like this? Friend us on Facebook, follow us on Twitter and find us on Pinterest
Photo: Assembly/Getty Images
love: friendships, dating, sex & marriage
Ladies, give yourself the best gift of all this season: The NYC Taxi Driver 2014 Calendar. By Michelle Toglia

Pheromones may be the key to finding your perfect match.

The outlandish things we do for love have no limits; just ask these guys. Love makes us do some pretty crazy things. And sometimes, we feel the need to prove it to the entire world. And no, we don't mean getting a tattoo of your partner's name on your leg or proposing on the big screen at the Yankee game. We mean renewing your marriage vows 101 times or making out for 58 hours. Who would go to such extremes you ask? Meet the Guinness World Record-holders in all-things love. They gave up sleep, food and even going to the bathroom alone, all in the name of loving longer than anyone else. Who's hugged the longest? Kissed the longest? Been on the most expensive date? Take a look below as we count down the world's most loving record-breakers.

Her partner? Wine? Downtime? Find out where it all ranks.

This time of year, we dust off our holiday traditions of special songs, stories, events and food to make our season bright. Here's a look into the traditional, unique and quirky holiday traditions of some famous couples.

Look, I looooove engagement season for obvious reasons, but even I can admit I'm like, "Really, AGAIN?" when yet ANOTHER engagement ring pops up in my news feed. Seriously, there were two this weekend. (Congrats, Gemma and Danny!)

We asked real men and women (and a few first-base experts, too) to give us the cardinal rules of kissing, tell us what makes someone a good kisser and more. So whether you're leaning in for kiss No. 1 or 1,000, read on.by Devin Tomb

Not quite sure which diamond shape suits your personality? We're here to help.

Dating can lead to all kinds of tricky situations. To help you navigate even the most awkward moments, we've compiled our 50 best dating tips—some new, some old—given to us by experts, moms, women like you, and even Justin Timberlake.

Customers as Madison's new Snuggle House can snuggle with professional cuddlers for $60 an hour.

Can you believe it was only about 15 years ago that engagement ring shopping meant a time-consuming slog from jewelry boutique to jewelry boutique? Thank goodness for the internet; nowadays, it's easy to do all that legwork online.

The holiday season, with all its twinkly lights and fireplaces and cold nights perfect for snuggling, is most definitely for lovers—but "The Single Woman" author Mandy Hale is here to remind you that it's also for singles, too.