A school that teaches wives to be mistresses
Would you take marriage advice from a former mistress? We're skeptical.
Sarah Symonds is famous for having a seven-year affair with Hell's Kitchen star Gordon Ramsay. She's now set up a school for ladies who want to redirect their husband's roving eye.
"Men are simple," 43-year-old Symonds tells the Daily Mail. "It's Eat. Sleep. Fornicate."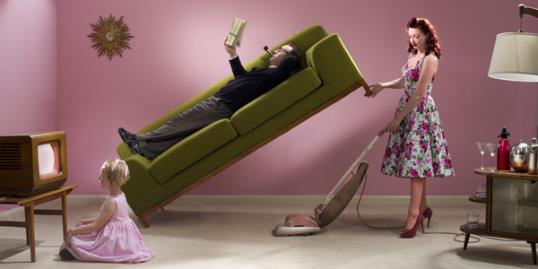 More on MSN Living: The ultimate wedding etiquette guide
She's dubbed this the "ESF rule." If this is Lesson No. 1, the rest should be interesting. 
Symonds appeared on the Canadian show "The Mistress," which helps mistresses leave adulterous relationships. She says she's turned a new leaf and now only dates single men. But she also wants to help married women keep their husbands from cheating — hence, "Wife School."
"[After 'The Mistress,'] I had so many wives contacting me for advice," Symonds says of why she founded the school. 'The school is geared toward making today's marriages more successful and to ultimately lessen the divorce rates and the subsequent demise to our society's structure.  Any marriage or committed relationship needs daily maintenance and nurturing — people just don't seem to realize that."
More on MSN Living: The science behind a great marriage
Essentially, Symonds helps women understand why men cheat, giving them advice on how to make sure their husbands are fully satisfied at home. "Don't allow space in your marriage for other women to walk into," she says. It's tough to take marriage advice from a former "other woman," but Symonds does make one decent point:
"If more people treated their marriage as they do their job, more marriages would last the lifetime they are supposed to. "
Her top tip? Do more in the bedroom than in the kitchen. She adds that women should stay up late at night to ask about their husband's day.
"I believe that the whole Sisterhood has to bond together to beat these cheats right out of the sheets," she says. "I am here to wake other women up and teach them not to be a mousewife."
If you find it hard to jump on board, you're not alone. The school's very foundation seems to underestimate men.  Personally, we think male complexities go beyond the ESF rule. 
But what do you think — is "Wife School" total genius or a total joke?
More from The Heart Beat:

Revealed: The key to becoming fast friends
'Missed Connections' map shows most common places for lost love
Longest kiss ever: Couple locks lips for 58 hours
Love content like this? Friend us on Facebook, follow us on Twitter and find us on Pinterest.
Photo: School teaches wives to be mistresses / Sturti/Getty Images
love: friendship, dating, sex & marriage
What's worse than getting snubbed while proposing? Having your heart broken in front of countless strangers.

We asked brides on TheKnot.com to tell all -- and they did. Here, five of the most likely culprits and advice for how to deal with your drama-causing guests along the way.

This short course in flirting will not only teach you how to flirt better but also how to tell when someone is flirting with you—and how to respond. Have fun.

Gatsby glamour doesn't have to just live on the big screen! Embrace the trendy (yet timeless) art deco style with sequins, pearls, feathers and geometric patterns. Check out these art deco ideas and achieve the feel of 1920s decadence. By the way, all of these are affordable, except for the $600 hairpiece which is a splurge, but a knockout. Shop the look!

Wondering if your summer love will last? Here are 15 signs if your seasonal love is fleeting or for real.

Sixteen years after "Titanic's" release—and 101 years after the historic ship's notorious sinking—our hearts still go on for star-crossed lovers Rose DeWitt Bukater (Kate Winslet) and Jack Dawson (Leonardo DiCaprio). We rounded up some of our favorite ill-fated, but oh-so-romantic affairs on film, from "Gone with the Wind" to "Moulin Rouge!".

Flirting shouldn't be retired once you've got the ring. We asked relationship expert Harlan Cohen, as well as real husbands, the best way to keep the sparks flying.

When we're annoyed by male behavior, we turn to columnist Aaron Traister. His logic may be strange, but we have to admit, it's pretty helpful. Here, he answers our many questions for guys.

Author Amanda Robb talks to clinical psychologist David Schnarch, Ph.D., author of Passionate Marriage: Keeping Love and Intimacy Alive in Committed Relationships and Intimacy and Desire: Awaken the Passion in Your Relationship, to discover the ways she can relight the fire in her own relationship. What she learned just might help you wake up your own libido.

The average wedding costs $28,000. Think that's pricey? You're in for a surprise. We've rounded up some of the most expensive weddings of all time. See if you can guess how much was dropped on these over-the-top affairs, then click through to Bing to see if you're right.

A guide to staying together forever…straight from divorce lawyers! They know what tears couples apart, and they'll tell you how to avoid it.

We've come across some odd tales of lost love. Here's our list of the weirdest reasons people have divorced.