Bride steals $273K for extravagant wedding
Harpist? Check. Canapés? Check. 20 months in jail? Yup.
Kirsty Lane walked down the aisle and then into the pokey. In 2011, the then 30 year-old bride threw an over-the-top wedding using $272,986 stolen from her employer.
Lane was a financial administrator for home theater company Pure AV. She siphoned hundreds of thousands from her employer and plead guilty to 10 counts of fraud.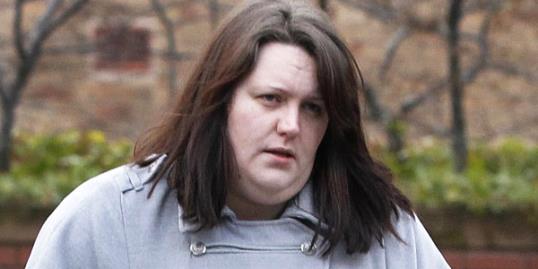 Lane was eventually sentenced to 20 months in jail. But after throwing a wedding that could rival The Royals', Lane was recently only required to repay her boss $28,633.
More on MSN Living: 14 surprising facts about getting engaged
So what exactly was included in this quarter of a million dollar ceremony?
Lane used the stolen money to hire a harpist to greet guests at her wedding, and her bridesmaids were given jewel-encrusted iPods. An award-winning chef provided the reception catering, and, of course, there was an open bar.
Oh, right. We almost forgot about the magicians and fireworks display.
More on MSN Living: 10 cliche holiday marriage proposals
"I hope she has learnt her lesson," said Peter Sutton, company director of Pure AV. He told the Daily Mail that Lane's theft cost two employers their jobs and, eventually, cost the company a total of $481,740.
"It is very disappointing considering she has gained so much and had to pay back so little."
Lane made 122 payments to herself over the course of three years, but she was finally placed under suspicion when a customer asked about an invoice. Days after her wedding, Lane was put in jail.
Bing: Look for wedding dresses
Photo: Peter Byrne/PA Wire
More from The Heart Beat:
Weird wedding trend: Naked nuptials
Poll: Women don't marry the best sex of their lives
Grand Slam nuptials: Denny's to open wedding chapel

love: friendships, dating, sex & marriage
Love it or hate it, the selfie wields much power.

Talk about some blurred lines.

Come on people, it's not that hard to mind your own business.

No sense in wasting your time on someone who will never commit.

There he is, the man of your dreams. He's sitting across from you at the coffee shop or standing at the opposite side of the bar. His eyes meet yours, a quick glance, and then it's back to his drink. Was he giving you a signal?

Remember that time on "30 Rock" when Liz Lemon and her eventual-husband Criss went shopping at Ikea, only to end up in a major fight? We know it couldn't be closer to the truth because we've all been there. In honor of the irritation that can be Ikea, here are the top fights you'll likely encounter.

Dating doesn't have to be a daunting task, promise. Here's how to make it fun for you and him.

One woman's honest journey to divorce will break your heart and inspire you at the same time.

Want to send your date running? Try one these moves.

Two guests arrested in New Jersey.

Celebrities certainly know how to travel in style, so if you're struggling to select a honeymoon destination, look no further than these star-approved hotspots. To make it even easier, we're providing you with hotel recommendations, packing essentials, and tips on what to do and see! So channel your inner celeb at one of these U.S. destinations for an unforgettable vacation!

Tall Twitter users named Wayne, we're on to you!