Bride steals $273K for extravagant wedding
Harpist? Check. Canapés? Check. 20 months in jail? Yup.
Kirsty Lane walked down the aisle and then into the pokey. In 2011, the then 30 year-old bride threw an over-the-top wedding using $272,986 stolen from her employer.
Lane was a financial administrator for home theater company Pure AV. She siphoned hundreds of thousands from her employer and plead guilty to 10 counts of fraud.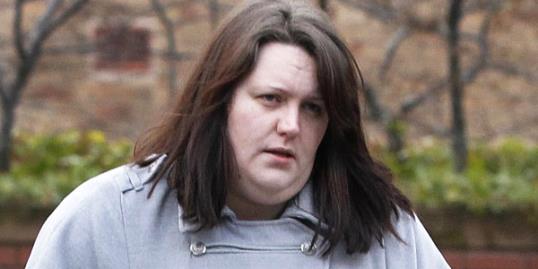 Lane was eventually sentenced to 20 months in jail. But after throwing a wedding that could rival The Royals', Lane was recently only required to repay her boss $28,633.
More on MSN Living: 14 surprising facts about getting engaged
So what exactly was included in this quarter of a million dollar ceremony?
Lane used the stolen money to hire a harpist to greet guests at her wedding, and her bridesmaids were given jewel-encrusted iPods. An award-winning chef provided the reception catering, and, of course, there was an open bar.
Oh, right. We almost forgot about the magicians and fireworks display.
More on MSN Living: 10 cliche holiday marriage proposals
"I hope she has learnt her lesson," said Peter Sutton, company director of Pure AV. He told the Daily Mail that Lane's theft cost two employers their jobs and, eventually, cost the company a total of $481,740.
"It is very disappointing considering she has gained so much and had to pay back so little."
Lane made 122 payments to herself over the course of three years, but she was finally placed under suspicion when a customer asked about an invoice. Days after her wedding, Lane was put in jail.
Bing: Look for wedding dresses
Photo: Peter Byrne/PA Wire
More from The Heart Beat:
Weird wedding trend: Naked nuptials
Poll: Women don't marry the best sex of their lives
Grand Slam nuptials: Denny's to open wedding chapel

love: friendships, dating, sex & marriage
Customers as Madison's new Snuggle House can snuggle with professional cuddlers for $60 an hour.

Can you believe it was only about 15 years ago that engagement ring shopping meant a time-consuming slog from jewelry boutique to jewelry boutique? Thank goodness for the internet; nowadays, it's easy to do all that legwork online.

The holiday season, with all its twinkly lights and fireplaces and cold nights perfect for snuggling, is most definitely for lovers—but "The Single Woman" author Mandy Hale is here to remind you that it's also for singles, too.

Studies show that being satisfied with your romantic relationship is one of the best predictors of happiness -- even more important than education, income, or having a high-status job. Resolve to make 2014 your happiest year yet with these bond-strengthening pledges.

This winter, it's all about mixing unexpected seasonal elements with elegant neutral details and a hint of sparkle and sequins. Take a look.

Here's why dudes without hair make the best boyfriends.

What do you wish you appreciated more when you were flying solo?

"If you're so busy tweeting and Instagraming, you're not paying attention," New York wedding planner Marcy Blum said. "It's almost a cosmic faux pas. People want your energy with them and focused on what they're doing."

The wedding favor, that little thank-you-for-coming gift, has risen to new heights with the bride and groom giving guests a wide range of favors that are meaningful to them.

Generations ago, planning a wedding was 100 percent the bride's job, but in today's age of gender equity, it's a mere 99 percent.

For all the self-help books and advice columns out there (um, keeping reading my advice anyway, please!), there's one tool we all already have in our arsenal for picking a partner that will keep us happy: our gut instincts.

According to a new study from the University of Texas and the University of California, Los Angeles, both men and women have regrets when it comes to sex, but the genders vary greatly when it comes to what they regret specifically.